Apex Personal Injury Lawyer
Looking for an Apex personal injury lawyer?
If you've been injured due to someone else's negligence, our experienced injury attorneys can help. We are committed to Apex and the Triangle and will fight relentlessly to get you the justice and compensation you deserve.
Collectively, our attorneys have more than 225 years of legal experience and we've represented many clients in Apex.
For a FREE consultation, please call 1-800-525-7111 or complete the form below. There is no upfront cost and no attorney fee unless we win your case and you receive financial compensation.
Injured in Apex, NC?
Apex is one of the fastest growing cities in North Carolina and the country with more than 50,000 residents as of 2017. Just 17 miles from Research Triangle Park and 12 miles southwest of Raleigh, Apex is closely associated with the Triangle area's growing technology industry. In 2015, Time magazine ranked Apex as the #1 place to live in the United States, and in 2018 Realtor.com designated the city the #1 Fastest Growing Suburb in America.
Due to this rapid growth and Apex's proximity to busy highways and interstates like I-40, US-1, US-64, NC-55, and the Triangle Expressway (I-540), accidents on the highways and injuries are increasingly common.
An experienced Riddle & Brantley personal injury lawyer can assist with all types of accidents and injuries, including:
Car accidents
Truck accidents
Motorcycle accidents
Pedestrian accidents
Slips and falls
Premises liability accidents (an accident occurring on someone else's property)
Defective medical device injuries
Defective consumer product injuries
Dangerous prescription drug injuries
Wrongful death accidents
Animal attacks, including dog, cat, and exotic animal bites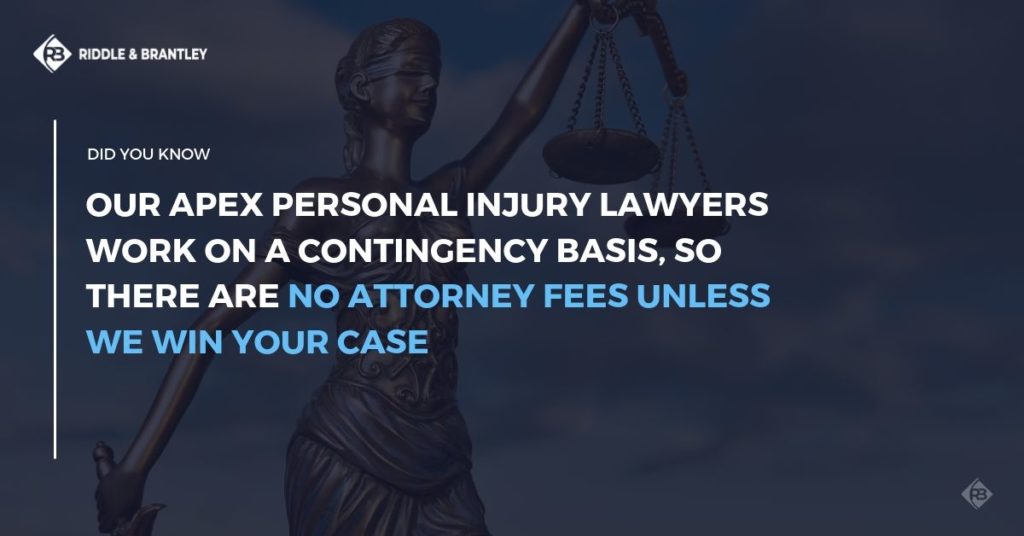 We also represent clients in mass tort cases, including 3M military earplugs lawsuits, Johnson & Johnson baby powder / talcum powder lawsuits, Roundup weed killer lawsuits, and Valsartan lawsuits.
If you've been injured, a personal injury lawyer at Riddle & Brantley with experience in Apex may be able to help. Contact us today for a FREE case evaluation — please call 1-800-525-7111 or complete the form below.
Riddle & Brantley attorneys work on a contingency basis, so there is no upfront cost and no attorney fee unless we win your case and you receive financial compensation.
What can a personal injury lawyer do for you?
Many people associate personal injury attorneys with courtroom trials. While that may be necessary in certain situations, injury lawyers do much more than that.
When you hire a personal injury lawyer, he or she can handle all aspects of your case, including but not limited to:
Accident investigation and reconstruction
Interviewing witnesses and collecting statements (preservation of the evidence)
Helping you find appropriate medical care and make payment arrangements
Preparing you for statements to the police and insurance companies
Filing a lawsuit
Filing court documents
Negotiating with the insurance company
Negotiating through arbitration or mediation
Setting up trusts
Litigation before trial
Preparing you for any required testimony
Trial
When you hire Riddle & Brantley, you'll not only benefit from the expertise of a personal injury lawyer experienced representing clients in Apex, but you'll also be supported by a caring staff of investigators, case managers and paralegals dedicated to your success.
Hiring an injury attorney is also not expensive. In fact, there are no upfront costs and no attorney fee unless we win your case and you receive financial compensation.
Our motto is Justice Counts and we mean it. Contact us today at 1-800-525-7111 or complete the form below for a free, no-obligation consultation.
Our attorneys have been representing clients in Apex and throughout North Carolina for decades. Our managing partner, Gene Riddle, graduated from UNC in 1981 and Wake Forest University Law School in 1985.
"I founded this firm on the principle that everyone deserves justice and due process under the law. We're committed to fighting for justice for the people of Apex." -Gene Riddle
Here are just a few of our recent case results:
Truck Accident & Wrongful Death | $5.4 million — Attorneys Gene Riddle and Kurt Dixon represented the relatives of a family of four killed when tractor trailer rear-ended their vehicle on a North Carolina highway. Two truck drivers were determined responsible for the accident. After extensive investigation, litigation, and mediation, Riddle & Brantley obtained a settlement of $5,450,000 — the limits on the insurance policies of the two truck drivers involved. Litigation is still ongoing against a pavement marketing company who allegedly contributed to the accident.
Constitutional Rights Violation | $5 million — After a Wayne County sheriff's deputy was convicted of forcing sex upon jail inmates, Gene Riddle filed a civil lawsuit against the deputy on behalf of the victims. The case resulted in a judgment of $1.5 million in actual damages and $3.5 million in punitive damages.
Auto Accident & Pedestrian Accident | $1.9 million — Our client was run over by a cement truck while walking across a parking lot, resulting in serious injury including several broken bones. Attorney Gene Riddle and his late partner Gene Jenkins took the case, bringing in an expert witness within a couple days to reconstruct the accident. The case settled for an award of $1.9 million to the Plaintiff.
Personal Injury | $880,000 — Attorney Gene Riddle represented a client who was injured when accidently shot by a loaded gun while exiting a vehicle. The client suffered traumatic spinal cord injury, and after the original claim was denied, attorneys Kurt Dixon and Gene Riddle filed suit. While the suit was initially contested by the insurance company, the claim ultimately settled for $880,000 prior to trial.
*** Disclaimer: The results mentioned are intended to illustrate the type of cases handled by the firm. These results do not guarantee a similar outcome, and they should not be construed to constitute a promise or guarantee of a particular result in any particular case. Every case is different, and the outcome of any case depends upon a variety of factors unique to that case.
Need a personal injury lawyer with experience in Apex?
If you've been injured and believe someone else's negligence is responsible, you deserve justice — and you may be entitled to compensation. An injury attorney at Riddle & Brantley may be able to help.
For a FREE, no-obligation consultation, please call us at 1-800-525-7111 or fill out the form below. As always, there is no upfront cost and you won't pay a dime in attorney fees unless we win your case and you receive financial compensation for your injury.
Please contact us today. We would love to help. If we can't help we may be able to refer you to another source who can help.