How Can NC Keep Reckless Drivers from Getting Behind the Wheel of School Buses?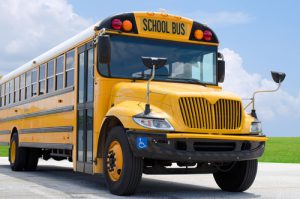 What are the requirements for driving school buses in NC? That's what some people may have been wondering after 19 students were injured in a school bus crash that happened because of a bus driver's recklessness. Per a WRAL-TV report, the school bus accident happened in December as a bus filled with 20 elementary students was on its way to school. According to officials from the North Carolina State Highway Patrol (NCSHP), the bus went off the road while heading west on Stallings Road. After the bus went off road, the driver overcorrected, resulting in the bus overturning into a ditch. A man heard the crash from his home, called 911 and then headed to the bus and help get students off the vehicle through the back door and roof hatch.
Reportedly, many of the students had scratches, bruises and bloody noses. Of the 20 kids on the bus, 19 had to be taken to the hospital for treatment. None of the children suffered life-threatening injuries, but one was listed in serious condition. The school bus driver was charged with reckless driving as a result of the wreck.
Requirements to Drive a School Bus in North Carolina
Per NCDOT.gov, in North Carolina, to become a school bus driver you must:
Be 18 years old or older
Obtain a North Carolina commercial driver license
Have at least six months driving experience as a licensed driver
Have a valid health certificate
Do not have more than one driver license at the time of your application
Not have a driver license that is revoked, disqualified or suspended
Be in good physical condition and able to submit a complete medical report if requested
Take a 3-day school bus driver training class
Pass a bus driver skills test
Pass a school bus driving knowledge tests
Go through behind-the-wheel driver training with a Driver Education Specialist (DES)
Despite the above requirements, the school bus accident last December shows that more needs to be done to prevent reckless drivers from getting behind the wheel of school buses. Until then, the families of children injured in school bus crashes can bring negligent bus drivers and school districts to justice through civil lawsuits. Pursuing a personal injury claim can enable families to hold those responsible for their child's pain and suffering accountable, including recovering financial help for hospital bills, rehabilitation expenses and funeral costs.