12 Tricks Insurance Companies Use to Avoid Paying Your Injury Claim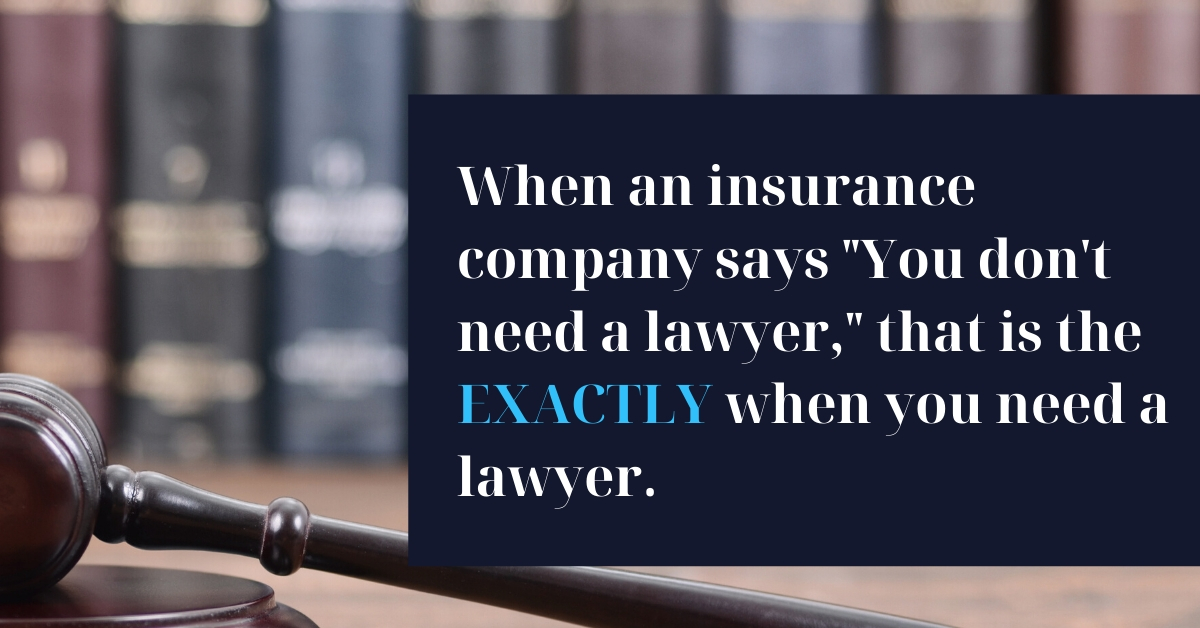 It's the sad truth: when you're injured in a car accident, the insurance company will often try to pay as little on your injury claim as possible. The insurance adjuster may deny, delay or drag out your claim. There is a legal saying that is true. Justice delayed is justice denied.  We fight for justice for our clients at all levels in a claim.
If you've been injured in an accident and are seeking compensation, beware of these common scenarios — and contact an experienced car accident attorney immediately. 
The insurance company tells you, "You don't need a lawyer." This is EXACTLY when you should contact an injury lawyer.
The insurance company adjuster says, "I'll be fair with you. Don't worry, just send me your bills and I'll be fair with you." Then they drag your case out as long as possible, hoping that the statute of limitations expires, and you lose your chance at recovering compensation. The insurance company is unfortunately not incentivized to be fair. Contact an auto accident lawyer
The insurance company says they will pay all your medical bills. They may even give you $1,000. After that, they fail to pay, or even refuse to pay most of your bills. They argue that some doctor visits or diagnostic tests were unnecessary, or that your doctors overcharged you. They pay part of your medical bills but not all, leaving you to owe the difference. They say they will only pay doctors what Medicare or Medicaid would have paid them, when you do not even have Medicare or Medicaid. They may pay your ER bill, but "forget" to pay for your ER physician's bill, radiologist's bill, EMS bill, and lab bill. They then refuse to pay chiropractor's bill at all and claim it's not a medical necessity. This is common, and it's another reason why you should consult with an experienced accident attorney right away.
The insurance company tells you to simply send them the bills, and they imply that they will pay them right now. You assume they will pay these bills upon receipt. In reality, the adjuster keeps the bills with no intention of paying anything until your case is settled. A experienced car accident lawyer can help.
The insurance company acts like they are very sorry for what happened and apologize for their driver. Then, when they see how large your medical bills were, they change their tune and argue that you were partially at fault and that the "contributory negligence" law in North Carolina bars your right to any recovery. By now, witnesses' memories and key evidence are stale, and you struggle to find evidence to dispute their arguments. This is why it's important to contact a car accident injury attorney immediately.
The insurance company asks for pre-accident medical records from doctors that might not even be in business anymore, or they ask for documents about other accidents they contend you might have been involved in. You don't have any such documents because the accidents are so old, or maybe you weren't even in any such accident. They tell you they just won't be able to settle with you. This may not be accurate information, and you should consult with an injury attorney about your legal rights.
The insurance company asks you to send them all your bills, but they don't even look at them for months or even years. Finally, they tell you the bills are not in the right format and that they need them printed on HICFA forms. Your doctor tells you they won't print these forms out for you. So the insurance adjuster says this is not their problem and they won't pay. In this case, you should definitely consult with an experienced car accident attorney about your legal right to compensation.
The insurance company claims they will not look at your bills until your doctors process your health insurance. They say, "health insurance is primary." But they don't tell you this until months or years after the accident. Now your health insurance says it is too late to file these bills, and that their "timely filing period" has lapsed. This is simply a delay tactic by the car insurance company to avoid paying on your claim, and yet another reason why you should contact an injury attorney immediately after your accident.
The insurance company agrees to settle with you for a certain amount. You assume they have also paid your medical bills, or that they will do so.  But then you start getting collection letters from your doctors. The adjuster says they never agreed to pay these bills. Worse yet, your health insurance, or Medicaid or Medicare contacts you. They tell you that they paid for some of your medical care and they want to be reimbursed. They say YOU owe them, not the insurance company, and that you should not have settled. They threaten to sue you or cut off your health insurance. You have legal rights in these situations and an experienced personal injury attorney can help — but you have to act fast.
The insurance company acts like they believe you are hurt, but then change their tune and play back for you recordings of old phone calls where the adjuster asks you how you are doing and you reply, "Great, thanks," or you say, "I am not hurt." They say this proves you were never hurt or in much pain. This is why it's important to speak with a car accident attorney before making any recorded statements to the insurance company. What you say in a recording can and will be used against you.
The insurance company argues that your vehicle didn't have enough damage to cause injury to anyone. This is a common occurrence, and another reason why you should consult with a car accident injury lawyer immediately after the accident. Your vehicle may have more damage than the adjuster agrees to pay for in repairs.
The insurance company tells you to send them a HIPPA medical release and they will gather your bills and records. You sign their paperwork and return it, but months (or years) later, you learn they have not received the vast majority of your bills or records. This is delay tactic. The insurance company is hoping to run out the clock so that the statute of limitations expires and you can no longer pursue a claim.
Have you been injured in a North Carolina car accident?
If you've been injured in a car accident in North Carolina, you deserve justice and you may be entitled to compensation.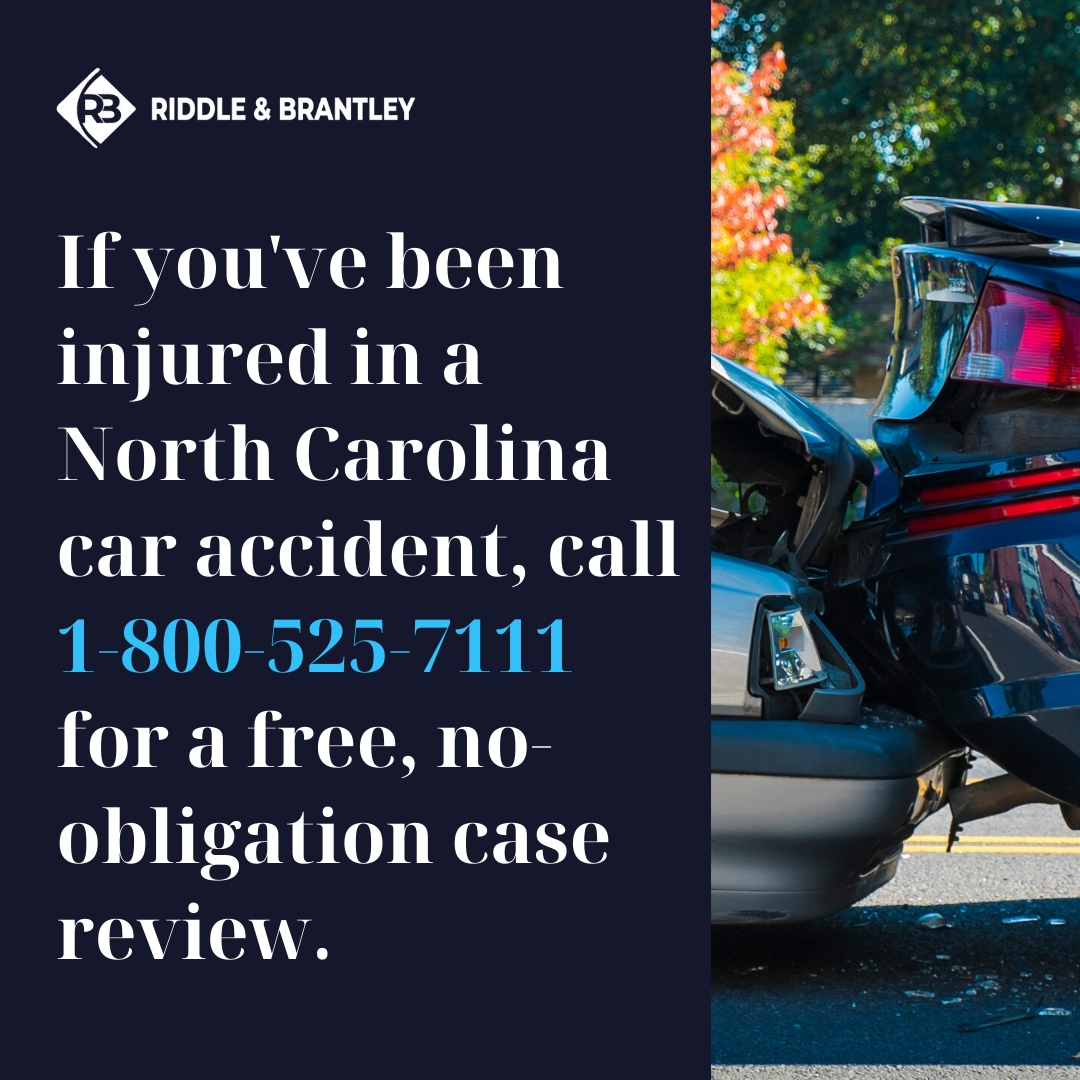 The experienced North Carolina car accident attorneys at Riddle & Brantley can help. For more than three decades, we've helped injury victims get the justice and compensation they deserve.
Car insurance companies are trained to avoid paying your claim. We've been holding insurance companies accountable for injury victims since 1985 and we'd love to help you if we can.
If you've suffered injuries in a car, truck or other motor vehicle accident in Raleigh, Durham, Charlotte, Goldsboro, Fayetteville, Jacksonville, Kinston or any other North Carolina city, please call 1-800-525-7111 for a FREE consultation.
There are no upfront costs and no attorney fees unless we win your case and you receive financial compensation for your injuries.
Our North Carolina car accident lawyers have more than 220+ years in combined legal experience and we would love to help however we can.
Please call 1-800-525-7111 today for a FREE, no-obligation consultation.
Justice Counts for North Carolinians injured in auto accidents due to others' negligence. Please call us for a free consultation today.