Belviq Pancreatic Cancer Risk
Does Belviq cause pancreatic cancer? In February 2020, the FDA requested a recall of popular weight loss drug Belviq (lorcaserin) and Belviq XR from the market due to concerns over an increased risk of cancer — including pancreatic cancer — associated with the drug.
The FDA has found an increased risk of pancreatic cancer associated with lorcaserin (the active compound in Belviq). Lung and colorectal cancers have also been linked to lorcaserin.
IMPORTANT: If you've taken Belviq or Belviq XR and developed pancreatic cancer (or lung cancer or colorectal cancer) you may be entitled to compensation in a Belviq lawsuit. Call 1-800-525-7111 for a FREE, no-obligation consultation with an experienced Belviq pancreatic cancer lawyer today.
If you've been diagnosed with pancreatic cancer (or another type of cancer) after taking Belviq or Belviq XR weight loss medication, you deserve justice, and we would love to help however we can. There are no attorney fees unless we recover compensation for you. Call 1-800-525-7111 and let's review your claim.
What is Belviq?
Belviq and Belviq XR are the brand names for the weight-loss drug lorcaserin. This is a prescription medication that is used to help overweight or obese adults manage their weight and aid in weight-loss.
Belviq was manufactured and distributed by the company Eisai Inc., which submitted voluntarily withdrew the drug after the FDA warning, until more investigations are done regarding Belviq's increased pancreatic cancer risk and other cancer risks.
Does Belviq Cause Pancreatic Cancer?
Upon the approval of Belviq by the FDA, the manufacturer was required to conduct a randomized, double-blind, placebo-controlled clinical trial to initially evaluate the risk of cardiovascular problems in patients taking the drug.
What this study revealed, however, was not a risk of cardiovascular problems, but an increased risk of cancer diagnosis in those taking Bleviq vs. the placebo.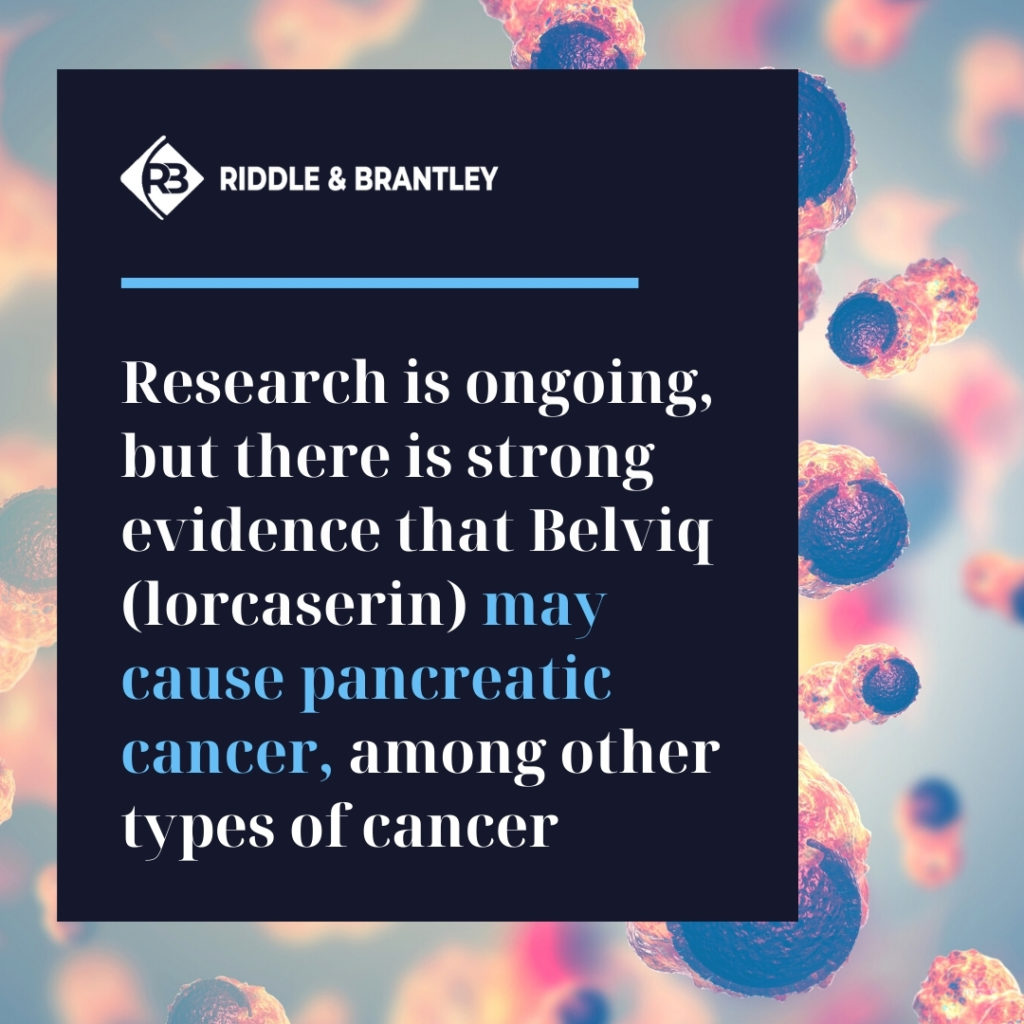 Another further analysis of these studies published to the National Library of Medicine supports the findings of the initial studies and suggests that the greatest incidents of risk lie in patients developing pancreatic cancer or lung cancer.
The study noted that "in this study, the lorcaserin group had a higher risk of lung and pancreatic [cancer]."
More studies are being conducted, but there is significant evidence to link Belviq to an increased risk for pancreatic cancer, among others. Our attorneys are actively investigating claims of these dangerous Belviq side effects, and we are committed to justice for those potentially affected.
"If I've taken Belviq and been diagnosed with pancreatic cancer, do I qualify for a lawsuit?"
If you have taken Belviq and later developed pancreatic cancer (or another form of qualifying cancer), you may be eligible for a Belviq cancer lawsuit.
In order to qualify, you must:
Be under 70 years of age
Have been prescribed Belviq or Belviq XR after June 2012
Have been officially diagnosed with one of the following cancers after taking Belviq:

Pancreatic cancer
Lung cancer
Breast cancer
Colorectal cancer

Have received your cancer diagnosis 6 months or more after starting Belviq
For a FREE case review and consultation, call Riddle & Brantley today at  1-800-525-7111. One of our experienced dangerous drug attorneys will carefully go over the details of your claim with you and help guide you through the next steps if they believe you qualify for a lawsuit.
Why Hire Riddle & Brantley for a Belviq Lawsuit?
If you have taken Belviq and later developed pancreatic cancer or other qualifying cancer, you deserve to have someone on your side fighting for justice.
At Riddle & Brantley, our attorneys have over 220+ years of combined legal experience fighting for victims of others' negligence. Manufacturers like Eisai Inc. and others have skilled legal teams on their side helping them avoid accountability for injuries their drugs may potentially cause, and we are dedicated to providing our clients with the skills and expertise to fight against these defenses.
Since 2000 alone, we've recovered more than $600 million in total compensation for our deserving clients (see disclaimer below).
"This settlement changed me and my family's lives."
-Linda B., Riddle & Brantley client
Most importantly, at Riddle & Brantley, we know how medical bills and other expenses can pile up in the face of unexpected illness or injury. That's why you will never pay any attorney fees unless you receive compensation for your claim.
We are invested in getting you the justice you deserve, and we will use our best resources to handle your case from start to finish, so you can focus on healing instead of complex legal proceedings.
If you've suffered from pancreatic cancer after taking Belviq or Belviq XR, please call 1-800-525-7111 — you may be entitled to significant compensation.
Call 1-800-525-7111 or complete the fast and easy form below and let's talk.
We do all of this because at Riddle & Brantley, we believe that Justice Counts, and we're dedicated to showing that to each and every one of our clients.
---
*** Disclaimer: The results mentioned are intended to illustrate the type of cases handled by the firm. These results do not guarantee a similar outcome, and they should not be construed to constitute a promise or guarantee of a particular result in any particular case. Every case is different, and the outcome of any case depends upon a variety of factors unique to that case.