Nizatidine Recall in Canada Raises Serious Questions
A major Canadian pharmaceutical company has issued a nizatidine recall, the latest in a string of cancer concerns related to the popular heartburn medication. An initial nizatidine recall was issued by Mylan in the United States in early 2020 after testing found elevated levels of NDMA, a potentially cancer-causing chemical.
S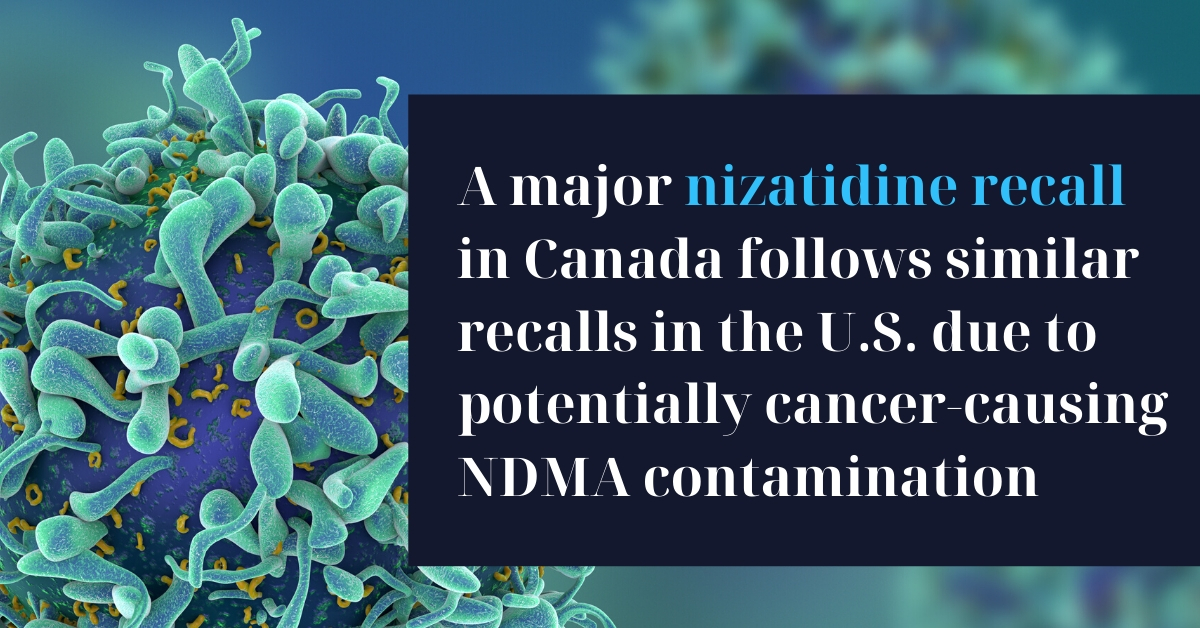 imilar NDMA contamination was discovered in Zantac in late 2019, prompting a major FDA recall and warning that Zantac may cause cancer. Like nizatidine, Zantac is an H2-antihistamine blocker used to treat heartburn and gastric ulcers.
Brand name nizatidine medications include Tazac and Axid.
In the wake of nizatidine recalls in Canada and the United States, our nizatidine cancer lawyers are investigating claims of cancer potentially caused by NDMA-contaminated nizatidine, including Tazac and Axid.
Canadian Nizatidine Recall: What's Involved
Two lots of nizatidine were recalled by the Pendopharm Division of a major Candian drug manufacturer, Pharmascience, Inc. in early May 2020. Pharmascience had previously agreed to stop manufacturing Axid (nizatidine) after NDMA contamination was discovered in early 2020.
Lots of nizatidine (Axid) being recalled as of early May 2020 include:
Axid Caps 100, DIN: 00778338, 150 mg, Lot: 616927, EXP: Aug 31, 2020
Axid Caps 100, DIN: 00778338, 150 mg, Lot: 617088, EXP: Aug 31, 2020
Nizatidine Recalls in the United States
Prior to the nizatidine recall in Canada, manufacturers in the United States took action due to potential NDMA contamination in the heartburn medication.
In April 2020, Amneal Pharmaceutical in the United States recalled its nizatidine oral solution (15 mg tablets) due to "unacceptable" levels of potentially cancer-causing NDMA. The FDA has requested that all nizatidine manufacturers conduct additional testing to determine whether levels of NDMA are within the acceptable limit.
In January 2020, Mylan, another major U.S. drug manufacturer, voluntarily recalled certain lots of nizatidine due to tests that showed elevated levels of NDMA, as well.
For more information on nizatidine recalls in the United States, please visit the FDA's Zantac and nizatidine updates pages.
Does nizatidine cause cancer?
In the wake of findings of NDMA contamination in nizatidine (including brand names Axid and Tazac), many doctors and patients are asking if nizatidine causes cancer.
The fact is, nizatidine has been found to be contaminated with NDMA, which a known carcinogen and is actually used to cause cancer in laboratory animals.
NDMA has been linked to as many as 20 different types of cancer, including:
Esophageal cancer
Stomach cancer
Intestinal cancer
Colorectal cancer
Bladder cancer
Pancreatic cancer
Kidney cancer
Liver cancer
Prostate cancer
Breast cancer
Testicular cancer
Thyroid cancer
Nasal/throat cancer
Lung cancer
Uterine cancer
Ovarian cancer
Leukemia
Non-Hodgkins lymphoma
Multiple myeloma
Those whose cancer was potentially caused by contaminated nizatidine may be entitled to significant financial compensation.
If you believe your cancer may be due to taking nizatidine (including Tazac or Axid), please call 1-800-525-7111 to speak with a nizatidine lawyer who can help.
We will review your case at absolutely no cost, and there are no attorney fees unless we win your case and you receive financial compensation.
Call 1-800-525-7111 or complete the short form below for a FREE, no-obligation consultation with a dangerous drug attorney handling nizatidine claims.
Justice Counts for those who have suffered cancer due to potentially dangerous drugs like nizatidine.
You don't have to go through this alone. Our nizatidine lawyers are standing by and ready to help.
***Disclaimer: No settlement agreement has been reached in any litigation regarding ranitidine (ZANTAC®), including in the Multidistrict Litigation in the United States District Court for the Southern District of Florida (case no. 20-MD-2924).