Zantac Cancer Risk and Potential Recall for NDMA
Does Zantac cause cancer?
With evidence indicating a possible cancer risk, Walgreens, CVS and Rite-Aid have stopped selling Zantac and ranitidine, a generic version of the popular heartburn medication.
Many people are asking "I heard the Zantac I've been taking could cause Cancer. Is that true?"
According to a review by the Food & Drug Administration (FDA), Zantac may contain NDMA, a dangerous substance that may cause cancer.
In a statement, the FDA said that some ranitidine medications, including Zantac, contain low levels of ranitidine.
"NDMA is classified as a probable human carcinogen (a substance that could cause cancer) based on results from laboratory tests." -Food & Drug Administration (FDA)
Zantac is manufactured by Apotex Corp. and is one of the most common medication for preventing and treating heartburn.
Possible Zantac Recall?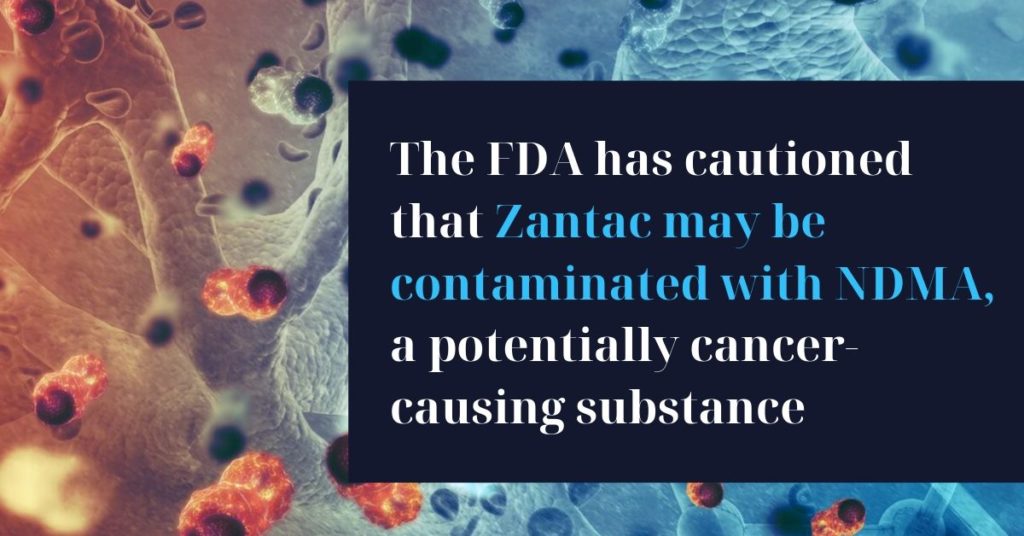 Zantac has not yet been recalled by the manufacturer, and the FDA has not recommended that patients stop taking the heartburn medication.
However, concerned patients may return Zantac and generic equivalents for a full refund, at least at CVS.
Beyond Zantac, a voluntary recall has been issued by Sandoz, a manufacturer that makes ranitidine hydrochloride capsules. The drug maker issued the recall after contamination by the potentially cancer-causing substance was confirmed.
Are You Taking Zantac? Have You Been Diagnosed with Cancer? 
If you're taking or have taken Zantac and have been diagnosed with cancer, contact the Zantac lawsuit lawyers at Riddle & Brantley.
Patients who have taken Zantac or other potentially NDMA-contaminated drugs and been diagnosed with cancer deserve justice — and may be entitled to financial compensation.
We have nearly 200 years of combined experience holding drug manufacturers accountable for medications that endanger patient safety.
Please call 1-800-525-7111 for a FREE consultation or complete the form below.
There are no upfront costs and no attorney fees unless we win your case and you receive financial compensation.
Call 1-800-525-7111 to speak with a Zantac cancer lawyer today.
The case review is free. We will listen to you, advise you on your legal options, and help you determine the best path forward.
If you're concerned about Zantac cancer risks or suffered from cancer potentially caused by Zantac or other possibly NDMA-contaminated medications, you deserve justice and may be entitled to significant compensation.
Call Riddle & Brantley today at 1-800-525-7111.
Justice Counts, and we're here to help.