What is the "Demand Stage," and What is a "Demand Package?"
During the progression of your personal injury claim, you might hear your personal injury attorney state that your claim is currently in the demand stage. You might be wondering, "What is the demand stage?" and "What is a demand package?"
In this short article, we'll do our best to answer those questions.
"What is the demand stage?"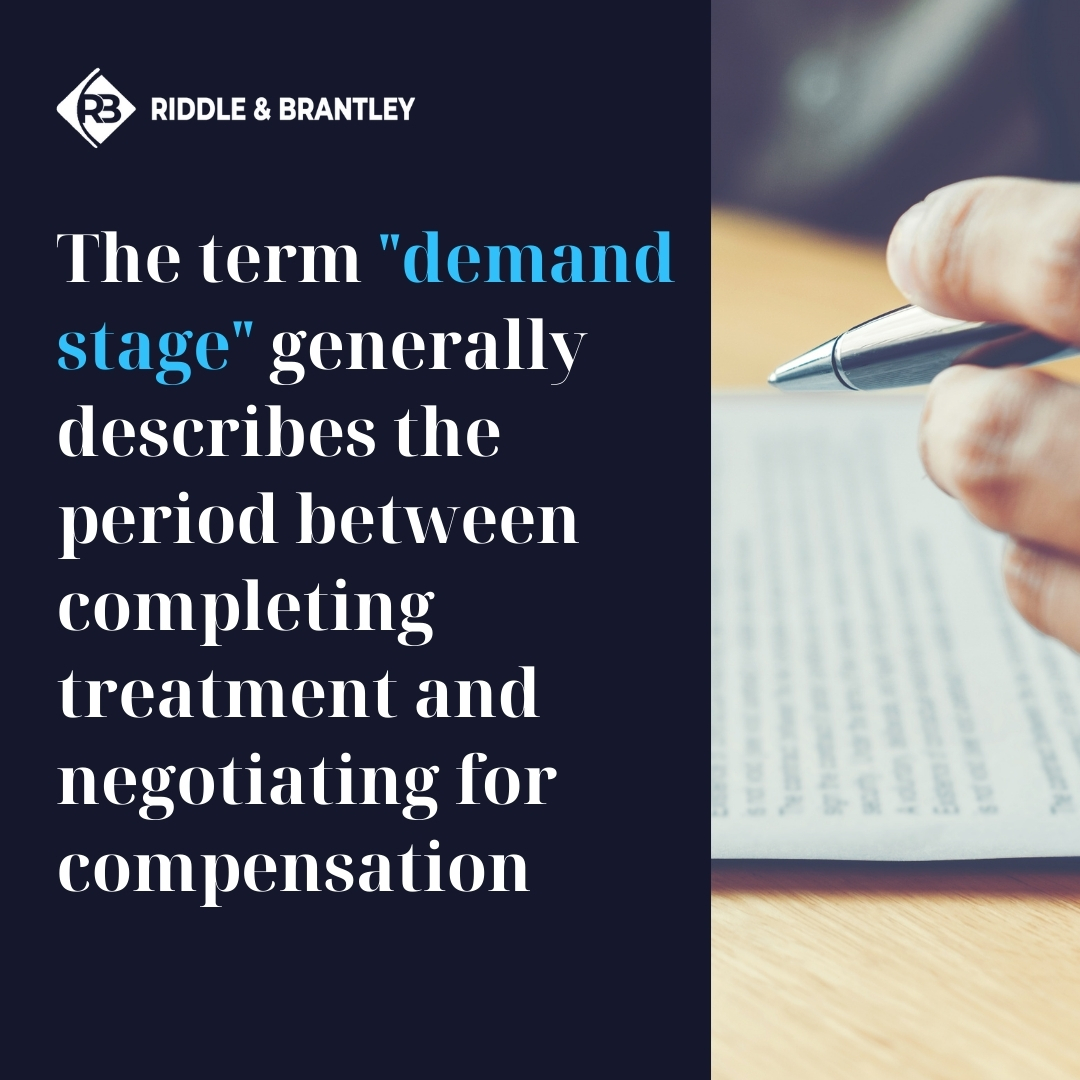 In short, the term "demand stage" is commonly used to describe the time period between completing treatment and negotiations.
The attorneys at Riddle and Brantley use this stage in the claim process to gather all relevant information to evaluate your claim. Once we have everything needed, we send your demand package (sometimes called a settlement package) to the insurance adjuster so they can evaluate your claim and eventually start the negotiations process.
What's in a Demand Package?
A typical personal injury demand package includes documentation of all expenses relevant to your claim, including:
Medical bills
Medical records
Lost wages
Other expenses relevant to your claim
In addition, if you have endured surgery, suffered permanent injury or scarring, your demand package may require more documentation in the form of special medical records from your physicians, an estimate of future medical expenses and future lost wages, and potentially an economic expert's evaluation of your future damages. Some of our clients need a life care plan if their injuries are severely disabling.
These extra efforts and important documents take time for proper and thorough preparation. At Riddle and Brantley, we don't cut corners and we look under every stone. Once we send the demand package to the insurance company, we allow them reasonable time to review the demand and then we initiate negotiations.
When your claim is in the demand stage, our firm works tirelessly to receive all medical records and verify all bills. Our main goal in this stage is to get your claim moving to negotiations as soon as possible, but sometimes efforts to put together a settlement package are held up because of missing documents.
Obtaining Medical Records and Bills
Because it is up to the medical providers to release and send the records and bills, this process can take some time. However, your case manager will continue to contact your providers for your outstanding documents. Unfortunately, it might take a while for the medical providers to send over the medical expenses and records. Our dedicated team will continue to request all relevant records and bills until we receive them.
For these reasons, your demand package could be on hold until the providers submit all necessary documents. At Riddle and Brantley, our goal is to help you seek maximum compensation for all your medical expenses and injuries. Therefore, your case manager generally will not submit your demand package to the adjuster until all bills and records are accounted for.
However, in some cases we can submit the demand package to the insurance company reviewing your claim and then submit supplemental packages as needed. This is not common but is necessary in cases where our clients continue treatment for long periods of time.
"What happens after the demand package is sent to the insurance company?"
Once the demand package is sent to the insurance company, our personal injury team normally allows the adjuster 30 to 60 days to review the demand package. There are times when this process is shorter and other times when it is longer.
During this time, we prepare to negotiate by reviewing all of the medical records, bills and economic damages. If the insurance company has not answered our demand in a reasonable amount of time, we will contact them to start the negotiations process. After the adjuster makes the contact, we will begin negotiations.
Our goal is to settle your case in a timely and efficient manner. However, we also want to ensure that you receive fair compensation. The negotiations process can take some time, but our firm is dedicated to protecting your best interests.
We will keep you updated during this process and you may call for an update anytime.
Once we reach a final offer, your attorney will contact you to discuss your best legal options, which may include settling the claim or filing a lawsuit.
Questions About the Demand Process?
If you have any questions or concerns about the demand process, please don't hesitate to contact our office. We are happy to answer any questions you might have.