What Happens If I File a CPAP Lawsuit?
If you've suffered from cancer after using a Philips CPAP machine, BiLevel PAP machine, or mechanical ventilator, you may seek compensation through a CPAP lawsuit. But what happens after you file a CPAP lawsuit? It's still very early in the process, and the outcome of these claims is uncertain, but here's what to expect if you file a CPAP lawsuit alleging that exposure to toxic CPAP foam caused cancer.
After Filing a CPAP Lawsuit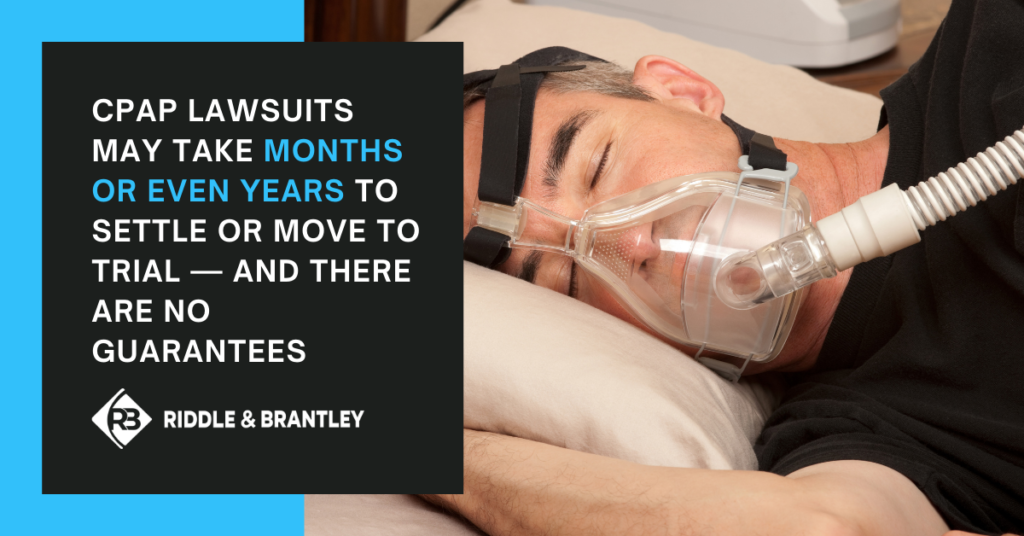 After you file a lawsuit alleging that CPAP machines cause cancer, the waiting game begins. You can expect to wait a long time before a CPAP lawsuit goes to trial — if it goes to trial at all. Most lawsuits are settled out of court, but in the case of CPAP lawsuits, where thousands of plaintiffs may have claims, it may take a very long time before there is any settlement.
This is because CPAP lawsuits may be consolidated into multidistrict litigation, otherwise known as an MDL. Multidistrict litigation is a legal mechanism for streamlining hundreds or thousands of cases in order to move the legal process along more quickly. But MDLs take a long time, as well.
According to a recent report, at least one plaintiff has already requested that CPAP lawsuits be consolidated into an MDL.
"What Happens if My CPAP Lawsuit Joins an MDL?"
If CPAP lawsuits are consolidated into multidistrict litigation, the process is complex and potentially very time-consuming, involving multiple steps:
The MDL is assigned to a federal district court
A federal district court judge is appointed to oversee the MDL
The federal judge appoints co-lead counsels (attorneys), called a "Steering Committee"
The lawsuits enter the "discovery" phase, in which plaintiffs and the defense (in this case, potentially Philips) gather and request evidence
The judge schedules one or more "bellwether trials" — these initial jury trials are often used to weigh the strength of plaintiffs' and defense arguments, and the outcome often influences any potential settlement(s)
A "global" settlement may be agreed to by attorneys representing plaintiffs and defendant(s)
If a global settlement is reached, the plaintiffs must agree to it
The federal judge overseeing the MDL must also agree to the terms of the global settlement
Compensation is disbursed to plaintiffs, often via a "tiered" system that considers the severity of each plaintiff's injury and the strength of the evidence
Keep in mind that after you file a CPAP lawsuit, if the lawsuits are consolidated into multidistrict litigation, your claim will remain separate. In an MDL, every case is individual (and plaintiffs maintain their own individual attorneys), but the plaintiffs are collectively represented by a group of co-lead counsels, referred to as the "Steering Committee." These attorneys are appointed by the judge overseeing the MDL.
"What if CPAP Lawsuits Are Not Consolidated Into an MDL?"
If, on the other hand, CPAP lawsuits are not consolidated into multidistrict litigation, the process will play out in different ways for different plaintiffs. The duration of any lawsuit varies based on a number of factors, including:
Motions filed by plaintiff's and defense counsel
Rulings issued by the judge
The amount of discovery (evidence gathering) required
Negotiations between plaintiff's and defense counsel
The amount and type of media coverage, which may affect the defense's willingness to go to trial
The complexity of plaintiff's and defense arguments
The number of witnesses called at trial
Ultimately, there are no guarantees in any case, and a lawsuit may take weeks, months, or even years to resolve. In many cases, lawsuits do not ultimately go to trial, but a potential settlement can take months or over a year to negotiate.
"If I File a CPAP Lawsuit, When Will I Get Paid?"
There are no guarantees in any CPAP lawsuit, and compensation is far from certain. To date, there have been no settlements or verdicts in these cases, and Philips strongly denies any negligence or wrongdoing.
If, however, a settlement does happen, it could take months or even years before plaintiffs see any of that compensation — and again, no settlement or favorable verdict is ever guaranteed. The outcome of any case ultimately depends on the unique facts and circumstances of that case, as well as how the lawsuit moves through the legal system, which can be influenced by many factors.
Do You Qualify for a CPAP Lawsuit?
If you've suffered from cancer after using a recalled Philips CPAP machine, BiLevel PAP machine, or mechanical ventilator, you may be entitled to compensation and qualify for a CPAP lawsuit.
You must meet the following criteria to qualify for a CPAP lawsuit:
Used a qualifying recalled Philips BiLevel CPAP, Philips CPAP machine, or Philips ventilator
Diagnosed with a qualifying cancer or other injury / disease (call for a free case review)
Not a current or previous smoker (if affected by lung cancer)
Cancers potentially caused by degrading foam and "off-gassing" in Philips CPAP machines include:
Liver cancer
Rectal cancer
Brain cancer
Stomach cancer
Nasal cancer
Throat cancer
Laryngeal cancer
Thryoid cancer
Papillary cancer
Various types of leukemia
Non-Hodgkin's lymphoma
Multiple myeloma
NOTE: The potential danger that defective CPAP machines may cause cancer has not been extensively researched. We anticipate more studies to examine the possibility that defective CPAP machines can cause cancer, and will continue to provided up-to-date information as it becomes available. In the meantime, if you have used a Philips CPAP machine, talk with your doctor immediately about potential cancer risk.
Other injuries potentially caused by inhaling or absorbing foam particulates from Philips CPAP machines include:
Severe ear, eye, nose, throat, sinus, or oral cavity inflammation and injury including nodules, cysts, and tumors
Respiratory problems, including:

Reactive Airway Disease (RAD)
Acute Respiratory Distress Syndrome (ARDS)
Recurrent pneumonia
New or or worsening asthma

Lung damage / lung disease
Kidney damage/ kidney disease
Liver damage / liver disease
Heart problems
Sudden respiratory failure leading to heart attack
For a FREE, no-obligation consultation with an experienced CPAP lawyer, please call 1-800-525-7111 or complete the fast and convenient form below.
There are no upfront costs, and you won't pay any attorney fees unless we win your case and you receive compensation.
Call 1-800-525-7111 and let an experienced product liability attorney at Riddle & Brantley review your claim and advise you on whether to file a CPAP lawsuit.
"They made a hard time in my life easier to endure."
–Melissa C., Riddle & Brantley client
We believe Justice Counts and we are ready to help you and your loved ones however we can.