Fayetteville Distracted Driving Accident Lawyer
Distracted Driving in Fayetteville and North Carolina
The numbers are terrible:
More than 8 percent of all traffic accident deaths in North Carolina in 2018 were caused by distracted driving.
Distracted Driving in North Carolina in 2018 At-A-Glance:
54,046 crashes involving distracted driving
121 fatalities involving distracted driving
24,178 injuries involving distracted driving
Many of these car crashes, truck accidents and other motor vehicle incidents occurred in the greater Fayetteville area and the number of distracted driving accidents is on the rise in North Carolina.
Always stay alert and be aware that not all drivers around you may be paying attention.
Have you been hurt in a motor vehicle accident involving distracted driving?
You may be entitled to compensation and our distracted driving lawyers can help.
We have been serving victims of distracted driving in North Carolina — including Fayetteville — for decades, and our Fayetteville NC distracted driving attorneys would love to help you get the justice and compensation you deserve.
There is no obligation and you'll never pay any attorney fees unless we win your case and you receive financial compensation.
Justice counts for victims of distracted driving in Fayetteville and greater North Carolina.
The effects of a distracted driving accident can last a lifetime and you deserve justice.
You don't have to do this alone.
"Distracted driving is on the rise in North Carolina, and victims deserve justice."
–Gene Riddle, Fayetteville injury lawyer handling distracted driving cases
We only get paid if we recover financial compensation for you in your distracted driving injury claim. That's our promise to you.
Our attorneys have more than 220+ years of combined legal experience. We know how to navigate the insurance claims process and can help you pursue a lawsuit if necessary.
Since 1985, we've secured multiple five, six and even seven-figure judgments and settlements in car, truck and other auto accident cases, many in the Fayetteville area (see disclaimer below).
Our Results for Injured North Carolinians
Recent case results include:
$9,450,000 | Truck Accident & Wrongful Death — Our trial attorneys represented the surviving loved ones of a family of four who were killed in a major 18-wheeler accident on a busy North Carolina highway. Multiple semi-trucks were involved in the accident. We organized a comprehensive crash scene investigation, including reconstruction by outside experts, filed multiple lawsuits and obtained more than $9 million in total compensation from multiple parties.
$2,250,000 | Car Accident & Wrongful Death — When a young woman was killed by a truck crossing the center line, attorney Gene Riddle was called in by the family to fight for justice in the case. Attorney Riddle advised defense counsel of his intention to file a lawsuit and entered mediation proceedings, ultimately negotiating more than $2 million in compensation in this wrongful death case.
$2,000,000 | Tractor-Trailer Accident & Wrongful Death — Our attorneys represented the two surviving sons of an older woman who died of injuries suffered in a truck accident involving an 18-wheeler. We hired outside experts to prove liability and entered mediation with defense counsel, negotiating $2,000,000 in compensation for the victim's family.
*** Disclaimer: The results mentioned are intended to illustrate the type of cases handled by the firm. These results do not guarantee a similar outcome, and they should not be construed to constitute a promise or guarantee of a particular result in any particular case. Every case is different, and the outcome of any case depends upon a variety of factors unique to that case.
In addition to serving clients in Fayetteville, we also handle distracted driving accident cases in nearby Raleigh, Durham, Goldsboro and many other North Carolina cities.
Free consultations are available by appointment only in our Fayetteville office, but we can consult with you from anywhere by phone, email, text or video conference. There is no in-person visit necessary, but our attorneys and investigators can come to you directly if more convenient.
In the most serious and heartbreaking cases, our wrongful death lawyers are ready to help grieving families seek justice.
Experienced Distracted Driving Accident Lawyers Serving Fayetteville NC
Distracted driving attorney Gene Riddle is a member of Super Lawyers, The National Association of Distinguished Counsel, The National Trial Lawyers Top 100, and Multi-Million Dollar Advocates Forum. He is the recipient of the 2014 Litigator Award and has earned the top-tier AV Preeminent rating from Martindale-Hubbell (see disclaimer below).
We've built our reputation on superior service and honest and ethical representation for injured North Carolinians.
"They handled my case very professionally, with respect from beginning to end."
–Joseph W., Riddle & Brantley client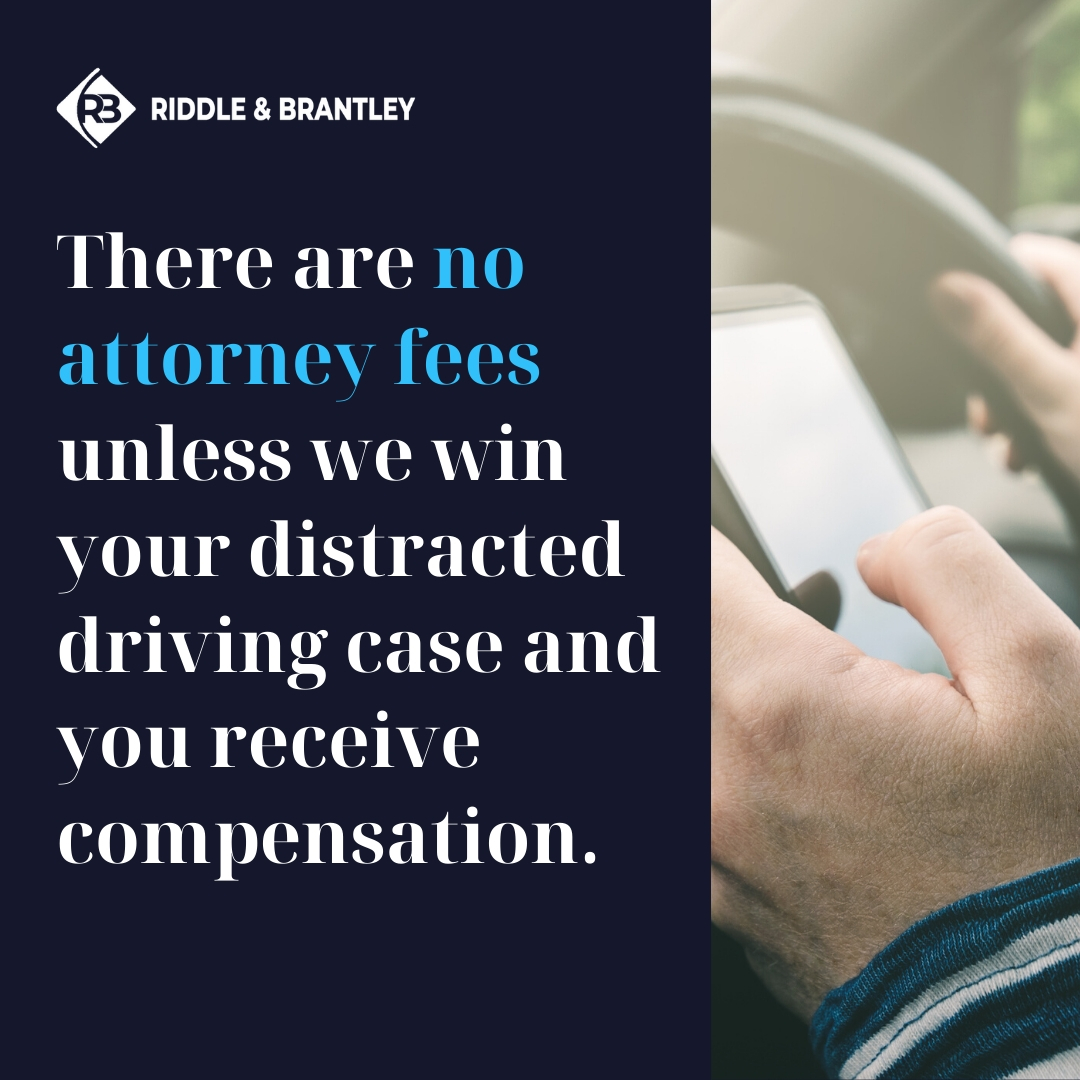 Insurance companies can do all kinds of things to avoid paying your injury claim, and we know how to navigate these complex and time-consuming cases.
"It was nice to see Riddle & Brantley put me and my needs first."
-R. Colley, Riddle & Brantley client
If you've been injured in an auto accident in the Fayetteville area involving distracted driving, you deserve justice and we would love to help however we can.
Justice Counts for victims of injury due to others' negligence in North Carolina.
---
*** Disclaimer: An attorney must meet certain requirements to join these organizations or receive these awards. For more information on Membership Criteria for Million Dollar Advocates Forum, Multi-Million Dollar Advocates Forum, Super Lawyers, The National Trial Lawyers Top 100, The National Association of Distinguished Counsel, AV Preeminent by Martindale-Hubbell, and the Litigator Award, please visit our Membership Criteria page. These awards and memberships should not be construed as a promise or guarantee of a similar result. Each case is different and must be evaluated separately.