Fayetteville, NC Hit and Run Accident Lawyers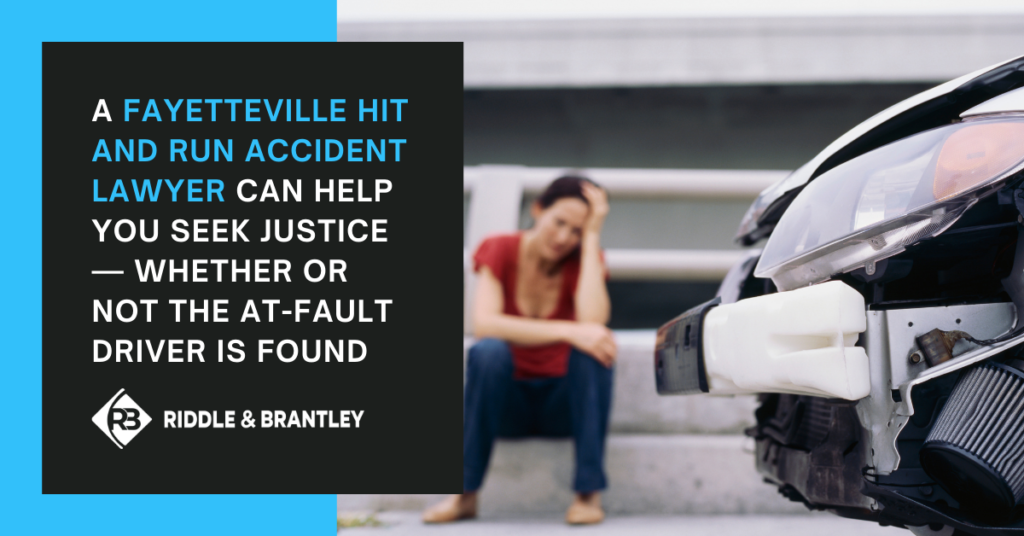 Unfortunately, hit and run accidents are far too common in Fayetteville as well as all over North Carolina. If you are injured in a hit and run accident it is important to contact an experienced and dedicated Fayetteville hit and run accident lawyer who will work hard for you. You will need someone in your corner with your best interests in mind who will be able to help investigate the identify of the at fault driver and pursue the justice and compensation you deserve, even if the driver's identity is never determined.
We are available to meet you at our convenient Fayetteville location by appointment only, or we can consult with you for free from anywhere by phone, email, text, or video conference. We can also come to you directly if you prefer.
A Personal Connection to Fayetteville
Fayetteville is found in the sandhills of the western part of the coastal plains region in North Carolina. It is the 6th largest city in North Carolina with an estimated population of over 520,000 people. Fayetteville is home to Fort Bragg, a major United States army installation northwest of the city.
Many of our Fayetteville hit and run accident lawyers and staff have close family ties to the Fayetteville area, and some have loved ones serving in the military. We are dedicated to ensuring that the people of Fayetteville get the justice they deserve.
North Carolina Law Regarding Hit and Run Accidents
North Carolina law states a driver who is involved in a car accident resulting in property damage, personal injuries, and/or death must immediately stop at the scene. Additionally, the driver must remain at the scene of the accident until law enforcement arrives and completes a thorough investigation. Fleeing the scene of an accident involving serious injury is a felony in North Carolina and criminal charges will be brought against any driver who leaves the scene of an accident.
In many cases, Riddle & Brantley attorneys will attend court hearings related to criminal proceedings against defendants on behalf of our clients. In most cases, a criminal charge or conviction will strongly support a related civil claim.
Hit and Run Accidents in Fayetteville
A hit and run occurs when a driver leaves the scene after an accident. In North Carolina, it is illegal for a driver who is involved in an accident to flee the scene. Regrettably, hit and run accidents leave the injured party to fend for him or herself. This can have a disastrous outcome if person who has been hit is badly hurt or killed.
Hit and run accidents are unfortunately not uncommon in large North Carolina cities like Fayetteville. According to AAA, on average, a hit and run accident occurs more than once every minute in the United States.
Compensation in Hit and Run Accident Cases
Many of our clients are surprised to learn that there are various ways to obtain compensation after hit and run accidents. The outcome of a hit and run accident will often depend on whether the at-fault driver is identified.
If the Driver is Identified
Sometimes law enforcement can identify the at-fault driver. Frequently this is done by tracking the license plate numbers or using traffic or other surveillance camera footage. If this is the case, you may be able to file a car accident claim against the identified driver to recover compensation for your injuries. Recently, the wife of one of the attorneys here was hit by a driver who fled the scene. Fortunately, Gene Riddle was only a few blocks away. He aided the police in finding video of the accident and later locating the defendant driver and his vehicle. Charges were filed and the matter is still pending in criminal court. The good news is that the at-fault driver's insurance company is on the hook for the damages.
If the Driver is Not Identified
If authorities are not able to locate the hit and run driver, you could still have a claim and be able to recover compensation after the accident. In this situation, drivers injured in a hit and run accident can collect compensation through their uninsured or underinsured motorist policy. It is important to remember that filing a claim on your uninsured or underinsured policy will not make your premiums go up. Although the concern is valid, it usually does not happen. The attorneys at Riddle & Brantley suggest if you are involved in a hit and run accident you contact a Fayetteville hit and run accident lawyer as soon as possible. An experienced Fayetteville personal injury attorney will be able to help you navigate the sometimes-complicated process of filing an uninsured or underinsured claim.
What to Do After a Hit and Run Accident
You should know your rights and what you can do if you are a victim of a hit and run accident in Fayetteville or elsewhere in North Carolina.
Follow these steps if you've been injured in a hit and run accident:
Get emergency medical attention. Call 911 and get medical help right away if anyone is hurt. Medical records and doctor's notes will be crucial in potential claims or lawsuits.
Write down any information you can remember about the other vehicle or driver as soon as possible. As time goes by, memories may fade.
Document the accident scene with photos on your phone. Try to get pictures of any vehicles, people, road markings, injuries and signs involved in the accident.
Get all contact information from witnesses. Witness testimony may be crucial in identifying the other driver and proving liability.
Inspect all surroundings. Nearby businesses or other locations may have video footage of the accident. This can be critical in finding the hit and run driver. Other vehicles may also have dash cams that recorded the incident.
Call an experienced Fayetteville hit and run accident lawyer. An attorney can help answer any questions and navigate you through the process of dealing with the insurance companies.
Keep in mind that in most cases in North Carolina, you must file a personal injury claim within three years of the date of injury.
In wrongful death cases, a claim must be filed within two years of the date of death.
Don't lose your right to compensation due to an expired statute of limitations.
Injured in a Hit and Run in Fayetteville, NC?
If you are a victim of a hit and run accident in Fayetteville, North Carolina, let Riddle & Brantley help. Our law office understands how difficult and confusing filing a hit and run accident claim can be. Many people do not realize that it is possible to file a claim even if the other driver has not been identified.
With over 220+ years of combined legal experience, our North Carolina hit and run accident lawyers have what it takes to hold negligent parties accountable.
Since 2000 alone, our attorneys have recovered more than $600 million in total compensation for victims of others' negligence, and we'd love to help you however we can (see disclaimer below).
Investigators on Staff
At Riddle & Brantley, we have experienced retired law enforcement officers on staff to assist in accident investigations. These investigators can also help coordinate with law enforcement to identify and locate at-fault drivers in hit and run accidents. In another recent case, attorney Gene Riddle was able to track down and identify the at-fault driver in a hit and run accident that injured his wife. We have the experience and know-how to get the job done — and we are relentless in our pursuit of justice for our deserving clients.
Justice Counts for you and your loved ones. We are here to help.
---
*** Disclaimer: The results mentioned are intended to illustrate the type of cases handled by the firm. These results do not guarantee a similar outcome, and they should not be construed to constitute a promise or guarantee of a particular result in any particular case. Every case is different, and the outcome of any case depends upon a variety of factors unique to that case.