Uber Accident Lawyers in Greensboro, NC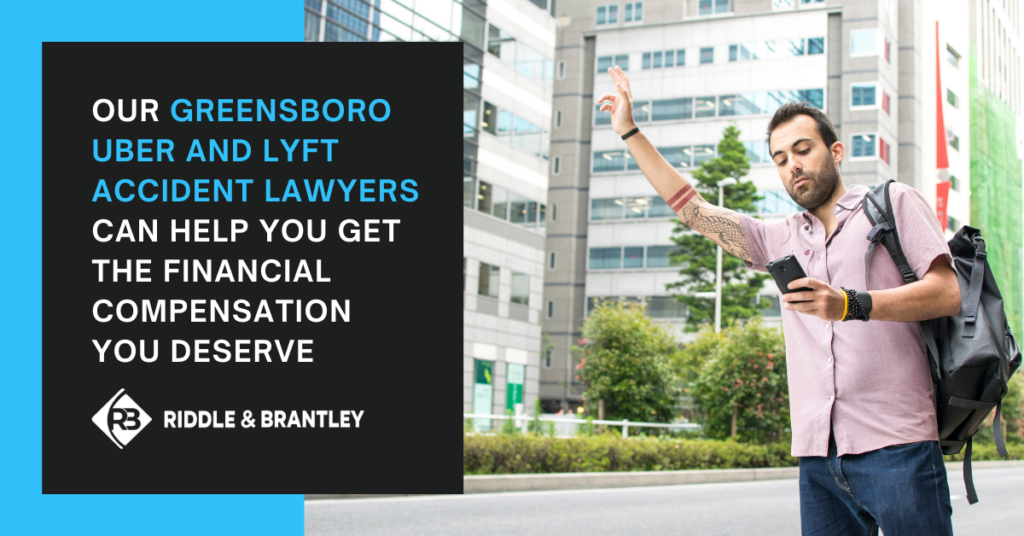 Uber and Lyft have revolutionized the way people travel. These rideshare services have made work and life more convenient, but Lyft and Uber accidents still happen. If you've been injured in an Uber or Lyft accident, you may benefit from hiring an experienced Greensboro Uber accident lawyer.
There are no attorney fees unless we win your case and you receive financial compensation.
Our injury attorneys in Greensboro can consult with you by appointment only at our convenient Greensboro office location, or we can consult with you from anywhere by phone, email, text, or video conference. We can even come right to you if you prefer.
"Who Can File an Uber Accident Claim or Lawsuit?"
An Uber accident can result in injuries to many different parties, each of which may have a case for an Uber accident claim or lawsuit.
Parties that may be eligible for an Uber or Lyft accident claim include:
Uber or Lyft passengers
Uber or Lyft drivers
Another driver hit by a Lyft or Uber vehicle
A passenger in a vehicle hit by a Lyft or Uber car
A pedestrian injured in an Uber or Lyft accident
A bicyclist injured in an Uber or Lyft accident
"What Compensation is Available in an Uber or Lyft Accident Claim?"
Depending on the facts and circumstances of the case, different insurance policies and coverages may apply if you're seeking compensation for injuries suffered due to a Lyft or Uber accident. An experienced Greensboro Uber accident attorney can review the details of your claim and advise you on what insurance coverage may be available.
For instance, if the Uber or Lyft driver is "on the clock" (logged into the rideshare app and either picking up, transporting, or dropping off passengers), Uber or Lyft's own liability insurance policy probably applies. Both companies carry liability insurance of $1 million.
If, however, the accident occurs while the driver is "off the clock," his or her own auto insurance policy probably applies. Other vehicles' insurance coverage may also apply, depending on the unique circumstances of the accident.
In cases in which a driver is not covered by insurance, or there is not enough insurance to cover the damages, your own uninsured / underinsured policy may be used to recover compensation.
Insurance claims related to Lyft and Uber accidents can be complicated, and we strongly encourage you to contact a Greensboro Uber accident lawyer to review your claim and advise you on your legal options for seeking compensation.
Statute of Limitations in Uber and Lyft Accident Claims
Like any personal injury case in North Carolina, Lyft and Uber accident claims are subject to the statute of limitations, which is the deadline for filing a claim. In most cases in North Carolina, you will need to file an Uber accident claim within 3 years of the date of injury, or 2 years of the date of death in a wrongful death case.
Don't lose your right to justice by missing important deadlines. Talk with our experienced Greensboro Uber and Lyft accident attorneys today.
Greensboro Uber Accident Lawyer Ready to Help
Let us take the burden off you so you can focus on what's most important: your health, recovery, and well-being. The aftermath of an Uber accident can be physically challenging, financially burdensome, and emotionally traumatic. We can help.
There is no obligation, and we don't get paid unless you do. If we don't recover compensation for you, you won't pay any attorney fees.
Justice Counts for victims of others' negligence and we would love to help however we can.
Our Results
In one recent Uber accident case, we recovered $339,000 for an Uber passenger who was seriously injured when the Uber car was t-boned by another vehicle (see disclaimer below). Nothing can ever make up for a serious injury, but we were glad to have helped our client get justice in the case.
"I would not have won my case without the help from my team at Riddle & Brantley. I am forever grateful."
–John S., Riddle & Brantley client
Don't wait — the longer you wait, the harder it may be to win your case and get you the compensation you need and deserve.
---
*** Disclaimer: The results mentioned are intended to illustrate the type of cases handled by the firm. These results do not guarantee a similar outcome, and they should not be construed to constitute a promise or guarantee of a particular result in any particular case. Every case is different, and the outcome of any case depends upon a variety of factors unique to that case.
*** Disclaimer: An attorney must meet certain requirements to join these organizations or receive these awards. For more information on Membership Criteria for Million Dollar Advocates Forum, Multi-Million Dollar Advocates Forum, Super Lawyers, The National Trial Lawyers Top 100, The National Trial Lawyers Top 40 Under 40, The National Association of Distinguished Counsel, AV Preeminent by Martindale-Hubbell, the Litigator Award, and other memberships, awards, and accolades, please visit our Membership Criteria page. These awards and memberships should not be construed as a promise or guarantee of a similar result. Each case is different and must be evaluated separately.