Policy Brutality and Misconduct Lawyer in Wilmington, NC
Have you suffered from potentially excessive force used by a police officer in Wilmington? Or have your constitutional rights been violated in a police search or other activity? A police brutality lawyer in Wilmington at Riddle & Brantley may be able to help. Please call 1-800-525-7111 for a free, 100% confidential consultation today.
There are no upfront costs and no attorney fees unless we win your police brutality case in Wilmington and you receive compensation. Our team of experienced Wilmington personal injury lawyers has experience handling excessive force and other claims and we would love to evaluate your case and see if we can help.
Please call 1-800-525-7111 and let's review your Wilmington police misconduct claim.
Excessive Force Claims in Wilmington, NC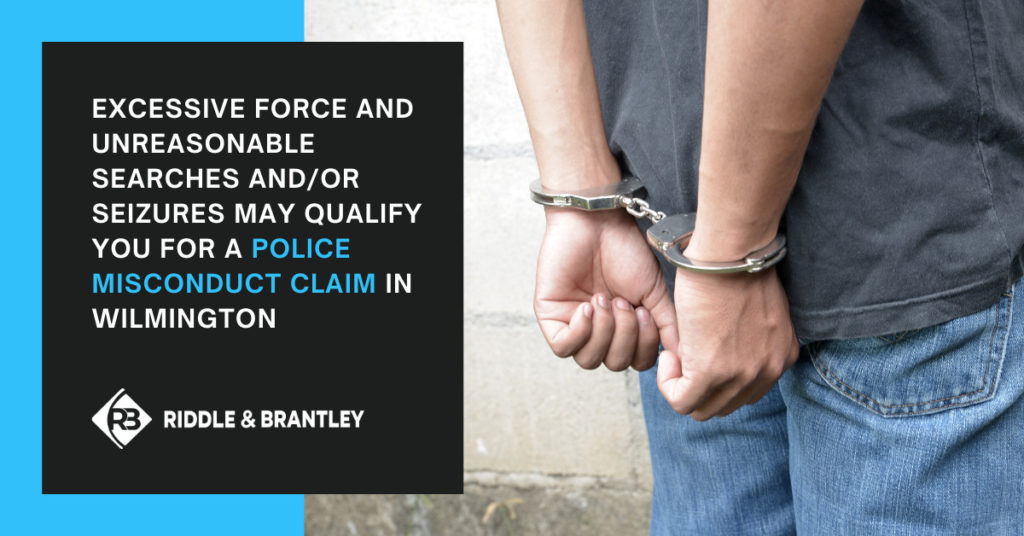 Excessive force or police brutality often occurs when a member of law enforcement exceeds the amount of force necessary to detain, question or arrest a suspect. Through the Fourth and Eighth Amendments, the Constitution protects individuals from excessive force at the hands of the U.S. Government. While the law does allow for officers to use force, it also limits law enforcement to only using the force needed to diffuse the situation. One of the most well-known examples of excessive force, is the highly publicized death of George Floyd. However, excessive force or police brutality cases can arise in various situations or constitutional violations.
In many cases, excessive force often occurs during arrests. Unprovoked assault at the hands of an officer may also be considered a form of police brutality. For instance, attorney Gene Riddle represented several female inmates that were forced into having sex with a male guard. Attorney Riddle was able to secure a $5 million verdict on behalf of our clients.
If you believe you've been the victim of police brutality or police misconduct in Wilmington, North Carolina or the surrounding areas, contact the Wilmington police brutality lawyers at Riddle & Brantley by calling 1-800-525-7111 or completing the short form below. One of our Wilmington injury attorneys will evaluate your case and determine if we can assist you in your police brutality claim.
Violations of Constitutional Rights by Law Enforcement in Wilmington, NC
You have certain rights that are provided and protected by the United States Constitution. Some of the most important rights include protections against excessive force at the hands of the government including the Fourth and Eighth Amendments.
Violations of the Fourth Amendment
The Fourth Amendment prevents government entities from "unreasonable search and seizure." This can include searches of a home or business, or even searches during routine traffic stops. In criminal law, "search and seizure" covers everything from drug or weapon searches during traffic stops to more significant searches of homes and businesses. A "search" involves law enforcement officers going through an individual's property and looking for certain items which are related to a crime that they believe has been committed. Any items taken from the search is called a "seizure." Any search by law enforcement must be supported by probable cause or a valid warrant.
"My Fourth Amendment Rights Were Violated. What Can I Do?"
If law enforcement officers in Wilmington (or anywhere else in the United States) violate an individual's constitutional rights under the 4th amendment, a search or seizure is considered unlawful. Moreover, evidence derived from that search is typically required to be kept out of any criminal case against the person whose rights were violated.
The rules of search and seizure are quite complicated. Let Riddle & Brantley help you navigate the process. If you feel a Wilmington police officer's search and/or seizure was unlawful, contact the experienced Wilmington search and seizure lawyers at Riddle & Brantley. We can help determine if your Fourth Amendment rights were violated and what legal options may be available to you.
Our Wilmington police brutality lawyers have been serving clients in eastern North Carolina for decades and we're ready to help however we can. Please call 1-800-525-7111 and let's talk.
Violations of the Fourth Amendment
The Eighth Amendment prohibits citizens from "cruel and unusual punishment." Many people believe that the Eighth Amendment only applies to the death penalty. However, violations of the Eighth Amendment can also occur when law enforcement uses excessive force.
Examples of 8th Amendment violations include:
Law enforcement using excessive force (excessive physical violence) against a subject
A police officer's denial of medical care for an individual who is in custody
A law enforcement officer subjecting a person in custody to physical or sexual assault
The Supreme Court has ruled that "cruel and unusual punishment" covers behavior that is "repugnant to the conscience of mankind." This sometimes includes excessive force or other behavior by police officers.
Police Brutality Attorneys in Wilmington, NC
In some instances, cases of police misconduct include either Fourth or Eighth Amendment violations. If you live in Wilmington, North Carolina, and have been injured as a result of a Fourth and/or the Eight Amendment violation, you may be entitled to compensation in a civil lawsuit.
For a free, no obligation consultation with a Wilmington police misconduct lawyer, please call 1-800-525-7111 or fill out the short form below. Our attorneys are happy to review your police brutality claim and help you negotiate the complexities of this claim. With more than 220+ years of combined legal experience, our attorneys can help.
Justice Counts for you and your loved ones. Call us today at 1-800-525-7111 and let's see how we can help.
---
** Disclaimer: The results mentioned are intended to illustrate the type of cases handled by the firm. These results do not guarantee a similar outcome, and they should not be construed to constitute a promise or guarantee of a particular result in any particular case. Every case is different, and the outcome of any case depends upon a variety of factors unique to that case.