10 Facts and Statistics About North Carolina Auto Accidents
North Carolina Auto Accident Facts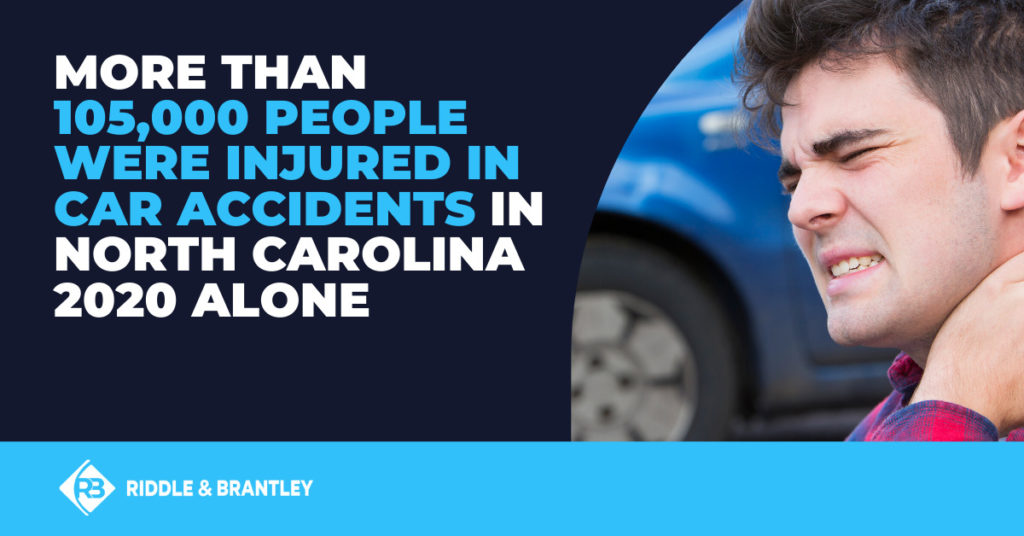 Each year over 1,000 people are killed on North Carolina roadways. Tragically, most of these auto accidents are preventable, caused by speeding, inattention, impairment, or other causes. If you are involved in a car crash, it is vital to seek medical attention and consult with an experienced attorney about your right to compensation.
At Riddle & Brantley, we represent individuals who have been seriously injured or lost a loved one in a North Carolina auto accident. Our North Carolina car accident lawyers have over 220+ years of combined experience and can help you get the justice you deserve after a collision. If you were injured in a car accident, please call 1-800-525-7111 for a free consultation with an experienced North Carolina car accident attorney at Riddle & Brantley. 
North Carolina Car Accident Statistics
In North Carolina and across the nation, car accidents are an everyday occurrence. What is surprising is the number of collisions that result in serious injury or death. The North Carolina Department of Transportation (NCDOT) issues statewide crash data that details how many reportable crashes, injuries, and deaths there are in a given year.
Crash facts according to the NCDOT show:
Over 100,000 People Are Injured Each Year.
In 2020, there were 105,382 persons injured in North Carolina auto accidents. While the number represents a 15.9% decrease from the previous year, it is still shows that crash-related injuries are common across North Carolina.
Most Crashes Occur During the Day.
Over 70% of all crashes in 2020 occurred between the hours of 7:00 am and 6:59 pm. In addition, more accidents occurred on Fridays, but the largest number of fatal accidents happened on Saturdays.
Speeding Accounted for Over 25% of Fatalities.
Speeding is a major factor in both injury and fatal crashes. The most recent data available from the NCDOT indicates that excess speed contributed to 25.1% of roadway fatalities in 2020.
Pedestrian Deaths Increased Significantly in 2020
Despite fewer cars being on the road during the pandemic, pedestrian deaths increased 7.8% in North Carolina in 2020. 249 pedestrians were killed in traffic accidents in 2020, up from 231 the previous year.
Overall Auto Accident Fatalities Increased During the Pandemic
In 2020, it was not only pedestrian fatalities that increased, but the overall auto accident fatalities rose. The total number of traffic-related deaths in North Carolina increased 12.8%, while the number of passengers killed rose 15.6% and the number of drivers killed increased by 12.4%
Early data indicates that the deadly trend continued into 2021. In short, the odds of being involved in a fatal car crash in North Carolina increased significantly over the past two years. 
Lane Departure Was a Factor in Over 50% of Fatal Crashes.
As noted in the North Carolina 2020 Traffic Crash Facts, lane departure was a factor in over 64,700 crashes. It reportedly contributed to 56.2% of all fatalities and 27.5% of all injuries.
Distracted Driving Caused 40,000+ Crashes.
Another leading cause of traffic crashes was distracted driving. Distracted driving accounted for 44,128 crashes, 157 fatalities, and 18,552 injuries. NCDOT reports that roughly 18% of auto accidents in North Carolina involve distracted driving.
There Were 247,214 Reported Crashes.
In 2020, there were 247,214 traffic crashes in North Carolina reported, representing a 13.3% decrease from the previous year.
The Auto Accident Fatality Rate in North Carolina Was 1.57%.
While the total number of crashes decreased in 2020 from 2019, the number of fatal accidents rose. According to the NCDOT, the fatality rate in North Carolina was 1.57%, well above the state's target fatality rate of 1.15% or less.
Most Accidents Are Preventable.
As we previously noted, most North Carolina car accidents are preventable and caused by driver error, recklessness, or distraction. Both auto accident injury rates and fatalities in North Carolina would decrease substantially if drivers followed traffic laws, including obeying the speed limit and not driving under the influence of drugs or alcohol. 
Need a North Carolina Car Accident Lawyer?
If you are injured in a car accident caused by another driver, you might be entitled to compensation. It is essential to consult with an attorney immediately after the incident to ensure that you receive the largest recovery possible.
Please call 1-800-525-7111 to discuss your case directly with a North Carolina car accident attorney at Riddle & Brantley. We know what it takes to fight and win for our clients. We have recovered over $600 million in verdicts and settlements for North Carolinians since 2000 alone (see disclaimer below). Call us today and let's talk.
---
*** Disclaimer: The results mentioned are intended to illustrate the type of cases handled by the firm. These results do not guarantee a similar outcome, and they should not be construed to constitute a promise or guarantee of a particular result in any particular case. Every case is different, and the outcome of any case depends upon a variety of factors unique to that case.