Can I Still Sue After I've Accepted a Car Accident Settlement?
"Can I File a Lawsuit If I've Already Accepted a Settlement in a Car Accident Case?"
The short answer is that no, in most cases accepting a car accident settlement waives your right to sue.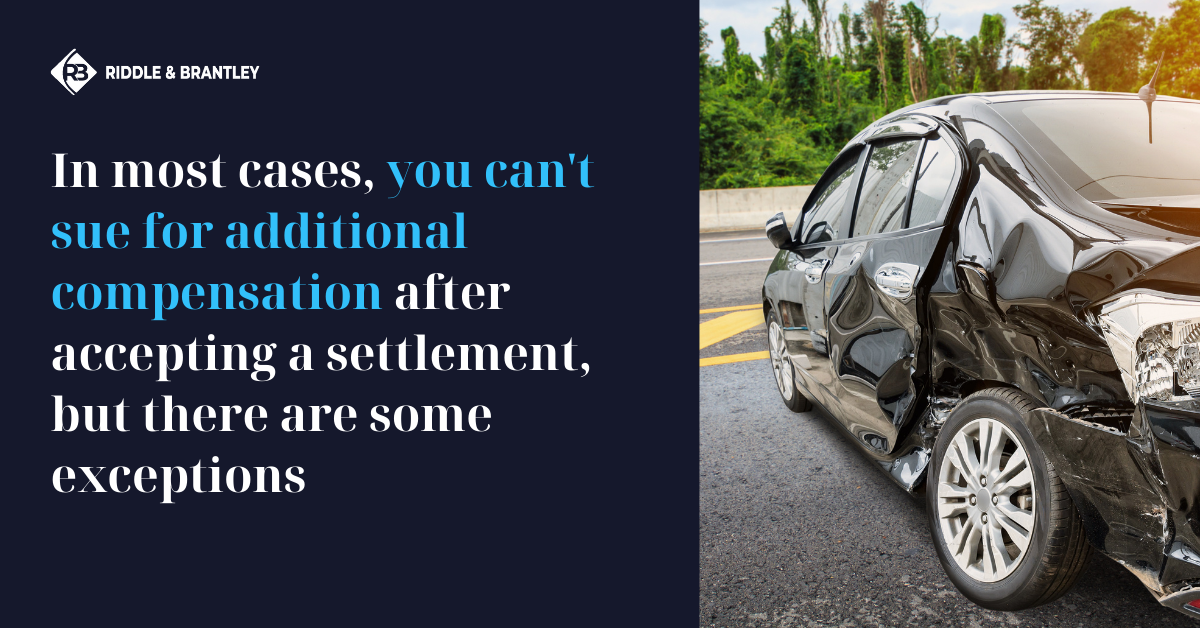 After an accident, the at-fault party's insurance company may be quick to call you with a lowball settlement offer. Remember, the insurer's first priority is to protect its bottom line, not to make sure that all of your past, present, and future damages are adequately compensated. They may ask you to sign a waiver or fill out a release form. In the confusing aftermath of an accident, many survivors sign these pieces of paper – unaware that in order to receive the settlement money, you must agree not to take further legal action.
THE BOTTOM LINE: With more than 220 years of combined legal experience, trust our North Carolina car accident lawyers: do NOT accept a settlement offer from an insurance company before first talking with an attorney.
Prior to engaging with the insurance company, car accident victims should:
Seek Medical Attention. Get diagnostic imaging and undergo a full medical examination to determine the extent of your injuries. Follow the doctor's orders and prescribed treatment. You may have to wait until you reach "maximum medical improvement" or until your doctor can offer a reasonably accurate prognosis in order to determine the full extent of the money your injury will cost you.
Consider More Than Medical Bills. Losses from a car accident can include lost past and future wages, limitations to your ability to work, pain and suffering, home modifications to accommodate a disability, transportation to and from doctor appointments, and loss of household services or companionship. These can all be recovered as part of a personal injury settlement.
Talk to a Personal Injury Attorney. A lawyer at Riddle & Brantley is ready to work with you every step of the way to ensure the paperwork you sign does not infringe upon your right to pursue fair compensation. A car accident attorney will not only conduct a thorough investigation of the crash, but will also negotiate for the maximum settlement allowed by law.
Without consulting medical experts and forensic economists, it can be impossible to gauge the full impact that today's accident will have on your tomorrow. Sometimes injuries turn out to be worse than expected, or disability limits your ability to earn a living, and what once seemed like a large sum of money proves inadequate when it comes to covering your full losses.
Once you accept money from the insurance company after a car accident, you waive your right to sue in the future. That's why it is always best to work with an attorney from day one to protect your legal rights. An experienced personal injury lawyer at Riddle & Brantley can help make sense of the situation. Please call 1-800-525-7111 for a FREE, no-obligation consultation.
Rare Exceptions Where You May Still Be Able to File a Lawsuit After a Settlement
In very rare cases, you may be able to file a car accident lawsuit even after you've accepted a settlement. These rare instances may include situations in which:
You Were Defrauded. Bad faith contracts are extremely hard to prove, but you may have a case against a defendant and insurance company who intentionally or inadvertently defrauded you.
There Is No Signed Agreement. In some cases, a wealthy motorist may offer cash on the spot to dodge liability. However, if there is no signed agreement, you can still pursue matters in court – especially if you were severely injured. In other cases, the insurance company may send you an offer, but you have not signed any paperwork yet. At this point, you may still be able to renegotiate the deal with a lawyer's help.
You Have Underinsured Motorist Coverage. Sometimes the defendant does not have the money to cover your total losses. You may be able to make a claim against your own insurance company's underinsured motorist policy to cover the total losses. The right to pursue this secondary claim depends upon your specific policy language. Most importantly, is you sign a release you may also give up your rights to pursue other coverages including your underinsured coverage.
Multiple Parties Were Involved. When multiple defendants contributed to an accident, you may have the ability to sue anyone who shares fault. Some liability waivers release all parties from future suits, but where specific language is lacking, you may still pursue a claim. For example, you may get a settlement from the other driver involved in the crash, but later find out there was a manufacturing defect with your vehicle that contributed to the accident. Your accident may involve two other drivers who both contributed to the wreck. As long as you are within North Carolina's statute of limitations, you may file a product liability claim or sue another party for your wreck. However, you cannot execute a general release. Doing so could release all of your claims against other parties. In this situation, our clients execute a joint tortfeasor release which specifically permits you to pursue claims against other parties. Working with a personal injury attorney will help you understand every potential angle of liability.
Contact Riddle & Brantley for a Free Consultation
In the aftermath of a car accident, it can be tempting to accept the money offered by an insurance company. After all, you may be in desperate need of funds to cover steep medical bills and lost wages. You may just want to put the whole matter behind you. However, by accepting the insurance company's first offer, you may be leaving substantial money on the table, which may come back to haunt you in the future.
Don't wait to contact an attorney after a car accident — and certainly, we encourage you to consult with an attorney prior to accepting a settlement from an insurance company. It may be one of the most consequential choices you make in your life.
We invite you to contact Riddle & Brantley after a car accident in North Carolina at 1-800-525-7111 for a free consultation. Attorneys Gene Riddle and Adam Smith recently recovered a $1 million settlement for a Goldsboro woman seriously injured in an auto accident, as well as a 75% reduction in a very large emergency room medical bill (see disclaimer below).
"They made a hard time in my life easier to endure."
-Melissa C., Riddle & Brantley client.
Our skilled negotiators have a proven track record of multi-million-dollar verdicts and settlements (see disclaimer below). You never owe us attorney fees unless we obtain compensation on your behalf, so you have nothing to lose and everything to gain by contacting our North Carolina car accident lawyers today.
Call (919) 778-9700 today and let an experienced car accident lawyer review your claim for free. You won't pay any upfront costs or attorney fees unless we win your case and you receive compensation.
Justice Counts for car accident injury victims in North Carolina and we would love to help however we can.
---
*** Disclaimer: The results mentioned are intended to illustrate the type of cases handled by the firm. These results do not guarantee a similar outcome, and they should not be construed to constitute a promise or guarantee of a particular result in any particular case. Every case is different, and the outcome of any case depends upon a variety of factors unique to that case.