How Long Does a Car Accident Settlement or Lawsuit Take?
How Long Does a Car Accident Claim Take?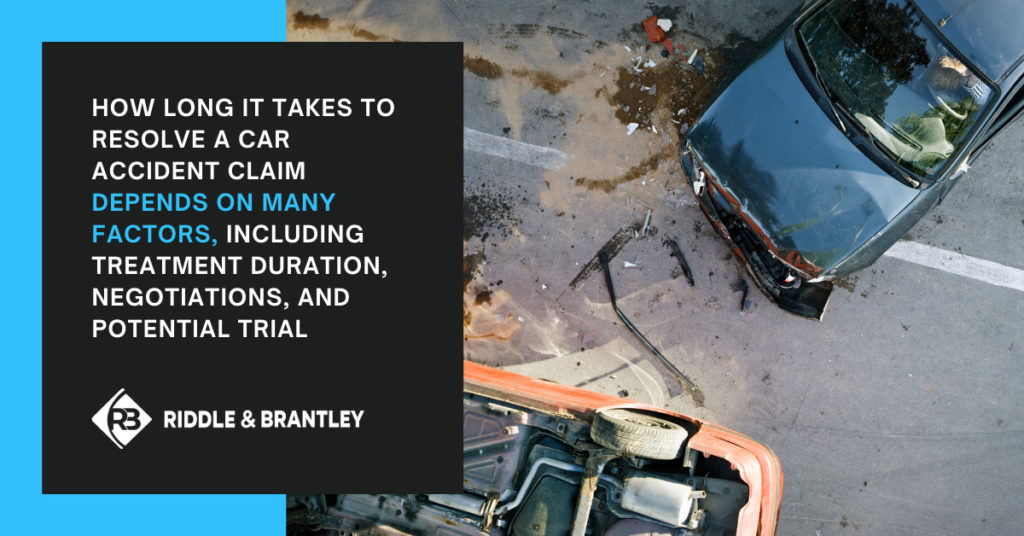 Being in a car accident can be stressful.  Whether it's a minor fender-bender or a serious collision, being in a car accident is often stressful. One of the first questions we often get asked is "How long will my car accident case take to settle?"
The short answer is it depends. Each case is unique and depending on the specific facts related to your case time frames may vary.
The auto accident attorneys at Riddle & Brantley, understand how important it is for you to recover from your injuries. We also recognize that you and your loved ones want to move forward with your life as quickly as possible after a car accident. While every car accident claim follows a general timeline and process, the length of each step in the process can vary based on various factors. The honest answer is that it is impossible to determine how long the process might take without knowing the specific facts of your case or the unforeseen circumstances that may arise.
Our North Carolina car accident attorneys know that every client's case is unique and requires a tailored approach to make sure they get the justice they need and deserve.
For a FREE consultation with an experienced personal injury lawyer handling car accidents in North Carolina, please call 1-800-525-7111.
The consultation is free and we don't get paid unless you and you receive compensation for your injuries.
Call 1-800-525-7111 and let's review your claim.
What is the Typical Timeline for a Car Accident Claim
There are multiple phases that are involved in resolving a case including:
Investigation: During this time our attorneys and in-house investigation team will review your file for any liability issues.
Treatment: While you are still treating for your injuries you will remain in the treatment phase.
Negotiations: After you have finished treatment and all relevant medical records and expenses have been gathered your attorney will begin negotiations with the insurance company.
"What Factors Affect How Long My Car Accident Case Will Take?"
If your car accident case doesn't have to go to litigation, meaning it is settled prior to filing a lawsuit, many cases typically resolve within 8-12 months. This is contingent on how long your treatment takes. For example, if you are still treating a year after the accident, your case will take longer than a year to settle. However, it is important to remember that recently factors related to the COVID-19 pandemic have slowed the process down.
Car accident cases that do not have any liability issues (meaning there is clear proof of negligence, and adequate coverage often can proceed through the negotiation process faster than cases where the fault is disputed. Therefore, it is important to speak with an experienced attorney. This can help prevent delays in a liability decision and even push the process along.
Medical Treatment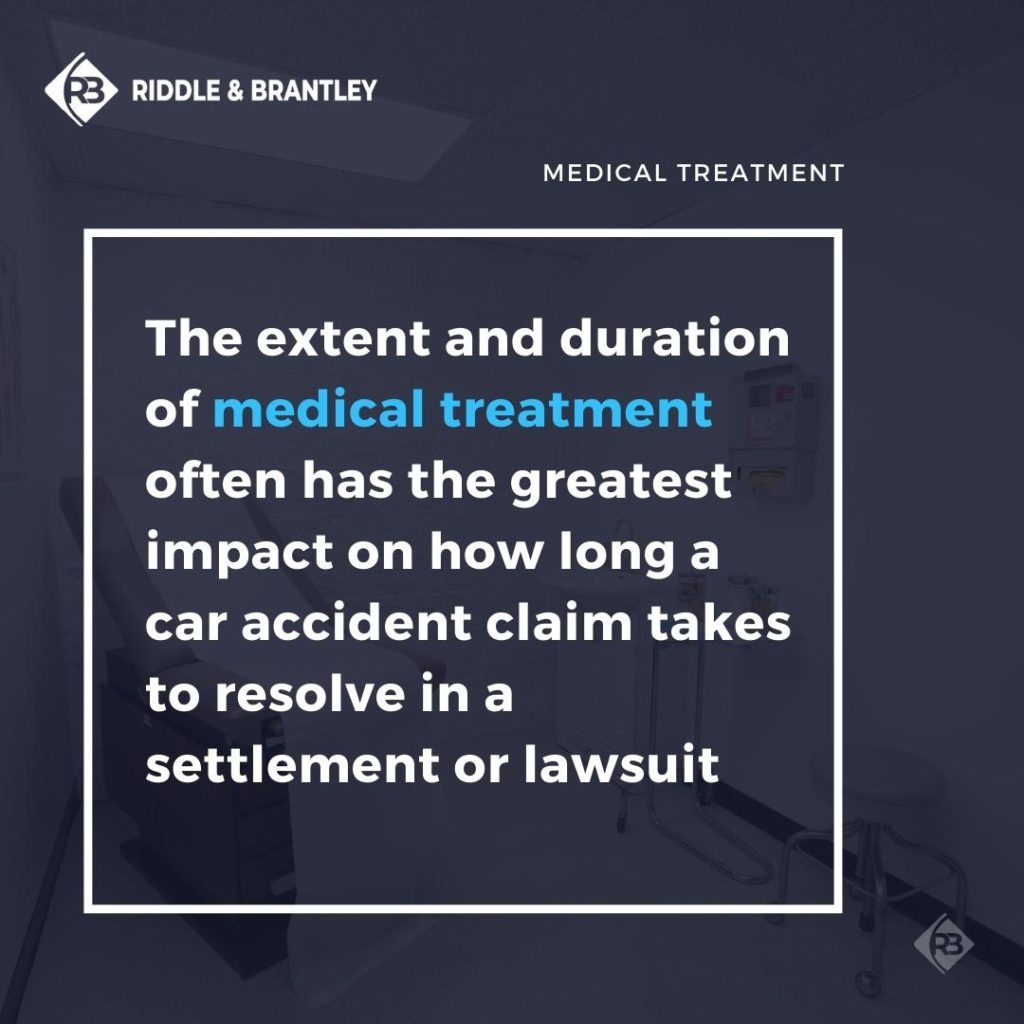 The biggest determining factor of how long your car accident claim will take depends on how long your medical treatment takes. In the aftermath of a car accident, we know that your primary concern is to recover from your injuries. For you to be fully compensated for all losses, we must provide the insurance company with a full picture of your case. Before we start negotiations, most clients will have to complete their treatment.
Depending on the severity of the accident and your injuries, your treatment can last a few months or even years.
Riddle & Brantley encourages clients to listen to their medical providers and seek whatever treatment is reasonable and necessary to heal.
After you are released from treatment, our team will ensure that we have all your medical bills and records in, as any economic damages incurred from the accident. It usually takes about a month or two to get all this information after you are released. Unfortunately, we have seen medical facilities taking longer to provide records and bills due to COVID-19.
Demand Stage
Once we have compiled all the necessary documentation, our team will then compile everything into a "demand package." We send this package off to the insurance company to review. From there, it usually takes 30 to 60 days for an adjuster to evaluate the demand and begin negotiations. Depending on the responsiveness of the adjuster and the facts of the case, negotiations can take anywhere from one to several months.
After you and your attorney have discussed and approved settlement figures, it generally takes about a month for you to receive your settlement figures. However, some cases take even longer to resolve. This is especially true if there are health insurance liens that must be paid back. Of course, these are general timelines, and the actual length of time for each stage of the process depends on the facts and circumstances of each case.
If you've been injured in a North Carolina car accident, call a car accident lawyer at Riddle & Brantley at 1-800-525-7111 for a FREE, no-obligation consultation. There is never any obligation and you won't pay any attorney fees unless we win your case and you receive compensation.
Call 1-800-525-7111 today and let's review your claim.
"How Long Will It Take if My Car Accident Case Goes to Court?"
If you are concerned about the length of time your car accident case might take, the good news is that the vast majority (more than 90 percent, in fact) of car accident cases settle out of court. If your case cannot be resolved through settlement negotiations, your attorney may recommend that we file suit.
The car accident trial process can be time-consuming and complicated, however, and may significantly delay the resolution of your case. This is especially true with the backlog of lawsuits from Covid.
A car accident case may need to go to trial in the event of any of the following:
There is a dispute regarding who is the at-fault party responsible for the crash,
There is a dispute regarding the scope or extent of the injured party's damages
The insurance company did not offer a fair settlement considering the extent or severity of the victim's injuries
Other parties may also be held financially responsible for the car accident under different theories of liability but do not want to accept fault during settlement negotiations
If you and your attorney decide to take your car accident case to court, expect the process to take at least anywhere from 18-24 months, though it can sometimes take longer based on the litigation process, court schedule, etc.
However, it is important to note that even once litigation has commenced, a car accident case can settle at any point in the litigation process. This means that your case might not make it to trial. Our attorneys have achieved several significant verdicts on the eve of trial after important evidence is revealed that harms the defendant's case, including a $9.45 verdict one week before trial for a family of four that was tragically killed in a tractor-trailer accident (see disclaimer below).
If you've been injured in a car wreck and are seeking damages, call 1-800-525-7111 for a FREE consultation with a Riddle & Brantley car accident attorney.
You may be entitled to significant compensation and we would love to help if we can.
Call 1-800-525-7111 and let's review your claim.
Need a Car Accident Lawyer?
Riddle & Brantley's attorneys have more than 220 years of combined legal experience representing car accident victims across North Carolina. Our attorneys have recovered millions for victims both at trial and in pretrial settlements (see disclaimer below).
For more than three decades, Riddle & Brantley's experienced North Carolina car accident attorneys have dedicated their practice to helping individuals who have been hurt in car accidents through no fault of their own. Our attorneys and staff are available 7 days a week to review your claim for damages and offer guidance on how to proceed with your case accident case.
"This settlement changed me and my family's lives."
–Linda B., Riddle & Brantley client
At Riddle & Brantley, we know that every car accident case is unique, and our attorneys want to help you achieve the justice and compensation you deserve for your injuries, medical expenses, and pain and suffering.
Call 1-800-525-7111 today for a FREE, no-obligation consultation and let's see how we can help.
Justice Counts.
---
*** Disclaimer: The results mentioned are intended to illustrate the type of cases handled by the firm. These results do not guarantee a similar outcome, and they should not be construed to constitute a promise or guarantee of a particular result in any particular case. Every case is different, and the outcome of any case depends upon a variety of factors unique to that case.