No Police Report Car Accidents in North Carolina
Can I File a Car Accident Claim Without a Police Report?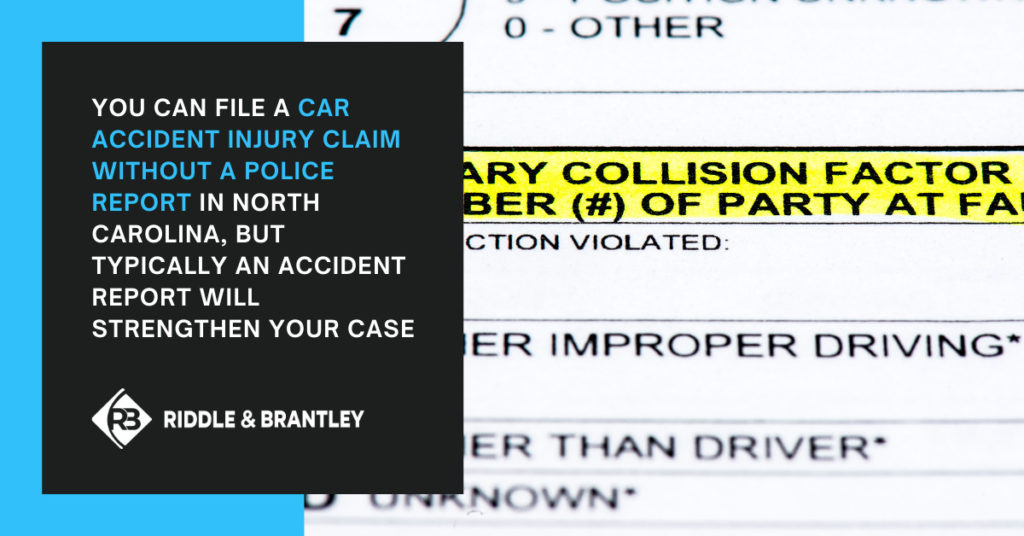 Yes, but the official accident report (often called a "police report" or "DMV-349) can be important, and having one completed can definitely help. In many cases, an accident report is critical in proving fault and recovering compensation for your injuries.
After a car accident in North Carolina, the first thing you should do is get emergency medical care for anyone who needs it and call the police.
The police report often provides valuable evidence for any car insurance claim and/or lawsuit you may file. It contains important information about all parties involved in the accident as well as the officer's findings at the scene.  Officers use accident reports to record witness statements and statements of the drivers, record measurements of brake marks or skid marks, the resting places of the vehicles, and other information that can be very important to your claim.
However, you can still file (and win) a car accident lawsuit even if you do not get a police report.
The attorneys at Riddle & Brantley believe that Justice Counts. That is why we investigate all car accident cases beyond the police accident report in order to discover what really happened and who is truly at fault. The police report can be helpful to your case, but it is not essential.  Today, many accidents are captured on video from businesses like gas stations, or on residential doorbells or "Ring" cameras.  But such evidence can be automatically deleted if not obtained quickly after a collision.
For a FREE consultation with an experienced North Carolina car accident lawyer, please call 1-800-525-7111 or complete the convenient form below.
The consultation is free and there are no attorney fees unless we win your case. Call 1-800-525-7111 and let's review your claim.
What is a Car Accident Police Report?
In most situations, the North Carolina law enforcement officer who responds to a car crash must fill out a car accident report. The standard form used by state, county, and municipal law enforcement agencies is known as DMV-349, which is a public record.
The police report can provide some important details that can assist with your attorney's independent investigation of the crash.
Accident reports for car accidents commonly include:
Descriptions of the scene of the collision, with details such as the posted speed limit and location of any traffic control signs or lights
Names, driver's license numbers, and contact information for each driver
Suspected alcohol or drug impairment and whether any tests were conducted
Information about each vehicle, including the year, make, model, and vehicle identification number (VIN)
Information about each vehicle's owner and insurance coverage
In truck accident cases, information about commercial vehicles, such as the carrier's U.S. DOT and ICC numbers
Names and seating positions of other occupants of the vehicles
Details about all car accident injuries and where victims went for treatment
The officer's narrative about how the accident happened
A diagram of the accident, according to the officer
The officer's description of the road and weather conditions at the time of the crash
Names and contact information of potential witnesses, especially eyewitnesses
In the aftermath of a car accident, you can request the police report from law enforcement or an experienced North Carolina car accident lawyer can help you obtain it.
For a FREE, no-obligation consultation with an experienced car accident attorney, please call 1-800-525-7111.
There are no upfront costs and no attorney fees unless we win your case and recover compensation for you.
Call 1-800-525-7111 and let's review your claim.
"Do I Need to File a Police Report for a Car Accident?"
Although a police report is often useful, it is not a requirement for every car crash in North Carolina.
North Carolina law requires officers to complete a report if any of the following apply to the accident:
The accident caused a fatality
The accident caused a non-fatal personal injury
At least $1,000 in property damage resulted from the accident
The accident caused property damage to a vehicle that was seized
A vehicle was seized and subject to forfeiture
This essentially means that an officer must submit an accident report in any crash other than one that causes only minor property damage and no injuries. However, it is a good idea to get a police report even for a minor crash in case "late-onset" car accident injuries develop later.  It is also common for damage to a vehicle to initially appear minor, but for the damage to in fact be far more extensive once a body shop or experienced appraiser begins evaluating your vehicle.
How Does a Police Report Affect a Car Accident Claim?
Not only can a police report provide important leads for an independent investigation of a crash, but the report itself may also be used as evidence in a car accident lawsuit. The investigating officer may also give testimony about the investigation. The report can help refresh his memory later when he is deposed or testifies in court, or even be admissible in court as a governmental business record if the officer retires or moves from the area
However, the officer does not have the final say on who has civil liability for a car accident. The police report is the responding officer's opinion of the crash — not necessarily what actually happened. Witnesses of the accident are vital to prove fault, and photos or physical damage can show that the officer's opinion was wrong.  Ultimately, a jury determines who was at fault in a crash, not the officer.
At Riddle & Brantley, we have investigators on staff who can investigate a car accident, gather evidence, interview potential witnesses, and work with law enforcement to prove liability and strengthen your case.
For a FREE consultation with a North Carolina car accident lawyer, please call 1-800-525-7111. There is no obligation and we don't get paid unless you do. If we don't recover compensation for you, you won't pay any attorney fees.
Call 1-800-525-7111 and let's review your claim.
"How Do I Get a Police Report for a Car Accident?"
You can request a copy of the police accident report for your car crash online from the North Carolina Division of Motor Vehicles. If the State Highway Patrol wrote the report, you can request a copy from the North Carolina Department of Public Safety. Some North Carolina cities, towns, counties, and other municipal law enforcement agencies also make reports available online, by phone, or in person.
The attorneys at Riddle & Brantley can also help you obtain an accident report.
"What Happens if There is No Police Report? Can I Still File a Car Accident Injury Claim?"
In certain circumstances, you might not have a police report for your car crash. For example, if the accident happened on private property or did not meet the requirement stated above, the responding offer may not file a report. Additionally, in severe weather emergencies, the police may be unable to respond to minor accidents.
However, while a police report may be useful in an insurance claim and/or personal injury lawsuit, it is not an absolute requirement for success.
Many other types of evidence may play a decisive role in your car accident injury claim. Examples of these kinds of evidence include:
Photos of the accident scene
The damaged vehicles
Statements from the drivers involved and eyewitnesses
Skid marks and other physical evidence from the accident scene
Information from the vehicle's data recorder, if applicable
Cell phone records that indicate a driver was texting or talking at the time
Video from a nearby security camera that recorded the crash
A professional reconstruction of the accident
Testimony by experts in vehicle design or manufacture
Talk with a Car Accident Attorney Today
A car accident claim calls for immediate action. Call our North Carolina car accident and truck accident lawyers today at 1-800-525-7111 for a FREE consultation.
We have convenient offices across North Carolina and can even come to you if you prefer. Free consultations are also available by phone, email, text, and video conference.
"I would not have won my case without the help from my team at Riddle & Brantley."
–Jonathan S., Riddle & Brantley client
Call 1-800-525-7111 and let's review your claim.
Justice Counts.