Can You Collect Compensation in Excess of Your Policy Limits?
"What If My Car Accident Claim Exceeds the Insurance Policy Limits?"
The aftermath of a car accident can be devastating and financially damaging. In addition to property damage, physical injuries can require expensive medical treatments and bills can pile up quickly. In some cases, you're even forced to take time off work to recover from your injuries, leaving you with lost wages. In the most tragic cases, disabling injuries may prevent you from returning to your previous job, dramatically reducing your earning potential. What happens if your car accident claim exceeds the at-fault party's insurance limits?
Under North Carolina law, there are ways to seek compensation from an at-fault party when damages exceed their insurance policy limits, but these cases can be extremely complicated. We strongly recommend hiring an experienced North Carolina car accident attorney in order to pursue compensation beyond the policy limits.
Claims Exceeding Policy Limits in North Carolina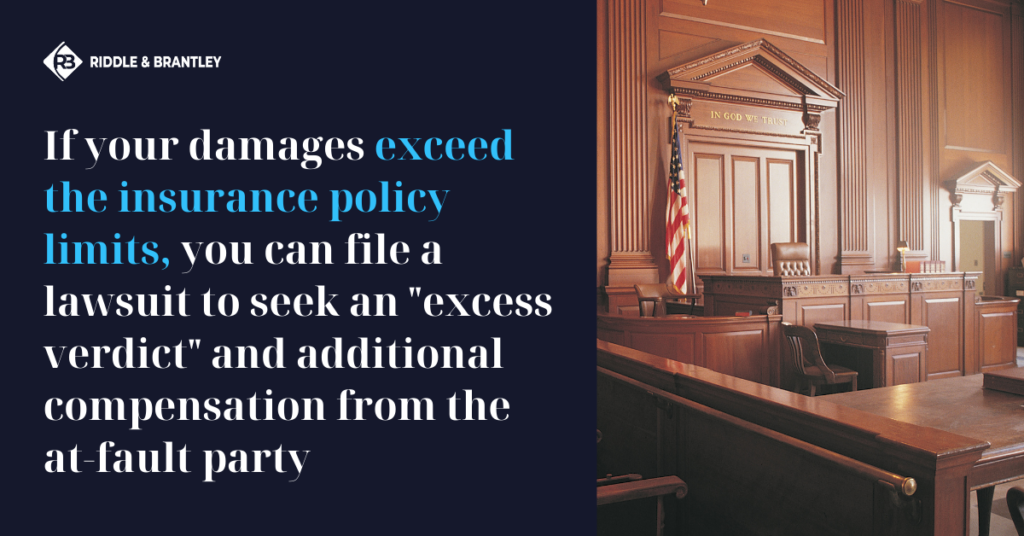 In most car accident, truck accident, and other motor vehicle accident cases in North Carolina, the injured party is awarded damages through a settlement or verdict, and is compensated by the at-fault party's insurance carrier. However, in some cases, the at-fault party's insurance policy does not cover the total damages. This is what we mean when we say a claim "exceeds the policy limits."
Pursuing Additional Compensation from the Defendant's Personal Assets
There are legal options available for those whose damages may exceed the policy limits in a car accident claim, however.
In the event your car accident claim exceeds the policy limits, you may be able to seek additional compensation from the at-fault party's personal assets.
This is particularly helpful in cases involving severe or life-changing injury, when your calculated damages, such as medical bills after a car accident, future medical expenses, lost wages, and loss of future income, may be extremely costly.
For help seeking damages beyond the policy limits, please call 1-800-525-7111 to speak with an experienced North Carolina personal injury lawyer at Riddle & Brantley. There are no upfront costs and you won't pay any attorney fees unless we secure compensation for you.
"How Do I Sue for Additional Damages in a Car Accident Case?"
In order to seek damages above the policy limits in North Carolina, you must file a lawsuit against the at-fault party. If you win the trial, the jury will award damages above the policy limits in what is known as an "excess verdict."
"How Do Excess Verdicts Work in North Carolina Car Accident Cases?"
Despite being difficult to obtain (depending on the circumstances), excess verdicts are relatively straightforward, awarding "excess" compensation in addition to what the insurance policy covers.
For example, if the at-fault driver's insurance policy only covers $100,000, but your damages totaled $150,000, the jury may award you an additional $50,000. This $50,000 in damages represents the "excess verdict."
Damages awarded in an excess verdict must be paid by the defendant, and in these cases, personal property can be seized in accordance with North Carolina law.
Seizing Personal Property for Damages
Even if a jury awards you with an excess verdict, however, the process of claiming additional compensation from the defendant is not simple or straightforward. While you are entitled to damages above the policy limits, which can be taken through the seizure of the defendant's personal assets, many assets are excluded. These assets are known as "exempt property."
What is Exempt Property?
Exempt property in North Carolina may include the defendant's primary home, as well as their primary vehicle. Other real property, such as vacation homes or secondary vehicles, may be seized in order to pay damages awarded in an excess verdict.
"How Long Does It Take to Get Paid?"
Keep in mind that this process can be extremely slow. In North Carolina, a defendant cannot be forced to sell their property in order to pay your damages. The judgment only gives you a lien on the property, which is paid only after the property is voluntarily sold.
Other claims, such as mortgages, take precedence over "excess verdict" claims, so plaintiffs may not even be entitled to the full value of the sold property.
Assets Seized by Law Enforcement
In other cases, when the defendant has other property that is easier to sell, such as motorcycles, boats, or secondary vehicles, the local sheriff may execute the judgment and seize those assets. However, in these cases, you won't actually receive the full value of the sale of that property, because the sheriff is also entitled to a portion of the sale.
Seeking Compensation Beyond the Policy Limits in a North Carolina Car Accident Claim?
If you've been injured in a car accident and your damages exceed the at-fault party's insurance policy limits, an experienced North Carolina car accident lawyer at Riddle & Brantley can help.
For a FREE consultation with an experienced North Carolina car accident lawyer, please call 1-800-525-7111 or complete the fast and easy form below.
The consultation is free and you won't pay a dime in attorney fees unless you receive financial compensation.
Call 1-800-525-7111 and let's review your case and advise you on your best available legal options. You deserve justice and we would love to help however we can.
We can investigate available insurance coverage and do our best to get you maximum compensation. There may be insurance policies that can be "stacked," such as uninsured or underinsured motorist coverage, in order to get you more compensation. If necessary, we can file a lawsuit seeking an excess verdict to award damages beyond the policy limits.
These cases are extremely complex and we have the experience and expertise to help you. In more than 35 years serving the people of North Carolina, we've recovered millions of dollars in compensation for our deserving clients (see disclaimer below).
Results we've secured for our clients (see disclaimer below) include:
$2,750,000 — Our attorneys filed separate personal injury and workers' compensation claims when our client, a construction worker, was hit by a truck in a work zone, ultimately losing his right leg below the knee. While the workers' comp carrier agreed to a fair settlement, the truck insurance company denied liability. We filed a lawsuit and settled the claim prior to trial, with both settlements totaling $2.75 million in compensation for our client.
$9,450,000 — Attorney Gene Riddle and the Riddle & Brantley team aggressively fought for justice for a family of four who were killed in a terrible tractor-trailer wreck. We proved fault on the part of a truck driver and a pavement marking company and secured $9.45 million in separate settlements.
$1,000,000 — Our client was a passenger on a motorcycle when she was thrown from the bike, after the driver lost control in a sharp curve. We proved the driver to have been negligent and secured $1 million in compensation through a negotiated settlement with the motorcycle insurance company.
$1,800,000 — Our client was on the job when he was hit by a truck, ultimately resulting in the loss of his left leg below the knee. Attorney Gene Riddle negotiated separate settlements with the workers' compensation carrier and the truck insurance carrier, totaling $1.8 million in compensation for the injured victim.
Don't wait — the longer you wait to contact us, the harder it may be to prove your claim and recover the compensation you deserve. Call 1-800-525-7111 for a FREE, no-obligation consultation and let's talk.
Justice Counts.
---
*** Disclaimer: The results mentioned are intended to illustrate the type of cases handled by the firm. These results do not guarantee a similar outcome, and they should not be construed to constitute a promise or guarantee of a particular result in any particular case. Every case is different, and the outcome of any case depends upon a variety of factors unique to that case.