Why Are Left-Turn Accidents So Dangerous for Motorcyclists?
Left-turn accidents are extremely dangerous for motorcyclists because they occur so frequently and carry a high risk of catastrophic injuries. According to data from the National Highway Traffic Safety Administration (NHTSA), left-hand turning vehicles in intersections are responsible for nearly 70 percent of all motorcycle crashes and fatalities.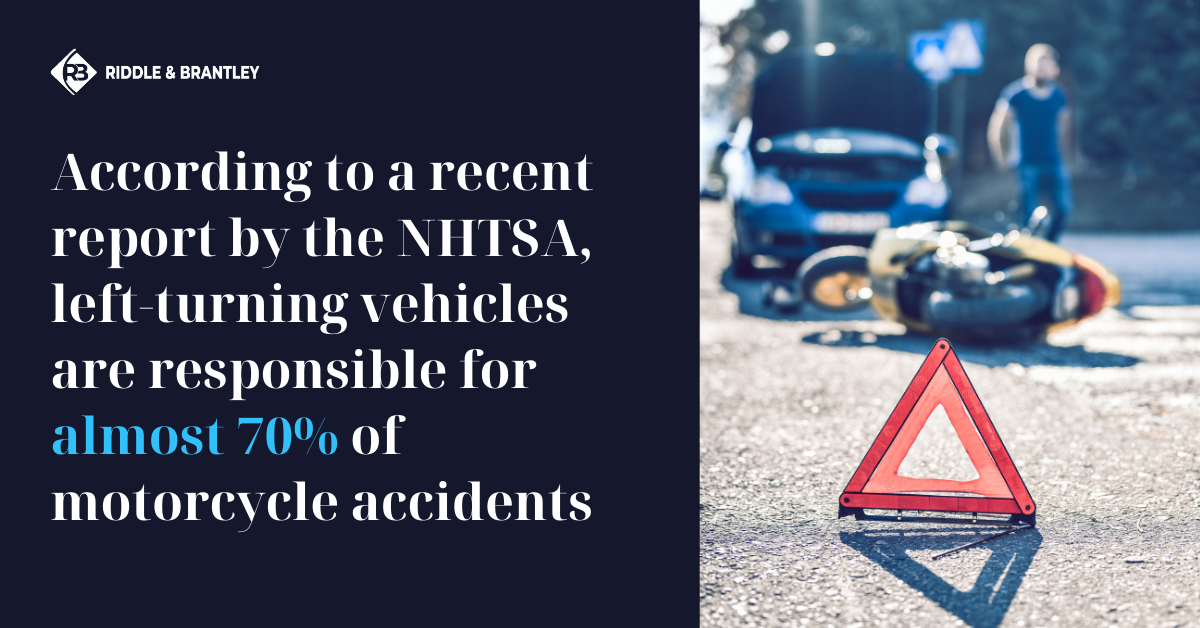 The unfortunate reality is that rushed and distracted drivers make it difficult for motorcyclists to remain safe on North Carolina's roadways. When drivers fail to yield, or forget to check their blind spots and turn into a motorcyclist, the consequences can be catastrophic for the biker. Even though operators and passengers of motorcycles in NC are required to wear helmets, the impact of being struck by a multi-ton vehicle or truck can result in life-altering injuries.
When negligent or reckless driving plays a role in the accident, injury victims have the right to legal recourse. Hiring a skilled motorcycle accident lawyer is the first step in securing justice and compensation from the negligent driver's insurance company.
If you were injured on your motorcycle in a left-turn accident, call 1-800-525-7111 for a free consultation with a North Carolina injury attorney at Riddle & Brantley.
You have nothing to lose by contacting us today, as you won't pay any attorney fees unless we secure compensation on your behalf.
Call 1-800-525-7111 today and let's review your case.
Causes of Left-Hand Turn Crashes
The following are common examples of driver negligence that may lead to a left-turn accident:
Looked but failed to see the rider: Visibility is always a problem for motorcyclists, and car drivers often report that they simply did not see the biker until it was too late. Many left-turn collisions are attributed to this failure to see the motorcycle as they turn at an intersection.
Driver distraction:Crash statistics indicate rampant levels of distracted driving in our country. Motorists who are eating, talking on the phone, or texting have slower reaction times and frequent lapses of judgment that can result in a left-turn collision.
Illegal intersection turns:Motorcyclists have to be wary of both drivers in their own lane and oncoming traffic, even when they have the right of way at a stop sign or intersection. Some vehicle drivers will unlawfully turn left on a red light — with potentially grave consequences for the motorcyclist.
Driver error: Drivers may fail to check their blind spots for motorcycles, or misjudge the biker's distance and speed, leading to a dangerous left-hand turn crash.
Insurance companies will use every possible tactic to minimize their financial exposure by shifting blame to the motorcyclist. A seasoned personal injury lawyer can help victims level the playing field and demand full compensation from negligent parties.
For a FREE consultation with an experienced motorcycle accident lawyer handling cases throughout North Carolina, please call 1-800-525-7111.
The consultation is free and there is no obligation, and we don't get paid unless you do. If we don't recover compensation for you, you won't pay any attorney fees.
Call 1-800-525-7111 today and let's review your claim.
Why Your Motorcycle Accident Lawyer Matters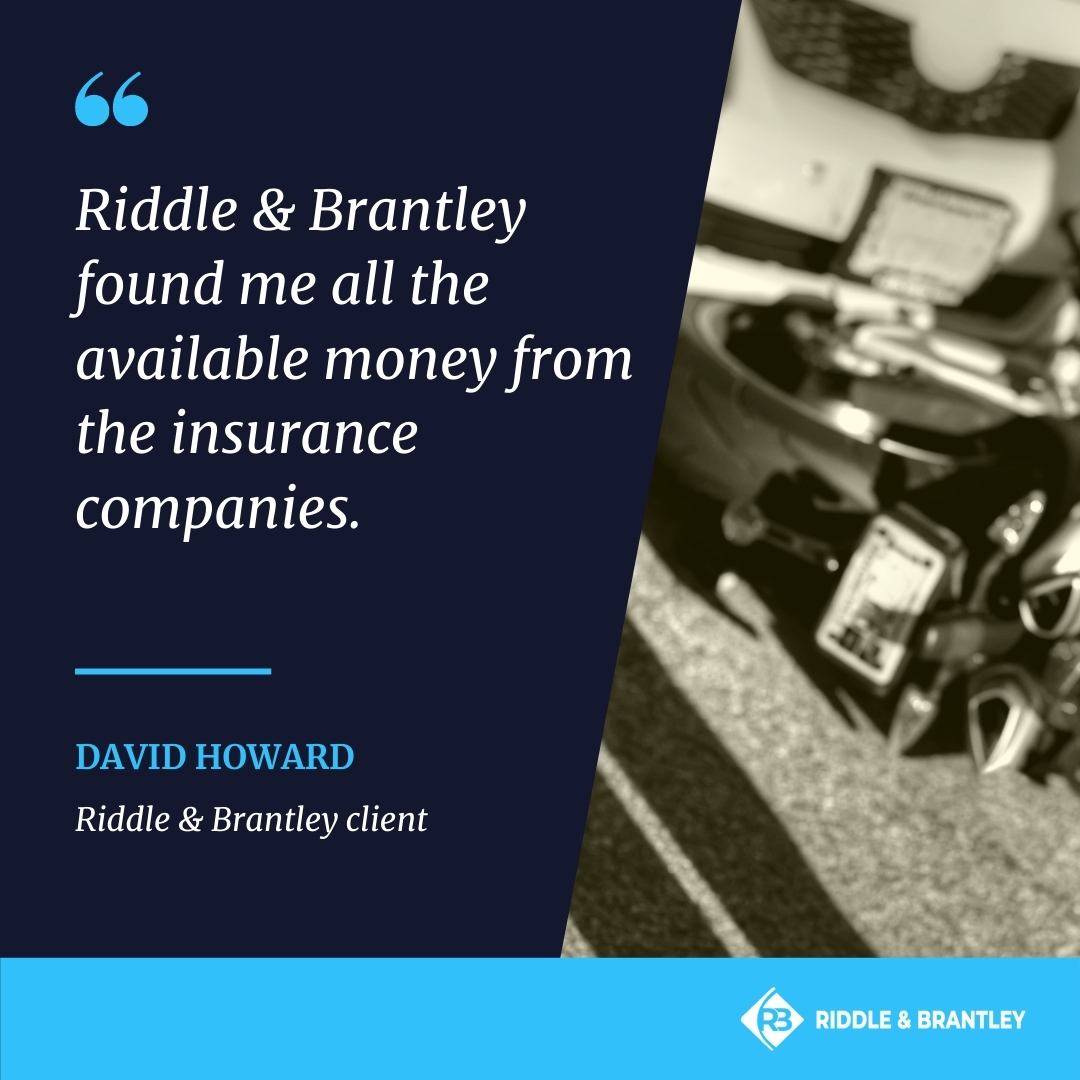 Being injured in a motorcycle accident can have lasting repercussions, from physical disability and chronic pain to loss of future earning potential. With so much at stake, it's important to choose your legal counsel wisely and select an attorney who has successfully litigated motorcycle injury claims similar to your own.
When you partner with Riddle & Brantley, you can depend on results-driven strategies and a compassionate team of litigators who will protect your rights to fair compensation. We recently procured a $1 million accident settlement for a motorcycle rider who suffered severe injuries when another driver turned in front of his bike, throwing him 15 feet across the road. By advancing a strong legal claim, our lawyers were able to achieve the maximum insurance policy limit from the at-fault party (see disclaimer below).
We Believe Justice Counts
Your family doesn't have to suffer alone after a serious or fatal motorcycle accident caused by a negligent motorist. Our injury attorneys leverage more than 220+ years of combined legal experience and are dedicated to protecting the rights of innocent victims and their loved ones.
"It was nice to see Riddle and Brantley put me and my needs first."
-R. Colley, Riddle & Brantley client
We believe that Justice Counts and would love to help however we can. For a FREE, no-obligation consultation concerning a motorcycle accident, call 1-800-525-7111 or complete the fast and easy form below.
There are no attorney fees unless we win your case.
Call 1-800-525-7111 today or complete the short form below for a free, no-obligation case review with an experienced North Carolina motorcycle accident lawyer.
Justice Counts.
---
*** Disclaimer: The results mentioned are intended to illustrate the type of cases handled by the firm. These results do not guarantee a similar outcome, and they should not be construed to constitute a promise or guarantee of a particular result in any particular case. Every case is different, and the outcome of any case depends upon a variety of factors unique to that case.