How Do North Carolina Wrongful Death Claims Differ from Personal Injury Claims?
What's the Difference Between a Wrongful Death Claim and a Personal Injury Claim in North Carolina?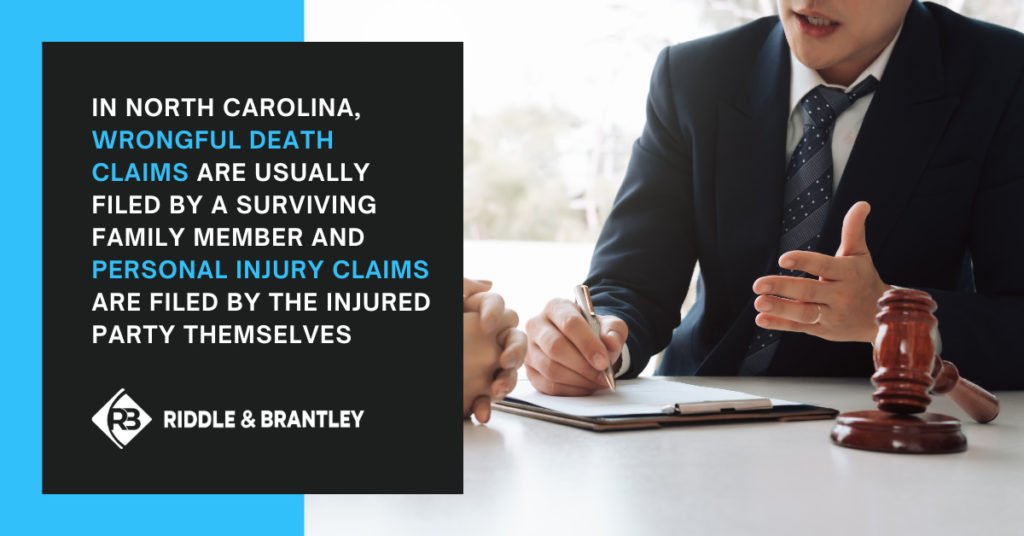 In North Carolina, wrongful death claims are brought by the surviving family members on behalf of a deceased loved one, whereas personal injury claims are filed by the actual victim who suffered bodily harm. While both types of claims are considered tort law based on negligence, there are distinct differences between the two.
There are specific statutes and legal complexities with personal injury and wrongful death cases, underscoring the need for skilled counsel. The dedicated attorneys at Riddle & Brantley empower victims of negligence by protecting their rights as they fight to secure rightful compensation.
Wrongful Death vs. Personal Injury: Who Files the Claim?
According to North Carolina statutes, a wrongful death is caused by the neglect, wrongful acts, or default of another individual or entity. A wrongful death claim arises when a person dies because of the negligent or careless actions of another party. Common circumstances include:
Motor vehicle accidents
Defective drugs and medical devices
Dangerous consumer products
Medical mistakes such as misdiagnosis
Acts of violence
Dangerous property conditions.
Wrongful death claims must be filed by the executor or personal representative of the decedent's estate on behalf of eligible family members. If the victim did not have a dedicated personal representative or will before their death, the courts will appoint one. In the majority of situations, a parent, surviving spouse, or adult child of the deceased is appointed.
While the factual events that lead to personal injury claims often overlap wrongful death lawsuits, a personal injury claim is typically filed by the person who was harmed by the at-fault or negligent party in an effort to recoup economic and non-economic damages.
Different Statutes of Limitation
The statute of limitations is the time frame in which a legal claim for personal injury or wrongful death must be filed. Once the statute expires, the courts will issue a motion to dismiss, leaving the plaintiff little recourse for pursuing justice against at-fault parties.
Wrongful Death Statute of Limitations in North Carolina
Under NC Statute § 1-53(4), the decedent's personal representative must file a wrongful death claim within two years of the date of their passing.
Personal Injury Statute of Limitations in North Carolina
In North Carolina, those who are suing for personal injury have three years to file their lawsuit in most situations. For injury victims, the clock usually starts ticking on the date of the accident. However, the courts indicate that the statute begins when harm to the claimant becomes apparent or ought reasonably to have become apparent, whichever occurs first.
Damages in Wrongful Death and Personal Injury Claims
Recoverable damages in a claim for wrongful death are intended to provide financial relief to surviving family members. Under state law, the following types of compensation are available:
Burial/cremation and funeral costs
Medical expenses related to the injury suffered by the decedent that resulted in their death
Pain and suffering endured by the surviving family because of their loss
Compensation for the loss of comfort, guidance, society, and companionship provided by the deceased
Reparations for the loss of income and benefits the deceased would have earned
Punitive damages in the event the wrongful death was caused by willful or wanton misconduct or acts of malice
Monetary damages recovered in a personal injury claim are intended to compensate victims for their physical and emotional suffering, and the expenses incurred as a result. A claim or lawsuit can demand compensation for:
Medical expenses, including ER services, medications, diagnostic tests, hospitalization, surgery, appointments, and rehabilitation
Loss of income while unable to work
Property damage repairs
Pain and suffering
Loss of enjoyment of life
Emotional distress
Free Legal Review in North Carolina
If you have been hurt or lost a loved one because of someone else's negligence in North Carolina, call 1-800-525-7111 today to schedule a FREE case review with Riddle & Brantley. The consultation comes with no obligation to retain our services, and you won't pay any attorney fees unless we secure compensation on your behalf. Our firm leverages many decades of combined legal expertise, and has recovered over $700 dollars in complex civil claims arising from auto accidents, defective products, workplace injuries, and premises liability since 2000 alone (see disclaimer below).
Protect your rights after suffering a personal injury or the wrongful death of a family member. We believe that Justice Counts for victims and are available 24 hours a day, 7 days a week to provide a FREE, no-obligation consultation.
Call 1-800-525-7111 today and let's talk.
---
*** Disclaimer: The results mentioned are intended to illustrate the type of cases handled by the firm. These results do not guarantee a similar outcome, and they should not be construed to constitute a promise or guarantee of a particular result in any particular case. Every case is different, and the outcome of any case depends upon a variety of factors unique to that case.