What is an Underride Accident and Why Is It So Dangerous?
Truck accidents, especially those involving tractor-trailers, can be extremely dangerous. Tractor-trailers are heavy, operate at high speeds, and have difficult slowing or coming to a stop. Underride accidents can be particularly devastating and the consequences can be life-changing and even deadly. You may be wondering, "What are underride accidents?"
In this article, our truck accident attorneys explain what underride accidents are and why they are a significant risk to drivers.
What is an Underride Accident?
An underride accident is a crash involving a tractor-trailer in which another vehicle gets crushed under the side or back of the tractor-trailer. Large commercial trucks like 18-wheelers are often high enough that a passenger vehicle can slip beneath the trailer, sometimes sheering off the top of the car and resulting in devastating injuries and even death.
Underride accidents are one of the most destructive types of truck accidents. In more than 35 years serving injury victims, our truck accident lawyers have handled many cases involving underride accidents, some of which have resulted in death.
Types of Underride Accidents
There are two types of underride accidents, both of which can result in injury or even death:
Side Underride Accidents — These occur when a passenger vehicle slips beneath the side of the trailer portion of a tractor-trailer, often resulting in the destruction of the top of the car. These accidents often occur in low-light situations, frequently when a truck is turning or crossing an intersection.
Rear Underride Accidents — These occur when a passenger vehicle slips beneath the rear of a truck or tractor-trailer. Rear underride accidents frequently occur when a tractor-trailer suddenly slows or stops, and the other vehicle's driver is either following too closely or not paying attention. They can also happen when a truck is parked on the side of the road but poorly marked, or when the light is low.
Common Causes
There are many contributing factors that may result in an underride accident, including:
A passenger vehicle "tailgating" or following a truck or tractor-trailer too closely
A driver failing to see a tractor-trailer due to low light or poor visibility
A passenger vehicle operating at excessive speed, often in inclement conditions
Truck driver negligence including sudden stops, illegal turns, or running of red lights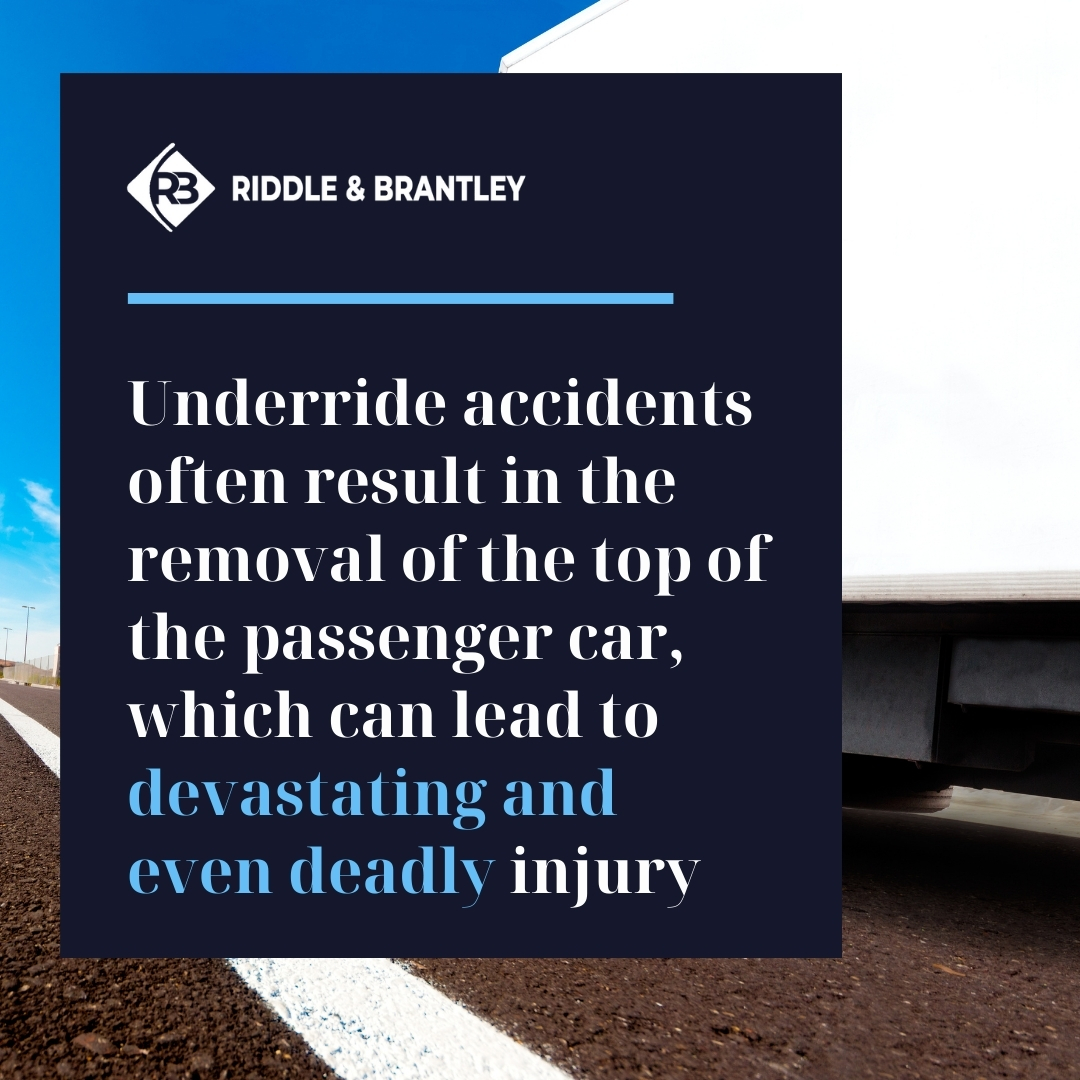 Trucking company or truck driver negligence can result in an underride accident if proper safety precautions are not undertaken. These include using reflective tape, operating with proper lighting, maintaining brakes and taillights, using underride guards, and marking a parked truck with safety cones, etc.
Common Underride Accident Injuries
Due to the truck's size, weight, and speed, underride accidents can result in horrific injuries, including:
Broken bones
Head injuries, including concussions
Traumatic brain injuries
Neck injuries
Back injuries
Spinal cord injuries
Shoulder injuries
Loss of limbs (amputations)
Paralysis and semi-paralysis
Internal bleeding and organ damage
Cuts, scrapes, and contusions
Death
Have You Been Injured in a Truck Accident in North Carolina?
If you or a loved one have suffered injury or death due to an underride accident involving a truck or tractor-trailer, you may be entitled to compensation and we would love to help however we can.
Since 1985, our firm has recovered millions of dollars in compensation for truck accident victims.
Together, our attorneys have more than 220+ years of combined legal experience fighting for the injured. (See disclaimer below).
There is no obligation and we don't get paid unless you do. No win, no fee.
It is critical that your truck accident be investigated as soon as possible in order to identify witnesses, preserve evidence, and prove liability. At Riddle & Brantley, we have a team of dedicated investigators on staff, and we often bring in outside experts like accident reconstructionists to help strengthen your case.
We can also request the truck's "black box" to help understand the conditions and circumstances surrounding the underride accident.
In the most heartbreaking and tragic situations, our wrongful death lawyers can help fight for justice for surviving loved ones. In cases in which an underride accident results in long-term disability, we also have Social Security disability attorneys on staff to assist with your claim or appeal, as well.
"They turned a heartbreaking situation completely around."
–Tonya Taylor, Riddle & Brantley client
Justice Counts for victims of underride accidents and we would love to help you if we can.
---
*** Disclaimer: The results mentioned are intended to illustrate the type of cases handled by the firm. These results do not guarantee a similar outcome, and they should not be construed to constitute a promise or guarantee of a particular result in any particular case. Every case is different, and the outcome of any case depends upon a variety of factors unique to that case.