Where is Paraquat Used Most Often?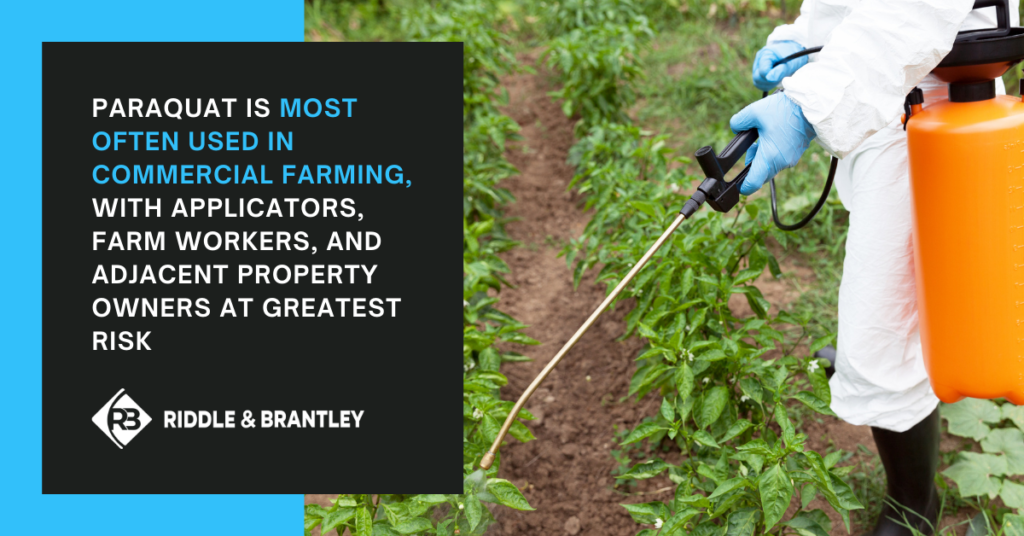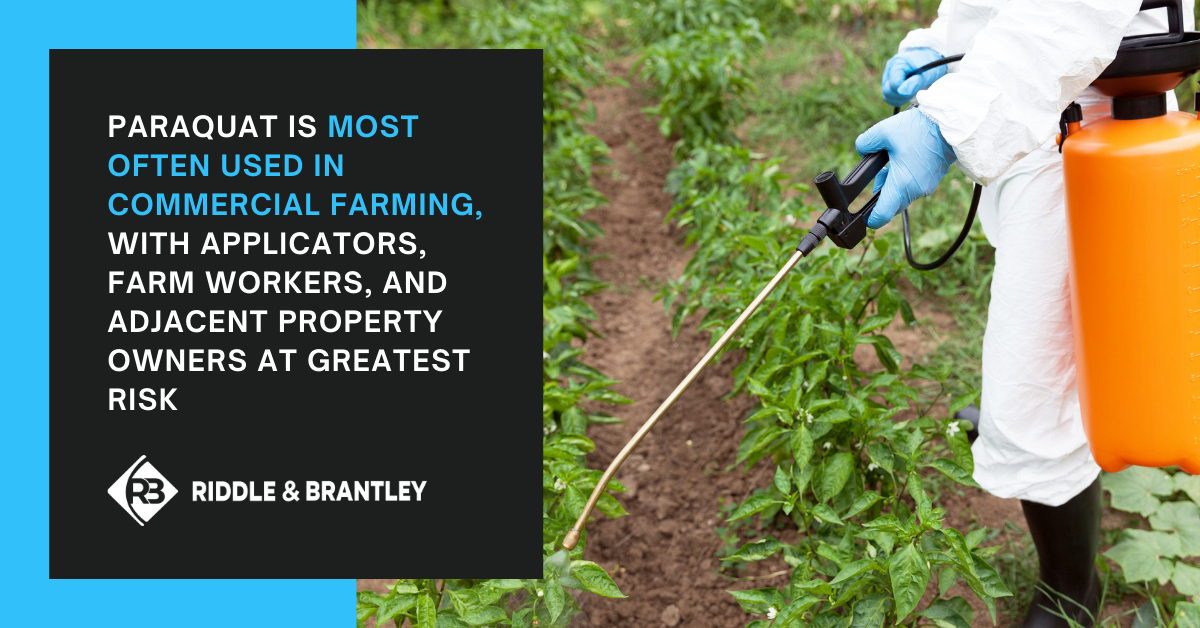 Paraquat is a popular herbicide (weed killer) used in agriculture. Recent studies, however, have linked Paraquat to an increased risk of neurodegenerative diseases such as Parkinson's disease. This means that people regularly exposed to Paraquat in areas where it's most commonly used (for example, commercial agriculture operations in the U.S.) are at the greatest risk of developing neurodegenerative diseases later in life.
Where is Paraquat Used?
So, where is Paraquat most commonly used, and what is being done to limit exposure to this potentially dangerous chemical?
Before the 1980s, Paraquat was used around the world to keep crops and gardens free of invasive and destructive weeds. However, as studies emerged suggesting a link between Paraquat exposure and neurodegenerative diseases like Parkinson's disease, countries across the world started restricting the use of Paraquat or banning it altogether.
Countries where Paraquat is banned or restricted include:
Norway
Sweden
Kuwait
Finland
South Korea
Philippines
Columbia
Hungary
Dominican Republic
Austria
Germany
Denmark
Slovenia
Caribbean
Indonesia
Switzerland
Chile
Belize
Cambodia
Belgium
However, even in light of these findings, the United States still allows Paraquat to be used by commercially licensed users.
The decision to limit its use to commercial applications only was designed to reduce average consumer exposure to the toxic product and promote safe application practices. However, it fundamentally ignores Paraquat's risk to people who work in or live near commercial farming operations. The EPA maintains that there is "insufficient evidence" linking Paraquat to human health issues despite numerous studies to the contrary.
Paraquat Use in Commercial Agriculture
Paraquat use is highest in areas with lots of commercial agriculture, where large farms grow everything from fruits and vegetables to textile crops like cotton. This includes large chunks of the Midwest, south, and west in the United States.
Who is at Highest Risk for Paraquat Exposure?
Those with the highest risk of exposure to herbicides containing paraquat include:
Farmers and farm workers who use paraquat-containing herbicides
Applicators including "manual" sprayers and those operating tractors equipped to spray paraquat
People who live on or adjacent to farms using paraquat
People who drink well water contaminated with paraquat due to runoff
Rural schoolchildren who attended schools located near farms spraying paraquat
As you can see, it's not just agricultural workers who are at risk of exposure to Paraquat. Thanks to phenomena like herbicide drift and overspray, even people who live in areas that are simply adjacent to commercial agriculture operations that use Paraquat may be at risk of dangerous exposure.
"How Do I Qualify for a Paraquat Lawsuit?"
To qualify for a Paraquat lawsuit, you must have:
Handled Paraquat as a mixer, loader, or applicator or were otherwise exposed to Paraquat (and were properly licensed); OR
Been exposed to Paraquat via Paraquat drift, overspray, or groundwater contamination
Been diagnosed with Parkinson's disease after the Paraquat exposure
Certain other criteria may apply.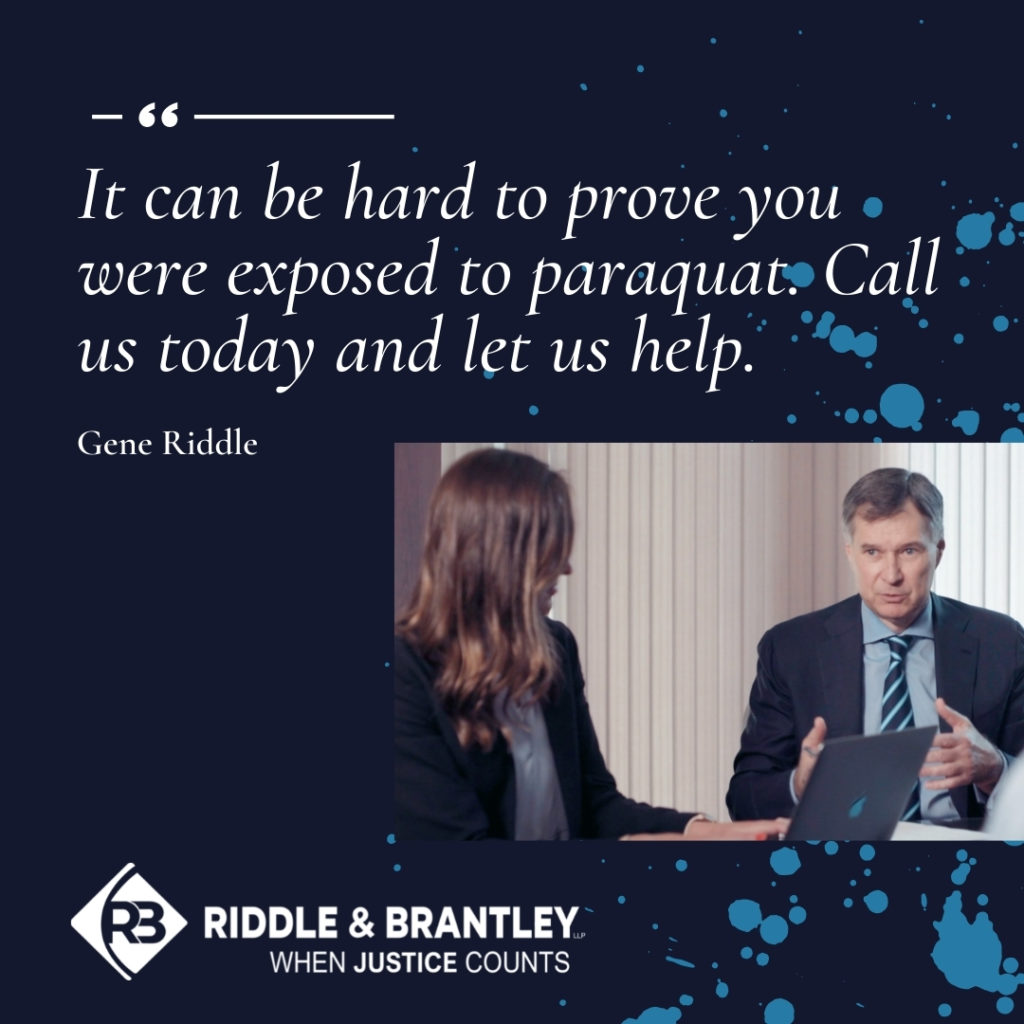 It can be difficult to prove your eligibility for a Paraquat lawsuit, which is why for cases like these, it is best to consult an experienced attorney who can thoroughly review your case and see if you may be entitled to compensation.
If you or a loved one have developed Parkinson's disease after exposure to Paraquat,  Riddle & Brantley are here to help.
Call us today at 1-800-525-7111 to speak with one of our experienced Paraquat lawyers for a FREE review of your case.
There are no upfront costs and no attorney fees unless we win your case and you receive compensation in your paraquat lawsuit. Call 1-800-525-7111 and let's review your claim.
"They handled my case very professionally, with respect from beginning to end."
–Joseph P., Riddle & Brantley client
The trial attorneys at  Riddle & Brantley have over 220+ years of combined experience fighting for our clients who have been injured due to others' negligence. And because we want to work with you to get you the maximum compensation you deserve, you will never pay ANY attorney fees unless you receive compensation for your claim.
Justice Counts.