Does Vaping Cause Cancer?
Heads up, vapers… Recent research suggests that e-cigarettes can potentially cause cancer, among other serious health problems.
For more information on the cancer risk potentially associated with JUUL and other e-cigarettes, please visit our JUUL and e-cigarette health risks and lawsuits FAQ page.
Potentially Cancer-Causing Chemicals in JUULs and other Vaping Devices
Electronic cigarettes, or e-cigarettes put nicotine into your bloodstream as well as lungs. Even though they do not have the smoke or tar of a regular cigarette, the nicotine will still affect your body.
Despite the focus on nicotine, there are many other potentially harmful and cancer-causing chemicals that can get into your system when you vape.
E-cigarettes, or vapes, run on batteries and heat up the nicotine, flavorings and other chemicals located in the cartridge (popular e-cigarette manufacturer JUUL calls these "pods"). These potentially harmful substances are turned into a vapor which enters into your lungs — and in turn, the bloodstream — when an e-cigarette is "vaped."
Many of the chemicals found in vapor from e-cigarettes are known carcinogens, meaning they have been found to cause cancer. These potentially harmful chemicals include formaldehyde, heavy metals, and particles that can get stuck in the deepest parts of your lungs.
Dr. Janette Nesheiwat, a family and emergency physician, explains that certain chemicals in JUUL and other vaping products "are known to cause irritation and inflammation in the lungs," and that "prolonged exposure can result in damage to the DNA of the cells, which then results in cancer after prolonged exposure."
According to a 2015 study on cancer risk associated with vaping:
"Users may eventually develop cancer based on the risk we found."
It is impossible to know exactly how many chemicals enter your body when vaping.  The levels are usually lower in e-cigarettes than in regular cigarettes. However, some studies show the higher voltage e-cigarettes have more formaldehyde as well as other toxins than standard e-cigarettes.
A recent study also revealed that vaping cancer risk seems particularly elevated for users who vape menthol or mint flavors. These flavorings contain a chemical called pulegone, which the FDA has already banned in food due to studies that found it to be cancer-causing in animals.
In e-cigarettes like JUULs, study co-author Dr. Sven Jordt, a professor of anesthesiology, pharmacology and pathobiology at Duke University, said that potentially cancer-causing pulegone levels "by far exceeded [the] amount FDA considered safe."
Elevated Levels of Nicotine in JUUL and Potentially Other E-cigarettes
The e-cigarette brand JUUL has higher amounts of nicotine per puff than other brands and therefore may be more addictive. Some studies show that kids have become physically dependent on nicotine potentially due to using JUUL e-cigarettes.
Other vaping products claim to be nicotine-free but have been found to contain nicotine.
While the long-term effects of e-cigarettes on health are generally unknown, there have been reports of serious lung disease in some people who use vaping devices. The CDC has recently classified these lung injuries as EVALI, which stands for "e-cigarette and vaping product associated lung injury."
Symptoms of EVALI (lung injury associated with e-cigarettes) may include:
Coughing
Trouble breathing
Chest pain
Nausea
Vomiting
Diarrhea
Fatigue
Fever
Weight loss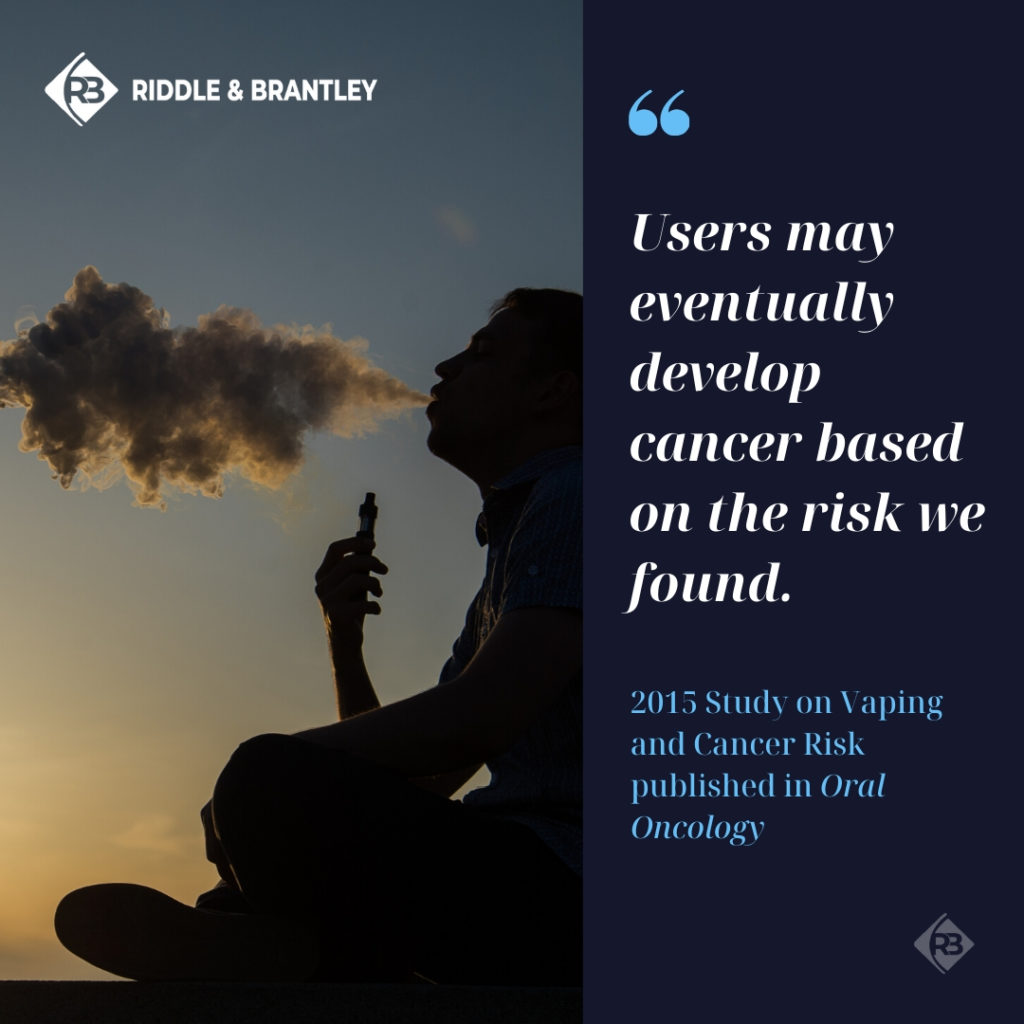 Several of these cases have been severe enough for hospitalization, as well as some people have died from their illness caused from vaping.
As of November 2019, more than 2,000 cases of EVALI and more than 40 deaths have been reported to the CDC in more than every state.
IMPORTANT: If you are experiencing any of the symptoms above after using e-cigarettes, please contact your doctor immediately and be sure to tell him or her about your history of vaping.
JUUL and other e-cigarette users who have suffered serious lung injuries or been diagnosed with cancer after vaping with these products may be entitled to significant financial compensation. For a FREE consultation with a JUUL lawsuit lawyer, please call 1-800-525-7111 or complete the short form below.
It still isn't clear if any one chemical causes EVALI or if several different chemicals are to blame. The CDC has noted a connection between these mysterious lung injuries and vaping products containing THC, especially illicit products sold on the streets.
Vaping and Cancer: What to Know
According to a statement by the American Cancer Society, there is still much to learn about the long-term health effects of using e-cigarettes, especially concerning cancer risk.
However, those who use vaping devices such as JUUL e-cigarettes should be cautious.
It is important to know that vaping cartridges and JUUL "pods" DO contain some known cancer- causing chemicals, although in smaller amounts than in regular tobacco-based cigarette smoke. Oral cancers, lung cancer, and other cancers may one day be more strongly linked to vaping.
It is important that people who smoke regular cigarettes or e-cigarettes educate themselves on the long term affects of smoking.
If you are trying to quit either traditional cigarettes or e-cigarettes, there are many resources available through the American Cancer Society and the FDA that may help you stop smoking.
Have you suffered lung injury or cancer after vaping?
If you or a loved one has been diagnosed with vaping product associated lung injury (EVALI) or cancer after vaping with JUUL devices or other e-cigarettes, you may be entitled to financial compensation.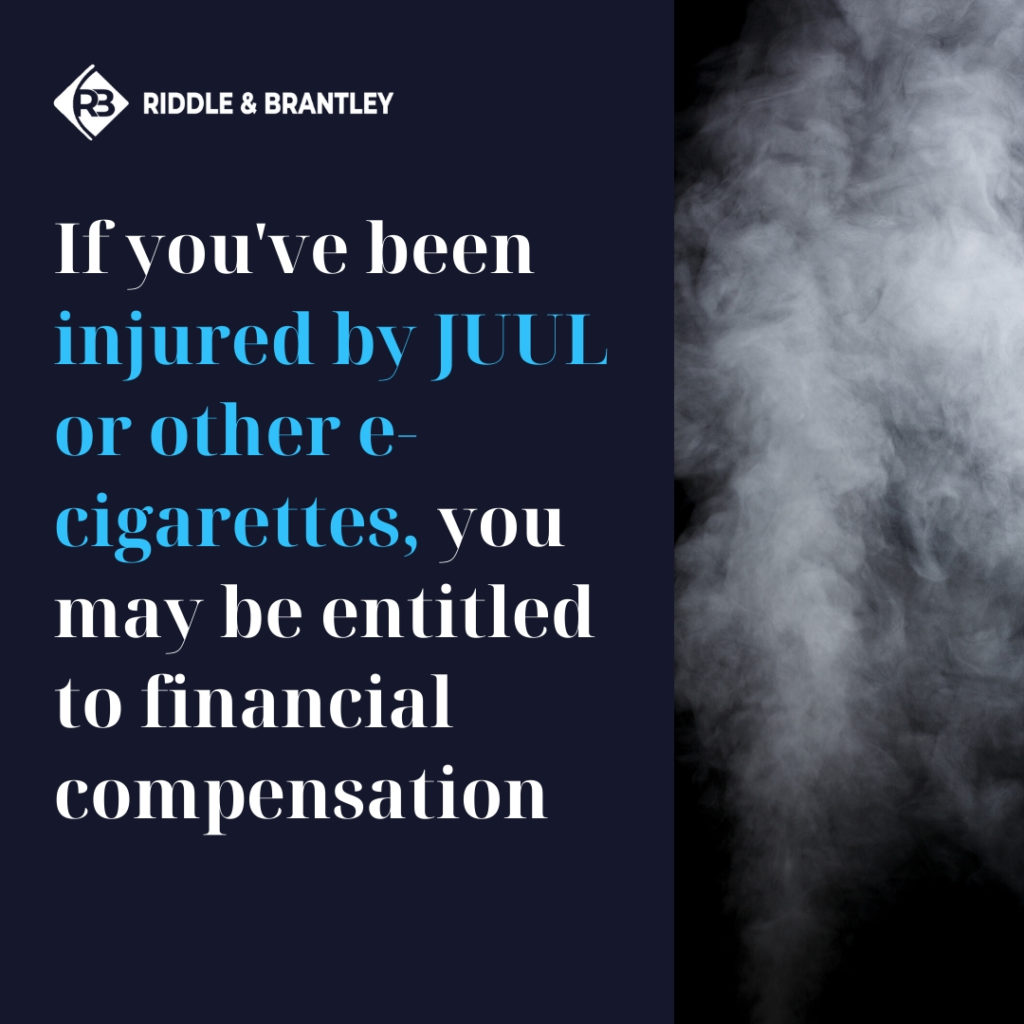 Recent JUUL lawsuits allege that JUUL knowingly targeted minors, engaged in deceptive marketing and advertising practices, and downplayed the health risks associated with vaping.
If these allegations are true, JUUL and potentially other e-cigarette manufacturers should be held accountable to the fullest extent of the law.
Our JUUL lawsuit attorneys are ready to help. With more than 220+ years of combined legal experience, we've been fighting for those injured by negligent companies for more than three decades.
For a FREE consultation with one of Riddle & Brantley's experienced product liability attorneys, please call 1-800-525-7111.
There are no upfront costs and no attorney fees unless we win your case.
Please call 1-800-525-7111 today or complete the fast and easy form below.
If you've been injured as a result of potential negligence by JUUL or other e-cigarette companies, you deserve justice.
"This settlement changed me and my family's lives." -Linda B.
You do not have to go through this alone.
Call Riddle & Brantley at 1-800-525-7111 and let's talk.
Justice Counts.