Does the Judge Matter in Social Security Disability Cases?
We'll just get to the point:
Yes, when applying for Social Security disability benefits, the judge matters.
An administrative law judge (known as an "ALJ") is empowered to rule on whether or not an individual qualifies for disability, in the event that individual is initially denied benefits and decides to appeal.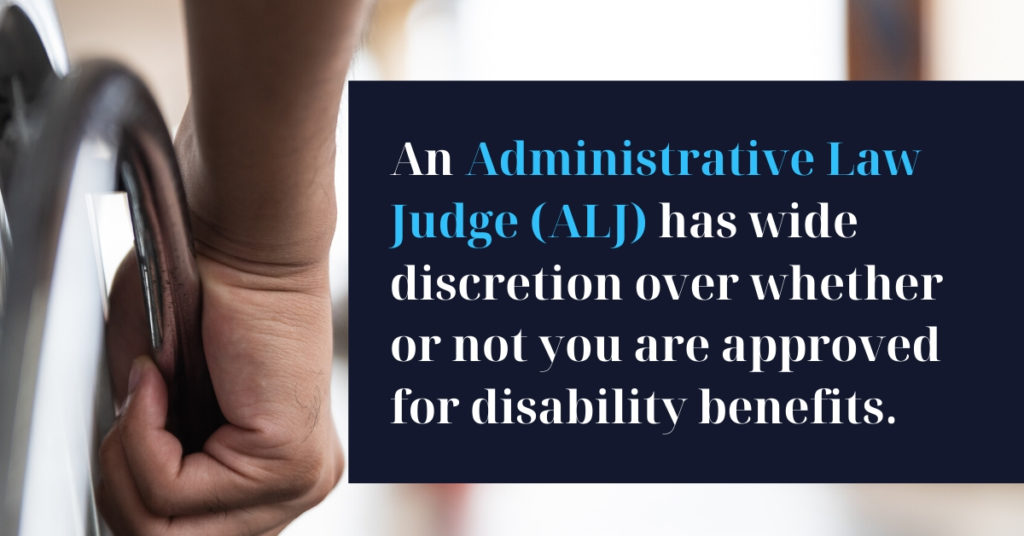 Despite the important influence of medical records and other supporting evidence, the ALJ has significant leeway in determining whether or not you qualify for disability benefits. According to an investigative report in the Charleston newspaper, The Post & Courier:
"American workers give 6 percent of their paychecks to the Social Security Administration just in case they lose their jobs to injury or illness. But, in the end, it's a government judge, not a doctor, who will decide whether a condition is serious enough to warrant benefits."
Reporters for the Post & Courier note that "Allowed wide discretion with little oversight, judges come to wildly different decisions."
A review of the data reveals that "some judges approve just 9 percent of the cases that come before them; others, as much as 96 percent."
This is not to say that individuals applying for disability have no influence over the outcome of their cases.
When applying for disability, a variety of factors can influence whether or not you are approved for benefits. These include medical records, supporting letters and evaluation forms from medical providers, and witnesses (for more information on the process, check our Social Security Disability FAQs).
Even the way you present yourself before the disability judge can impact his or her ultimate decision.
A Social Security disability lawyer can also improve your chances of receiving disability benefits, either upon initial application or appeal.
According to a recent study, only 34 percent of those who did not hire a disability attorney were ultimately approved by the Social Security Administration for benefits. However, 60 percent of those who were represented by an attorney received a favorable decision.
"The wide disparity in ALJ approval rates is one more reason why it is so important to have professional, experienced representation at your hearing," said Scott Scurfield, Bar-Certified Specialist in Social Security disability law and lead disability attorney at Riddle & Brantley. "A board-certified specialist has been around long enough to know the tendencies and preferences of most of our judges.  Tailoring the presentation of your claim to your individual judge can give you a better chance of getting approved for benefits, whether your judge has a high, low, or average approval rate."
Applying for / Appealing for Social Security Disability Benefits?
An experienced disability lawyer can help.
For a FREE consultation with a Social Security disability experienced handling cases in North Carolina, please call 1-800-525-7111.
There is no obligation, and you won't pay a dime unless we win your case and you receive disability benefits.
We have convenient offices in Raleigh, Durham, Goldsboro, Greenville, Kinston and Jacksonville. Meetings in Durham, Greenville, and Kinston are arranged by appointment only. Please call 1-800-525-7111 to set up a free consultation with an experienced and compassionate North Carolina disability lawyer at Riddle & Brantley.
We respond to calls and emails after hours and on weekends and will even come to you if it's more convenient.
"I will always speak of the great job that [Riddle & Brantley] … did in helping me get disability."
-Annie H.
Call 1-800-525-7111 today and let's discuss your case.