Accident with a Self-Driving Truck? Who's Liable?
Determining Liability in a Driverless Vehicle Accident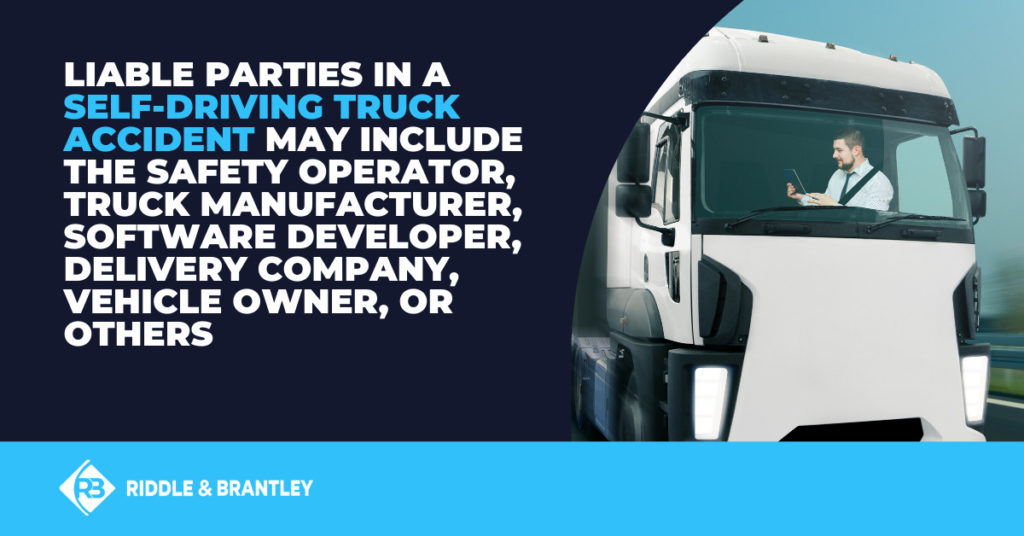 Late last year, North Carolina authorized the use of "neighborhood occupantless vehicles" for home deliveries. But what happens when one of these driverless vehicles is involved in an accident? Who is liable, and how do you obtain compensation when there is no driver?
As North Carolina and other states embrace self-driving vehicles, we know that liability becomes more complex, requiring experienced legal representation.
Reach out to Riddle & Brantley for expert guidance on a wide range of truck accident lawsuits.
At Riddle & Brantley, we offer dedicated, aggressive representation for individuals who have been injured in car accidents including collisions with self-driving automobiles. 
Are Driverless Vehicles Legal in North Carolina?
In November 2021, Governor Roy Cooper of North Carolina signed House Bill 814 into law authorizing the use of "neighborhood occupantless vehicles." These vehicles are designed to be operated without a driver and are described as "low-speed" and "fully autonomous." 
While there are certain restrictions, these self-driving vehicles are able to operate on streets and highways throughout the state where the speed limit is 45 mph or less. Proponents of the legislation note that these driverless trucks and cars will be essential to how goods and services are delivered in the future.
Have Self-Driving Trucks Been Involved in Accidents?
While self-driving trucks are a clear part of our future, they are not free from controversy. Not too long ago, rideshare giant Uber temporarily suspended its automated program after a pedestrian was struck and killed by a self-driving vehicle. 
As reported by NBC News, the National Traffic Safety Board found that the automation failed to account for pedestrians walking outside of a crosswalk. A backup human operator was distracted at the time of the accident and did not intervene quickly enough.
Uber ultimately settled out of court with the victim's family. Less than a year after the fatal accident, the company resumed testing of its automated program.
Who Is Liable in a Driverless Truck Accident?
Litigation regarding self-driving automobiles is in its infancy. Liability remains a complicated issue to be handled by the courts. It is strongly recommended that you seek legal advice immediately if you are involved in a collision with a driverless truck.
Parties that may be held liable in a self-driving vehicle accident include:
A safety operator (currently, most driverless vehicles have a human backup driver)

The maker or manufacturer of the vehicle

The software developer

The delivery company or owner of the vehicle

A part manufacturer
An attorney can help you understand your rights after an auto accident and determine who should be held liable for your injuries.
Without the help of a lawyer, you may not receive the compensation that you deserve.
Hiring a Driverless Truck Accident Attorney
When you are hurt in an accident, you need experience you can trust. Our legal team has over 220+ years of combined experience, recovering more than $600 million for our clients since 2000 alone (see disclaimer below).
Justice Counts.
---
*** Disclaimer: The results mentioned are intended to illustrate the type of cases handled by the firm. These results do not guarantee a similar outcome, and they should not be construed to constitute a promise or guarantee of a particular result in any particular case. Every case is different, and the outcome of any case depends upon a variety of factors unique to that case.