How Much Does a Truck Accident Lawsuit Cost?

If you have been hurt in an accident with a commercial truck or tractor-trailer, you could be wondering, "How much does a truck accident lawsuit cost?"
Truck drivers are required to obey the same traffic laws we all do.
However, these large truck and tractor-trailer drivers are also required to follow state and federal rules specific to the industry.
If these truck companies fail to follow these rules, they may be liable for your injuries and the damage to your vehicle, and you may be eligible for a truck accident injury lawsuit.
In this blog post, we'll break down exactly what you should know about how much a truck accident lawsuit costs.
(HINT: the cost of a truck accident lawsuit is less than you think and the initial consultation is free)
It is also very important to hire us as soon as possible after the truck wreck. We recently handled a case where a truck struck and killed the occupants of a car that was disabled on a major interstate.
The investigating officer indicated in his report that our clients were at fault. The family reported that the officer told them that there was nothing they could do so they did nothing. After about a year, they began contacting attorneys to investigate their case. They called us and we immediately hired an accident reconstructionist and a federal truck safety expert. We paid for these costs and our investigation did not cost the clients anything upfront.
We were able to prove that the accident did not occur exactly as indicated on the accident report. We filed suit and we settled these wrongful death cases for near the limits of the truck insurance coverage under the terms of a confidential settlement. We wished we had been hired earlier because we believe that we could have settled the case without filing suit if they had done so.
Don't always take for granted what is included in the accident report. Most of the time, the report is accurate, but sometimes, as in this case, it was not accurate.
Should you pay upfront costs to hire a lawyer for a potential lawsuit after a truck accident?
A truck accident lawsuit should not cost you any money upfront. A truck accident lawsuit should ease your financial burden so you can focus on your recovery from the accident.
Most truck accident lawyers, like those at Riddle & Brantley, work on a contingency basis, meaning they only get paid if they win your case and you receive compensation.
The attorneys at Riddle & Brantley are ready to help. If you have been in a crash with a large truck or tractor-trailer. The consultation is always free, and we don't get paid unless you are compensated for your injuries and damages to your vehicle.
Here are a few tips to make sure you don't have to pay upfront costs for your potential truck accident lawsuit:
Most law firms offer free initial consultations. When you call for an appointment, be sure to confirm that you will not be charged for the consultation.
We recommend that you hire an attorney who works on a contingency basis. This means the attorney working on your case won't be paid for their services unless you win your case and receive compensation.
We recommend that you hire a lawyer with experience successfully handling truck accident cases. Look for someone with a winning record who understands trucking laws and regulations. You will need an attorney to help navigate the system so you can focus on your recovery. We recommend you choose an attorney with the resources to hire truck accident experts like accident reconstructionists and federal truck safety guideline experts to help investigate the truck accident and secure all evidence.
You don't have to handle things on your own. You may think you are saving yourself attorney's fees, but you will probably come up short if you try to do the work yourself. An experienced truck accident lawyer will be able to answer any questions you have and negotiate on your behalf.
How much is my truck accident lawsuit worth?
Accidents with large trucks are often catastrophic. If an 80,000-pound commercial truck hits a 4,000-pound vehicle, there tends to be serious injury to the people inside and massive damage to their car, SUV, van or small truck.
Tractor-trailer drivers and the companies they work for are required by law to follow industry safety regulations. At times, however, these companies face time and financial pressures to cut corners. This puts everyone on the road at risk.
If you have been injured in an accident involving a big rig and you believe they are to blame, the truck accident lawyers at Riddle & Brantley will be happy to review your case.
If you're wondering "How much does a truck accident lawsuit cost?" keep in mind that we only get paid if we win your case and you receive financial compensation.
All accidents are different and must be handled individually.
The amount of money you may be able to recover depends on many variables and there are no guarantees. However, our attorneys will fight to win you the maximum possible damages for your case that may help make up for:
Medical expenses
All future medical expenses
Loss of income
Loss of earning capacity
Physical, mental and emotional pain and suffering
Loss of quality of life
Loss of companionship
Loss of consortium
Property damage or replacement
How much money you may be eligible to receive depends on your income, the severity of your injuries and damages as well as other factors.
Experienced North Carolina Truck Accident Lawyers
The Riddle & Brantley law firm has been representing people who have been involved in truck and tractor-trailer accidents for almost 35 years.
Our reputation speaks for itself.
Recent wins include (see disclaimer below):
$9.45M – A family of four were killed when a tractor-trailer rear ended their vehicle. After a thorough investigation, it was determined that there was combined negligence with two truck drivers.
$2.7M – A client was seriously injuries in a head-on collision and suffered fractures to his neck, leg, and arms. Award was followed by a $1M judgement against the insurance company.
$2.2M – A truck traveling at an excessively high speed crossed the center line, hitting and killing the plaintiff. The family was awarded death benefits.
*** Disclaimer: The results mentioned are intended to illustrate the type of cases handled by the firm. These results do not guarantee a similar outcome, and they should not be construed to constitute a promise or guarantee of a particular result in any particular case. Every case is different, and the outcome of any case depends upon a variety of factors unique to that case.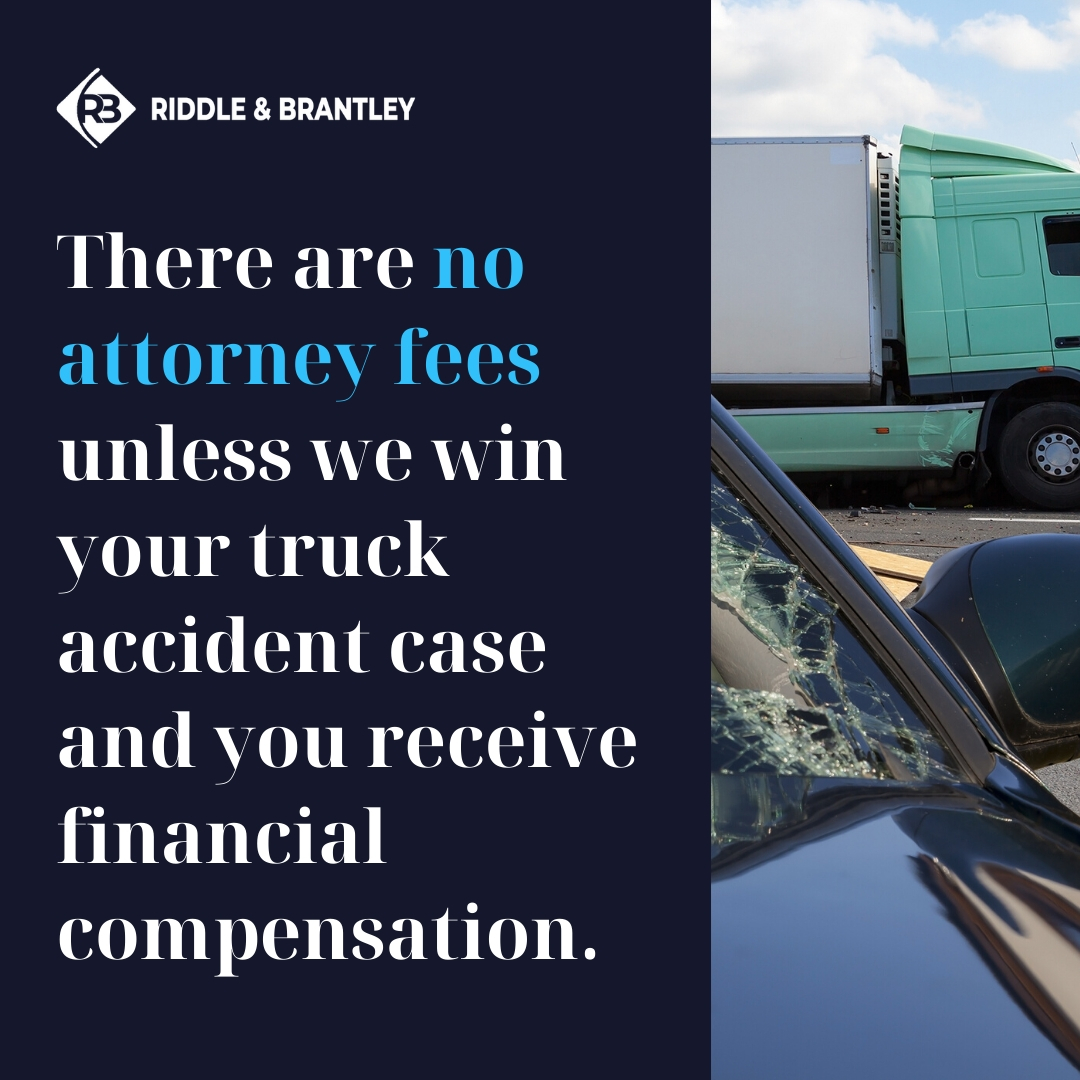 After an accident with a large tractor-trailer truck you or your loved ones may be seriously injured and feel overwhelmed and intimidated by the legal system. You may also be trying to balance physical recovery while handling all the details that will inevitably arise. You are suddenly thrown into an unfamiliar situation that could potentially impact the rest of your life.
From talking to insurance companies to making medical appointments, things can become tricky. These truck accident cases can be complicated.
If you've been wondering "How much does a truck accident lawsuit cost?" remember: there are no upfront costs and no attorney fees unless we win your case and you receive compensation for your truck accident injuries.
Call 1-800-525-7111 today and let's review your claim.
Justice Counts for victims of truck and tractor-trailer accidents and we would love to help you if we can.