Wake Forest Personal Injury Lawyer
Have you been injured in Wake Forest or the surrounding area? If so, you may be considering a Wake Forest personal injury lawyer.
The injury attorneys at Riddle & Brantley may be able to help.
Our personal injury lawyers have more than 225 years of combined legal experience and have been representing clients in Wake Forest since 1985.
For a FREE consultation, please call 1-800-525-7111 or complete the form below. There is no obligation, and you won't pay a dime unless we win your case and recover financial compensation for you.
We help clients involved in all sorts of serious accidents, including:
Car accidents
Truck accidents
Motorcycle accidents
Pedestrian accidents
Bicycle accidents
Uber and Lyft accidents
Workplace accidents and workers' compensation claims
Wrongful death
Dog bites and other animal bites
Consumer product accidents
Defective medical devices
Dangerous drugs
and many, many more…
We also represent clients in mass tort claims, including lawsuits concerning defective 3M military earplugs, Roundup weed killer exposure, Johnson & Johnson talcum powder, and prescription drugs containing valsartan.
Our Commitment to Wake Forest 
Wake Forest has a special place in our hearts. Founding partner Gene Riddle has been serving clients in the area since 1985.
"This firm was founded on the principle that everyone deserves justice, and we've been fighting for justice for clients in Wake Forest and across North Carolina since 1985." -Gene Riddle
Wake Forest is located in Wake and Franklin counties and is just north of North Carolina's capital city, Raleigh. Forbes has named Wake Forest one of the fastest growing suburbs in the United States, and today an estimated 42,000 people call the town home.
While Wake Forest is no longer home to the university of the same name, the community is known for its highly educated population, and many who live in the area work in the technology, science, and health care industries in the Triangle region.
The area is served by some of North Carolina's busiest highways and interstates, including I-540, US-1 and US-401. Along with the booming construction associated with Wake Forest's rapid population growth, all that traffic means injuries are unfortunately common.
For a FREE case review and consultation, call our personal injury lawyers today at 1-800-525-7111 or fill out the short form below.
Riddle & Brantley's personal injury lawyers have extensive experience helping clients in Wake Forest and throughout the Triangle, and we would be happy to help if we can.
As always, the consultation is free and there are never any attorney fees unless we win your case and you receive financial compensation.
If we can't help for any reason, we'll do our best to connect you with an attorney or resource that can. That's our promise to you.
Riddle & Brantley Case Results
Since 1985, we've helped thousands of clients in Wake Forest and throughout North Carolina get justice for their injuries.
Here are just a few of the judgments and settlements we've won on their behalf:
$5,450,000 | Truck Accident — When a family of four was killed in a tragic accident involving a tractor-trailer on one of North Carolina's busiest highways, attorneys Gene Riddle and Kurt Dixon stepped in to seek justice for surviving relatives. A team of expert investigators was assembled and determined the truck driver's negligence to have resulted in the fatal wreck. After Riddle & Dixon filed suit, the insurance companies agreed to mediation, ultimately resulting in a total settlement of $5,450,000 for the family of the victims. Litigation remains pending against another involved party.
$2,475,000 | Workers' Compensation — Riddle & Brantley led extensive negotiations on behalf of a client who was critically injured and suffered permanent disability after falling from a platform while on the job. Attorneys Gene Riddle, Christopher Brantley and Jonathan Smith ultimately won a $2,475,000 settlement following several negotiations with the employer's insurance company.
$1,900,000 | Auto Accident / Pedestrian Accident — Attorney Gene Riddle and late partner Gene Jenkins organized a thorough accident reconstruction and investigation after our client sustained serious injury after being hit by a cement truck while walking across a parking lot. The case was ultimately settled in Wayne County with $1,925,000 awarded to the plaintiff.
$880,000 | Personal Injury — Our client in law enforcement was accidentally shot while exiting a stopped vehicle, suffering traumatic spinal cord injury. When the initial insurance claim was denied, attorney Gene Riddle filed suit and ultimately negotiated with the insurance company, resulting in a $880,000 settlement prior to trial.
*** Disclaimer: The results mentioned are intended to illustrate the type of cases handled by the firm. These results do not guarantee a similar outcome, and they should not be construed to constitute a promise or guarantee of a particular result in any particular case. Every case is different, and the outcome of any case depends upon a variety of factors unique to that case.
For more case results won by our North Carolina personal injury lawyers, please visit our Riddle & Brantley settlements and judgments page.
"The Riddle & Brantley law firm and staff treated my case very professionally, with respect from beginning to end … Thank you for your great service." -Joseph W.
Looking for a Wake Forest personal injury lawyer?
If you're looking for a personal injury lawyer with experience in Wake Forest, we invite you to consider Riddle & Brantley.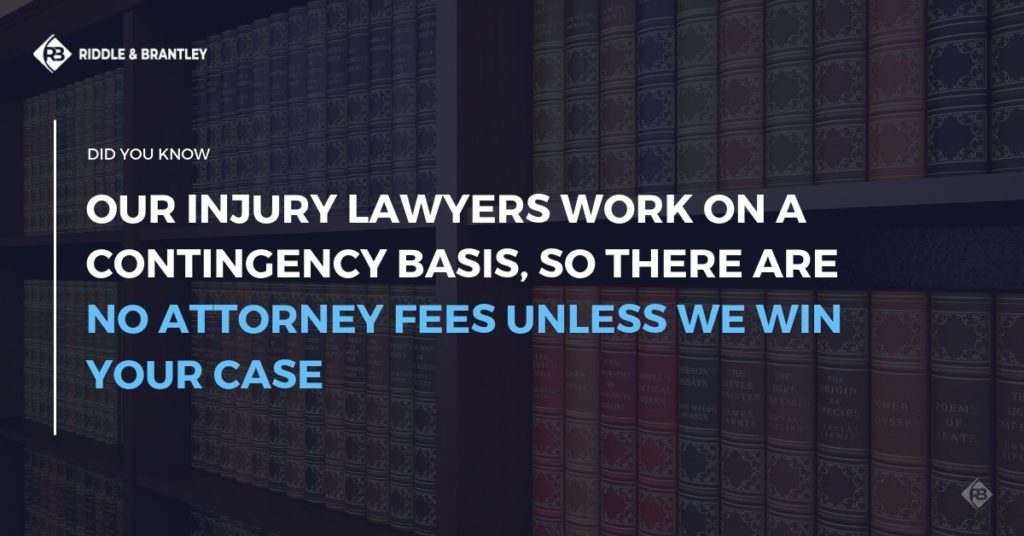 Our attorneys are experienced fighting for victims in Wake Forest and throughout North Carolina, and will do our best to get you the justice you deserve.
Since graduating from Wake Forest Law School in 1985, managing partner Gene Riddle has made it his personal mission to seek justice for all North Carolinians.
Our personal injury, workers compensation, wrongful death and Social Security disability attorneys serve in pursuit of that same goal, and we would be happy to talk with you about your case.
For a FREE consultation and case review, please call 1-800-525-7111 or complete the form below. The case review is free and if you decide to hire us to represent you, there is no upfront cost and no attorney fee unless we win you financial compensation.
Justice Counts.
Please contact us today at 1-800-525-7111. We would love to help if we can.