Hernia Mesh Injury
Hernia repair surgery is one of the most common surgeries in the United States. However, in many cases, injuries have been sustained due to hernia mesh complications arising from the products used in these operations. When the mesh is defective, complications may arise, and injuries can result.
What to Expect After Hernia Mesh Surgery
When recovering from hernia mesh surgery, you should anticipate some degree of soreness. Usually a week or so after hernia surgery, patients can return to their lives at about 50 percent capacity. It can take four to six weeks to recover 95 percent of normal capacity and you may be back to 100 percent within a few days to weeks.
Hernia Mesh Injuries
Unfortunately, some patients may suffer serious side effects and some of these patients will not recover because the mesh used to repair the hernia was defective. A hernia mesh injury may occur.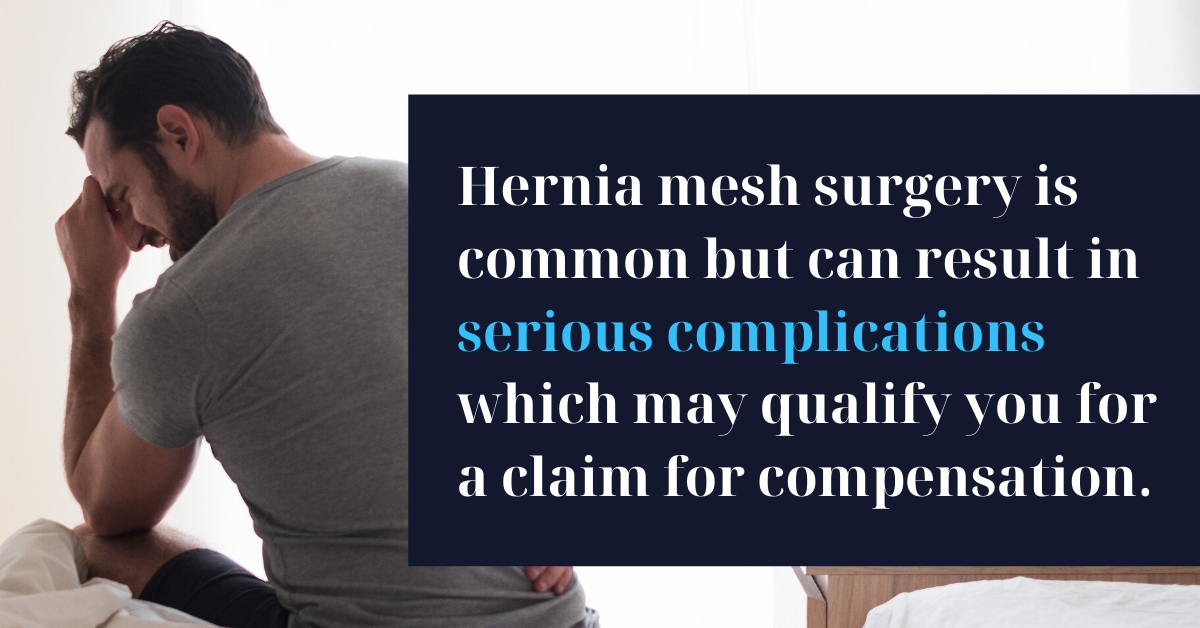 Hernia mesh revision surgery may be needed because a potentially defective mesh implant resulted in hernia mesh injury.
Revision surgery may also be necessary if the hernia reoccurs following the initial hernia surgery. This is called hernia recurrence. Hernia revision surgery is more complicated and holds more risks than the original hernia repair surgery.
If you've suffered hernia mesh injury or required hernia revision surgery potentially due to defective hernia mesh, you may be entitled to compensation. The hernia mesh lawyers at Riddle & Brantley are here to help — there are no upfront costs and no attorney fees unless we win your case and you receive financial compensation.
Please call for a no-obligation, FREE consultation at 1-800-525-7111.
IMPORTANT: It is always important to first seek medical attention for any pain you experience after a hernia repair surgery, and only then seek legal advice regarding a potential hernia mesh lawsuit.
The attorneys at Riddle & Brantley are experienced in these types of cases and will review your specific situation with you. If we believe we can help and you decide to hire us, we will fight tirelessly for your right to a potential hernia mesh settlement or award.
You may be entitled to significant compensation for your hernia mesh injury. Please call 1-800-525-7111 today for a free consultation.
What is hernia mesh revision surgery?
Hernia mesh revision surgery is performed to replace, correct, or repair  a failed hernia mesh product. Revision surgery is more complicated that the original surgery and can be very painful and time-consuming. Revision surgery may mean the mesh implant needs to be removed and replaced or removed entirely and not replaced.
Why is a revision surgery more complicated than the initial hernia mesh surgery?
There are several reasons revision hernia mesh repair surgery can be more complicated than initial hernia repair mesh surgery. It is complicated because it is no longer just a hernia repair surgery — it involves removing an existing hernia mesh product in order to address the hernia mesh injury.
Unfortunately, surgeons cannot simply go in and repair the mesh. The defective mesh must be removed, and the patient's hernia must be repaired again. Second, depending on how long the mesh has been in the body and what the circumstances or nature of the mesh product are now, it is no longer in the same condition as when placed in the body originally.
Hernia Mesh Injuries Requiring Revision Surgery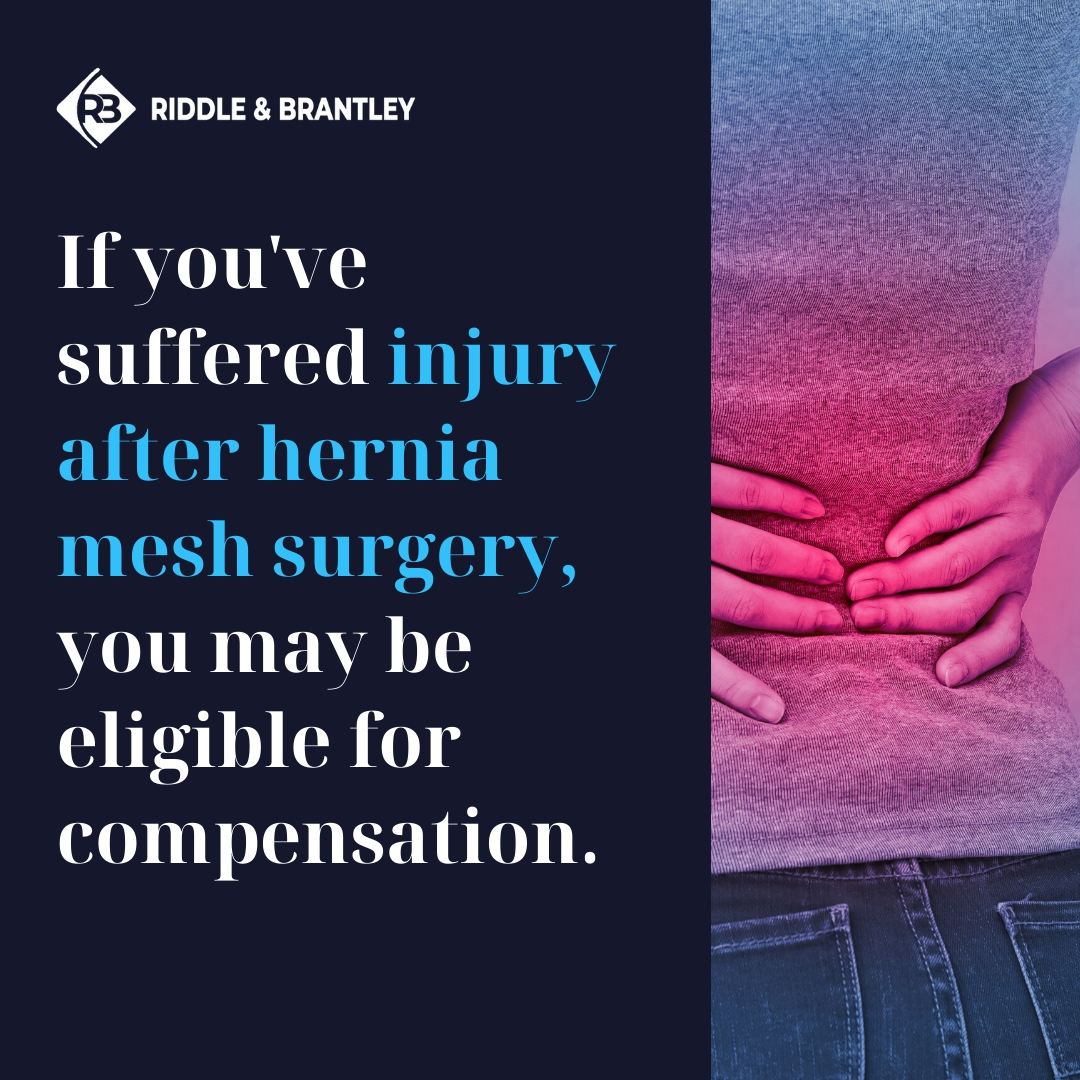 The implant may have moved (mesh migration), the mesh may have broken up or adhered to other organs or tissue (mesh adherence), the mesh may be infected (abdominal infection), and the body may have rejected the hernia mesh product (mesh rejection).
Additionally, the patient's body may be altered. The mesh could have punctured or perforated the intestines, bowel, or other organs and tissue depending on where the mesh was implanted originally and how it has migrated. Bowel obstruction is another potential injury resulting from defective hernia mesh.
>>LEARN MORE: For more information on potential hernia mesh injury, please see our helpful guide to complications from hernia mesh.
These can be serious complications that require revision surgery to correct or compensate for the failed mesh product. Scar tissue may have developed making the revision surgery more complicated.
Hernia Mesh Injuries: Are You Eligible for a Claim?
If you've been injured due to potentially defective hernia mesh, you may be eligible for a claim.
Remember, it is important to understand that hernia mesh complications can occur shortly after surgery or years later. Always contact your doctor if you experience any of these symptoms:
Difficulty urination, passing gas or stool
Excessive pain, bruising, or swelling
High fever (101 degrees)
Increased drainage or redness from the incision
Nausea, vomiting or other flu-like symptoms
Stiffness in your abdomen
Some hernia meshes have been recalled by the Federal Drug Administration (FDA) and some hernia meshes have been voluntarily removed from the market by the manufacturer. Unfortunately, these hernias mesh were not taken off the market before thousands of patients already had them implanted.
Manufacturers potentially affected by a hernia mesh lawsuit include:
Ethicon
Atrium
Covidien
Bard
Specific brands of potentially defective hernia mesh that have been recalled or are the subject of warnings include:
Physiomesh by Ethicon
C-QUR by Atrium
Parietex and Parietex Progrip by Covidien
3DMax, Composix Kugel, Ventralex and Sepramesh by Bard
If you or a loved one has had hernia repair surgery and suffered injury potentially due to defective mesh, you may be entitled to compensation.
For a FREE, no-obligation consultation with an experienced hernia mesh injury attorney, please call 1-800-525-7111 today.
"Those injured potentially due to defective hernia mesh deserve justice."
-Gene Riddle, managing partner, Riddle & Brantley
We strive to treat every client like family and are humbled by the words our deserving clients use to describe their experience working with Riddle & Brantley:
There are no upfront costs or attorney fees unless we win your case and you receive compensation.
Call 1-800-525-7111 today and let's review your claim.
Justice Counts for victims of hernia mesh injury and we would love to help however we can.