Goldsboro Car Accident Lawyer
Looking for a Goldsboro car accident lawyer?
If you've been injured in car, truck or motorcycle accident in Goldsboro or the surrounding area, a Riddle & Brantley auto accident attorney may be able to help.
Our law firm is headquartered in Goldsboro, and our roots in this community run deep.
For a FREE consultation with an experienced injury lawyer, please call 1-800-525-7111 or complete the form below. There is no obligation, and if you decide to hire us, there is no upfront cost and no attorney fees unless we win your case and you receive financial compensation.
"We're proud to call Goldsboro home and are committed to fighting for justice for everyone in this community and throughout North Carolina." -Gene Riddle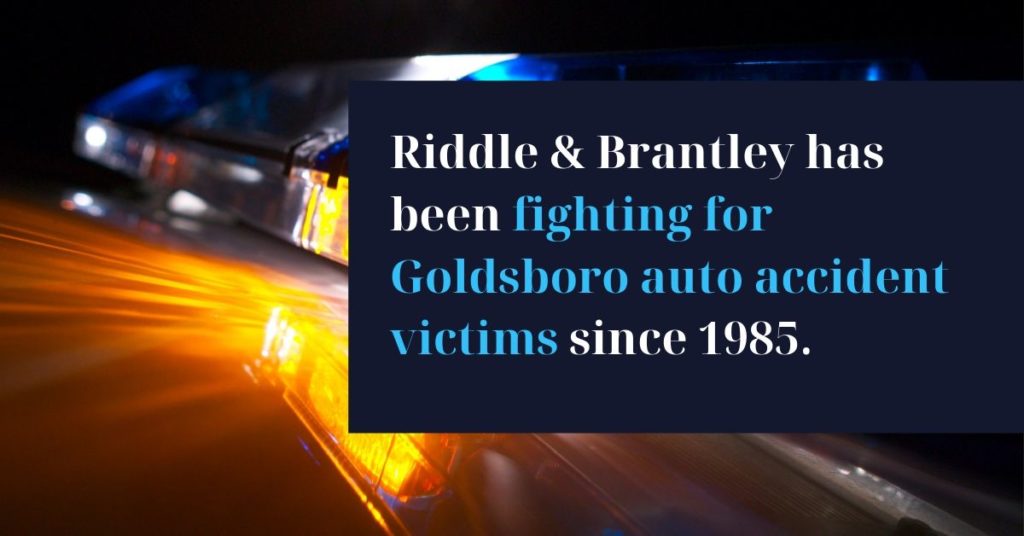 Auto accidents can be devastating and the consequences can be life-changing. Our attorneys have almost 200 years of combined legal experience and we've been representing Goldsboro car accident victims since 1985.
Whether it's negotiating with an insurance company or trying a case at trial, our car accident lawyers fight tirelessly for the justice and compensation our clients need and deserve.
Results for Injury Victims in Goldsboro and North Carolina
We have secured several five, six and seven-figure settlements and judgments for auto accident victims in North Carolina, including:
Truck Accident & Wrongful Death | $5,450,000 — Attorneys Gene Riddle and Kurt Dixon represented the surviving relatives of a family of four killed when their vehicle was rear-ended by a tractor trailer on a North Carolina highway. After organizing an extensive accident investigation and reconstruction, Riddle and Dixon filed suit and ultimately won $5,450,000 in total compensation from involved insurance companies in a pre-trial settlement. Litigation is pending against another involved party.
Car Accident | $2,750,000 — Attorney Donald Dunn represented a client who was seriously injured in a head-on motor vehicle collision. Our client suffered severe injuries to his leg, neck and arms. Through arbitration Dunn secured a $2,750,000 settlement for the client. This was followed by an additional $1,000,000 declarative judgment against one of the involved insurance companies.
Motorcycle Accident | $1,000,000 — When our client suffered serious injuries in a motorcycle crash in Goldsboro, attorney Gene Riddle stepped in to fight for justice, winning a $1,000,000 settlement with the at-fault party's insurance company. This represented the limits of the policy in question.
For more information about cases won by Riddle & Brantley, please visit our case results page.
*** Disclaimer: The results mentioned are intended to illustrate the type of cases handled by the firm. These results do not guarantee a similar outcome, and they should not be construed to constitute a promise or guarantee of a particular result in any particular case. Every case is different, and the outcome of any case depends upon a variety of factors unique to that case. 
If you've been injured in an auto accident in Goldsboro or elsewhere in North Carolina, our experienced attorneys would love to help you fight for justice. For a FREE consultation, please call 1-800-525-7111 or complete the online form below.
"I will always be thankful because this settlement changed me and my family's lives. Thank you for a job very professionally done." -Linda B.
Our accident lawyers are recognized for their significant accomplishments. Managing partner Gene Riddle and attorney Jonathan Smith are members of Multi-Million Dollar Advocates and Million Dollar Advocates, which recognize trial attorneys who have won the most significant settlements and verdicts. Partner Christopher Brantley is a member of Million Dollar Advocates, as well. (see disclaimer below)
Justice for Goldsboro
Riddle & Brantley has been headquartered in Goldsboro for decades and is the home of managing partner Gene Riddle and many of our other attorneys.
Goldsboro is the county seat of Wayne County and is one of North Carolina's larger cities with a population of just over 35,000 people. The city is best known as the home of Seymour Johnson Air Force Base, where the 4th Fighter Wing is stationed.
Many of Riddle & Brantley's attorneys and staff have family connections to the military, and we are proud to support our men and women in uniform.
Goldsboro is also crisscrossed by the I-795 interstate and US-70 and US-117 highways. All that traffic means car, truck and motorcycle accidents are unfortunately common. In 2017, 317 crashes resulting in injury, and 3 people were killed in auto accidents within the city limits.
Our firm handles all types of auto, bicycle and pedestrian accidents in Goldsboro and the surrounding area, including cases of wrongful death.
What Can a Goldsboro Auto Accident Lawyer Do for Me? 
A Riddle & Brantley injury attorney can handle far more than just settlement negotiations and trial. When you hire a Goldsboro car accident lawyer with Riddle & Brantley, you'll get a passionate advocate for your case, and also a full staff of case managers, paralegals and accident investigators dedicated to your success.
We can handle your entire injury claim or lawsuit from start to finish, including:
Accident investigation
Accident reconstruction
Finding expert witnesses
Interviewing witnesses
Filing claims
Negotiating with the insurance company
Obtaining a police report
Finding you appropriate medical care
Making affordable medical bill payment arrangements
Setting up trusts for continuing care
Pre-trial negotiations
Settlement negotiations
Arbitration and/or mediation
Depositions
Court filings
Trial
and much more…
Car accident claims (or those involving trucks, motorcycles, and pedestrians) can be complex. In order to secure the best result, it is recommended that you contact a personal injury lawyer with experience in Goldsboro who knows the law in North Carolina.
Injured in a Goldsboro auto accident?
If you've been injured in a car, truck or motorcycle accident due to someone else's negligence, you may have a personal injury case — and you may be entitled to significant compensation.
To learn more about your legal options and consult with an experienced Goldsboro car accident lawyer, please call 1-800-525-7111. You can also complete the online form below if you prefer.
We've been fighting for justice for North Carolinians since 1985 and would love to help you if we can.
If we're not able to assist for any reason, we'll do our best to connect you with another attorney or resource that can help. That's our promise to you.
You deserve justice.
Please call 1-800-525-7111 today.
---
*** Disclaimer: An attorney must meet certain requirements to join these organizations or receive these awards. For more information on Membership Criteria for Million Dollar Advocates Forum and Multi-Million Dollar Advocates Forum, visit our Membership Criteria page. These awards and memberships should not be construed as a promise or guarantee of a similar result. Each case is different and must be evaluated separately.