Hair Relaxer Breast Cancer Lawsuits
Chemical Hair Straightener Breast Cancer Claims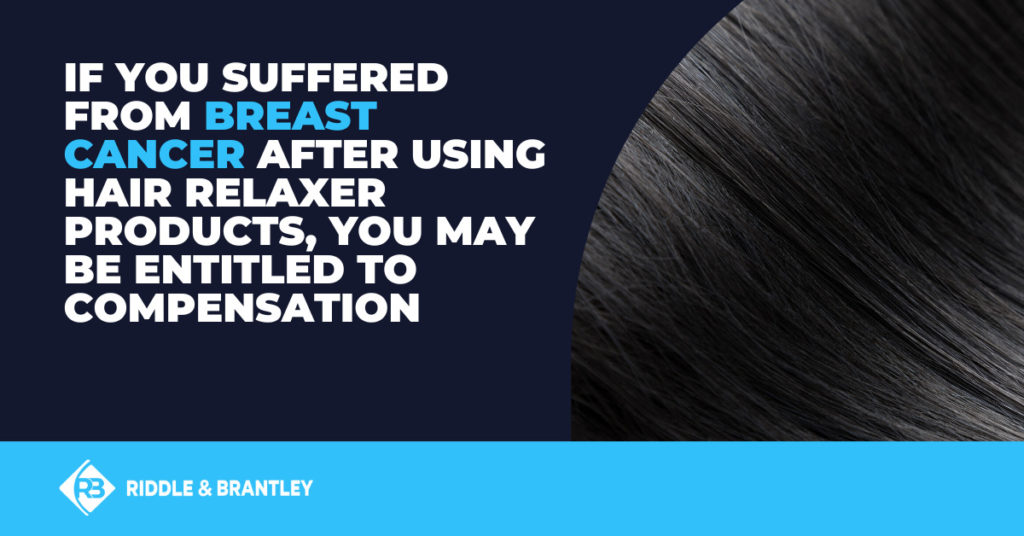 Many women use chemical hair relaxers as part of their regular beauty routine. Recently, however, concern has grown that hair relaxers may be connected to an elevated risk of breast cancer, potentially putting thousands of women at risk for this dangerous disease. At Riddle & Brantley, we are actively investigating these claims and representing claimants in hair relaxer breast cancer lawsuits and claims.
Relaxers release chemicals that break down the bonds in your hair, allowing you to straighten it. Unfortunately, these same chemicals can also harm the hormones and tissues in your body, leading some to suspect that using a hair straightener might increase the risk of breast cancer. Other health problems potentially caused by hair relaxers include uterine cancer, pre-term delivery, uterine fibroids, and endometriosis.
IMPORTANT: If you have developed breast cancer after using chemical hair straighteners or hair relaxers, you may be entitled to compensation in a hair relaxer lawsuit or claim. Call 1-800-525-7111 or complete the form below for a FREE case review with an experienced attorney handling hair straightener breast cancer claims. There are no attorney fees unless we win your case and you receive compensation.
If you think you have developed breast cancer potentially caused by a chemical hair straightener product, stop using it immediately and consult your doctor about alternatives and therapy.
Does Using a Hair Relaxer Cause Breast Cancer?
Scientists are still working on establishing a causal link between chemical hair relaxers and breast cancer. Still, research has shown that a certain group of chemicals known as phthalates — often found in hair relaxers — can disrupt the endocrine system and lead to diseases like uterine and breast cancer.
Many chemical hair relaxers contain various phthalates, leading many experts and consumers to worry that hair relaxer use may be linked to an increased risk for breast cancer.
What are Phthalates?
Phthalates are a group of synthetic chemicals used in various products. They can be found in everything from toys and vinyl flooring to cosmetics and personal care products. Unfortunately, they have been linked to numerous health concerns, including an increased risk of breast cancer.
Phthalates are endocrine disruptors, which can interfere with the body's hormones and affect the reproductive system. Research has also shown that they can impair fertility, lead to developmental delays, and even cause birth defects. Due to these risks, the European Union has banned certain phthalates from cosmetics, toys, and other products.
It's important to be aware of phthalates and their health risks and to take steps to reduce your exposure. This means avoiding products containing them and disposing of them properly when no longer needed. Taking these precautions can help lower your risk of phthalate-related health issues.
Phthalates and Breast Cancer
Studies
have found that women with higher levels of phthalates in their bodies are more likely to develop breast cancer. Phthalates are also linked to other health problems, such as birth defects, hormonal disruptions, and reproductive issues. The exact mechanism by which phthalates may increase the risk of breast cancer is still unknown, and more research is needed.
To be clear, phthalates are known to cause breast cancer and these chemicals are present in many chemical straighteners and hair relaxers, potentially putting those using these products at greater risk of breast cancer.
What About Other Chemicals in Hair Relaxers?
The exact chemical formulations of relaxers vary depending on the brand, but most have one thing in common: sodium hydroxide, also known as lye. This caustic chemical changes the structure of the hair's cortex and helps break down natural hair oils so the hair can be reshaped.
Other chemicals found in many relaxer formulas include:
Methyl hydrate
Calcium hydroxide
Guanidine hydroxide
Thioglycolic acid
Phthalates
In addition to lye, phthalates are one of the most concerning chemical groups in many hair relaxers. This is why even lye-free formulas may pose a risk to women who use them, as many still contain phthalates.
Evidence for Hair Relaxer Breast Cancer Risk
The "Sister Study" was the first study that directly linked hair relaxers to an increased risk for cancer in women. In this study, uterine cancer was identified as the highest risk factor for women who use hair relaxers, but this new finding opens the door for more questions on how these products affect women's health.
Since both breast and uterine cancer are cancers that can occur from hormone disruptions, chemical hair relaxers that contain lye and phthalates may put women at increased risk for both dangerous cancers and other health issues.
We anticipate that these recent discoveries will prompt further research concerning a potential connection between hair relaxers and breast cancer, as well as other health problems.
Hair Relaxer Breast Cancer Lawsuits
Jenny Mitchell filed the initial lawsuit against cosmetic firms in October 2022, claiming that their chemical hair relaxers, which had toxic phthalates and other hormone-disrupting substances, put women's lives at risk. L'Oréal, Namaste Laboratories LLC, Dabur International Ltd., and Godrej Consumer Products are the defendants.
The lawsuit claims that Mitchell developed uterine cancer due to her long-term and regular exposure to phthalates and other hormone-disrupting chemicals in these companies' hair products.
Riddle & Brantley is representing clients in many subsequent hair relaxer lawsuits, including those involving both uterine cancer and breast cancer. These lawsuits involve multiple hair relaxer products that may cause cancer and other health problems.
If you were diagnosed with breast cancer (or another qualifying health problem) after using chemical hair straighteners, you may be eligible for a chemical hair straightener breast cancer lawsuit. Call Riddle & Brantley at 1-800-525-7111 for a FREE case review with one of our experienced hair relaxer cancer attorneys.
"Do I Qualify for a Hair Relaxer Breast Cancer Claim?"
You may qualify for compensation in a hair relaxer breast cancer claim or lawsuit (or case involving another qualifying injury) if you meet the following criteria:
Must have had exposure to one or more of the following products:

Just for Me
Dark & Lovely
Soft & Beautiful
Motions
Olive Oil Girls
Any lye or no-lye hair relaxers (multiple products)

Must have been diagnosed with one of the following conditions:

Breast cancer
Ovarian cancer
Please call 1-800-525-7111 today for a FREE, no-obligation case review. We are committed to fighting for victims of breast cancer and other health problems potentially caused by hair relaxer products, and we are ready to help however we can.
Since 2000 alone, our hair relaxer breast cancer attorneys have recovered over $665 million in compensation for our valued clients (see disclaimer below). Together, our attorneys have over 225 years of combined legal experience helping victims of injury due to others' negligence.
"They turned a heartbreaking situation completely around."
–Tonya T., Riddle & Brantley client 
Justice Counts.
---
*** Disclaimer: The results mentioned are intended to illustrate the type of cases handled by the firm. These results do not guarantee a similar outcome, and they should not be construed to constitute a promise or guarantee of a particular result in any particular case. Every case is different, and the outcome of any case depends upon a variety of factors unique to that case.