Hair Relaxer Endometriosis Lawsuits
Chemical Hair Straightener Endometriosis Claims
Women all around the world use chemical hair straighteners or relaxers to soften and smooth their hair. However, recent research has indicated that these chemical hair straighteners might be associated with an increased risk of endometriosis and cancer. As additional information about these products and the chemicals they contain is released, consumers and experts are becoming increasingly concerned about the health risks associated with these products.
Our firm is actively investigating these claims and representing clients in hair relaxer endometriosis lawsuits and claims. If you believe you have a claim, please call 1-800-525-7111 for a FREE case review concerning a potential hair relaxer lawsuit.
As always, there are no upfront costs, and we don't get paid unless you receive compensation in a chemical hair straightener endometriosis claim or lawsuit.
NOTE: At this time, claims related to uterine fibroids are being held in inventory and we are not filing lawsuits in these cases. Uterine fibroid claims may ultimately be compensable, but we are currently only filing lawsuits related to hair relaxer cancer claims (uterine cancer, ovarian cancer, and endometrial cancer) at this time.
IMPORTANT: If you use one of these hair relaxer products potentially linked to cancer, or think you have developed endometriosis from using a chemical hair straightener, you should stop using it and consult with your physician immediately.
Does Using a Hair Relaxer Cause Endometriosis? 
Many hair relaxers contain a group of chemicals called phthalates, which can disrupt the endocrine system and consequently harm the organs in the reproductive system.
Scientists are still examining whether hair relaxer use may cause endometriosis, but current research suggests that its ingredients may negatively impact women's reproductive systems, leading to organ and tissue damage that can cause endometriosis, uterine fibroids, and even cancer.
What are Phthalates?
Phthalates are synthetic chemicals that are found in products from cosmetics to cars. While they've become such a widespread part of our daily lives, many researchers have raised alarms as to the potential impact on our health they may cause. Long-term exposure to phthalates has been shown to lead to an increased risk in various diseases, including endometriosis.
Phthalates cause these problems by interfering with the body's hormones and reproductive systems, and exposure over time can result in infertility, developmental delays, and even birth defects.
Certain phthalates are banned in cosmetics, toys, and other products in Europe due to these risks. However, no such stringent regulation exists in the United States. This has led to so many of the products people use daily containing one or more of these potentially harmful substances.
Phthalates and Endometriosis
Significant research has linked phthalate exposure to an increased risk of endometriosis in women.
One U.S. case-controlled study concluded that "exposure to select phthalates is ubiquitous among female enrollees of a large healthcare system in the U.S. Pacific Northwest. The findings from our study suggest that phthalates may alter the risk of a hormonally-mediated disease [such as endometriosis] among reproductive-age women."
Additional research has continued to suggest a significant link between phthalate exposure and endometriosis. Once phthalates enter the body, they can disrupt the endocrine system, altering hormone levels. These significant hormone imbalances have been tied to increased risk of cancer and other diseases in organs and soft tissues like the uterus and ovaries.
While the exact amount of exposure that may cause endometriosis is still unknown, it's clear that phthalate exposure may play a role in the increased instances of breast cancer, uterine cancer, and endometriosis in women.
Evidence for Hair Relaxers and Endometriosis Risk 
The first link between hair relaxers and reproductive issues in women came from the "Sister Study," a nationwide survery of over 50,000 women from ages 35-74. This study was looking at the many factors that contribute to women's overall health, but researchers were shocked to find a clear link between women who used hair relaxers and their much higher occurrences of uterine cancer.
This discovery has led researchers to investigate what other risks hair relaxers may pose to women's health.
Since uterine cancer is typically caused by hormone imbalances or disruptions, chemicals like phthalates that disrupt endocrine function may also increase women's risk of developing endometriosis. Although this condition is less immediately dangerous than uterine cancer, it can still cause significant issues for many women, including infertility, if left untreated.
Research is still ongoing to identify exactly what compounds in hair relaxers may be leading to these significant health risks, with phthalates and other substances being closely investigated.
Hair Relaxer Endometriosis Lawsuits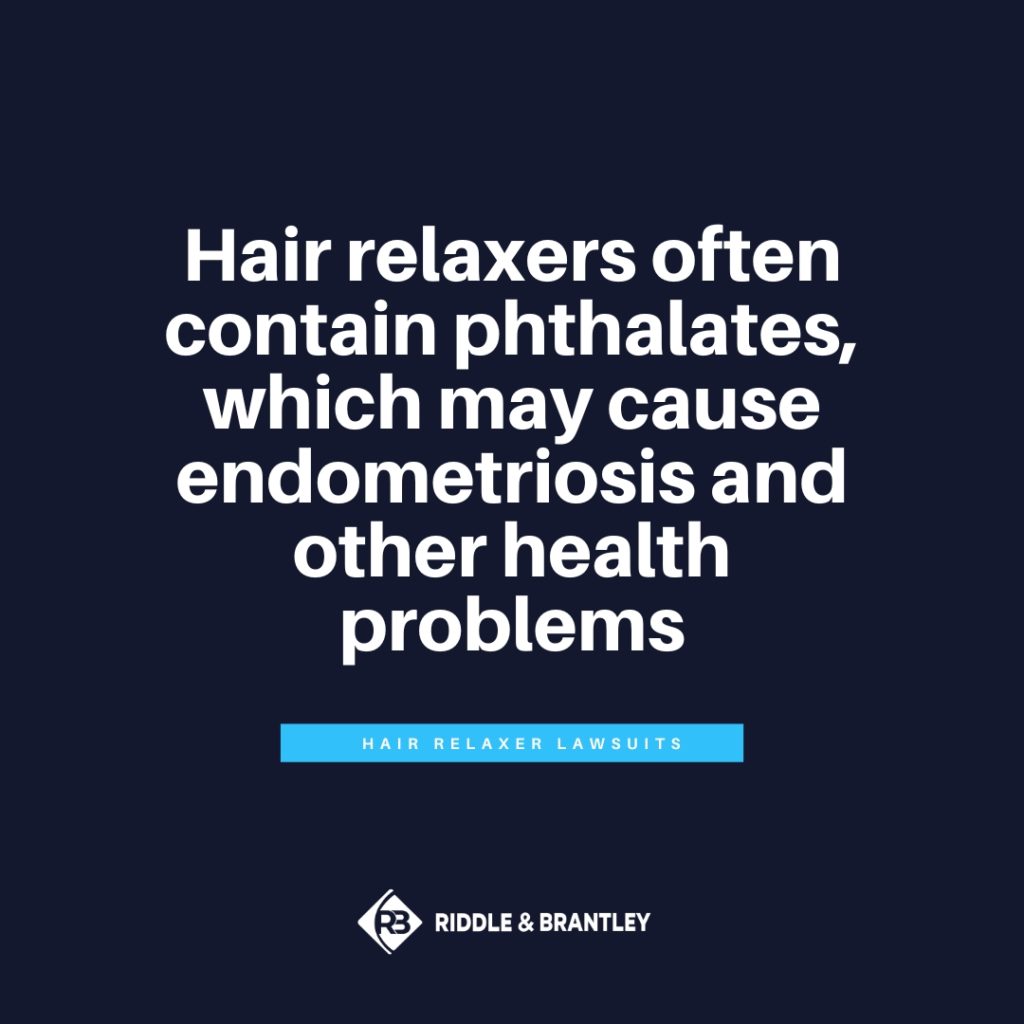 So far, four women have filed lawsuits against L'Oréal, Namaste Laboratories LLC, Dabur International Ltd., and Godrej Consumer Products. In October 2022, Jenny Mitchell filed the first lawsuit, alleging that phthalates and other hormone-disrupting substances in her chemical hair relaxers led to her developing uterine cancer.
Legal experts believe that more cases will be brought against these manufacturers as more women become aware of the potential risks their products cause, including potential increased risk of endometriosis. We're watching these cases closely to see what the response from these companies as well as the judges will be.
As of December 2022, all defendants have strongly denied any negligence and/or wrongdoing associated with these hair relaxer claims and lawsuits.
If you were diagnosed with endometriosis after using chemical hair straighteners, you may be eligible for a lawsuit. Call Riddle & Brantley at 1-800-525-7111 for a FREE case evaluation with one of our experienced hair relaxer attorneys.
You may qualify for compensation in a hair relaxer claim or lawsuit if you meet the following criteria:
Must have had exposure to one or more of the following products:

Just for Me
Soft & Beautiful
Motions
Dark & Lovely
Olive Oil Girls
Any lye or no-lye hair relaxers (multiple products)
Must have been diagnosed with one of the following conditions:

Endometriosis
Endometrial cancer
NOTE: At this time, claims related to uterine fibroids are being held in inventory and we are not filing lawsuits in these cases. Uterine fibroid claims may ultimately be compensable, but we are currently only filing lawsuits related to hair relaxer cancer claims (uterine cancer, ovarian cancer, and endometrial cancer) at this time.
Why Riddle & Brantley for a Hair Relaxer Endometriosis Claim?
At Riddle & Brantley, we're proud of the more than $665 million in total compensation we've secured for our clients since 2000 alone (see disclaimer below). But we're especially proud of the testimonials of our clients, including:
"Every time I've needed them, they were there for me." –Tyronnie T.
"They handled my case very professionally, with respect from beginning to end." –Joseph P.
"I would recommend them to anyone. They fought hard for me." –Christine W.
"They turned a heartbreaking situation completely around." –Tonya T. 
"This settlement changed me and my family's lives."
–Linda B., Riddle & Brantley client
If you've been diagnosed with endometriosis (or another qualifying health problem like uterine cancer, ovarian cancer, or breast cancer) after using a hair relaxer product, you may be entitled to compensation in a hair relaxer lawsuit. Call 1-800-525-7111 right away for a FREE case review with one of our experienced trial attorneys.
There are no upfront costs and you won't pay a dime in attorney fees unless we win your hair straightener endometriosis case and you receive compensation.
Call 1-800-525-7111 and let's review your claim. Justice Counts.
---
*** Disclaimer: The results mentioned are intended to illustrate the type of cases handled by the firm. These results do not guarantee a similar outcome, and they should not be construed to constitute a promise or guarantee of a particular result in any particular case. Every case is different, and the outcome of any case depends upon a variety of factors unique to that case.