Kannapolis Truck Accident Lawyer
After an accident with a large tractor trailer truck you or your loved ones may be seriously injured and feel overwhelmed and intimidated by the legal system. You may be considering hiring a Kannapolis truck accident lawyer.
You may want to consider Riddle & Brantley.
Our truck accident lawyers are familiar with the Kannapolis area and know the law in North Carolina. We have experienced investigators on staff with background in law enforcement to assist in truck accident investigations.
For a FREE consultation and case review, please call us at 1-800-525-7111 or complete the short form below.
The consultation is free and you won't pay a dime in legal fees unless we win your case.
Truck Accident Injury Claims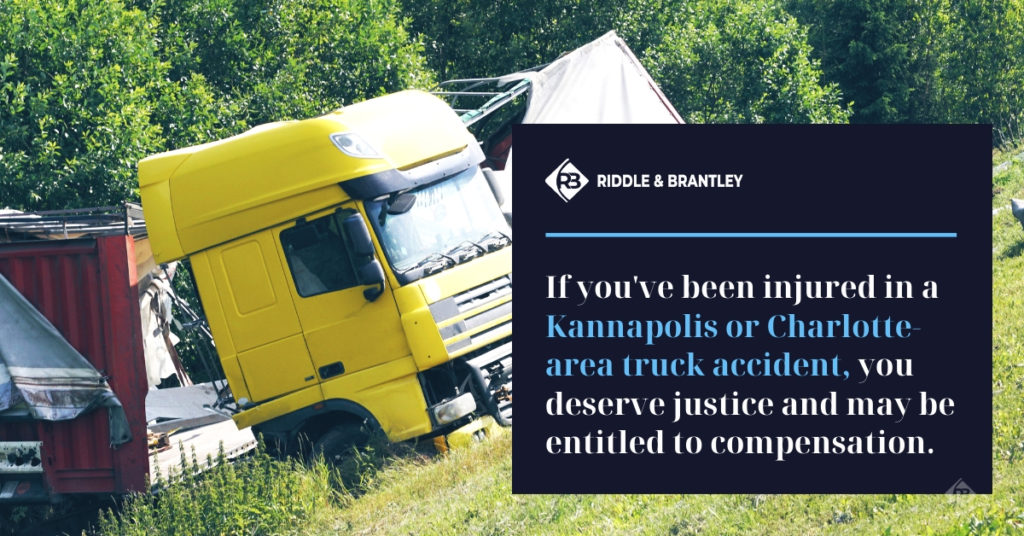 Being involved in a serious truck or tractor-trailer accident is a devastating experience that can take a toll on all injured parties as well as their loved ones.  In some cases, severe physical injuries combined with emotional trauma and the stress of filing an injury claim can be overwhelming.
However, there are legal options available that can help improve the outcomes for victims of large truck accidents and ensure victims get the financial compensation they deserve from those responsible.
If you have been involved in a tractor-trailer accident in Kannapolis, you may want an experienced truck injury attorney.
Please call 1-800-525-7111 for a FREE consultation with a truck accident lawyer experienced helping victims in Kannapolis and across North Carolina.
There is no obligation and if you decide to hire us, there are no upfront costs or attorney fees unless we win your case.
A Commitment to Kannapolis and Greater Charlotte
Kannapolis is a city found in Cabarrus and Rowan counties, in North Carolina.  It is located northeast of Charlotte and is a suburb of the Charlotte metropolitan area.  Our senior partner, Gene Riddle, has special ties to Kannapolis and the surrounding areas.  His father was born and raised in Kannapolis, and as a young boy, Gene and his family spent many weekends there visiting his grandparents.
"I have close personal ties to Kannapolis and our firm is proud to fight for justice for injury victims in the area." -Gene Riddle
Common Causes of Truck and Tractor-Trailer Accidents
The nine most common truck accident causes are:
Distracted Driving
Truck Driver Fatigue
Lane Shifting
Speeding, Load Shift, Cargo Overload
Dangerous or Defective Road Conditions
Collision in Truckers Lane
Improper Truck Maintenance or Vehicle System Failure
Mechanical Failure
Driver Inexperience
The devastation of being involved in a commercial truck accident does not go away immediately after the accident. The damage linked to the accident often requires those injured to have a strong support system long after the crash.
This system of support should include a personal injury attorney who can play a vital role in helping recover damages you may be entitled to under the law.
If you are injured in a Kannapolis-area truck accident and want to pursue an injury claim, there are a few steps you can take to help your case.
The following are important things to do immediately after a truck accident:
Call 911.
Seek immediate medical attention if needed.
Never admit fault.
Never give a statement to the insurance company without first consulting with a truck accident lawyer.
Take photos of the accident and talk with potential witnesses, making sure to collect their contact information.
Talk with the officer handling the accident and make sure you are honest as well as accurate. Remember anything you say can be used against you.
Gather all important documents and make a list of any damages. Get all medical bills and other documents related to the wreck. Be sure to document any issues affecting your life that are the result of your accident.
A personal injury lawyer is probably the most important ally you can have in taking on a commercial truck carrier and truck drivers who may deny responsibility for their wrongdoing.
For a FREE consultation with a Riddle & Brantley truck accident lawyer, please call 1-800-525-7111.
We have a special connection to Kannapolis and are proud to fight for truck crash injury victims in the area.
Common Truck Accident Injuries
Our truck accident attorneys have experience handling all types of injury cases, including those involving injuries such as:
Broken Bones
Cuts and scrapes
Soft tissue injuries
Head injuries – including TBI traumatic brain injuries
Spinal cord injuries
Shoulder injuries
Back injuries
Head injuries
Burns
Internal bleeding
Organ damage
Emotional trauma (PSTD)
And more
If you or a loved one has been hurt in a truck or tractor-trailer accident in Kannapolis or the surrounding area, please call us at 1-800-525-7111, or complete the online form below. 
The consultation is always free, and we won't get paid unless you are compensated.  Our Kannapolis truck accident lawyers will be happy to review your case.
There is never any way to know how a case will end.
Will it potentially settle, or will there be a verdict if it goes to trial?  There are no guarantees.
That said, Riddle & Brantley is proud of the results we have obtained for North Carolinians injured in serious truck and tractor-trailer accidents.  Some of our results include:
$2,000,000 – Truck Accident: Attorney's Gene Riddle and Jonathan Smith represented the sons of a lady who suffered debilitating injuries as a result of an accident involving an 18-wheeler tractor-trailer.  She later succumbed to her injuries.  Riddle & Brantley hired experts to help establish liability and ultimately negotiated a $2,000,000 settlement with the defense counsel.
750,000 – Truck Accident: Our client was a passenger in a vehicle when it was hit by a tractor-trailer.  The accident totaled the vehicle and our client was seriously injured.  In the end, we had to press the truck's insurance company by filing suit and pursuing mediation.  The mediation finally concluded, awarding our client $750,000
*** Disclaimer: The results mentioned are intended to illustrate the type of cases handled by the firm. These results do not guarantee a similar outcome, and they should not be construed to constitute a promise or guarantee of a particular result in any particular case. Every case is different, and the outcome of any case depends upon a variety of factors unique to that case.
We know the aftermath of a truck accident can be incredibly challenging for you and your loved ones.
If you are not able to come to us and would like to talk to one of our lawyers, we will be happy to come to you.  We are glad to talk with you and evaluate your case.
Please give us a call. We can help. Our number is 1-800-525-7111. 
Riddle & Brantley is dedicated to helping injured people in Kannapolis and the surrounding North Carolina areas.
Justice Counts for North Carolina truck accident victims. We build trust by delivering results for our clients.
Injured in a Kannapolis or Charlotte-area truck accident?
The attorneys at Riddle & Brantley have been fighting for injured North Carolinians since 1985.  Our lawyers have more than 225 years of combined legal experience.  We are familiar with Kannapolis and represent clients across the state.
We would love to help you get justice and compensation if we can.
As always, there is no attorney fee unless we win your case.
Please call 1-800-525-7111 for a FREE case review or fill out the form below. 
There are no up-front fees and the consultation is always free.
At Riddle & Brantley, we build trust by delivering results.
Justice Counts.