Charlotte Office
Experienced and Trusted Charlotte Personal Injury Lawyers
RIDDLE & BRANTLEY
301 McCullough Dr., Suite 400
Charlotte, NC 28262
Phone: (800) 525-7111
By Appointment Only.
HOURS OF OPERATION
Monday – 7:00 AM – 11:00 PM
Tuesday – 7:00 AM – 11:00 PM
Wednesday – 7:00 AM – 11:00 PM
Thursday – 7:00 AM – 11:00 PM
Friday – 7:00 AM – 11:00 PM
Saturday – 8:00 AM – 11:00 PM
Sunday – 8:00 AM – 11:00 PM
Charlotte Injury Lawyers Ready to Fight for You
When you're injured through no fault of your own, you may be entitled to compensation. The Charlotte personal injury attorneys at Riddle & Brantley have more than 225 years of collective experience in North Carolina fighting for victims of accidents resulting from the negligence of others. We've been able to recover millions of dollars for our clients, including compensation for medical bills, lost wages, and even pain and emotional suffering (see disclaimer below).
Many of our attorneys and staff have close personal ties to the Charlotte area. Founding partner and attorney Gene Riddle's father grew up in the area and his grandparents worked in the textile mill in nearby Kannapolis.
Our personal injury lawyers handle all types of personal injury lawsuits in the Charlotte, NC area and have the resources necessary to take cases to trial to ensure our clients receive the compensation they truly deserve. We frequently handle cases in district and superior courts in the Charlotte area, including at the Mecklenburg County Courthouse (pictured below).
If you or a loved one have been injured due to the negligence of another person, contact our Charlotte personal injury lawyers for a free case evaluation. Our North Carolina legal team is experienced in handling Charlotte area cases and even responds to calls and emails after hours and on weekends to answer any questions you may have. We'll even come to you if you can't make it to one of our offices.
Remember, because North Carolina has a Statute of Limitations requiring lawsuits to be filed in a limited timeframe, it's important to act quickly.  In most personal injury cases, this time period is usually three years from the date of the accident, unless the victim is a minor or has a disability. In cases involving death, the time period is usually two years from the date of death. Contact one of our personal injury attorneys for immediate assistance.
Types of Personal Injury Claims Our Attorneys Represent
At Riddle & Brantley, our lawyers have extensive experience representing clients in the Charlotte area, across all major personal injury practice areas:
In addition to these types of personal injury cases, our legal team also represents Charlotte area clients in Social Security & Disability, Veterans Benefits, and Workers Compensation claims.
We have two Board-Certified Specialists in Workers' Compensation serving the Charlotte area as well as a Board-Certified Specialist in Social Security Disability handling claims and appeals to the Social Security Administration. These attorneys are recognized by the North Carolina State Bar for their experience and expertise handling these specific types of cases.
Do I Have a Case?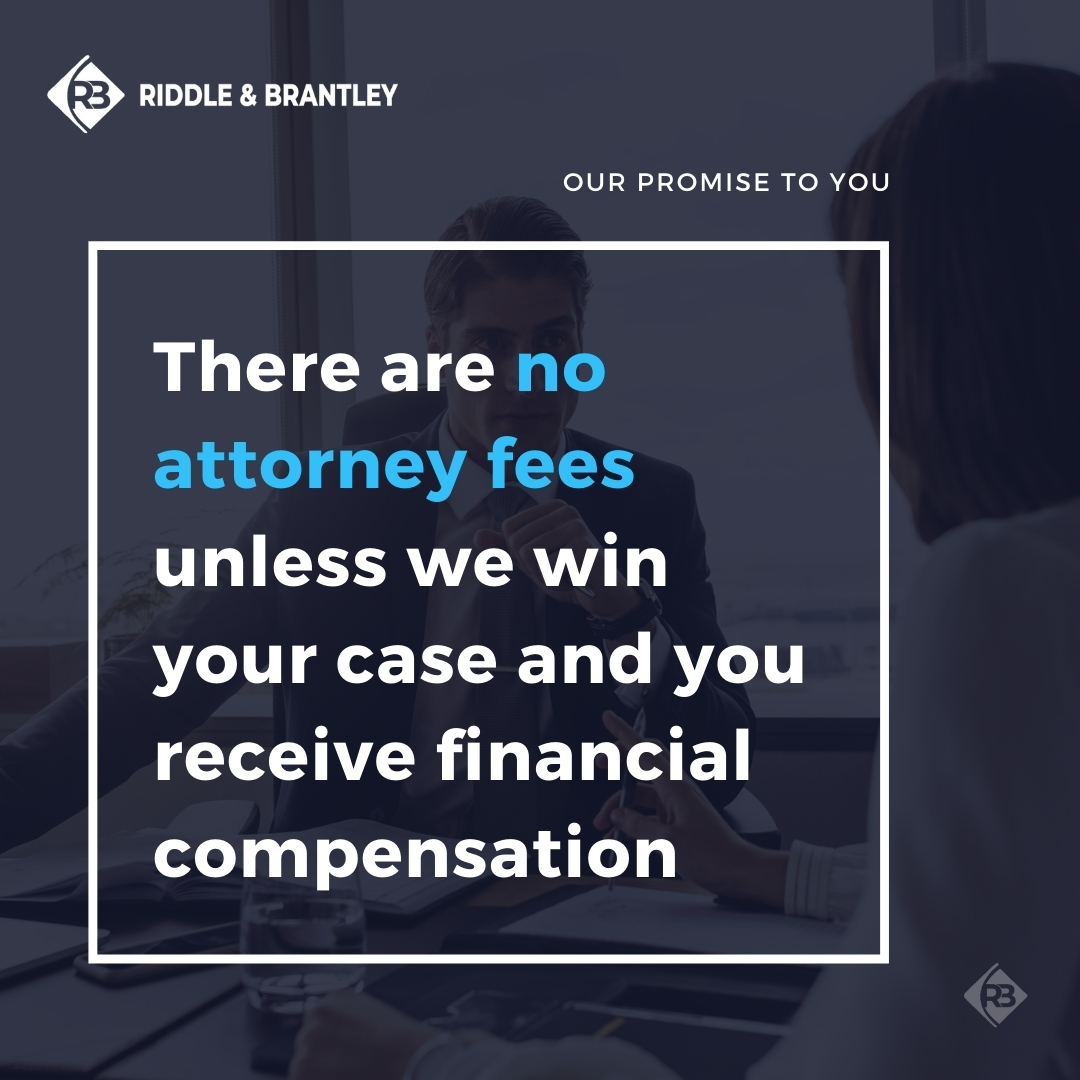 When our firm takes your case, our attorneys must establish that your injuries were the result of another person or organization's negligence. Our investigators are diligent in collecting the evidence necessary to support your claim.
We even have retired law enforcement officers on staff to lead investigations into accidents. We also frequently bring on outside experts to provide testimony to support our clients' claims. In one recent truck accident and wrongful death case, we even subpoenaed traffic data from Google Maps to prove liability. We were able to secure $9.45 million in total compensation from the insurance companies (see disclaimer below).
The theory of negligence lies behind most personal injury cases, which simply means there was a failure to exercise reasonable care to protect another from harm. In helping you recover the proper compensation, your Riddle & Brantley Charlotte personal injury lawyer will dedicate him or herself to demonstrating these circumstances.
If you believe another person's negligence caused or contributed to your injury, contact us for a free case review.
Talk with a Charlotte Personal Injury Attorney, Absolutely Free
If you're in the Charlotte area and have been injured due to another person's negligence, you deserve justice. At Riddle & Brantley, our experienced North Carolina legal team is available to answer your questions. The best part is the consultation is free, and you don't pay any fees unless we win your case. Remember, time is of the essence, so don't wait – contact a personal injury lawyer today at 1-800-525-7111 for a free case review.
We're available in-person by appointment only at our Charlotte office location, and can come directly to you if it's more convenient. Please note, however, that free consultations are available from the comfort of your home (or anywhere else) by phone, email, text, or video conference. There is no in-person meeting required to get started on your case.
Justice Counts.
---
***Disclaimer: The results mentioned are intended to illustrate the type of cases handled by the firm. These results do not guarantee a similar outcome, and they should not be construed to constitute a promise or guarantee of a particular result in any particular case. Every case is different, and the outcome of any case depends upon a variety of factors unique to that case.