Charlotte Personal Injury Lawyers
Experienced and Trusted Personal Injury Lawyers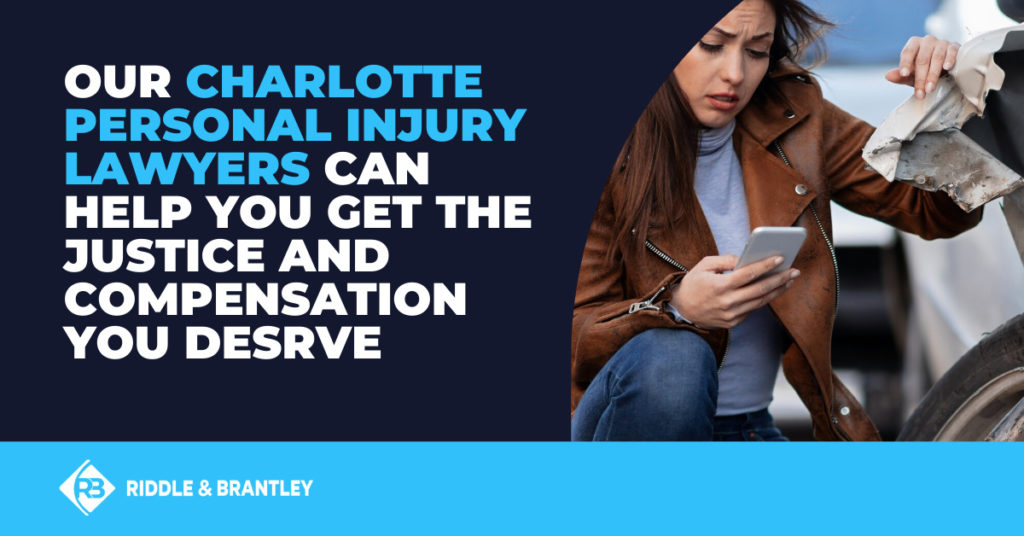 Have you been injured due to another's negligence in Charlotte, NC? You deserve justice. A personal injury lawyer at Riddle & Brantley may be able to help you get the compensation you deserve. Since 1985, our firm has been helping injured North Carolinians seek justice, and we would love to help you and your loved ones however we can. Please call (704) 486-5824 for a free, no-obligation consultation. There are no upfront costs and absolutely no attorney fees unless we win your injury case and you receive compensation.
RIDDLE & BRANTLEY
301 McCullough Dr., Suite 400
Charlotte, NC 28262
Phone: (704) 486-5824
By Appointment Only.
HOURS OF OPERATION*
Monday – 7:00 AM – 11:00 PM
Tuesday – 7:00 AM – 11:00 PM
Wednesday – 7:00 AM – 11:00 PM
Thursday – 7:00 AM – 11:00 PM
Friday – 7:00 AM – 11:00 PM
Saturday – 8:00 AM – 11:00 PM
Sunday – 8:00 AM – 11:00 PM
*NOTE: Our intake staff is available to answer phone calls and emails during these times, but please note that in-person meetings are only available at our Charlotte office by appointment.
"I would recommend them to anyone. They fought hard for me."
–Christine W., Riddle & Brantley client
"What Kind of Compensation is Available?"
Every accident injury case is different, and there are never any guarantees in a personal injury claim or lawsuit. That said, if another individual can be proven responsible for your injury, an attorney can help you get the compensation you deserve. "Damages," or compensation, available in an injury claim may include:
Medical Expenses — These damages are intended to reimburse you for any injury-related medical costs, including but not limited to ambulance transport, hospital stays, doctors' visits, medications, surgeries, diagnostic testing and imaging, medical equipment, and home care.
Lost Wages — If you're forced to take time off work for your recovery, you may be entitled to damages to help make up for your lost wages.
Loss of Future Income — In the most tragic cases, a serious injury may leave you unable to return to work altogether, or forced to take a different, lower-paying job. In these cases, you may be awarded compensation to make up for your lost earnings potential. These damages can be difficult to calculate and a lawyer can help. In some cases, a comprehensive life care plan may need to be drawn up to help calculate these damages.
Pain and Suffering — Emotional injury like PTSD is common in accident cases. The victim may also suffer from loss of consortium or companionship with their spouse or partner. When this occurs, the injured party may be entitled to damages to cover this "non-economic" pain and suffering. Permanent scarring or disfigurement may also entitle an injury victim to damages for pain and suffering.
Punitive Damages — In certain situations, such as when a drunk driver causes injury to another, a jury may award punitive damages to "punish" the at-fault party to discourage them from similar "willful and wanton" conduct in the future. These damages are relatively rare, however, and a case must meet certain criteria. An experienced injury attorney can help determine if punitive damages may be available in your case.
Injury Lawyers Ready to Fight for You
When you're injured through no fault of your own, you may be entitled to compensation. The attorneys at Riddle & Brantley have more than 220+ years of collective experience in North Carolina fighting for victims of accidents resulting from the negligence of others. We've been able to recover millions of dollars for our clients (more than $600 million in total compensation since 2000 alone – see disclaimer below) including compensation for medical bills, lost wages, and even pain and emotional suffering.
Many of our attorneys and staff have close personal ties to the Charlotte area. Founding partner and attorney Gene Riddle's father grew up in the area and his grandparents worked in the textile mill in nearby Kannapolis.
Our lawyers handle all types of personal injury lawsuits in the area and have the resources necessary to take cases to trial to ensure our clients receive the compensation they truly deserve. We frequently handle cases in district and superior courts in the area, including at the Mecklenburg County Courthouse (pictured below).
"What Should I Do if I've Been Injured in an Accident?"
If you've been hurt in an accident in, there are many things you can (and should) do in order to protect your legal rights and start building a strong case for potential compensation. After an accident, follow these tips:
Call 911 — In North Carolina, you're required to report accidents resulting in injury (and many others) to law enforcement. Call 911 and wait for law enforcement and medical personnel to respond to the scene.
Get Medical Help — If you've been injured, seek medical attention immediately. Some injuries (like traumatic brain injuries or internal bleeding) may not be apparent right away but you should have diagnostic testing performed. Follow the advice of the responding medical team. Your medical records will also play an important role in determining the outcome of any potential personal injury claim or lawsuit.
Talk with Law Enforcement — Always be respectful, open and honest in recounting your accident to the responding officer, but remember that anything you say can and will be used against you. Never apologize or admit fault to an officer in the immediate aftermath of an accident, even if you are not quite sure about the circumstances of the accident. Immediate recollections can be hazy, or you may be disoriented, and you may jeopardize a potential injury claim.
Take Photos — Document as much as you can about the accident. Be sure to get photos of any injuries. In auto accident cases, be sure to get photos of the vehicle damage, any debris or skid marks, road signage, etc.
Identify Potential Witnesses — Talk with anyone who witnessed the accident and get their contact information, including name, phone number, and email address.
Get the Other Party's Information — If you believe another person may have been responsible for the accident, get their contact and insurance information. Do NOT admit fault or apologize when talking with the other party — even if you're unsure about the nature of the accident in the immediate aftermath.
Call the Insurance Company — Get started on your claim by calling the insurance company, but DO NOT give a recorded statement before talking with a lawyer and DO NOT admit fault.
Call an Attorney — If you've been injured, call a lawyer at Riddle & Brantley for a free, no-obligation consultation. An injury lawyer can help protect your legal rights and maximize the chances that you receive compensation for your injuries. Call (704) 486-5824 today and let us help however we can.
"How Long Do I Have to File a Personal Injury Claim?"
Remember, because North Carolina has a Statute of Limitations requiring lawsuits to be filed in a limited timeframe, it's important to act quickly.
In most (but not all) cases, the Statute of Limitations in North Carolina is:
3 years from the date of injury in personal injury claims
2 years from the date of death in wrongful death claims
Certain exceptions may apply. An experienced lawyer at Riddle & Brantley can help evaluate your claim and determine what statute of limitations may apply. Don't lost your right to justice and compensation by missing an important deadline — call our injury lawyers today at (704) 486-5824 for a free, no-obligation consultation.
Types of Personal Injury Claims Our Attorneys Represent
At Riddle & Brantley, our lawyers have extensive experience representing clients, across all major personal injury and related practice areas. Our attorneys have successfully represented thousands of North Carolinians in injury cases since 1985, and we're proud of our track record of results. If you've been injured in any one of the following types of accidents, we may be able to help:
Tractor-trailer accidents
Scooter accidents
Slip and fall accidents
Sexual assault
Product liability cases
Dangerous drug cases
Defective medical device claims
Mesothelioma and asbestos exposure claims
Nursing home neglect and abuse
"Why Should I Choose Riddle & Brantley?"
There are hundreds of lawyers in the Charlotte area to choose from. At Riddle & Brantley, we strive to provide our clients with the best possible service, and our lawyers and staff fight tirelessly for our valued clients' right to justice and compensation. We're proud of the words our clients use to describe their experience working with us, and we invite you to review our client testimonials. We're also humbled by the many awards and memberships our attorneys have been recognized with (see disclaimer below), including:
Multi-Million Dollar Advocates Forum
Million Dollar Advocates Forum
Super Lawyers
The National Trial Lawyers Top 100
The National Trial Lawyers Top 40 Under 40
The National Association of Distinguished Counsel
AV Preeminent Rating by Martindale-Hubbell
The Litigator Award
"They really care about the client's welfare."
–Miracle S., Riddle & Brantley client
Investigators with Experience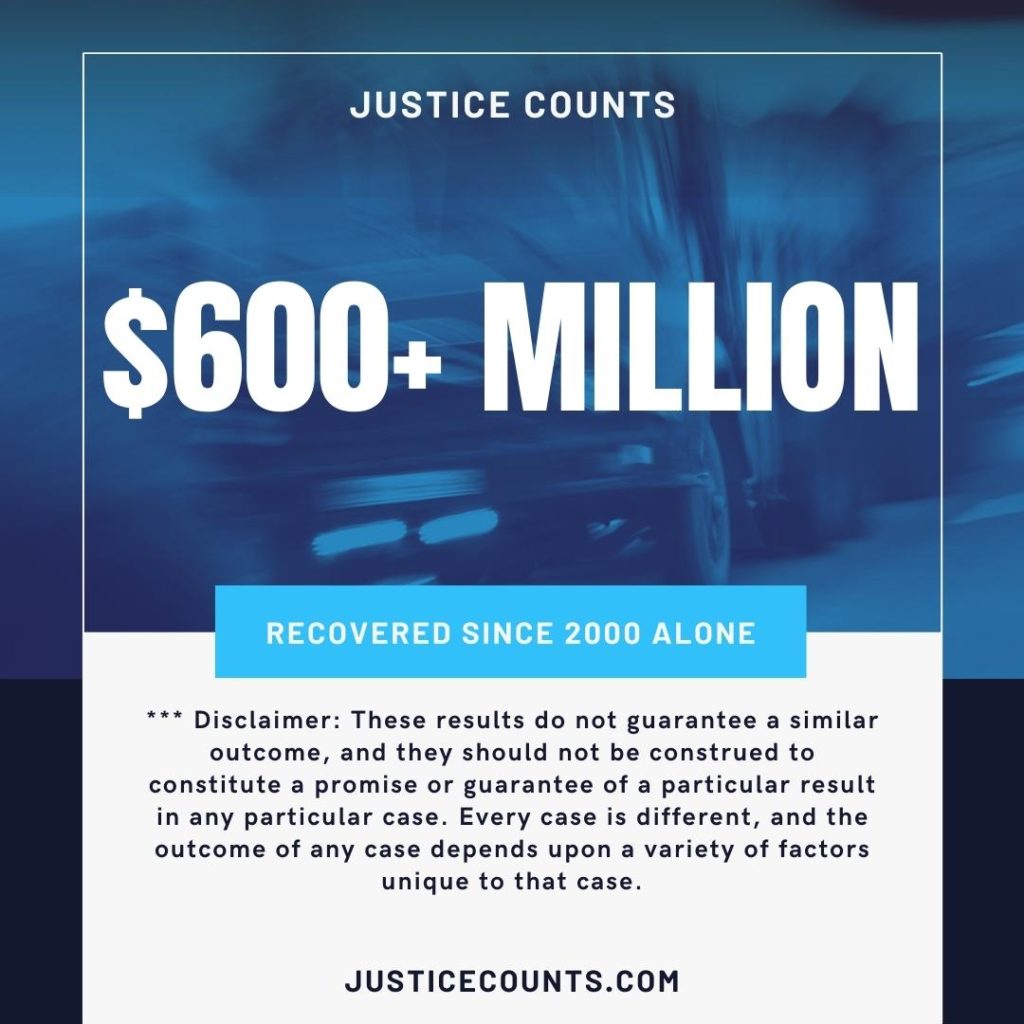 Another benefit of choosing our firm to handle your injury case is that Riddle & Brantley has a team of experienced accident investigators on staff. These are retired law enforcement officers who know how to work complex cases. After calling a lawyer at Riddle & Brantley, you can request a meeting with an investigator who can come directly to you and immediately get to work investigating your accident and helping prove liability.
In some cases, we even bring in expert accident reconstructionists to help evaluate the accident and prove fault. In cases involving trucks and tractor-trailers, we sometimes even consult with experts in federal trucking safety regulations in order to hold potentially negligent drivers and "rogue trucking companies" accountable.
Results for Our Valued Clients
In more than three decades serving the people of North Carolina, our experienced lawyers have secured many five, six, and even seven-figure settlements and verdicts for our valued clients (see disclaimer below). Recent case results include:
$2,750,000 | Truck Accident & Workers' Comp — Attorneys Gene Riddle and Adam Smith filed separate personal injury and workers' compensation claims after our client, a construction worker, was seriously injured when he was hit by a tractor-trailer in a construction zone while on the job. He suffered serious injuries including the loss of his right leg below the knee. The trucking company denied liability so suit was filed, and we eventually settled both claims prior to trial for a total of $2.75 million in compensation for our deserving client.
$9,450,000 | Tractor-Trailer Accident & Wrongful Death — In a truly heartbreaking case, a family of four was killed instantly in a terrible tractor-trailer accident on a busy highway. Riddle & Brantley represented surviving family members, leading a comprehensive accident investigation and ultimately recovering more than $9 million in total compensation in separate settlements after filing multiple lawsuits.
$1,050,000 | Motorcycle Accident — Our client was a passenger on a motorcycle and was thrown from the bike after the driver allegedly lost control in an S-curve. The plaintiff suffered serious injuries, including traumatic brain injury, memory loss, and fractures. We ultimately negotiated a $1.05 million settlement prior to filing suit, representing the limits of the policy in question.
$2,750,000 | Car Accident — Riddle & Brantley attorney Donald Dunn filed a lawsuit after our client suffered serious injuries including multiple fractures in a head-on car accident. A $2.75 million award was recovered in arbitration, which was immediately followed by a separate $1 million declaratory judgment against the insurance company.
$1,500,000 | Personal Injury — Our client was hit in the head by a falling tree limb that was cut by his employer, suffering a debilitating brain injury. The employer did not have workers' compensation insurance so we filed a lawsuit, ultimately securing a $1.5 million judgment in court.
"Do I Have a Case?"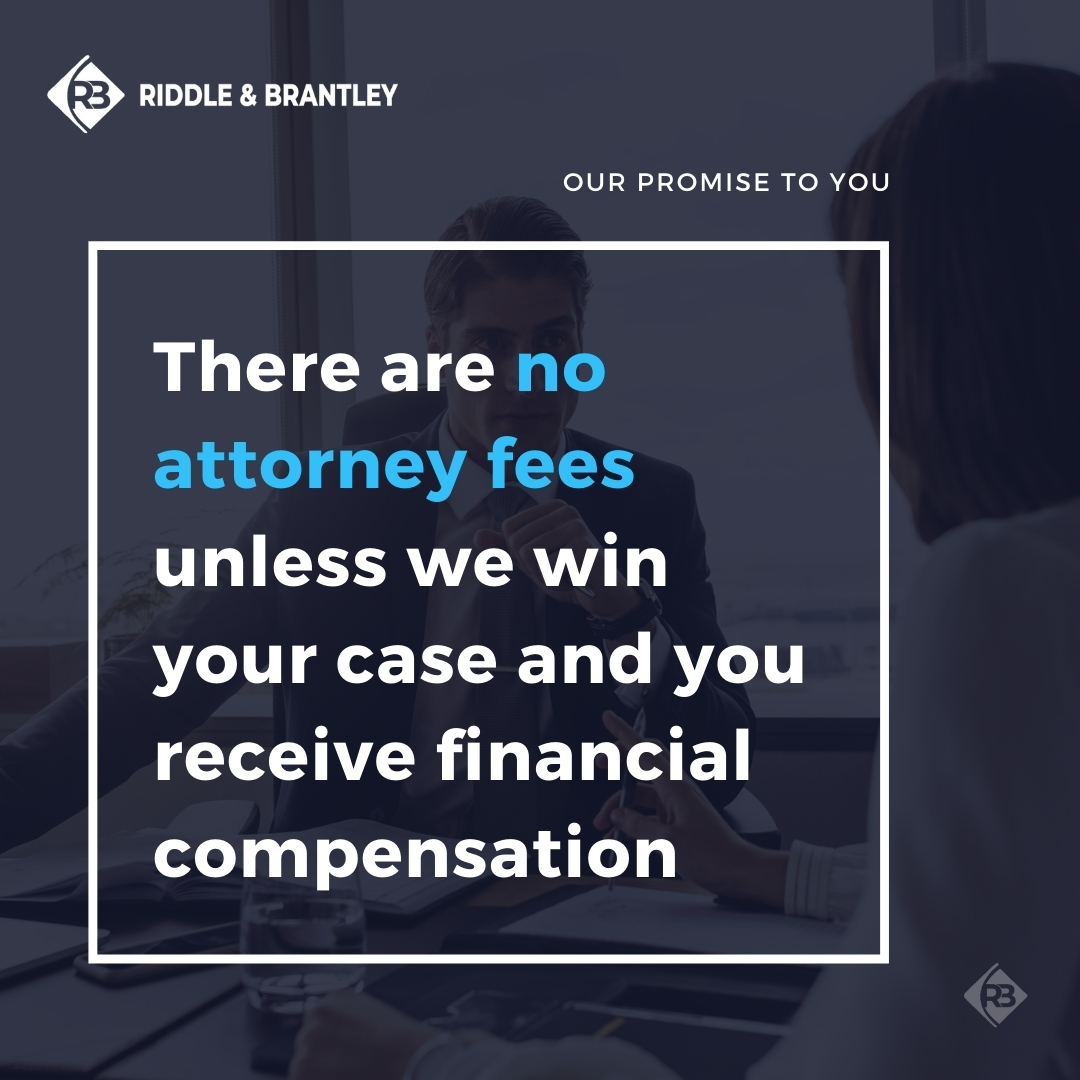 When our firm takes your case, our attorneys must establish that your injuries were the result of another person or organization's negligence. Our investigators are diligent in collecting the evidence necessary to support your claim. In one recent truck accident and wrongful death case, we even subpoenaed traffic data from Google Maps to prove liability. We were able to secure $9.45 million in total compensation from the insurance companies (see disclaimer below).
The theory of negligence lies behind most personal injury cases, which simply means there was a failure to exercise reasonable care to protect another from harm. Our attorneys have more than 220+ years of combined legal experience and know how to prove liability and build strong cases on behalf of our clients.
If you believe another person's negligence caused or contributed to your injury, contact us for a free case review.
Charlotte Courthouse Information
Personal injury cases are filed and tried at the District Court or Superior Court of North Carolina's court system. Many cases are settled without the need for a trial, but we are prepared to go to court if a settlement cannot be reached. The Mecklenburg County Courthouse is located at 832 East Fourth St., Charlotte, NC 28202.
Workers' Compensation Information
In addition to handling personal injury claims, our attorneys routinely help those injured in workplace accidents get the workers' comp benefits they need and deserve. Workers' compensation hearings are often necessary to get benefits for an injured worker. Workers' comp claims are handled by the North Carolina Industrial Commission. That agency resolves disputes related to an injury on the job, an illness acquired through work (occupational disease), or deaths at work.
Deputy Commissioner Hearings are held in various locations in eastern North Carolina, including Greenville, Williamston, Elizabeth City, Tarboro, Wilson, Benson, New Bern, Fayetteville, Burgaw, and Bolivia. The North Carolina Industrial Commission holds Full Commission Hearings in Raleigh at its offices at 430 N. Salisbury Street, Raleigh, NC 27603.
At Riddle & Brantley, we have two Board-Certified Specialists in Workers' Compensation available to help you with your claim. These attorneys have passed a rigorous exam, proven their experience, and been recognized by the NC State Bar for their proficiency in handling work injury claims.
Social Security Disability Information
If you are seeking benefits through Social Security Disability, our legal team is ready to get to work for you. We can assist with the initial application or help you file an appeal if your SSD application for benefits has been denied. The Social Security Administration Office is located at 2201 Coronation Blvd, Suite 100, Charlotte, NC 28227.
At Riddle & Brantley, our disability team is led by a Board-Certified Specialist in Social Security Disability law, who has been recognized by the NC State Bar for his experience and expertise handling these cases.
Talk with a Personal Injury Attorney, Absolutely Free
If you have been injured due to another person's negligence, you deserve justice. At Riddle & Brantley, our experienced injury lawyers are available to answer your questions. The best part is the consultation is free, and you don't pay any fees unless we win your case. Remember, time is of the essence, so don't wait – contact an injury attorney today at (704) 486-5824 for a free case review.
We're available in-person by appointment only at our Charlotte office location, and can even come directly to you if it's more convenient. Please note, however, that free consultations are available from the comfort of your home (or anywhere else) by phone, email, text, or video conference. There is no in-person meeting required to get started on your case. Call (704) 486-5824 and let's see how we can help.
"They handled my case very professionally, with respect from beginning to end."
–Joseph P., Riddle & Brantley client
---
***Disclaimer: The results mentioned are intended to illustrate the type of cases handled by the firm. These results do not guarantee a similar outcome, and they should not be construed to constitute a promise or guarantee of a particular result in any particular case. Every case is different, and the outcome of any case depends upon a variety of factors unique to that case.
*** Disclaimer: An attorney must meet certain requirements to join these organizations or receive these awards. For more information on Membership Criteria for Million Dollar Advocates Forum, Multi-Million Dollar Advocates Forum, Super Lawyers, The National Trial Lawyers Top 100, The National Trial Lawyers Top 40 Under 40, The National Association of Distinguished Counsel, AV Preeminent by Martindale-Hubbell, the Litigator Award, and other memberships, awards, and accolades, please visit our Membership Criteria page. These awards and memberships should not be construed as a promise or guarantee of a similar result. Each case is different and must be evaluated separately.