Hit and Run Accident Lawyer in Charlotte, NC
Charlotte Hit and Run Accident Attorney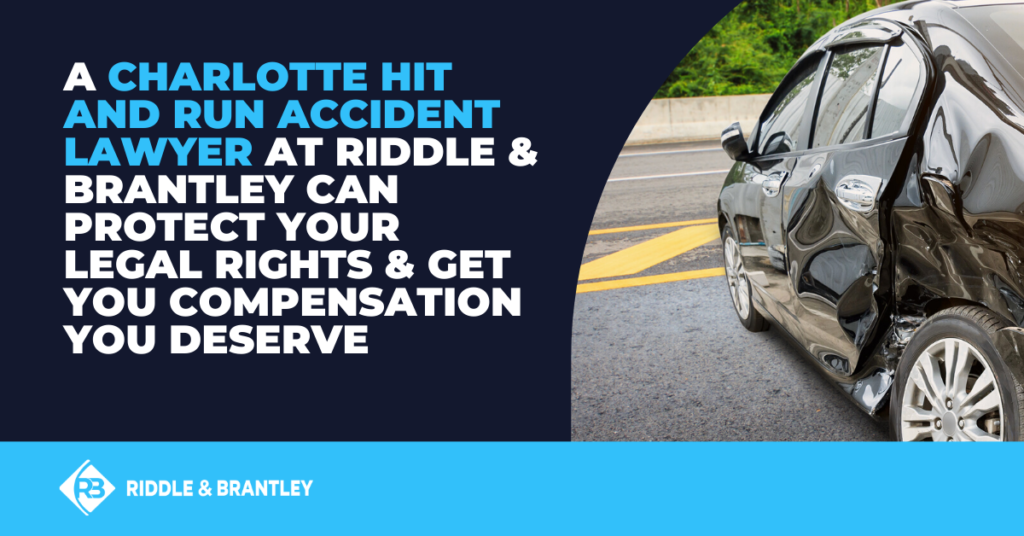 Have you been injured in a hit-and-run accident? The consequences of these accidents can be devastating — but there are things you can do in the aftermath to protect your rights and get the compensation that you need and deserve.
At Riddle & Brantley, our hit and run accident lawyers have been helping victims of hit and run accidents for more than three decades. We have the experience needed to investigate the accident, find the driver responsible, and hold them and the insurance company accountable. For a FREE, no-obligation consultation with an experienced hit and run accident attorney, please call (704) 486-5824.
Free consultations are available in our convenient Charlotte location by appointment only, and we can also consult with you for free anytime, anywhere by phone, email, text, or video conference. We can even come directly to you if it's more convenient.
Call (704) 486-5824 and let's review your accident claim.
Hit and Run Accidents in Charlotte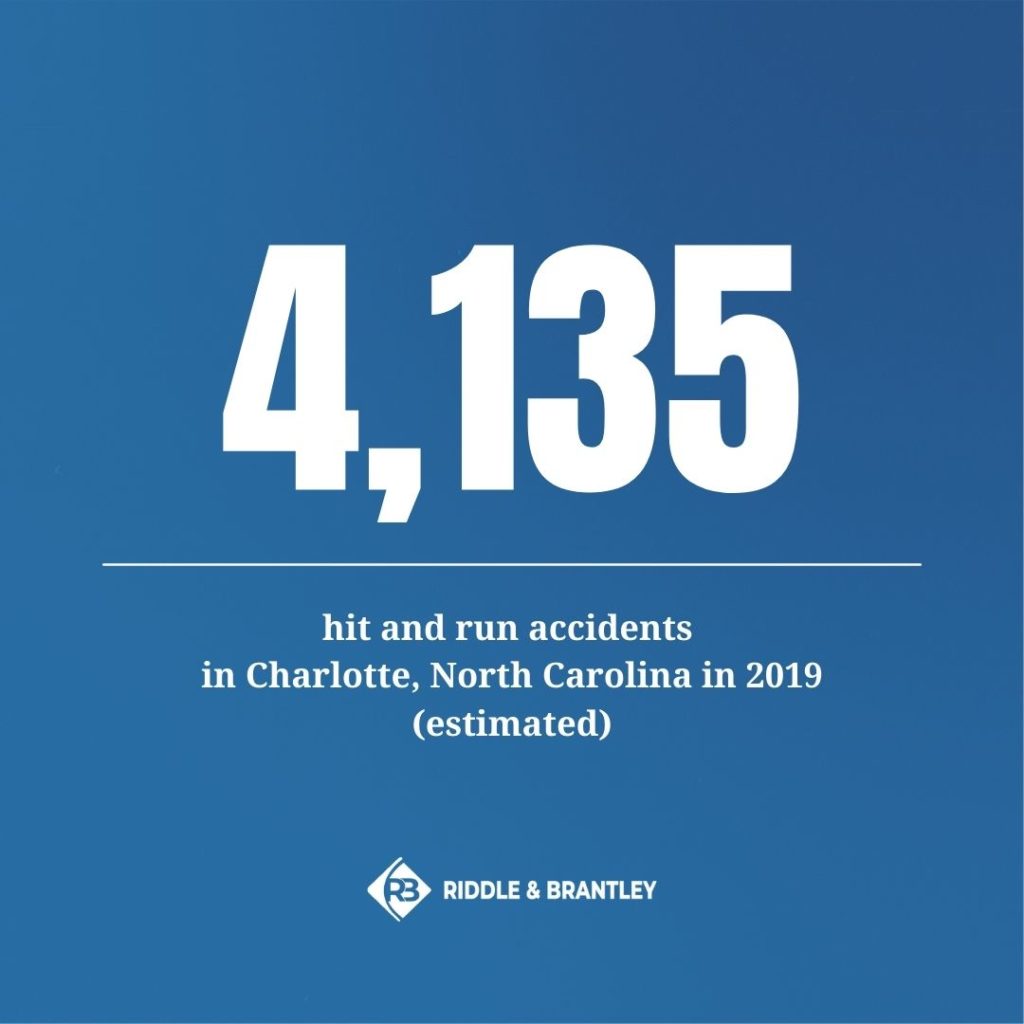 There is no reliable data available from the government regarding the number of hit and run accidents in Charlotte, but hit and runs are very common in North Carolina and throughout the United States. In fact, the National Highway Traffic Safety Administration (NHTSA) reports that there were 737,100 hit and run accidents in 2015 — the last year for which comprehensive data is apparently available.
That translates to a hit and run accident occurring every 43 seconds on average.
In 2015, the NHTSA reports that 11.7 percent of all auto accidents were hit and runs. By that measure, we can estimate that there were 4,135 hit and run accidents in Charlotte in 2019, based on other data reported by the North Carolina Department of Transportation (NCDOT).
What to Do After a Hit and Run
Have you been injured in a hit and run? What you do in the immediate aftermath of the accident can have a significant impact on the outcome of a potential injury claim or lawsuit.
Follow these tips in order to protect your legal rights after a hit and run crash:
Call 911 — After a hit and run, immediately call 911 so that law enforcement and emergency medical services can respond.
Talk with the Officer — Talk with the responding law enforcement officer and give him or her ANY detail you can regarding the accident, particularly what you know about the at-fault hit and run driver. Include the make, model, and color of the vehicle, as well as the license plate number if you were able to get it.
Seek Medical Attention — If you've been injured, seek immediate medical attention. Not only will you protect your health, but you'll also be creating a "paper trail" of medical records and other information that will serve as important evidence in any injury claim.
Talk with Witnesses — Talk with potential witnesses and get their contact information. Witnesses often offer invaluable testimony in hit and run cases that can help identify and hold the at-fault driver accountable.
Consult with a Hit and Run Accident Lawyer — Talk with an attorney as soon as you can. An experienced hit and run accident attorney can help investigate the crash and try to identify the at-fault driver. He or she will also know how to navigate the insurance claim process, and protect your legal rights. Remember, don't give a statement to the insurance company before first talking with a Charlotte injury lawyer.
Talk with An Attorney Today
If you've been injured in a hit-and-run accident in the area, talk with an experienced injury lawyer immediately. Hit and run cases can be complicated, and time is of the essence.
For a FREE, no-obligation consultation with an experienced hit and run accident lawyer, please call (704) 486-5824.
"Our firm is ready to help. Don't wait — the longer you wait, the harder it may be to win your case and get you compensation."
–Gene Riddle, Charlotte hit and run attorney
The consultation is free, and you won't pay any attorney fees unless we win your case. If we don't get you compensation, we don't get paid. It's as simple as that.
Call (704) 486-5824 to speak with an experienced Charlotte car accident attorney handling hit and run crashes.
Justice Counts for those injured due to others' negligence, and we would love to help you if we can.