Durham Car Accident Lawyer
Car Accident Lawyer in Durham NC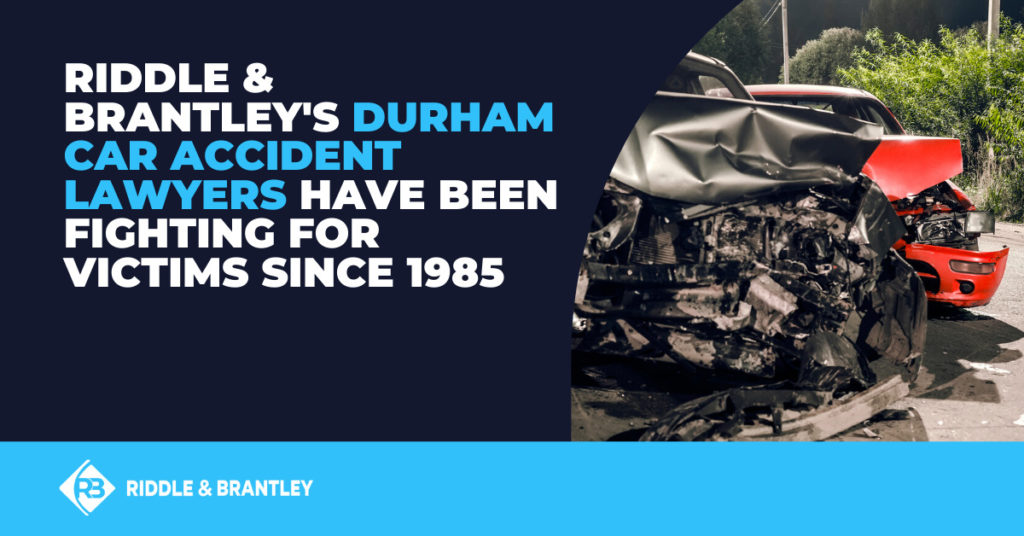 Have you been hurt in an auto accident in Durham or elsewhere in the Triangle? Do you need help seeking the compensation you need and deserve? A car accident lawyer at Riddle & Brantley may be able to help. Since 2000 alone, we've recovered over $600 million in total compensation for our valued clients (see disclaimer below) and we're especially proud of the way our clients speak about their experience working with our attorneys and staff.
If you've been injured in a car accident and someone else was at fault, call (919) 728-1770 today for a FREE, no-obligation consultation with an experienced  car accident attorney at Riddle & Brantley. We can consult with you by phone, email, text, or video conference, and can even send someone directly to you if it's more convenient. In-person consultations are also available by appointment only at our convenient Durham, NC office.
Types of Auto Accident Cases We Handle in Durham
Since 1985, Riddle & Brantley has helped thousands of North Carolinians get justice and compensation in their car accident cases. In that time, we've handled all types of car accident cases (including hundreds in the greater area), including:
Rear-end collisions
T-bone accidents
Construction zone accidents
In addition to these car accident cases, we also handle truck accidents, tractor-trailer accidents, motorcycle accidents, bicycle accidents, moped accidents, school bus accidents, delivery truck accidents, scooter accidents, and more. In cases involving car accidents while on the job, we have workers' comp attorneys who can help with those claims. In the most tragic cases, we also have disability attorneys on staff who can assist with Social Security disability claims, in addition to your  car accident claim.
In the most heartbreaking cases, we also represent surviving family members in wrongful death lawsuits and claims in the city.
Damages Available in a Car Accident Case
If you've been hurt in a car crash, you may be entitled to significant damages (compensation) for your injuries and other losses.
Damages potentially available in a car accident claim or lawsuit include:
Medical Expenses — In most personal injury claims, you can recover compensation to cover medical bills after a car accident. These expenses may include emergency room visits, diagnostic testing, medications, surgeries, doctor's visits, home care, medical equipment, and more.
Lost Wages — If your accident prevents you from working, you may be entitled to compensation to make up for your lost wages.
Loss of Future Income — If your accident prevents you from returning to the work you did previously, you may be also entitled to compensation to make up for your lost future earning potential.
Pain and Suffering — Certain non-economic losses may also be compensable. These include emotional trauma, permanent scarring or disfigurement, or even loss of consortium (loss of companionship or sexual relations with a spouse).
Punitive Damages — In rare cases, a jury may award punitive damages to "punish" the defendant for reckless conduct that unnecessarily put the victim at risk of injury. Punitive damages may only be awarded in certain situations, however, and a car accident lawyer can help advise you.
"How Long Do I Have to File an Injury Claim?"
If you've been injured due to someone else's negligence in a  car crash, don't wait to file a claim or lawsuit. There is a deadline for filing these claims in North Carolina — this is called the statute of limitations.
In most cases in North Carolina, you must file a personal injury claim or lawsuit within:
3 years of the date of injury in personal injury cases
2 years of the date of death in wrongful death cases
A car accident lawyer in at Riddle & Brantley can manage all aspects of your claim, including making sure that your claim or lawsuit is filed within the statute of limitations. Don't miss out on your chance at justice by missing an important deadline — call (919) 728-1770 today to talk with an experienced injury attorney at Riddle & Brantley.
Common Car Accident Injuries
Auto accidents can result in all types of serious and even life-threatening injuries, including:
Broken bones (including fractures and compound fractures)
Cuts, contusions, and scrapes
Soft tissue damage, including muscle injury
Head and neck injuries
Shoulder injuries
Internal injuries, including damage to organs and internal bleeding
Concussions and brain injuries
Traumatic brain injury (TBI)
Spinal cord injury
Loss of limbs (amputations)
Burns
Emotional trauma like PTSD
Wrongful death
A car accident lawyer at Riddle & Brantley can assist with cases involving any of these types of injuries and more. We also have longstanding relationships with trusted medical providers and can help connect you with the care you need. In some cases of financial hardship, we can also work with you to help make arrangements to make medical bills more manageable. Our #1 priority is to make the entire car accident injury claim process as stress-free and convenient as possible for you, so that you can focus on what's most important — your recovery, your family, and improving your quality of life.
Durham Auto Accident Statistics
2020 was the deadliest year for auto accidents in Durham in at least the last 10 years. 36 people died as a result of Durham vehicle crashes in 2020. The North Carolina Department of Transportation (NCDOT) reports there were 7,073 auto accidents in Durham in 2020, 2,902 of which resulted in injury.
Many of these accidents involve distracted driving, hit and run, reckless driving, or drinking and driving. Drunk driving was involved in 3% of all motor vehicle accidents in Durham in 2020, also representing a disturbing increase over the previous year.
Results for Car Accident Victims in Durham and NC
We've been representing clients in car crashes, truck wrecks, and motorcycle accidents in the area and North Carolina since 1985. Our attorneys have more than 220+ years of collective legal experience and have won many four, five, six and seven-figure settlements and judgments on behalf of our clients (see disclaimer below).
Recent wins include:
$9.45 million | Tractor-Trailer Accident & Wrongful Death ­— A truck rear-ended a vehicle on a busy North Carolina highway, resulting in the tragic deaths of four family members. Hired by the surviving relatives to seek justice, our trial attorneys worked tirelessly on the case, organizing a team of investigators that ultimately determined the truck driver and a pavement marking company to have been negligent. After multiple lawsuits were filed and prior to trial, the parties entered mediation, where we won settlements totaling $9,450,000 for the victims' family.
$2.25 million | Auto Accident — A truck driver was determined negligent in a head-on collision that resulted in the death of both drivers involved, including a young woman whose family hired attorney Gene Riddle to represent them. Riddle directed a comprehensive accident investigation and prepared a complaint. After notifying the Defendant of his intention to file suit, Riddle and defense counsel entered mediation and a significant settlement was ultimately won for the family of the victim.
$1.05 million | Motorcycle Accident — When a motorcycle driver lost control on an S-curve, our client, the passenger, suffered serious injuries including traumatic brain injury, multiple fractures and memory loss. Prior to suit being filed, attorney Gene Riddle negotiated with the motorcyclist's insurance carrier for the maximum amount, resulting in total compensation of $1,050,000 to the victim.
"Riddle & Brantley found me all the available money from the insurance companies."
–B. Fields, Riddle & Brantley client
Most Dangerous Roads in Durham, NC
Durham is one of the fastest-growing cities in North Carolina and the United States. This steady growth is a boon for the local economy and those that depend on it, but the additional traffic that comes with this growth has led to an increase in motor vehicle collisions. Like any city, some roadways are more dangerous than others.
When driving in Durham — or anywhere in North Carolina — use caution and follow the rules of the road. And remember, never assume that other drivers are paying attention.
Dangerous Highways in Durham
Many serious or fatal accidents occur on major highways. The combination of high-speed driving and street-level intersections makes for a significant risk of collisions. Some dangerous highways in the area include:
I-40
I-440
US 1
US 70
I-85
You could be entitled to a monetary award if you were injured in an accident on one of these highways. Reach out to us at Riddle & Brantley as soon as possible to discuss your legal options. Call 1-800-525-7111 for a free case review.
Dangerous Intersections in Durham
There are several dangerous intersections in Durham. Many of the accidents that occur at intersections are in close proximity to I-40. Some of the most dangerous include:
Interstate 85 & North Roxboro Street
Alston & Riddle
I-40 & Fayetteville Road
Wake Forest Highway & Holloway Street
I-40 & NC 54
We understand what it takes to get a favorable outcome in a car accident case. In 2015, we secured an arbitration award of $2.75 million on behalf of an injured motorist following an accident (see disclaimer below). We are ready to put that experience to work in your case.
Avoiding accidents
While it's true that some areas are more dangerous than others, it's also true that driving defensively can help reduce your chances of a crash. First and foremost, you must pay attention when you are behind the wheel. While this is important when traveling on highways and through dangerous intersections, it's also good advice whenever you get behind the wheel.
Abiding by the speed limit is another good way to help avoid a collision. When you drive at safe speeds, you have more time to react to changing road conditions and dangerous drivers. This can improve your chances of avoiding a collision with a driver that stops suddenly in front of you or makes other erratic movements
Do you have a car accident case in Durham?
The experienced auto accident attorneys at Riddle & Brantley are ready to help. Call 1-800-525-7111 for a FREE, no-obligation case review and let's see what we can do to get you maximum compensation. There are no upfront fees and we don't charge a penny in attorney fees unless we win your case — and you receive compensation. It's as simple as that.
Call us today and let's talk. Justice Counts for victims of car accidents on the dangerous roads of Durham and we're ready to help however we can.
Why Hire a Car Accident Attorney in Durham?
While you are able to pursue an injury claim on your own, auto accident cases can be complex and the expertise of an experienced personal injury lawyer can help you get the justice and compensation you need. At Riddle & Brantley, a car accident injury attorney can handle all aspects of your claim or lawsuit, including:
Crash scene investigation
Tracking down at-fault parties (in hit and run cases)
Witness interviews
Accident reconstruction with expert witnesses
Obtaining police and accident reports
Filing paperwork and required claim forms
Conducting depositions
Communicating with the insurance company and authorities
Calculating damages
Coordinating medical care
Filing a lawsuit if necessary
Settlement negotiations
Arbitration and/or mediation proceedings
Trial
Setting up trusts to ensure long-term care
North Carolina also has specific laws and rules related to auto accident injury cases that a Riddle & Brantley car accident attorney can help you navigate. We've been serving clients in the area for more than three decades and know North Carolina law very well.
In addition to an experienced car accident attorney, you'll be supported by Riddle & Brantley's dedicated staff of case managers, paralegals, and accident investigators. We even have Spanish-speaking staff available if needed.
"This settlement changed me and my family's lives."
-Linda B., Riddle & Brantley client 
Award-Winning Durham Car Accident Lawyers
Attorney Gene Riddle is a member of Multi-Million Dollar Advocates Forum and Million Dollar Advocates Forum, which recognize attorneys who have won the most significant settlements and verdicts. Attorney Christopher Brantley is also a member of Million Dollar Advocates (see disclaimer below), and attorney Gene Riddle has been recognized by The National Trial Lawyers Top 100 and maintains a prestigious AV Preeminent rating from Martindale-Hubbell. He is also the recipient of the 2014 Litigator Award (see disclaimer below). Other car accident lawyers at Riddle & Brantley, such as Molly Schertzinger and Adam Smith have been recognized with other prestigious awards and memberships, including the Super Lawyers "Rising Stars" award and Super Lawyers designation, respectively. Attorney Alex Riddle has additionally been recognized as a National Trial Lawyers Top 40 Under 40 trial attorney (see disclaimer below).
We're also proud to have built lifelong relationships with the clients we've served. Here's what just a few of them are saying about their experience working with Riddle & Brantley:
"They handled my case very professionally, with respect from beginning to end." –Joseph P.
"Every time I've needed them, they were there for me." –Tyronnie T.
"You'll walk in the front door as a client but leave as family. They're the absolute best." –Susan S.
Injured in an Auto Accident in Durham, NC?
If you've been injured due to someone else's negligence in an auto accident, you may be looking for a car accident lawyer. With more than 220+ years of collective legal experience, our personal injury attorneys have experience serving local clients and would be happy to help if we can.
"I would recommend them to anyone. They fought hard for me."
-Christine W., Riddle & Brantley client
Please call (919) 728-1770 for a FREE legal consultation with a Durham car accident lawyer.
A Riddle & Brantley attorney can evaluate your case and advise you on your legal options for a potential injury claim or lawsuit. As always, the initial consultation is free and there is no upfront cost or attorney fee unless we win your case and you get financial compensation. We don't get paid unless you do.
Auto accident injuries can be devastating and even life-changing. If you've been injured and someone else is responsible, you deserve justice. And that is exactly what Riddle & Brantley fights for every day on behalf of our clients.
Please call (919) 728-1770 — we would love to help if we can.
Justice Counts.
---
*** Disclaimer: The results mentioned are intended to illustrate the type of cases handled by the firm. These results do not guarantee a similar outcome, and they should not be construed to constitute a promise or guarantee of a particular result in any particular case. Every case is different, and the outcome of any case depends upon a variety of factors unique to that case.
*** Disclaimer: An attorney must meet certain requirements to join these organizations or receive these awards. For more information on Membership Criteria for Million Dollar Advocates Forum, Multi-Million Dollar Advocates Forum, Super Lawyers, The National Trial Lawyers Top 100, The National Association of Distinguished Counsel, AV Preeminent by Martindale-Hubbell, the Litigator Award, and other memberships, awards, and accolades, please visit our Membership Criteria page. These awards and memberships should not be construed as a promise or guarantee of a similar result. Each case is different and must be evaluated separately.