Greensboro Distracted Driving Accident Lawyer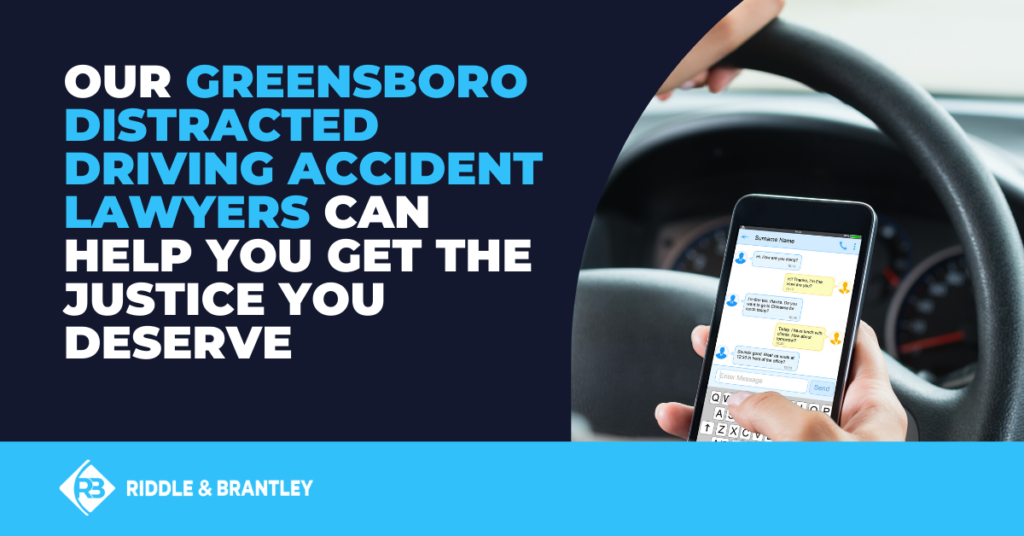 Distracted driving is a serious danger on North Carolina roadways, and Greensboro is no exception. If you've been injured due to a distracted driver, you may be entitled to compensation and a Greensboro distracted driving accident lawyer at Riddle & Brantley can help.
For a FREE consultation with a Greensboro distracted driving accident lawyer, call (336) 516-9066 or complete the convenient form below.
There are no upfront costs and no attorney fees unless we win your case and you receive compensation. Call (336) 516-9066 and let's review your claim.
We're available for in-person consultations by appointment only at our Greensboro office, or we can consult with you from anywhere by phone, email, text or video conference. We can even come directly to you if you prefer.
A personal injury attorney in Greensboro can make all the difference in making sure you get justice and compensation for injuries suffered in a distracted driving accident.
Distracted Driving in Greensboro, NC
Greensboro is a growing city in North Carolina with nearly 300,000 residents, and the roads and highways are busy — and potentially dangerous. In 2020, there were 32,164 auto accidents in Greensboro, 11,497 of which resulted in injury. 101 of those accidents were fatal.
According to the North Carolina Department of Transportation (NCDOT), in 2019 almost 19 percent of all accidents involved distracted driving. That means that in Greensboro, an estimated 6,111 car accidents involved distracted driving in 2020.
The consequences of distracted driving can be devastating. In more than 35 years serving the people of Greensboro and greater North Carolina, our Greensboro car accident lawyers have handled cases involving all types of injuries.
Injuries caused by distracted driving accidents include:
Broken bones
Cuts, scrapes, and contusions
Head injuries, including traumatic brain injuries (TBI)
Neck injuries, including whiplash
Back injuries
Spinal cord injuries
Shoulder injuries
Loss of limbs (amputations)
Paralysis and semi-paralysis
Organ damage and internal bleeding
Airbag-related injuries
Seatbelt-related injuries
Burns
"Road rash" in motorcycle accidents
Coma
Death
If you or a loved one have suffered injury due to a distracted driver, please call a Greensboro distracted driving accident lawyer at Riddle & Brantley.

We will review your claim, advise you on your best available legal options, and if you decide to hire us, fight tirelessly for your right to compensation.
Don't wait — the longer you wait to file a claim or lawsuit, the harder it may be to win your case and get you the compensastion you need and deserve. Call (336) 516-9066 and let an experienced Greensboro distracted driving accident attorney at Riddle & Brantley help.
Common Types of Distracted Driving
Many associate distracted driving with texting behind the wheel, but distracted driving can take many forms.
Drivers may be distracted by all types of activity, including but not limited to:
Texting and driving
Talking on the phone
Talking with passengers
Adjusting the GPS or navigation system
Doing one's hair or makeup
Eating while driving
Watching a video
Reading while driving
"Is Texting and Driving Illegal in North Carolina?"
In North Carolina, it is illegal to text while driving. The fine for such distracted driving is $100.
For drivers under age 18, all cell phone use is prohibited. The same is true of school bus drivers. Drivers of commercial trucks are also prohibited from cell phone use while driving based on rules established by the federal government. Fines for such activity can run into the thousands of dollars, depending on the circumstances.
Distracted Driving Car Accident Lawyer in Greensboro, NC
Injured in a motor vehicle accident involving a distracted driver? You may be entitled to compensation in a personal injury claim or lawsuit, and we are ready to help however we can.
Since 1985, our Greensboro distracted driving accident attorneys have secured millions of dollars in compensation for victims of others' negligence (see disclaimer below). We pride ourselves on providing excellent client service and are humbled by the way our clients talk about us:
"You'll walk in the front door as a client but leave as family. They're the absolute best." –Susan S.
"I felt very confident with Riddle & Brantley representing me. I would not hesitate to recommend them at all." –Kathleen V.
"They were courteous, knowledgeable, and very friendly. I would definitely recommend Riddle & Brantley without hesitation." –Arthur H.
"Every time I've needed them, they were there for me."
–Tyronnie T., Riddle & Brantley client
For a FREE, no-obligation consultation with an experienced Greensboro distracted driving lawyer at Riddle & Brantley, call (336) 516-9066.
The consultation is free, and we don't get paid unless you do. There are no attorney fees unless you receive compensation. It's as simple as that. Call (336) 516-9066 and let's review your claim.
Justice Counts, and we are ready to help however we can.
---
*** Disclaimer: The results mentioned are intended to illustrate the type of cases handled by the firm. These results do not guarantee a similar outcome, and they should not be construed to constitute a promise or guarantee of a particular result in any particular case. Every case is different, and the outcome of any case depends upon a variety of factors unique to that case.