Jacksonville Dog Bite Lawyer
Have you or a loved one been attacked by a dog or other animal? If the attack was the result of another's negligence, you deserve justice and a dog bite lawyer can help you get maximum compensation.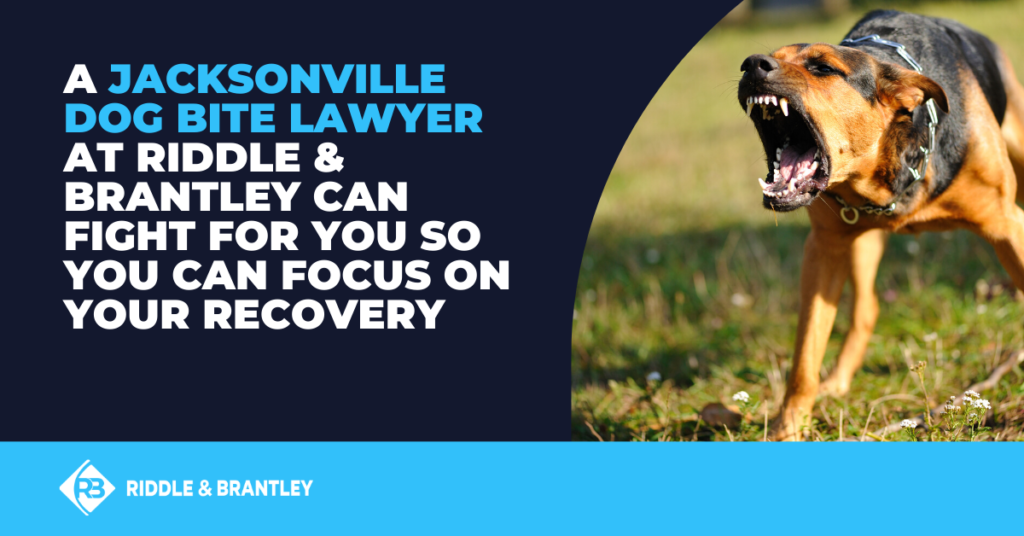 The aftermath of a dog bite can be life-changing and challenging. In addition to physical injuries, you may be facing financial uncertainty related to your recovery and emotional trauma. Many dog attacks can result in post-traumatic stress disorder (PTSD) and the required treatment can be extensive. Let us help you manage the aftermath of a dog bite so you can focus on what's most important — your recovery.
For a FREE, no-obligation consultation with an experienced dog bite lawyer handling animal attacks, please call 1-800-525-7111 or complete the fast and easy form below. There is no obligation, and we don't get paid unless you do. Call 1-800-525-7111 and let's talk.
Dog Bites in North Carolina
Dog bites have recently increased in North Carolina and are becoming more and more common. Children are often the victims of dog bites. Not only are dog bites traumatizing, but they can also cause permanent disfigurement. Dog bites can become infected or cause nerve damage that can last a lifetime.
Pursuing compensation in a dog bite claim can also be complicated. Our personal injury lawyers can help answer your questions and advise you on the best available legal options.
Common Questions in Dog Bite Cases
What insurance is available?
The dog owner is generally liable for injuries caused by a dog bite. Many times, the homeowner's policy or renter's policy will cover claims for injuries due to dog bites. However, in some circumstances, the property owner, landlord, or property manager could also be liable. We recently obtained compensation from a mobile home park management group for a client who was bitten by a dog on one of their properties (see disclaimer below). Because liability can be very complex, it is crucial to contact an experienced dog bite attorney to help you navigate these issues.
What evidence can be used in a dog bite claim?
It is imperative that you report the claim as soon as possible to the appropriate authorities. They will investigate and identify the dog or dogs involved. Your health care provider will be in contact with Animal Control to ensure that the animal is up to date on its rabies vaccination. If the animal is not up to date, then you may receive a series of shots from your health care provider. According to state law, the dog must be quarantined for 10 days to make sure there is no risk of rabies. Animal control may allow the dog to quarantine with the owner or may quarantine the dog at their facility. If the owner of the animal has violated any local ordinances or state laws, then animal control may charge them accordingly.
Who is liable for a dog bite?
There are multiple legal theories under which an owner may be liable for the injuries caused by their dogs. Some of the most common include:
"Dangerous Dog"
If the dog has previously bitten a person, it may be considered a "dangerous dog." A dangerous dog is defined under NCGS 67-4.1 as one that has killed or seriously injured a person without provocation or has been designated as potentially dangerous by the county or local authorities. Owners of dangerous dogs are strictly liable for injuries caused by their dogs and must follow certain rules as listed under NCGS 67-4.2. It would be unlawful for the owner of a dangerous dog to take it beyond the owner's property without being leashed and muzzled appropriately. It is also unlawful for the owner of a dangerous dog to leave the dog unattended at their property without being properly secured in an appropriate enclosure. If the owner of a dangerous dog transfers ownership of the dog without proper written notice to the authorities and person taking ownership of the animal, they are also in violation of the statute. Owners of dangerous dogs can also be subject to criminal penalties for violations.
Dogs Running Loose at Night
An owner may also be liable if they allow their dog to be loose at night. It is also unlawful under NCGS 67-12 to allow a dog over 6 months of age to run at large at night without being accompanied by an owner, family member, or someone the owner has given permission. The owner would be liable for any damages or injuries caused by the violation of NCGS 67-12.
Local Ordinance Violations and Negligence
If the owner has violated local ordinances or is negligent in some way, they still may be liable. Insurance companies will try to downplay the injuries and any prior aggressive behavior of the dog. Many times, bites go unreported if they do not require medical intervention. It would be crucial to hire an experienced dog bite attorney as soon as possible to secure all evidence.
Common Injuries in Dog Bites
In many cases, a dog bite may be severe and lead to infection and disfigurement. It is important to hire an attorney as soon as possible to investigate and identify all possible liable parties. In more than 35 years of service to injured North Carolinians, our dog bite lawyers have handled all types of injuries in animal attack cases.
Injuries suffered in dog bites and animal attacks may include:
Cuts, scrapes, and contusions
Broken bones
Loss of fingers, toes, or limbs (amputations)
Infection
Nerve damage
Paralysis and semi-paralysis
Disease such as rabies
If an animal attack results in a fall, victims may also suffer serious head injuries, including traumatic brain injury (TBI). In the most heartbreaking situations, a dog attack may result in death. In these cases, our wrongful death attorneys can help surviving family members fight for justice for their lost loved one.
Dog Bite Lawyers Ready to Help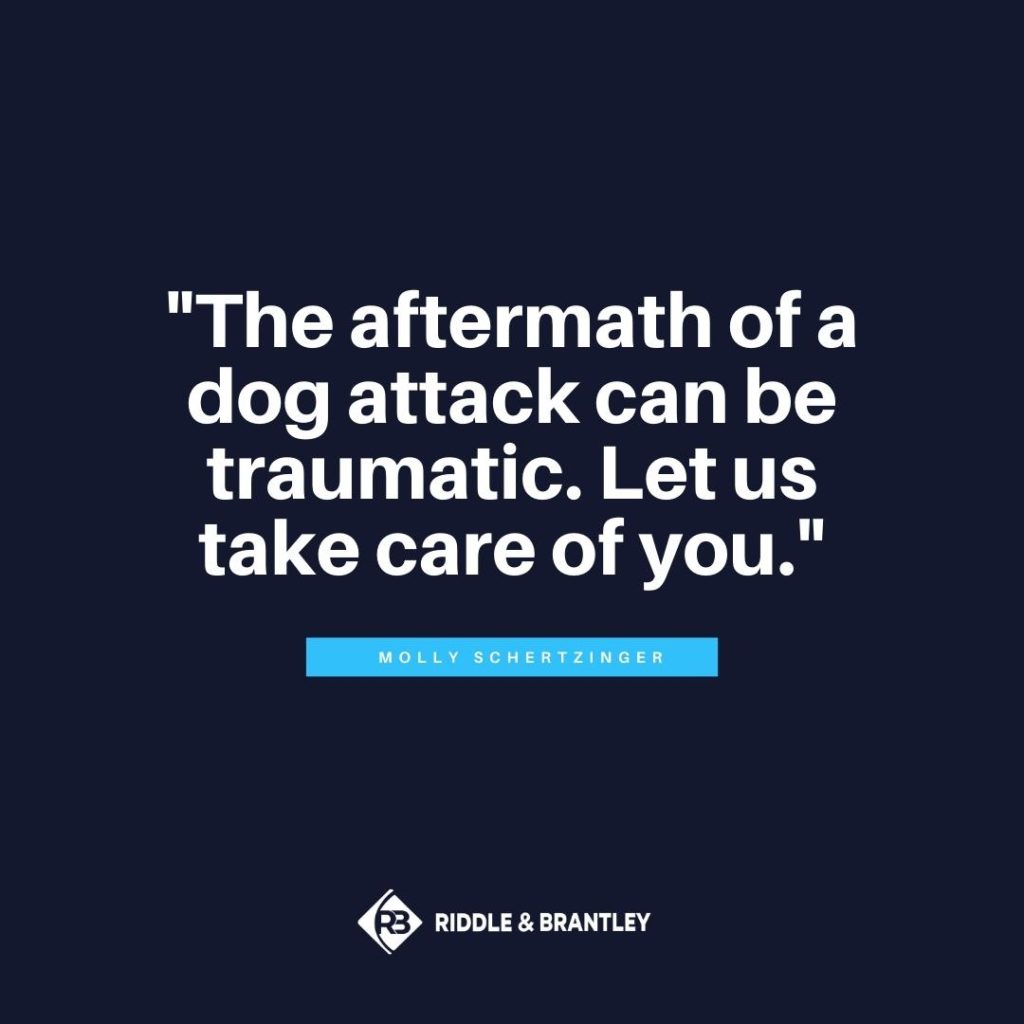 Our Jacksonville personal injury team is led by Molly Schertzinger, an experienced attorney handling all types of dog bite and animal attack cases. Molly brings compassion and a thorough understanding of North Carolina law to every case she handles, and she would love to help however she can. Molly has been recognized as a "Super Lawyers NC Rising Star" in North Carolina.
Our team is committed to the people of Jacksonville, and we're ready to help. Please call 1-800-525-7111 today for a free, no-obligation consultation with an experienced dog bite lawyer. We strive to obtain the best possible results for our clients. In one recent dog bite case, our attorneys secured a $1,000,000 judgment on behalf of a 74-year-old woman who was savagely attacked by three dogs in her own yard (see disclaimer below).
"You'll walk in the front door as a client but leave as family. They're the absolute best."
–Susan S., Riddle & Brantley client
Justice Counts and you deserve maximum compensation for your injuries and other damages. Call 1-800-525-7111 today and let's talk.
---
*** Disclaimer: The results mentioned are intended to illustrate the type of cases handled by the firm. These results do not guarantee a similar outcome, and they should not be construed to constitute a promise or guarantee of a particular result in any particular case. Every case is different, and the outcome of any case depends upon a variety of factors unique to that case.