Wilmington Pedestrian Accident Attorney
Pedestrian accidents can change victims' lives forever
If you've been hurt in a Wilmington pedestrian accident, you deserve justice — and a Wilmington pedestrian accident lawyer at Riddle & Brantley may be able to help.
For a FREE, no-obligation consultation with an experienced Wilmington pedestrian accident attorney, call (910) 889-4064 or complete the fast and convenient form below.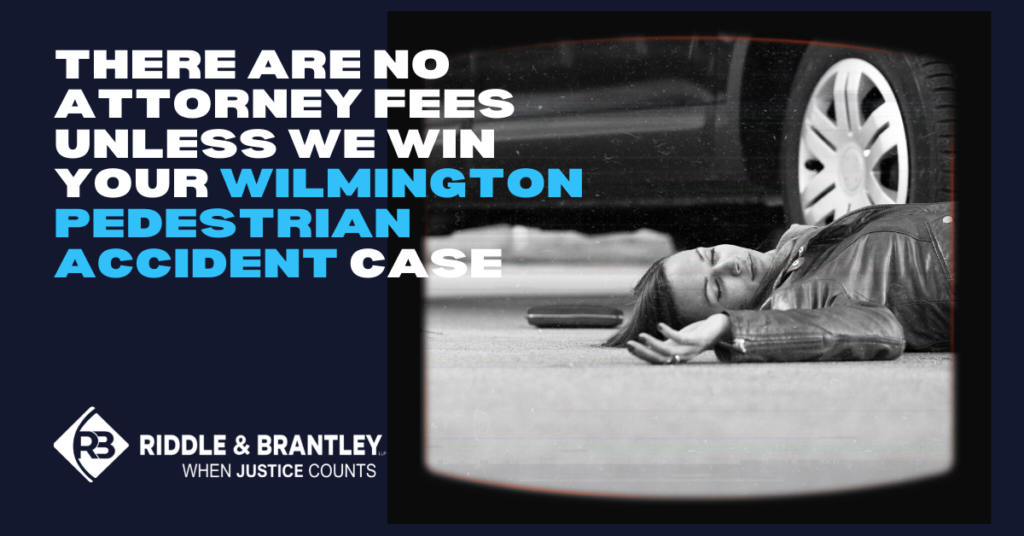 The consultation is free and, as always, you won't pay any attorney fees unless an experienced Wilmington personal injury lawyer at Riddle & Brantley recovers financial compensation for you.
Call (910) 889-4064 and let's review your claim.
We can serve you from our convenient Wilmington office location by appointment only, or anytime by phone, email, text, or video conference. We can even come directly to you if it's more convenient. There is no in-person meeting required to get started on your case.
"How Long Do I Have to File a Claim?"
In North Carolina, personal injury claims must be filed within the statute of limitations. For most pedestrian accident cases, you must file an injury claim within three years of the date of injury, or within two years of the date of death in wrongful death cases.
An experienced pedestrian accident attorney in North Carolina can help consult with you and ensure that you don't miss any important deadlines in filing your injury claim.
Common Injuries in Pedestrian Accidents
Pedestrian accidents often result in serious and even life-threatening injuries, as pedestrians and bystanders are often unprepared and unprotected.
Common injuries in pedestrian accident cases include:
Broken bones
Cuts, scrapes, and contusions
Traumatic brain injuries (TBI) and head injuries
Spinal cord injuries
Back injuries
Shoulder injuries
Neck injuries
Paralysis and semi-paralysis
Loss of limbs (amputations)
Crush injuries
Hand injuries
Internal bleeding and organ injuries
Wrongful death
"Why Should I Hire a Wilmington Pedestrian Accident Attorney?"
Pedestrian accident cases can be complicated, and liability is often contested. To make things even more challenging, North Carolina is a contributory negligence state, which means that if a plaintiff is even 1% responsible for the accident, he or she can be barred from recovering compensation.
This means that you'll probably want an experienced Wilmington pedestrian accident lawyer to help you prove fault and prepare the strongest case possible.
At Riddle & Brantley, our pedestrian accident attorneys can handle your entire claim or lawsuit from start to finish, including:
Organizing a thorough accident investigation
Finding and interviewing witnesses
Obtaining the official police report
Obtaining surveillance video and dash cam footage
Negotiating with the insurance company and defense counsel
Preparing you for official statements to the insurance company
Coordinating with law enforcement
Hiring outside experts like accident reconstructionists
Conducting depositions
Calculating damages
Gathering medical records
Obtaining a comprehensive life care plan
Filing a lawsuit if necessary
Drafting and filing important legal briefs and court documents
Representing you in court
Representing you in mediation and/or arbitration proceedings
Setting up trusts or guardianships
Negotiating reductions in medical liens if possible
You're not required to hire an attorney, but according to a 2017 study, those who hire a personal injury lawyer recover roughly 3 times more compensation than those who represent themselves.
Damages Available in Pedestrian Accident Claims
The aftermath of a pedestrian accident can be stressful and challenging. In addition to your physical injuries, you may have to pay expensive medical bills. Depending on your injuries, you may also be forced to take time off work, or lose out on future earnings if your injuries prove disabling. In some cases, the emotional trauma of a pedestrian accident can affect victims for a lifetime.
Damages are available to compensate those who have been injured in pedestrian accidents due to others' negligence.
Damages available may include compensation for:
Medical bills — Compensation may be available to cover your medical bills and even future treatments
Lost wages — These damages can make up for lost wages in the event that you have to take time off work to recover
Loss of future earning potential — You can recover compensation to make up for lost earning potential if your injuries make returning to your old job (or similar work) impossible
Pain and suffering — Compensation for pain and suffering is intended to make up for emotional injury, permanent scarring, or loss of consortium (loss of companionship or sexual relations with a spouse)
Punitive damages — In cases in which a defendant exhibited "gross negligence" (meaning that their actions were "willful and wanton"), a jury may award the plaintiff punitive damages to punish the person responsible
Proving Fault in Pedestrian Accidents
An experienced Wilmington pedestrian accident lawyer like those at Riddle & Brantley will rely on all kinds of evidence to prove liability in these cases.
Evidence that we may use to prove fault in an accident includes:
Eyewitness testimony
Photos of the crash scene (debris, skid marks, vehicle damage, road signage and markings, etc.) and injuries
Medical records
Expert testimony by accident reconstructionists
Dash cam footage and surveillance video
The official accident report
Comprehensive life care plan(s)
Experienced Pedestrian Accident Attorneys in Wilmington
Don't wait — call an experienced Wilmington pedestrian accident lawyer at Riddle & Brantley today at (910) 889-4064 for a FREE, no-obligation consultation.
We will listen to you, review the facts and circumstances of your case, and advise you on your best legal options. If you decide to hire us, we'll fight tirelessly on your behalf for the compensation you deserve.
"They handled my case very professionally, with respect from beginning to end."
–Joseph P., Riddle & Brantley client
Remember, the consultation is always free, and we don't get paid unless you do. If we don't recover financial compensation for you, you won't pay any attorney fees. It's as simple as that.
Call (910) 889-4064 and let an experienced Wilmington pedestrian accident lawyer review your claim and advise you on your case.
We believe Justice Counts and would love to help you and your loved ones however we can.
---
*** Disclaimer: The results mentioned are intended to illustrate the type of cases handled by the firm. These results do not guarantee a similar outcome, and they should not be construed to constitute a promise or guarantee of a particular result in any particular case. Every case is different, and the outcome of any case depends upon a variety of factors unique to that case.