Pedestrian Accident Lawyers in North Carolina
Pedestrian Accident Attorney
Have you been injured in a pedestrian accident in North Carolina? At Riddle & Brantley, our North Carolina pedestrian accident lawyers are ready to help.
For a FREE consultation with an experienced pedestrian attorney in North Carolina, please call 1-800-525-7111.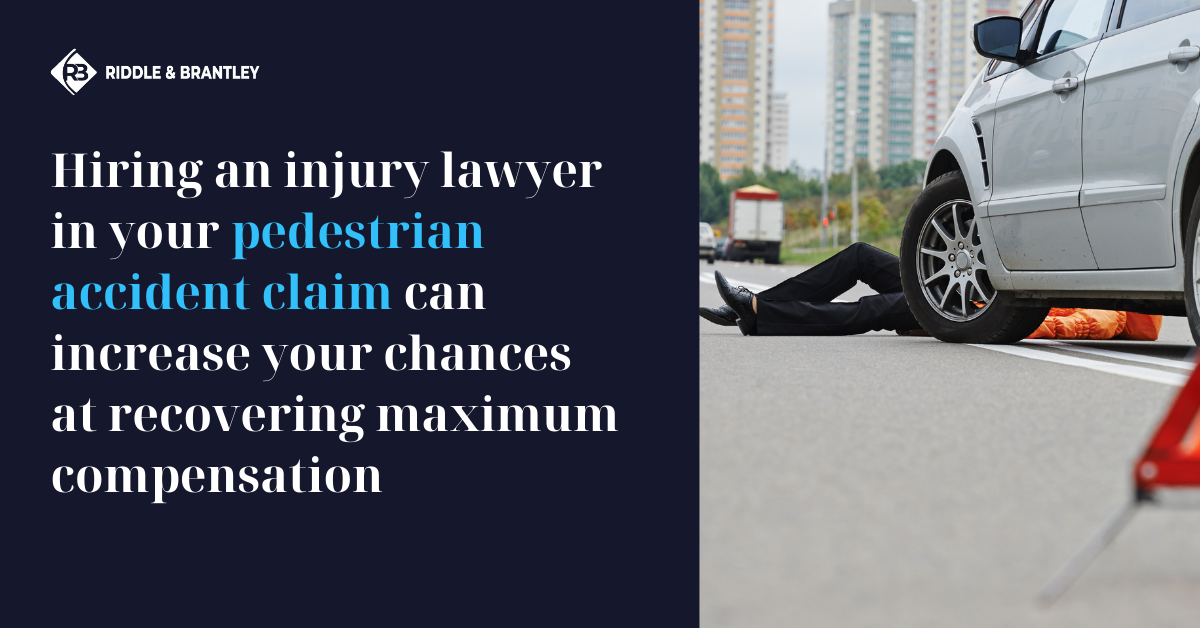 There are no upfront costs and you won't pay any attorney fees unless we win your case and you receive compensation.
Since 1985, we've recovered millions of dollars in compensation for victims of pedestrian accidents across North Carolina (see disclaimer below), and we would love to help you if we can. In one recent case, we obtained a settlement of $700,000 for two students who were hit by a car while using a crosswalk outside their school.
Pedestrian Accidents in North Carolina
With more than 220+ years of combined legal experience, our car accident lawyers have handled all types of pedestrian accidents in North Carolina since 1985.
Results for Pedestrians Hit by Vehicles in North Carolina
We've recovered more than $600 million in total compensation for victims of injury due to others' negligence, since 2000 alone (see disclaimer below).
Recent results for injured pedestrians include:
$1,900,000 — Our attorneys fought for justice for a woman who was walking across a parking lot when she was hit by a cement truck. She suffered life-changing injuries and came to us seeking help proving liability in the case. We organized a comprehensive accident investigation, even bringing in an expert accident reconstructionist to strengthen her case. Ultimately attorneys Gene Riddle and Gene Jenkins secured a $1.9 million settlement on our client's behalf.
$1,625,000 — Our attorneys were brought in to assist another out-of-state law firm in this case where a pedestrian crossing a busy highway was hit by a car and suffered devastating injury. Liability was contested, however we investigated the accident and proved fault. Through extensive mediation, our firm recovered $1.65 million in compensation for the client.
$140,000 — Our client was crossing the road at a crosswalk when a negligent driver hit her, leaving her with limited mobility. She ultimately lost her job as a result of the injury. We obtained all of her medical records and proved liability in the case, ultimately securing a settlement of $140,000.
*** Disclaimer: The results mentioned are intended to illustrate the type of cases handled by the firm. These results do not guarantee a similar outcome, and they should not be construed to constitute a promise or guarantee of a particular result in any particular case. Every case is different, and the outcome of any case depends upon a variety of factors unique to that case.
Pedestrian Accident Injuries
Pedestrian accidents are almost always serious or fatal due to the enormous size, weight and speed of a vehicle as compared to a person. The force of a car, motorcycle or truck hitting an unprotected pedestrian can result in catastrophic personal injuries, such as:
Amputations (loss of limbs)
Neck injuries
Back injuries
"Road rash"
Severe lacerations
Our personal injury lawyers can help victims of pedestrian accidents who have suffered injuries due to others' negligence. For a FREE consultation with an experienced NC pedestrian accident lawyer, please call 1-800-525-7111.
Common Causes of Pedestrian Accidents
According to North Carolina law, motorists owe certain duties of reasonable care to pedestrians. Most pedestrian accidents result when negligent drivers ignore or overlook these rules of the road.
With regard to pedestrians, motorists' duty of care includes:
At an intersection with pedestrian control signals, the operator of any vehicle must yield the right of way to a pedestrian crossing the road when the signal indicates "Walk". The pedestrian loses the right of way when the signal says "Don't Walk."
The operator of a vehicle must yield the right of way to the pedestrian if the pedestrian is crossing the roadway within a MARKED crosswalk. This same rule applies to an UNMARKED crosswalk, if that unmarked crosswalk is at an intersection. An unmarked crossing of this kind requires an existing sidewalk. Then, the pedestrian must cross within the bounds of the sidewalk as if it continues across the intersection. This rule means that the operator must slow down or even stop if necessary to avoid hitting the pedestrian.
Drivers should always double-check for pedestrians whenever turning across a sidewalk. Vehicles pulling into or out of a parking lot or even backing out of a driveway can be serious hazards to pedestrians.
We will review your case and determine your eligibility for a claim or lawsuit. If you decide to hire us, we can handle your case from beginning to end. Our priority is to make the entire process as easy, convenient, and stress-free as possible for you.
Call 1-800-525-7111 and let an experienced pedestrian accident attorney review your claim.
Do Pedestrians Always Have the Right of Way in North Carolina?
Although driver negligence is the cause of most pedestrian accidents, pedestrians are sometimes at fault. You can take certain steps to minimize your risk of injury when walking or running. For example, pedestrians do not always have the right of way, even in crosswalks.
The rules of the road for pedestrians in North Carolina include:
Pedestrians shall not cross a roadway, except in a marked crosswalk.
If the signal at a crosswalk reads "Don't Walk", pedestrians shall yield the right of way.
When crossing a road at any point other than within an marked crosswalk or an unmarked crosswalk at an intersection, pedestrians shall yield the right of way.
When crossing the actual road where a pedestrian tunnel or overhead pass is available, pedestrians shall yield the right of way.
Pedestrians shall not walk along and upon an adjacent roadway where sidewalks are available.
When walking along a road or highway without a sidewalk, pedestrians shall walk only on the extreme left hand side. Pedestrians must also face the traffic which is approaching from the opposite direction.
Proving Negligence in a Pedestrian Accident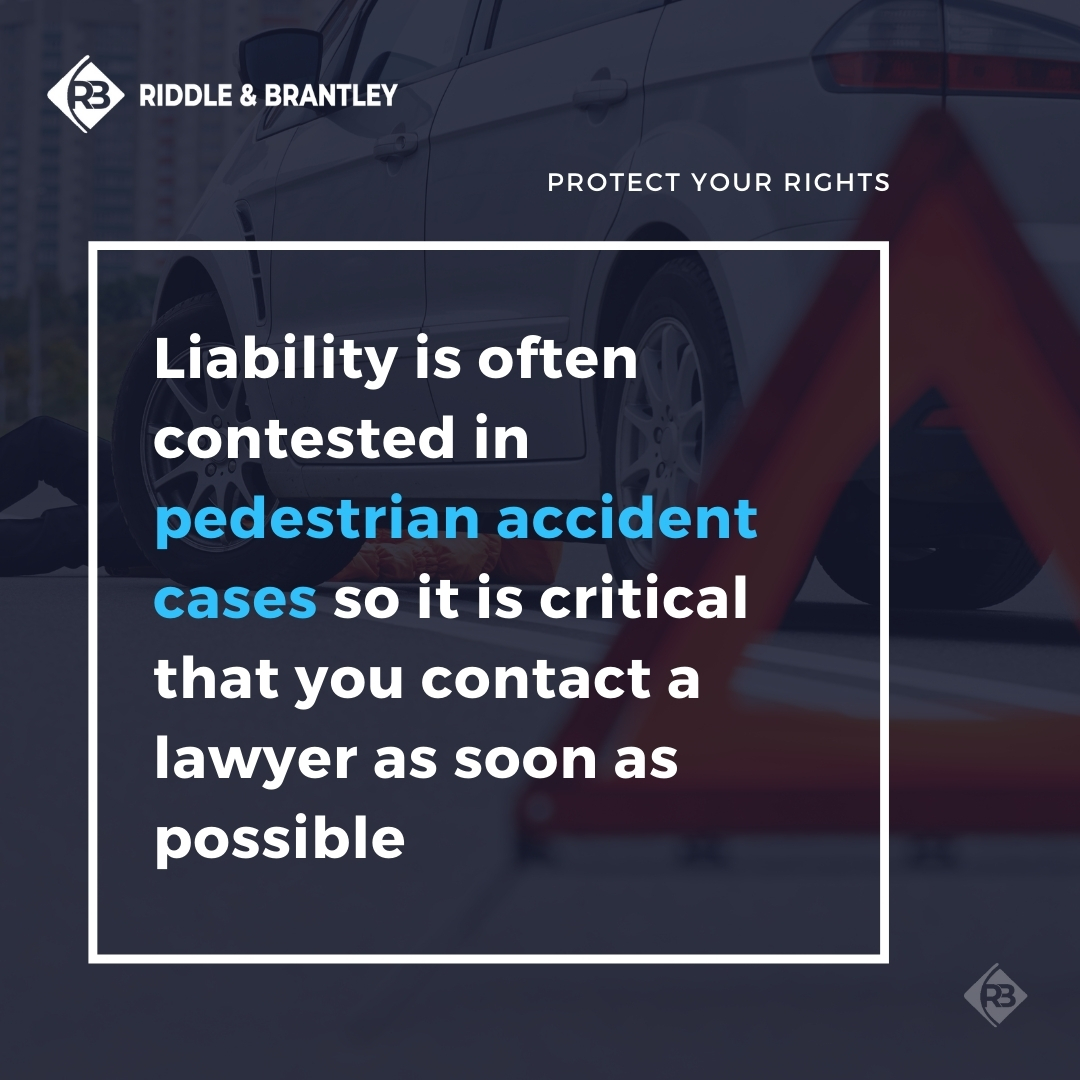 Proving fault in pedestrian accidents can be extremely difficult, and negligent drivers and insurance companies will go to great lengths to avoid paying claims. We know how to handle negotiations with the insurance companies and are ready and willing to take cases to trial when they do not offer reasonable settlements.
At Riddle & Brantley, we also have experienced investigators on staff to help prove liability and strengthen your case. These investigators are retired law enforcement officers and have extensive experience handling complex investigations.
We are proud to offer comprehensive investigative services and would love to help you with your case however we can. Call 1-800-525-7111 and let's review your claim.
Is a Motorist Always Liable for a Pedestrian Accident?
Not necessarily, however, regardless of the rules applying to pedestrians, there is an "umbrella" duty owed by motorists.
According to North Carolina state law:
"Every driver of a vehicle shall exercise due care to avoid colliding with any pedestrian upon any roadway, and shall give warning by sounding the horn when necessary."
The rule even goes on to provide special language regarding children. The law states that the driver "shall exercise proper precaution upon observing any child upon a roadway". This language alone allows us to persuade the insurance company, judge or jury that the operator of the vehicle failed to exercise proper reasonable care when approaching a child near, in or adjacent to the road. The jury instructions also state that the "operator of the vehicle should recognize that children have less discretion than adults and may act in obedience to childish impulses."
This means drivers can and should slow down or stop to protect pedestrians, even those not at a designated crosswalk. This law allows our North Carolina pedestrian accident lawyers to argue that motorists could avoid pedestrian accidents by exercising reasonable care.
Attorney Gene Riddle handled a case involving a pedestrian who was struck and killed by a snow plow. The driver claimed that he did not even know that he had hit the young man and there were no witnesses. However, through an intensive investigation, Gene proved that a snow plow was on that part of the road and that the impact points to the body were consistent with the blade of a snow plow. He successfully concluded this matter for the family despite the fact that the victim was walking in the wrong direction on the side of the road.
Pedestrian Accidents at School Bus Stops
Pedestrian accidents are especially common and dangerous at school bus stops. When a school bus displays its stop sign and stops to let passengers on or off, drivers of other vehicles must come to a full stop, according to NC law. This includes drivers behind the bus as well as those driving in opposite lanes. However, this rule does not apply to oncoming traffic if a median exists between lanes. Cars behind the bus may not try to pass the school bus. All vehicles must remain stationary until the stop sign is withdrawn and the bus has started to move onward.
It is important that all drivers follow the rules regarding bus stops. Additionally, even if all the students have been let off the bus and it has moved on, drivers should recognize that children are near the roadway. As a result, they should exercise proper reasonable care under those circumstances to avoid striking a child.
At Riddle & Brantley, our attorneys have handled several pedestrian injury cases involving school bus accidents. If your child suffered serious personal injuries while getting onto or off of a school bus, then we can assist you in determining liability as well as filing an insurance claim and/or lawsuit.
For a FREE consultation with an experienced North Carolina pedestrian lawyer, please call 1-800-525-7111.
There is no obligation, and we don't get paid unless you do. Call 1-800-525-7111 and let's review your case.
Suffer an Auto Pedestrian Accident? You Deserve Justice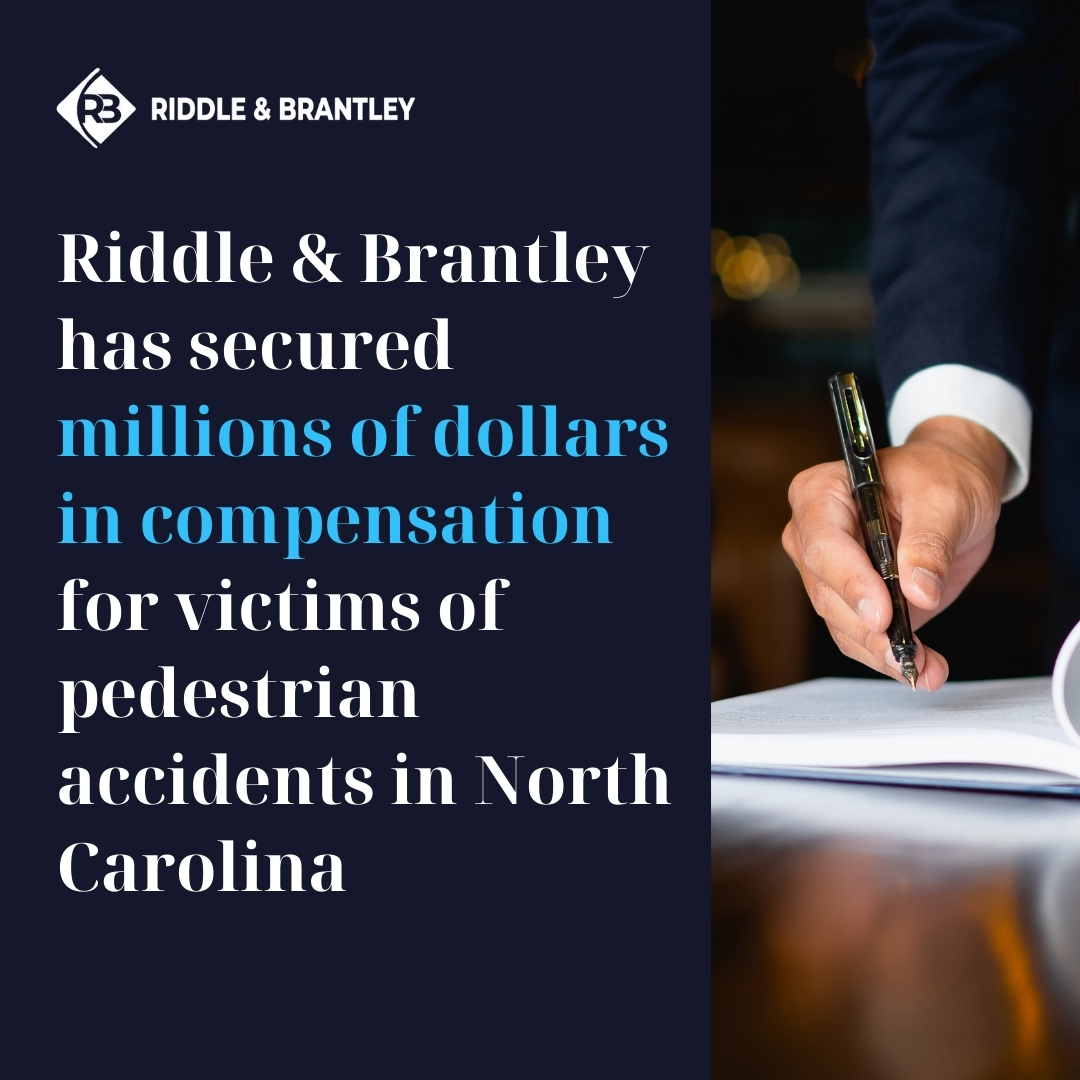 We are ready to help however we can if you've been hit by a car as a pedestrian. You deserve justice and if you decide to hire us, we will fight for the maximum compensation you are entitled to.
For a FREE, no-obligation consultation, please call 1-800-525-7111 or complete the form below.
The consultation is 100% free and you won't pay a dime in attorney fees unless we recover compensation for you.
"This settlement changed me and my family's lives."
–Linda B., Riddle & Brantley client
Call 1-800-525-7111 and let's review your claim.
We have convenient offices across North Carolina and can come to you directly if you prefer. Consultations are available from anywhere by phone, email, text, and video conference, as well. No in-person meeting is required to get started on your case, so don't wait. The longer you wait, the harder it may be to win your pedestrian accident case.
Justice Counts.
---
*** Disclaimer: An attorney must meet certain requirements to join these organizations or receive these awards. For more information on Membership Criteria for Million Dollar Advocates Forum, Multi-Million Dollar Advocates Forum, Super Lawyers, The National Trial Lawyers Top 100, The National Association of Distinguished Counsel, AV Preeminent by Martindale-Hubbell, the Litigator Award, and other memberships, awards, and accolades, please visit our Membership Criteria page. These awards and memberships should not be construed as a promise or guarantee of a similar result. Each case is different and must be evaluated separately.