North Carolina Distracted Driving Accident Attorney
Distracted Driving Attorney
A distracted driving accident lawyer can help you seek justice for injuries caused by distracted drivers.
These types of negligent driving accidents are on the rise in North Carolina and across the country, and victims deserve justice.
Texting While Driving
According to N.C. Gen. Stat. § 20-137.4A it's unlawful to drive on a public roadway while
using a smartphone to send texts or to read emails on a mobile phone. All too often, drivers believe it's going to be fine to look down at their phones and answer a quick question. It takes just seconds of being distracted to end up in a car accident.
Distracted Driving Statistics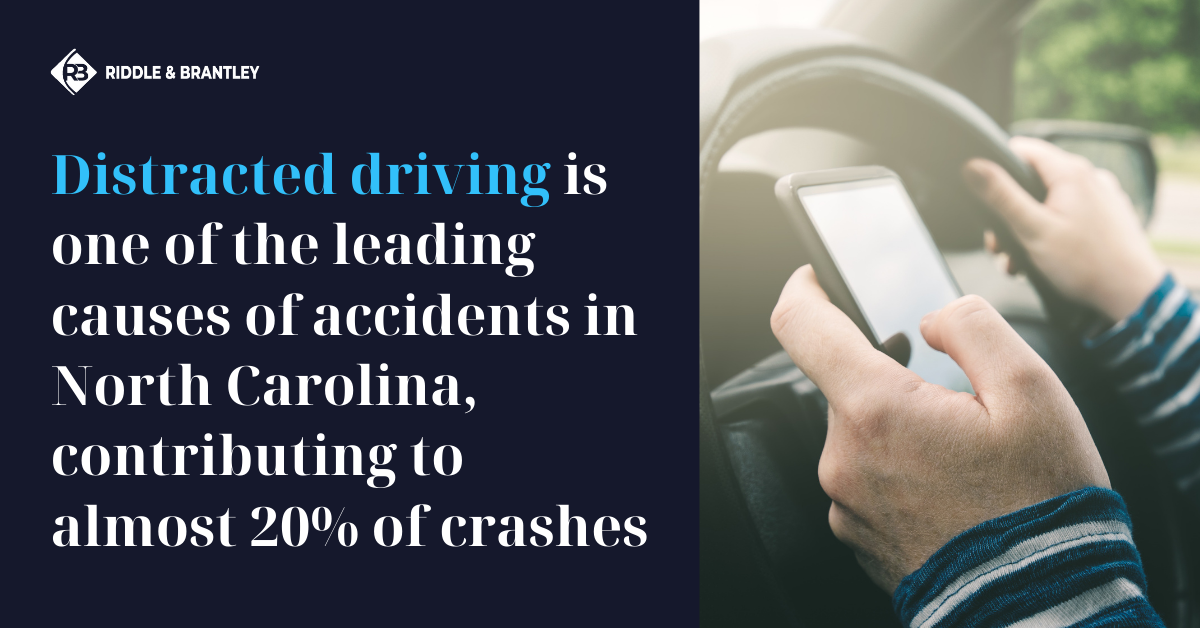 The National Highway Traffic Safety Association (NHTSA) reported that 2,841 died in auto accidents caused by distracted driving in 2018 alone. According to the CDC, over 400,000 people were also injured 2018 due to distracted driving.
Data reported by the North Carolina DMV revealed that in 2019 along, 53,541 car accidents were related to distracted driving. In one recent year, the North Carolina Department of Transportation reported that 19.7% of auto accidents in North Carolina involved distracted driving.
Distracted Driving Accidents
Distracted driving takes many forms. A driver may be texting and fail to notice a pedestrian crossing the street. Or a driver changing the radio may slam into the car in front of him. In another example, a driver may spill hot coffee on him or herself and react by hitting the accelerator and rear-ending another vehicle. These are all examples of distracted driving, which is one of the leading causes of motor vehicle accidents in the country.
Regardless of what type of distracted driving by another driver caused your accident, you are likely entitled to compensation for your car accident injuries.
At Riddle & Brantley, our team of North Carolina car accident lawyers has more than 220+ years of combined legal experience. We use this experience to hold negligent drivers accountable for the injuries or a loved one sustained from their distracted driving.
Whether through negotiations or by representing your interests in court, we pride ourselves on fighting for the best possible outcome for our clients.
Distracted Driving Laws in North Carolina
The dangers of distracted driving, and especially texting while driving, have led many states to issue laws against certain practices in order to ensure safety on the road. 48 states have implemented laws banning texting while driving. In North Carolina, it is illegal for anyone to text and drive. This means that a police officer can issue you a ticket if you are pulled over for texting while your vehicle is moving.
In many cases, when a distracted driver causes an accident, the responding officer may ticket the at-fault driver. However, just as with drunk driving accidents, law enforcement and the criminal justice system do not consider the victim's injuries or monetary damages. In order to recover for your losses, you must file a car insurance claim or even personal injury lawsuit to obtain compensation — and a North Carolina distracted driving accident lawyer can help.
A Criminal Case May Help Your Injury Claim
At Riddle & Brantley, we understand how devastating injuries caused by distracted driving can be. For our seriously injured clients, we continue to monitor any criminal charges against the defendant driver. When necessary, we go to court to make sure that the defendant driver is held accountable for their actions. We've handled several cases where we were very persistent at defendants' court appearances and assisted in securing convictions or guilty pleas.
A conviction or guilty plea to criminal charges can dramatically strengthen our distracted driving accident claim for our clients. This information can be helpful in proving fault in a car accident and holding responsible parties accountable.
Recent Results in Distracted Driving Cases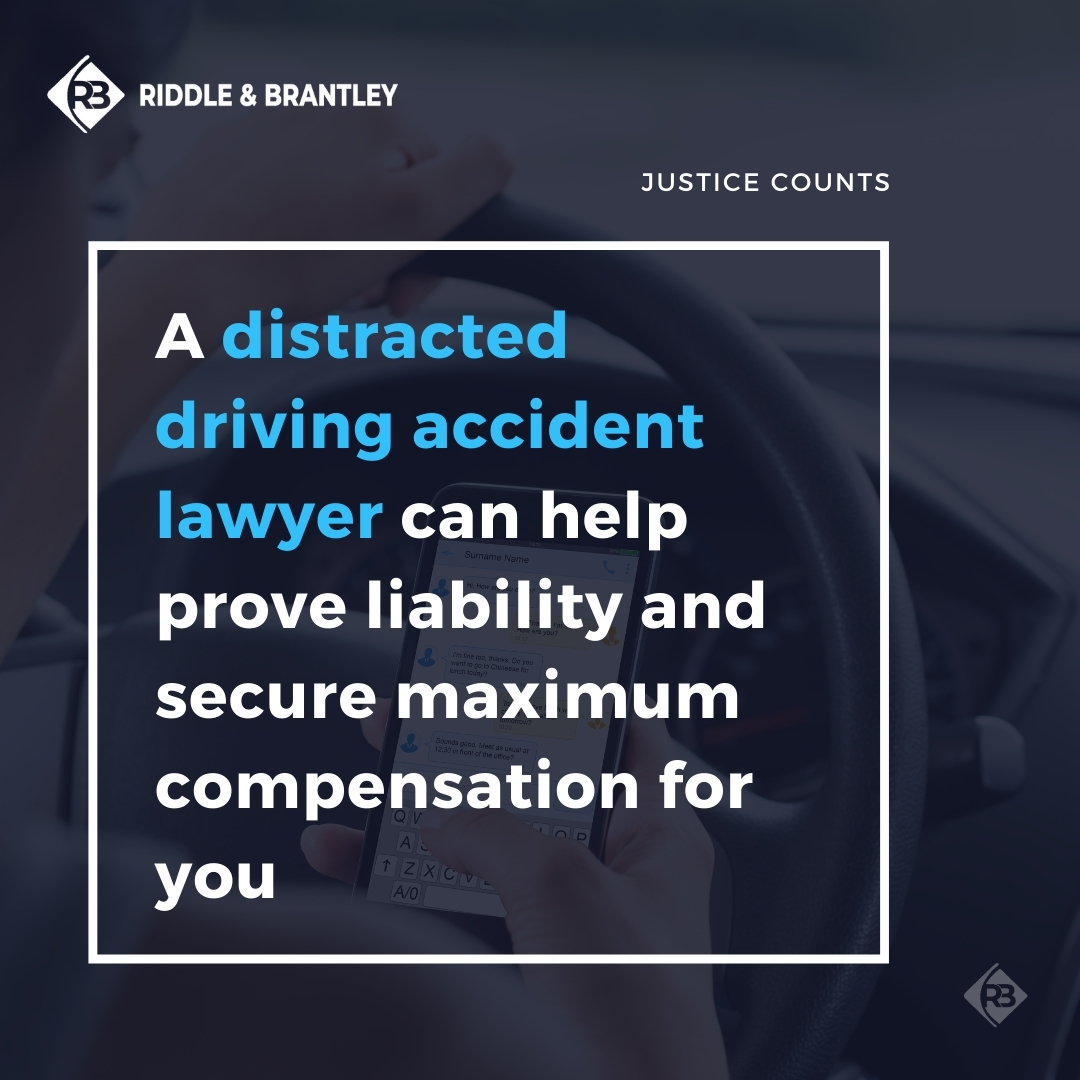 For example, one of our most notable cases involved a tractor-trailer driver that blew through a red light, killing a 16-year-old girl. The girls' parents hired Gene Riddle and our investigation team got straight to work. Through our early inquiry, we discovered that charges were not brought against the truck driver. However, we learned there was a witness and immediately located and contacted her. Our legal team also met with the investigating officer and the district attorney and convinced them that the trucker ran the red light.
Partially due to our efforts, the district attorney ultimately charged the truck driver with misdemeanor death by vehicle and he pled guilty. Gene Riddle appeared in court for the parents at the plea. We filed suit and settled at mediation for $840,000 (see disclaimer below).
Common Causes of Distracted Driving
Driver distraction is one of the most common causes of car accidents, and it is easy to dismiss it as grounds for a personal injury claim or lawsuit. However, victims may be able to collect compensation for any distracted driving accidents which cause injury or death.
Some of the most common causes of driver distraction include:
Cell Phone Use — Two of the most common causes of distracted driving accidents are texting and talking on the phone while driving. With the rise of social media and other apps, people can now also send posts, play games, watch videos, check emails and more on their phones while driving. Any type of phone use is extremely dangerous while driving because it requires the driver to look away from the road.
Talking with Passengers — Any conversation that pulls your attention away from your surroundings can potentially cause a car crash.
Eating and Drinking — Whether sipping your morning coffee or grabbing a quick meal on the go, food and drink are potential distractions. This is especially true if you spill and then try to clean up the mess while behind the wheel.
Getting Directions or Using a Navigation System — Reading a map or, more commonly, using GPS or a navigation system on your phone or car's interface, can pull your attention away from the road for a significant period of time.
Adjusting the Radio or Sound System — Tuning the radio or scrolling through your favorite playlist can be a major source of distraction.
Complacency — Many distracted driving accidents occur because a driver's mind simply wanders. Most people drive every day, which can lead some to relax their guard and become less alert.
How to Prevent Distracted Driving Accidents
Distracted driving is one of the most common causes of vehicle accidents in North Carolina; however, these accidents can be avoided by taking a few preventative measures, which include the following:
Make a Playlist. One of the most common distractions for drivers is music. Whether you glance down to adjust the radio or choose a new song on your phone, taking your eyes off the road (even for a split second) could have serious consequences. To prevent this, one of the best things you can do is make playlists on your phone. By compiling music you enjoy into one place, you can shuffle your playlist when you enter your vehicle and let it play. If you desire variety in your music selection, make several playlists based on genre, allowing you to choose the ideal soundtrack for your day.
Have a Passenger Navigate. Another common distraction behind the wheel is navigation. Manipulating a GPS system while driving is dangerous—even looking at the directions can be enough to cause an accident. If you're driving with another adult, allow them to navigate for you. This will keep your eyes fixed on the road and limit mental distractions. If you're traveling alone, it is wise to familiarize yourself with the route you're taking before you embark on your trip. It will reduce your reliance on your navigation devices.
Plan Your Meals. Eating while driving is a major distraction. Besides occupying one of your hands (both of which should be on the wheel), eating will distract your mind from the task. To prevent this, plan ahead. If you're on a tight schedule and must eat in your car, pull over or wait to eat until you arrive at your destination.
Install a Text-Blocker or Do Not Disturb Feature. While eating, navigating, and playing music certainly contribute to many accidents in North Carolina, texting is one of the most dangerous things you can do while driving. It contributes to a large percentage of distracted driving accidents. Install a text blocker app if you have difficulty avoiding texting while driving. Some of these apps will block all messages while you drive, while others will use your phone's integrated accelerometer to determine if you're driving and block messages. In addition, some phones — including most iPhone models — offer a "Do Not Disturb" feature, which blocks notifications and sends the messenger a notice that you are driving.
Experienced Distracted Driving Lawyers
Our personal injury lawyers are skilled at identifying the cause of a car accident and knowing when to pursue compensation. In a free consultation, we will review your case and advise you on your legal options. We want to help you regain control of your situation and take the appropriate steps to secure justice and compensation.
Whether settling your claim through negotiations or filing a lawsuit, our North Carolina distracted driving accident lawyers want to help you get the best recovery possible.
Since 2000 alone, we've recovered more than $600 million in compensation for victims of injury in North Carolina, and we'd love to help you and your loved ones however we can (see disclaimer below).
There is no obligation and you won't pay any attorney fees unless we win your case and your receive compensation.
"It was nice to see Riddle & Brantley put me and my needs first."
–R. Colley, Riddle & Brantley client
We have offices conveniently located throughout North Carolina and can consult with you from anywhere via phone, email, text, and video conference. We can even come directly to you if it's more convenient.
Justice Counts.
---
*** Disclaimer: The results mentioned are intended to illustrate the type of cases handled by the firm. These results do not guarantee a similar outcome, and they should not be construed to constitute a promise or guarantee of a particular result in any particular case. Every case is different, and the outcome of any case depends upon a variety of factors unique to that case.