North Carolina Distracted Driving Accident Attorney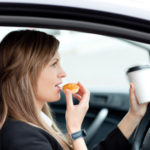 A driver on a cell phone fails to notice a pedestrian crossing the street. Someone changing the radio drives through a red light and causes a car crash. Hot coffee spills on a driver's lap causing him or her to hit the accelerator and rear-end another vehicle. These are all examples of distracted driving, one of the leading causes of motor vehicle accidents in the country.
In most cases, distracted driving accidents are caused by a negligent driver who chooses to text or otherwise take his or her attention off the road. In North Carolina, certain types of distracted driving are against the law. However, you may be able to collect compensation for your car accident injuries regardless of the source of the driver's distraction.
At Riddle & Brantley, our team of auto accident attorneys has more than 160 years of combined legal experience. We use this experience to hold negligent drivers liable for the injuries and suffering they cause in distracted driving accidents. You can be sure that we will fight for the best possible outcome in your case, whether through negotiations or by representing your interests in court. Contact our law offices in Goldsboro, Jacksonville, Kinston or Raleigh today for a free initial consultation.
Is Distracted Driving Illegal in North Carolina?
The dangers of distracted driving, and especially texting while driving, have led many states to issue laws against certain practices in order to ensure safety on the road. Some states have general laws against distracted driving. However, most states prohibit more specific activities that commonly cause distracted driving accidents.
In North Carolina, it is illegal for anyone to text and drive. This means that a police officer can issue you a ticket if you are pulled over for texting while your car is moving. Additionally, all cell phone use is banned for novice drivers (those under 18) and for bus drivers.
If you sustain personal injuries in a car crash caused by driver distraction, the responding officer may ticket the at-fault driver. However, just as with drunk driving accidents, law enforcement and the criminal justice system do not consider the victim's injuries or damages. You must file a car insurance claim and/or personal injury lawsuit to obtain compensation.
Nevertheless, if the other driver received a ticket for texting and driving, this can be used as evidence of fault. Clear evidence of fault can improve your chances of a fair settlement from a car insurance claim.
A Criminal Case May Help Your Injury Claim
At Riddle & Brantley, we monitor the charges against the defendant driver for our seriously injured clients. When necessary, we also go to court to make sure that the defendant driver does not escape free of liability. We have had several cases where we were very persistent at the court appearances of the defendant and we were able to get convictions or guilty pleas. A conviction or guilty plea to the charges greatly helps our claim for our clients. We can use that information in our suit for damages to prove that the defendant was liable and at fault. One of our most notable cases involved a tractor-trailer driver that blew through red light killing a 16-year-old girl.
The girls' parents hired Gene Riddle on a Saturday morning. We learned that the truck driver was not charged so we investigated immediately and located witnesses. We met with investigating officer and the District Attorney and were convincing with our proof of facts that the trucker ran a red light.
The trucker was charged with misdemeanor death by vehicle and pled guilty. Gene Riddle appeared in court for the parents at the plea. We filed suit and settled at mediation for $840,000.
What are the Most Common Causes of Driver Distraction?
Most driver distractions are such common occurrences when driving that it is easy to dismiss considering them as grounds for a personal injury claim or lawsuit. However, victims may be able to collect compensation for any distracted driving accidents which cause injury or death. Some of the most common causes of driver distraction include:
Cell phone use. Two of the most common causes of distracted driving accidents are texting and driving and talking on the phone. Additionally, most people can also check email, play games and watch videos on their phones, which are all hazardous when driving. Texting is particularly dangerous as it requires the negligent driver to look away from the road, take at least one hand off the wheel and turn his or her attention away from driving.
Talking to passengers. Any conversation that pulls your attention away from your surroundings can potentially cause a car crash.
Eating and drinking. Whether sipping your morning coffee or grabbing a quick meal on the go, food and drink are potential distractions. This is especially true if you spill and then try to clean up the mess while behind the wheel.
Getting directions. Reading a map or, far more commonly, programming the GPS on your phone, can pull your attention away from the road for a significant period of time.
Finding music. Tuning the radio or scrolling to your favorite playlist can be a major source of distraction.
Complacency. Many distracted driving accidents occur because a driver's mind simply wanders. Most people drive every day, which can lead some to relax their guard and become less alert.
Call Our Attorneys Today | Free Consultation
Our auto accident attorneys are skilled at identifying the cause of your car accident and knowing when to pursue compensation. In a free consultation, we will review your case and inform you of all your legal rights. We can help you regain control of your situation and take the appropriate steps moving forward.
Contact our North Carolina car accident law firm for a free case evaluation after a distracted driving accident. We have offices throughout North Carolina, including Raleigh, Goldsboro, Jacksonville and Kinston, but we represent cases nationwide. We offer flexible appointment times and will meet you at home or the hospital in the event you cannot travel.
Para ayuda en español, haga click aqui.