Raleigh Office
Experienced and Trusted Raleigh Personal Injury Lawyers
Riddle & Brantley
4600 Marriott Drive, Suite 500
Raleigh, NC 27612
Phone: (919) 876-3020
Toll-Free: (800) 525-7111
Hours of Operation
Monday – 7:00 AM – 11:00 PM
Tuesday – 7:00 AM – 11:00 PM
Wednesday – 7:00 AM – 11:00 PM
Thursday – 7:00 AM – 11:00 PM
Friday – 7:00 AM – 11:00 PM
Saturday – 8:00 AM – 11:00 PM
Sunday – 8:00 AM – 11:00 PM
CONTACT US ONLINE:
Connect with us if you or a loved one has been injured due to an act of negligence. We are powerful advocates for those we represent; you can trust us to go the distance for you and pursue the maximum possible recovery. Call 1-800-525-7111 now or contact us through our online free case evaluation form. We are ready to get to work and help you get justice.
Free consultations with our Raleigh personal injury lawyers are available by phone, email, text and even video conference. No in-person visit is required, but we will gladly come directly to you if you prefer. We also have Spanish-speaking interpreters on staff for the convenience of our clients, as well.
ABOUT OUR RALEIGH PERSONAL INJURY LAWYERS:
The firm's founding partner, Attorney Gene A. Riddle, has represented thousands of North Carolinians in his years in practice. Cases he handles include auto accidents, personal injury, workers' compensation, and wrongful death. A native of North Carolina, Mr. Riddle is personally committed to helping those in the Raleigh area pursue justice. He is a member of the Million Dollar Advocates Forum® and the Multi-Million Dollar Advocates Forum®, a group of less than one percent of U.S. attorneys that have achieved verdicts, awards, or settlements for in excess of $1 million or for many millions of dollars. Recently, he was honored as a recipient of the 2014 Litigator's Award in multiple categories, a feat achieved by fewer than 1% of all lawyers. In addition, he has earned the highest possible rating from Martindale-Hubbell, AV Preeminent.
Attorney J. Christopher Brantley has assisted thousands of injured employees for workers' compensation benefits in his years of practice. He is also one of less than one percent of attorneys in the U.S. admitted to the elite Million Dollar Advocates Forum® and the Multi-Million Dollar Advocates Forum®. He is listed in "Top 100" by the American Trial Lawyers Association. His specialty lies in Workers' Compensation, a designation earned from the North Carolina State Bar.
Attorney Scott A. Scurfield is an associate also located in Raleigh. He focuses on Social Security Disability claims, veterans' claims for VA benefits, and auto accidents. A former Assistant Public Defender, Scott has a broad range of legal knowledge and skill. He is a dedicated advocate in the courtroom and at administrative hearings.
Our Raleigh Practice Areas
With over 225 years of shared experience, the attorneys at Riddle & Brantley focus on several areas of law. Every person we represent is served with dedication, compassion, and the highest level of client service.
Personal Injury Cases – In the legal terms, Personal Injury (PI) is an injury caused to the body, mind, or emotion as a result of someone else's negligence. Our firm represents the injured in personal injury cases, including car accidents, motorcycle accidents, truck accidents, bicycle accidents, construction accidents, dog bite cases, dangerous drugs, wrongful death, and defective medical devices, among others. If you or your family have been unlucky to be injured in an accident that happened because of someone else's fault, you should talk to our experienced Raleigh personal injury lawyers to discuss your case.
Car Accidents – Traffic accidents are the most common cause of personal injury and property damage. If you or your family were injured or your car sustained damage in an accident caused by someone's negligence, the law entitles you to receive compensation for your personal injury, medical bills, loss of work and/or future earnings, emotional distress, and the cost of repairs. On the other hand, if you face PI and property damage claims from an accident that was supposedly your fault, you again need legal protection to minimize or avoid the financial burden. Our legal team is often involved in car accident, truck accident, pedestrian accident and motorcycle accident injury cases of all types. With a free case evaluation, you can quickly get the critical information you need about the merits of your case.
Social Security Disability – The Social Security Administration (SSA) has a list of conditions that automatically qualify you for disability benefits, but not every medical condition is listed in the manual. Moreover, the criteria for the listed impairments are quite stringent. The process of getting Social Security benefits is complicated and requires you to present numerous documents including credible medical evidence and up-to-date medical records in the right format, with the correct information, if you want to win your case. It is a sad fact that a majority of SSD claims are disallowed because the applicants don't get appropriate legal help. Denied claims must be appealed and our firm takes on these cases with confidence and with an exceptional level of experience.
Workers' Compensation – Injured workers are often in the position of being unable to function in their profession, but the benefits paid are only a portion of wages up to a limit, with no payment due for pain and suffering. This happens when employees sign up for workman compensation insurance offered by the employer, whereby they relinquish their right to sue the employee for damages for negligence. However, some cases may involve gross negligence of safety procedures and create third party liability. If you have been injured at work or have acquired a medical condition caused by workplace factors, you may be eligible to recover a larger amount in compensation for you and your family. We serve as counsel in the initial application for benefits, appeals, and third-party claims.
Our Raleigh injury attorneys can assist with all types of injury cases, including:
Our Involvement with the Raleigh Community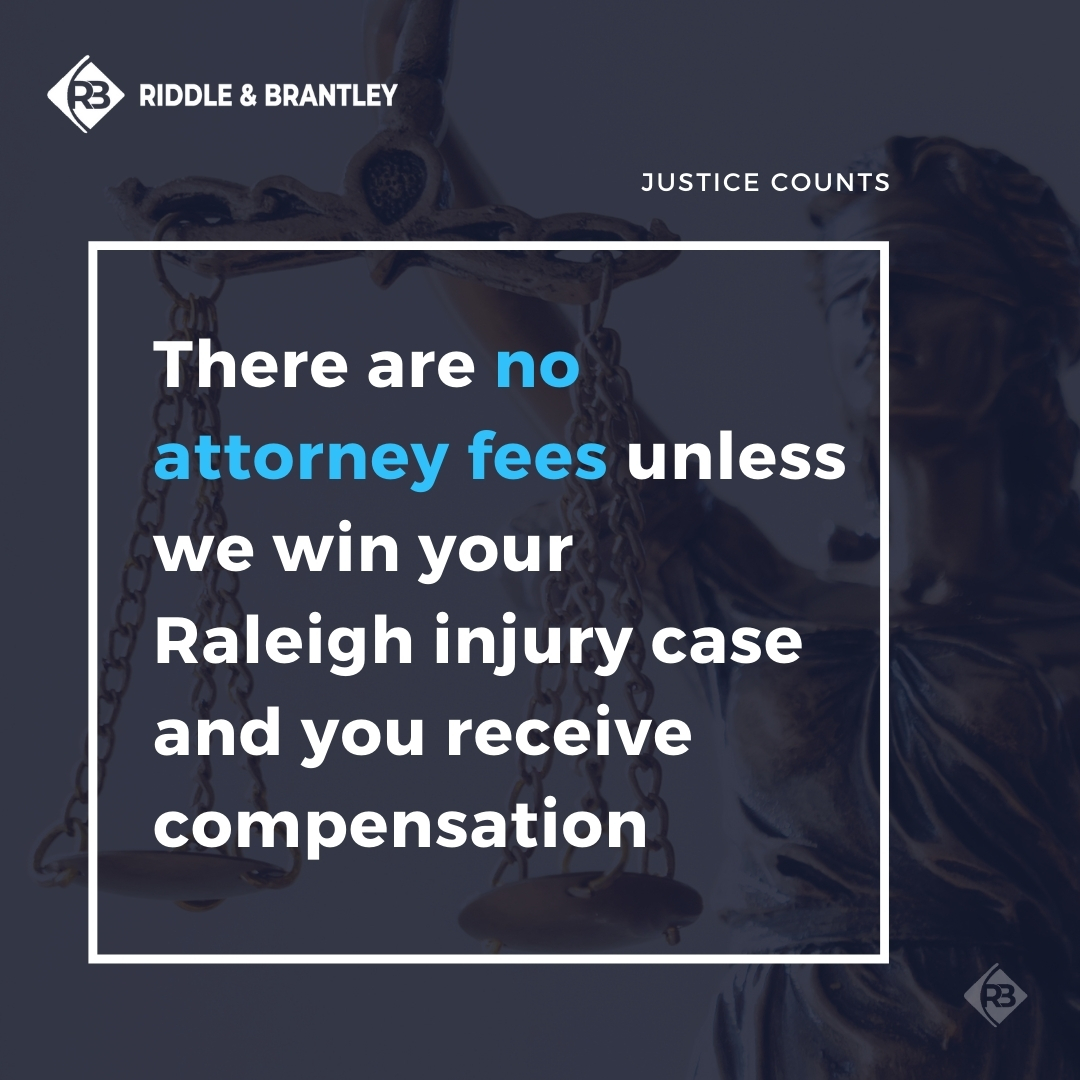 Our firm is involved in various activities to improve the quality of life for everyone in the Raleigh community. Riddle & Brantley is part of the North Carolina Adopt-A-Highway Program, which helps to keep our state beautiful and the Newbern House, a facility for the disadvantaged. The firm also assists students with mentoring, mock trials, and other activities to help advance the skills of students interested in the law.
We care about our community and we will continue to invest our time and efforts into various community groups and volunteer activities.
Animal groups: We are avid dog and cat lovers and have contributed to the Society for the Prevention of Cruelty to Animals (SCPA) of Wake County. The SCPA is a leader in animal welfare in North Carolina, focusing on adoption, spay/neuter, and education programs with the goal of ending euthanasia of adoptable pets.
Educational efforts: We have accepted several interns enrolled in Meredith College's Paralegal Program and we work closely with the program's director.
Business groups: We have an A+ rating from the Eastern North Carolina Better Business Bureau and we have been an accredited business since 2002. Our association with the Better Business Bureau shows our commitment to client service.
Military families: Eastern North Carolina has several military bases and we play a part in helping military families located here. We have served as a sponsor of the Wounded Warrior Project near Fort Bragg.
Pro bono work: We have participated in the Call4All Program of the North Carolina Bar Association, which allows private attorneys to provide pro bono service to low-income  persons in North Carolina. Advice is provided in several legal areas, including private landlord/tenant, public and subsidized housing, Medicaid, disability and non-disability issues in Social Security matters, consumer collections, employee rights, custody, guardianship, and simple estates.
Raleigh Legal Information
Personal injury cases are filed and litigated in the District Court or the Superior Court of North Carolina's court system. The factors that determine the court in which your case will be resolved include the amount of damages at issue. The Wake County Justice Center is located at 300 S. Salisbury St. in Raleigh. The old courthouse is located at 316 Fayetteville St., also in downtown Raleigh.
Workers' Compensation Information
Workers' compensation hearings may be held in cases of workplace injury, illness, or death that came about as a result of a job-related accident or occupational disease. Benefits are available through the North Carolina Industrial Commission, which administers the Workers' Compensation Act. For workers' compensation cases, Deputy Commissioner Hearings are held in several locations, including Raleigh.
The North Carolina Industrial Commission holds Full Commission hearings in Raleigh at its offices at 430 N. Salisbury Street, Raleigh, NC 27603.
Talk with Our Raleigh Injury Attorneys Today
If you have been injured due to another's negligence, don't wait to contact one of our Raleigh injury lawyers. The longer you wait, the harder it may be to win your case and recover the compensation you need and deserve. Justice Counts and we would love to help you if we can.
For a FREE consultation with an experienced Raleigh personal injury lawyer, please call 1-800-525-7111 or complete the fast and easy form below.
There is no obligation and you won't pay any attorney fees unless we win your case and you receive financial compensation.
Justice Counts. Call 1-800-525-7111 today and let's review your claim.