Raleigh Personal Injury Lawyers
Experienced and Trusted Raleigh Personal Injury Lawyers
If you've been injured in an accident in Raleigh or the surrounding area, an experienced personal injury attorney at Riddle & Brantley can help make all the difference in getting you the justice and compensation you deserve. Since 2000 alone, our attorneys have recovered more than $600,000,000 in total compensation for our valued clients (see disclaimer below).
Riddle & Brantley Personal Injury Lawyers in Raleigh
4600 Marriott Drive, Suite 500
Raleigh, NC 27612
Phone: (919) 876-3020
Hours of Operation
Monday – 7:00 AM – 11:00 PM
Tuesday – 7:00 AM – 11:00 PM
Wednesday – 7:00 AM – 11:00 PM
Thursday – 7:00 AM – 11:00 PM
Friday – 7:00 AM – 11:00 PM
Saturday – 8:00 AM – 11:00 PM
Sunday – 8:00 AM – 11:00 PM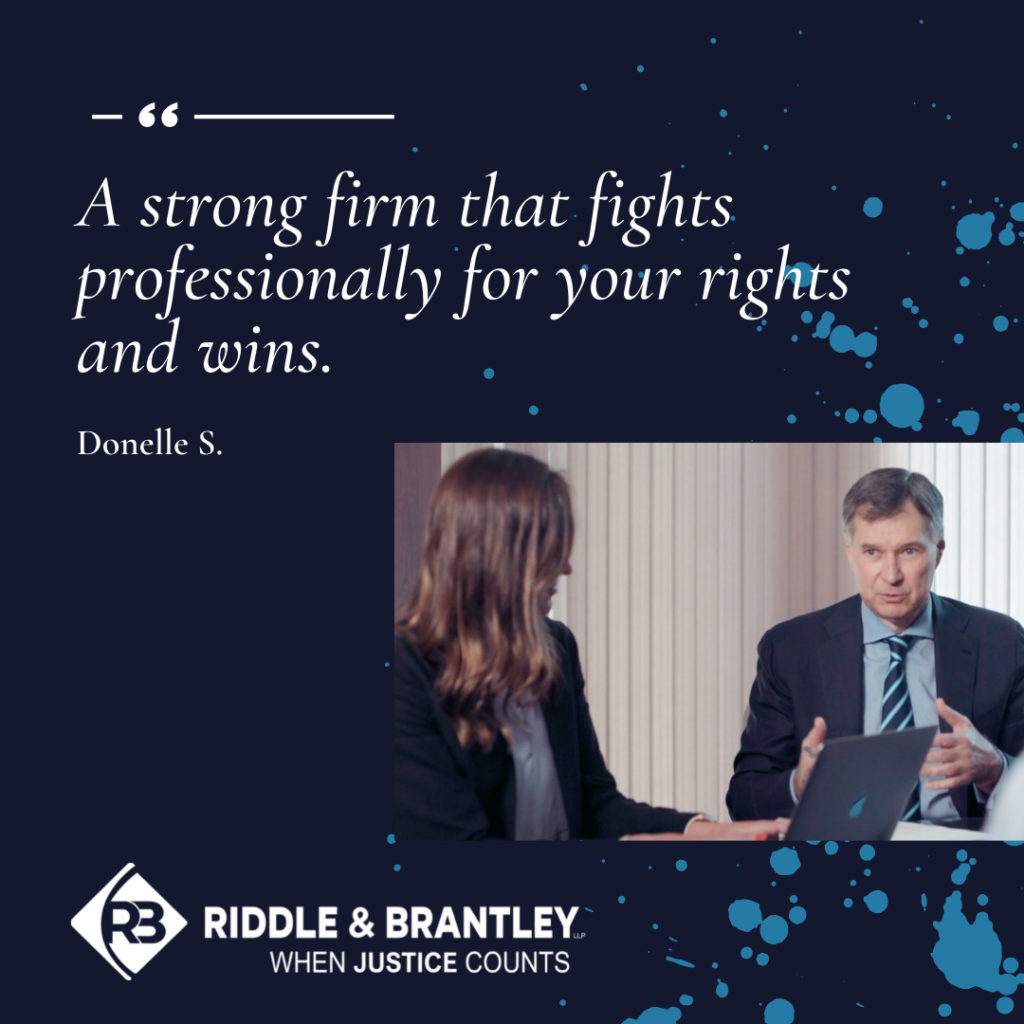 At Riddle & Brantley, we have been serving clients in the Triangle since 1985. Our attorneys live in Raleigh and the surrounding areas. This is our home, and we are committed to fighting for justice for our fellow North Carolinians.
With convenient offices in Raleigh (we are on Glenwood Avenue and directly across from the Crabtree Valley Mall) and other surrounding NC cities, we are ready to fight for you. We can also consult with you via phone, email, text, or video conference. We can even come directly to you if it's more convenient.
Please call (919) 876-3020 today for a FREE, no-obligation consultation with an experienced lawyer at Riddle & Brantley. Our firm has helped thousands of North Carolinians get the justice and compensation they deserve, and we would love to help you however we can.
"It was nice to see Riddle & Brantley put me and my needs first."
–R.C., Riddle & Brantley client
Types of Cases Our Attorneys Handle
With over 220+ years of shared experience, the attorneys at Riddle & Brantley focus on several areas of law, including personal injury, car accidents, truck accidents, workers' comp, disability, and wrongful death. Every person we represent is served with dedication, compassion, and the highest level of client service.
We can assist with all types of injury cases, including:
We also routinely handle claims related to dangerous drugs, defective medical devices, and defective consumer products. We've been holding negligent parties accountable since 1985.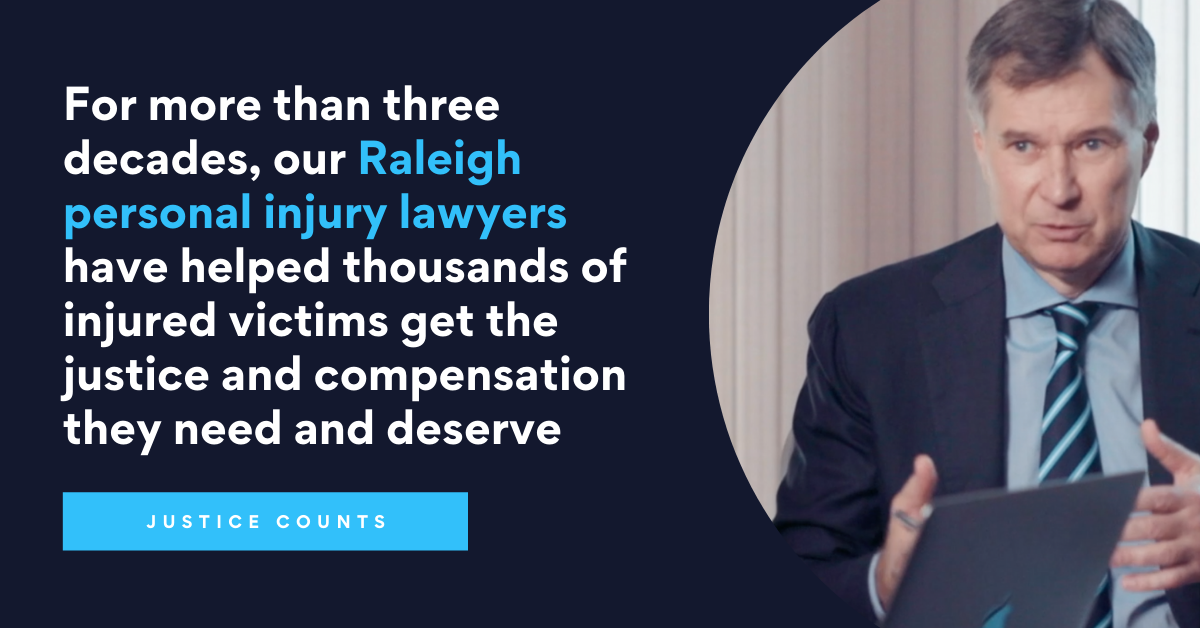 Connect with us if you or a loved one has been injured in an accident due to someone else's negligence. We are powerful advocates for those we represent; you can trust us to go the distance for you and pursue the maximum possible recovery.
Call (919) 876-3020 now or contact us through our online free case evaluation form. If you decide to hire us, we are ready to get to work and help you get justice.
What Should I Do After an Accident?
The aftermath of an accident can be extremely challenging and stressful — and what you do in the hours and days immediately following the accident can significantly impact your chances of recovering compensation for injuries suffered due to someone else's negligence. Remember, before you do anything else, call 911 and seek medical attention for your injuries. Not only is this best to protect your health, safety, and well-being, but medical records form an important part of any personal injury case.
After calling 911 and seeking medical attention, follow these tips to protect your legal rights and begin building your case:
Collect contact info — Get names, email addresses, and phone numbers from all involved in the accident, including the other driver in motor vehicle accident cases. Be sure to gather information for potential witnesses, too. Remember, do NOT admit fault or apologize. The circumstances of the accident may not yet be clear, and you don't want to jeopardize your potential case.
Talk with the police officer — A police report is an important part of most personal injury cases. Be honest and accurate and remember that anything you say can and will be used against you. Do NOT admit fault. Your recollection of the accident may not be accurate immediately following the accident, and you do not want to jeopardize your potential claim.
Take photos — Take photos of all injuries and evidence at the accident site. Document property damage and look for evidence that may support your case, including skid marks, debris, safety equipment in disrepair, or inaccurate road markings.
Fill out necessary paperwork — Depending on the type of injury, certain forms and reports may need to be filed. If you've been injured at work, you'll need to complete Form 18 and your employer must complete and submit Form 19 to the NC Industrial Commission (NCIC). If you're worried about your employer not submitting the required paperwork, you can file Form 18 directly with the NCIC. Talk with a worker's compensation attorney for more information.
Do NOT give a recorded statement to the insurance company — Before making any recorded statement to an insurance company, speak with an attorney. The insurance company has one primary goal: paying as little in compensation as possible. A rushed or ill-considered statement can undermine your case. What you say can and will be used against you later in a deposition or in court.
Speak with a lawyer — What you do immediately following an accident can have a huge impact on the success of your case. In order to protect your legal rights and build the strongest case possible, contact a lawyer right away. We offer free consultations — call (919) 876-3020 today. At Riddle and Brantley, if we don't think you need a lawyer we will tell you so.
What Damages Are Available in Personal Injury Cases?
Many of our clients ask us, "What kind of compensation is available in my personal injury case?"
There are several types of damages available in injury claims and lawsuits, including:
Medical Bills — Compensation is available to compensate you for medical treatments and related expenses, including home medical equipment, etc. Additional damages may be available for long-term and continuing treatment, in which case a lawyer may obtain a life care plan to help calculate future costs.
Lost Wages — Many accidents require victims to take time off work while they recover. In these cases, damages may be awarded to cover lost wages.
Lost Future Income — You may also be able to recover compensation to make up for potential loss of future income if your injuries prevent you from working in the same job again.
Pain and Suffering — Compensation may be available for your "pain and suffering," or the emotional injury you've suffered. This may include compensation for emotional trauma, loss of consortium (companionship and sexual relations with a spouse), or permanent scarring.
Punitive Damages — In cases in which it's determined that the defendant acted with "gross negligence" or "willful and wanton" misconduct, a judge or jury may decide to award punitive damage to "punish" the responsible party. Punitive damages are awarded in addition to any other "compensatory" damages, such as those listed above.
How to Prove Fault in an Injury Claim
Of course, any damages awarded in a personal injury settlement or verdict depend on the plaintiff's ability to prove fault.
In a personal injury case, the plaintiff must prove four important things:
The defendant had a "duty of care" to avoid harming the plaintiff
The defendant breached this duty
The plaintiff was injured as a result of the defendant's breach of duty
The plaintiff suffered damages (physical injuries, wage loss, property damage, emotional trauma, etc.)
Our lawyers rely on many different kinds of evidence in proving fault.
Depending on the circumstances of the accident, evidence used to prove fault may include:
Medical records — Medical records and doctors' notes detail the type and severity of injuries suffered, and can provide necessary context into how the accident unfolded.
Photos — Images of the crash scene, including debris, vehicle or property damage, road markings and signage, and injuries are important evidence in personal injury cases.
Video — Video footage, from surveillance cameras, dash cams, or bystanders, can provide invaluable clues into what happened to cause an accident resulting in injury.
Eyewitness testimony — Individuals who witnessed the accident may be able to provide valuable testimony that can help plaintiffs prove fault in a personal injury case.
Expert testimony — In some cases, a lawyer will bring in expert witnesses like accident reconstructionists, medical providers, or federal trucking safety experts to provide their expertise and opinion on the accident and help establish liability.
Accident report — The official accident report (often called a police report) contains important information regarding the facts and circumstances of the accident, as well as the responding law enforcement officer's interpretation of events.
When you hire a lawyer at Riddle & Brantley, we also frequently involve our team of on-staff investigators to help investigate the cause of the accident and prove fault. These investigators are retired law enforcement officers who have extensive experience handling even the most complex accident cases.
About Riddle & Brantley's Personal Injury Attorneys
Riddle & Brantley's 11 attorneys have more than 220+ years of combined legal experience and are ready to help at a moment's notice. Among our attorneys are:
Attorney Gene A. Riddle, who has represented thousands of North Carolinians in his years in practice. Cases he handles include auto accidents, personal injury, workers' compensation, and wrongful death. A native of North Carolina, Mr. Riddle is personally committed to helping those in the Raleigh area pursue justice. He is a member of the Million Dollar Advocates Forum® and the Multi-Million Dollar Advocates Forum®, a group of less than one percent of U.S. attorneys that have achieved verdicts, awards, or settlements for in excess of $1 million or for many millions of dollars. Recently, he was honored as a recipient of the 2014 Litigator's Award in multiple categories, a feat achieved by fewer than 1% of all lawyers. In addition, he has earned the highest possible rating from Martindale-Hubbell, AV Preeminent (see disclaimer below).
Attorney Alex Riddle joined the firm in 2020 after graduating from the University of North Carolina School of Law. She is the daughter of founding partner, Gene Riddle. Alex has a particular interest in personal injury and civil rights cases and has been recognized as a "National Trial Lawyers Top 40 Under 40" attorney in recognition of her experience and accomplishments (see disclaimer below).
Attorney J. Christopher Brantley has assisted thousands of injured employees for workers' compensation benefits in his years of practice. He is also one of less than one percent of attorneys in the U.S. admitted to the elite Million Dollar Advocates Forum® and the Multi-Million Dollar Advocates Forum®. He is listed in "Top 100" by the American Trial Lawyers Association (see disclaimer below). His specialty lies in Workers' Compensation, a designation earned from the North Carolina State Bar.
Attorney Scott A. Scurfield is an associate also located in Raleigh. As a Board-Certified Specialist in Social Security Disability law, Scott focuses on Social Security Disability claims, veterans' claims for VA benefits, and auto accidents. A former Assistant Public Defender, Scott has a broad range of legal knowledge and skill. He is a dedicated advocate in the courtroom and at administrative hearings.
Award-Winning Personal Injury Lawyers
In more than 35 years serving the people of Raleigh, our attorneys have been recognized for their experience and results by many prestigious organizations and awards (see disclaimer below), including:
Multi-Million Dollar Advocates Forum
Million Dollar Advocates Forum
The National Trial Lawyers Top 100
The National Trial Lawyers Top 40 Under 40
The Litigator Award
Super Lawyers
AV Preeminent by Martindale-Hubbell
The National Association of Distinguished Counsel 
Results for Our Clients
In more than 35 years serving the people of Raleigh and greater North Carolina, our attorneys have secured hundreds of millions of dollars on behalf of our deserving clients (see disclaimer below). Recent wins include:
$3,600,000 | Car Accident & Wrongful Death — In this tragic case, our client ultimately died of injuries suffered in a terrible rear-end collision. We fought for justice for surviving family members, filing two lawsuits against the other driver and a construction company. The cases ultimately went to mediation prior to trial, where we recovered $3.6 million in total compensation for our clients.
$2,750,000 | Truck Accident — Attorneys Gene Riddle and Adam Smith handled this case in which our client suffered serious injuries when he was hit by a truck while working at a construction site. In addition to other injuries, our client lost his right leg below the knee as a result of the accident. We filed personal injury and workers' compensation claims and secured settlements totaling $2.75 million after negotiations and pre-trial mediation.
$1,625,000 | Pedestrian Accident — Our client suffered serious injuries when she was hit while walking across a busy Raleigh road. When her claim was initially denied, an out-of-state law firm hired us to assist with the case. We brought in an expert accident reconstructionist, interviewed witnesses, and reviewed the accident report to prove liability. Ultimately the insurance company agreed to mediation, where our lawyers secured $1.625 million in compensation for our deserving client.
$1,500,000 | Personal Injury — We represented an injured worker who suffered a debilitating brain injury when his employer cut a tree limb that fell on his head. The employer did not have workers' compensation insurance so we filed a lawsuit. The case went to trial, resulting in a judgment against the defendant totalling $1,500,000.
$1,000,000 | Car Accident — Our client was the passenger in a single-vehicle accident in which he suffered a serious back injury his doctor determined to be permanent. His medical bills totaled more than $50,000 and he was forced to miss three months of work. We took the case to court and secured a judgment against the defendant in the amount of $1,000,000.'
$1,000,000 | Dog Bite — Attorneys Gene Riddle and Adam Smith represented a 74-year-old woman who was attacked three dogs in her own yard. We investigated the accident and filed suit in Superior Court, securing a judgment of $1,000,000 against the defendant.
Our Involvement with the Raleigh Community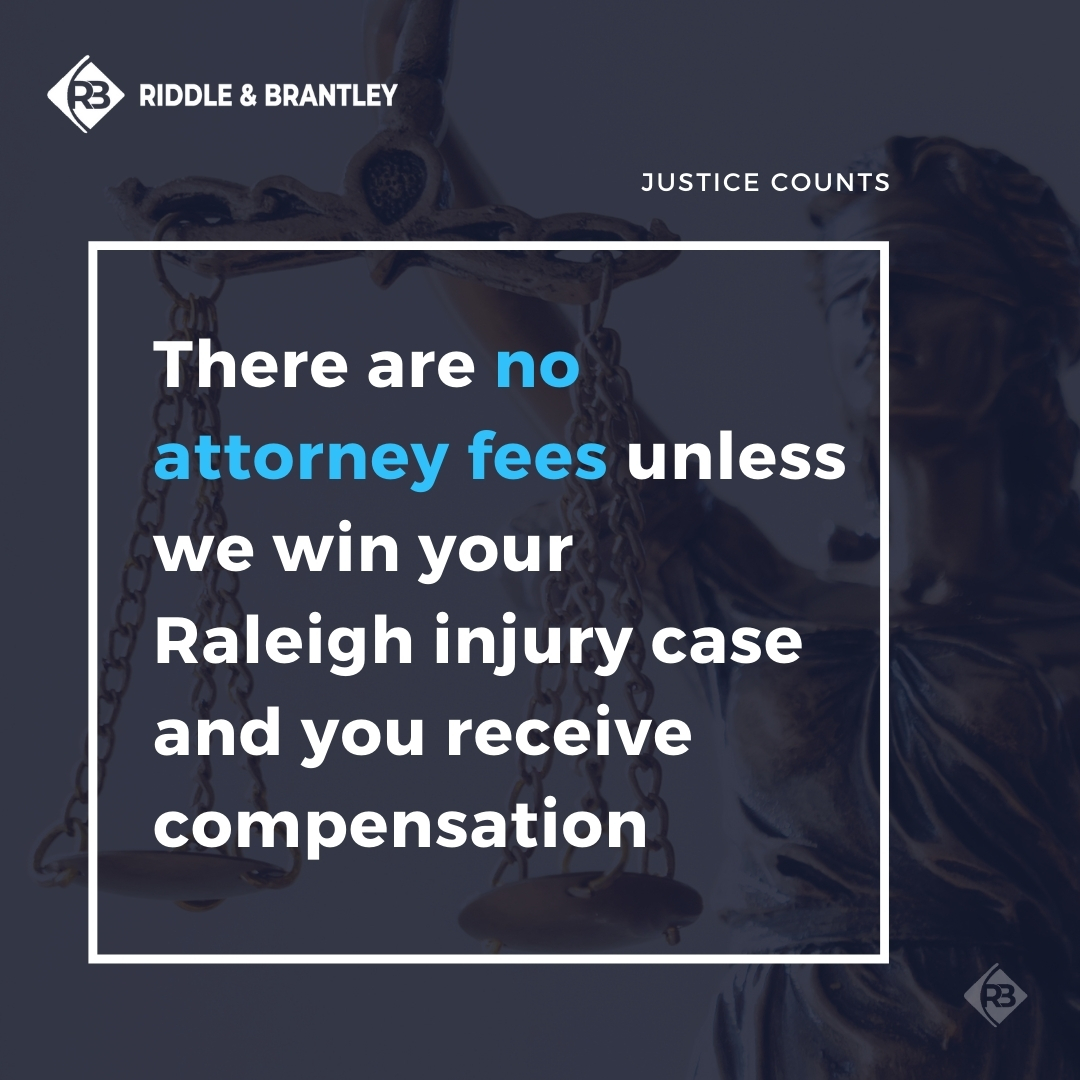 Our firm is involved in various activities to improve the quality of life for everyone in the Raleigh community.
Riddle & Brantley is part of the North Carolina Adopt-A-Highway Program, which helps to keep our state beautiful and the Newbern House, a facility for the disadvantaged. The firm also assists students with mentoring, mock trials, and other activities to help advance the skills of students interested in the law.
We care about our community and we will continue to invest our time and efforts into various community groups and volunteer activities.
Animal groups: We are avid dog and cat lovers and have contributed to the Society for the Prevention of Cruelty to Animals (SCPA) of Wake County. The SCPA is a leader in animal welfare in North Carolina, focusing on adoption, spay/neuter, and education programs with the goal of ending euthanasia of adoptable pets.
Educational efforts: We have accepted several interns enrolled in Meredith College's Paralegal Program and we work closely with the program's director.
Business groups: We have an A+ rating from the Eastern North Carolina Better Business Bureau and we have been an accredited business since 2002. Our association with the Better Business Bureau shows our commitment to client service.
Military families: Eastern North Carolina has several military bases and we play a part in helping military families located here. We have served as a sponsor of the Wounded Warrior Project near Fort Bragg.
Pro bono work: We have participated in the Call4All Program of the North Carolina Bar Association, which allows private attorneys to provide pro bono service to low-income persons in North Carolina. Advice is provided in several legal areas, including private landlord/tenant, public and subsidized housing, Medicaid, disability and non-disability issues in Social Security matters, consumer collections, employee rights, custody, guardianship, and simple estates.
Raleigh Courthouse Information
Personal injury cases are filed and litigated in the District Court or the Superior Court of North Carolina's court system. The factors that determine the court in which your case will be resolved include the amount of damages at issue. The Wake County Justice Center is located at 300 S. Salisbury St. in Raleigh. The old courthouse is located at 316 Fayetteville St., also in downtown Raleigh.
Workers' Compensation Information
Workers' compensation hearings may be held in cases of workplace injury, illness, or death that came about as a result of a job-related accident or occupational disease. Benefits are available through the North Carolina Industrial Commission, which administers the Workers' Compensation Act. For workers' compensation cases, Deputy Commissioner Hearings are held in several locations, including Raleigh.
The North Carolina Industrial Commission holds Full Commission hearings at its offices at 430 N. Salisbury Street, Raleigh, NC 27603.
Social Security Disability Information
If you are seeking benefits through Social Security Disability, our skilled attorneys are ready to get to work for you. We can help with the initial application or help you file an appeal if your SSD application for benefits has been denied. The Social Security Administration Office is located at 4701 Old Wake Forest Rd, Raleigh, NC 27609. You can reach them by phone at 1-888-221-9512.
At Riddle & Brantley, our disability team is led by a Board-certified specialist in social security disability law, who has been recognized by the NC State Bar for his experience and expertise handling these cases.
Talk with Our Injury Attorneys Today
If you've been injured in a car accident, truck accident, workplace accident, or another type of accident, don't gamble with the compensation. A recent survey found that those who hire a personal injury attorney recover roughly 3 times more compensation on average than those who represent themselves.
That's a serious difference, and you deserve maximum compensation for your damages.
Please call (919) 876-3020 and let an attorney at Riddle & Brantley review your claim for free.
The consultation is free with no obligation, and you won't pay any attorney fees unless we win your case, and you receive compensation.
Call (919) 876-3020 and let's review your claim. You may be entitled to significant compensation, and we would love to help you and your loved ones however we can.
Justice Counts for those injured due to others' negligence and we are ready to help.
---
*** Disclaimer: The results mentioned are intended to illustrate the type of cases handled by the firm. These results do not guarantee a similar outcome, and they should not be construed to constitute a promise or guarantee of a particular result in any particular case. Every case is different, and the outcome of any case depends upon a variety of factors unique to that case.
*** Disclaimer: An attorney must meet certain requirements to join these organizations or receive these awards. For more information on Membership Criteria for Million Dollar Advocates Forum, Multi-Million Dollar Advocates Forum, Super Lawyers, The National Trial Lawyers Top 100, The National Association of Distinguished Counsel, AV Preeminent by Martindale-Hubbell, the Litigator Award, and other memberships, awards, and accolades, please visit our Membership Criteria page. These awards and memberships should not be construed as a promise or guarantee of a similar result. Each case is different and must be evaluated separately.