Durham Personal Injury Lawyer
Experienced and Trusted Durham Personal Injury Lawyers
Riddle & Brantley Durham
100 E. Parrish St.
Suite 200
Durham, NC 27701
Phone: (800) 525-7111
By Appointment Only.
Hours of Operation
Monday – 7:00 AM – 11:00 PM
Tuesday – 7:00 AM – 11:00 PM
Wednesday – 7:00 AM – 11:00 PM
Thursday – 7:00 AM – 11:00 PM
Friday – 7:00 AM – 11:00 PM
Saturday – 8:00 AM – 11:00 PM
Sunday – 8:00 AM – 11:00 PM
Durham Injury Lawyers Ready to Fight for You
Durham is located in the Research Triangle Park area and is home to the Durham Bulls, North Carolina Central University and Duke University.  Durham is the fourth largest city in North Carolina with a population of almost 270,000.  It is known as the City of Medicine. In 2021, Durham (along with the rest of "The Triangle," including Raleigh and Chapel Hill) was named the 2nd Best Place to Live in the United States by U.S. News and World Report.
If you live in or around Durham, NC and have been injured in an accident due to someone else's negligence, a Durham personal injury lawyer at Riddle & Brantley can help. You may be entitled to compensation for your injuries and damages and if so you deserve justice.
Riddle and Brantley desires to be known as the law firm where Justice Counts.  We fight tirelessly to get our clients the justice and compensation they deserve
We're ready to help, and we'd love to help you get the justice and compensation you deserve if we can.
Cases We Handle
Our Durham personal injury lawyers handle all types of cases, including:
Tractor-trailer accidents
Scooter accidents
Slip and fall accidents
Sexual assault
Product liability cases
Dangerous drug cases
Defective medical device claims
Mesothelioma and asbestos exposure claims
Nursing home neglect and abuse
Workplace accidents (workers' compensation)
Our attorneys have more than 225 years of combined legal experience and we've helped thousands of North Carolinians — including many in the Durham area — get justice for their injuries.
"Why do I need a personal injury lawyer?"
It's a question we're frequently asked.
And here's the honest truth: you do not necessarily need a personal injury lawyer. You can file a claim and even a lawsuit without legal representation.
However, we strongly advise against going it alone.
Personal injury cases are complex, and every case is different. The insurance company will do everything in its power to pay as little as possible, and the at-fault party will often deny responsibility in order to avoid paying damages.  North Carolina has laws specific to our state such as time periods for filing a claim (Statute of Limitations) and contributory negligence which can be a total bar to recovery.  An experienced attorney knows the law and can help present your case in an effort to win compensation for you.
You may even find yourself up against high-powered attorneys who will do everything they can to represent the Defendant and deny you compensation.
In order to obtain the best possible settlement or judgment, you'll probably want a Durham personal injury lawyer on your side.
What does a personal injury attorney actually do?
Personal injury cases can be complicated, and the legal process can last for weeks, months, or even years.
Your attorney will handle every aspect of your case, including but not limited to:
Investigating the accident scene
Interviewing witnesses and collecting evidence
Helping you find appropriate medical care and helping manage medical bills
Preparing you for recorded statements to the insurance company
Communicating with the police department and insurance investigators
Calculating damages eligible for compensation
Negotiating with the insurer
Filing court documents
Conducting and preparing you for depositions
Communicating with involved government agencies
Participating in mediation or arbitration
Representing you at trial
Negotiating a settlement
and more…
When you hire a Durham personal injury attorney with Riddle & Brantley, you'll get an experienced advocate who knows the Durham area and North Carolina legal system. Our goal is to get you justice and the compensation you need and deserve.
Putting your case in the hands of an experienced injury lawyer will reduce stress and let you focus on what's most important — recovering from your injuries and improving your quality of life.
If you've been injured and need a personal injury attorney committed to justice in Durham and North Carolina, please contact us at 1-800-525-7111 or complete the form below.
Remember, there is no upfront cost and no attorney fee unless we win you financial compensation.
What to look for in an injury lawyer with experience in Durham
Deciding which attorney to hire is an important choice. Here are just a few of the many important questions to consider:
How long has the attorney been practicing law?
Does he or she have experience representing injured parties?
What is the law firm's record of personal injury settlements and judgments?
Is the lawyer experienced practicing in the Durham area? Do they know the applicable local and state laws?
At Riddle & Brantley, we've handled hundreds of injury cases in Durham and surrounding North Carolina. Our Durham personal injury, truck accident, workers' compensation, and wrongful death attorneys know how to navigate the NC legal system and have helped recover millions of dollars in compensation for our clients.
Here are just a few of our recent case results:
Truck Accident | $9.45 million — A family of four was killed after a tractor-trailer rear-ended their vehicle on a North Carolina highway. Hired by the family's loved ones to seek justice, Riddle & Brantley attorneys launched a thorough investigation and ultimately determined that a pavement marking company and two truck drivers were responsible for the accident. Following litigation and ultimate mediation, the insurance companies settled for a combined total of $9,450,000.
Auto Accident / Wrongful Death | $2.25 million — When a company truck crossed the center line and hit our client's vehicle head-on, both drivers were killed instantly. The family turned to Riddle & Brantley for justice. Gene Riddle oversaw all aspects of the investigation, partnering with David Kirby of Edward Kirby law firm in Raleigh. Prior to filing suit, the wrongful death claim was settled through mediation for an award of $2.25 million.
Personal Injury | $700,000 — Two boys crossing a crosswalk near their school were hit by a car that ran a red light, resulting in several fractures, brain injury, and in one case, some paralysis. After personally ensuring that the Defendant was held responsible through criminal prosecution, attorney Gene Riddle took legal action against the school district, alleging that the crosswalk guard negligently failed to direct students in the crosswalk. The school district ultimately settled in mediation, awarding $125,000 to one victim and $575,000 to the other.
Auto Accident | $250,000 — Our client, a vehicle passenger, suffered extensive and serious injuries after being t-boned by another vehicle in an intersection. The driver of the vehicle in which our client was a passenger was determined at-fault, and attorney Gene Riddle negotiated a $250,000 settlement.
*** Disclaimer: The results mentioned are intended to illustrate the type of cases handled by the firm. These results do not guarantee a similar outcome, and they should not be construed to constitute a promise or guarantee of a particular result in any particular case. Every case is different, and the outcome of any case depends upon a variety of factors unique to that case.
 For more on settlements and judgments obtained by Riddle & Brantley lawyers, please view our other case results.
"We'll never stop fighting for accident victims in Durham. Justice Counts is our motto, and we strive to win every case." -Gene Riddle
Of course, our settlements and judgments aren't the only measures of our success. See what some of our clients have to say about working with Riddle & Brantley:
Durham Legal Information
Personal injury cases are filed and tried at the District Court or Superior Court of North Carolina's court system. Many cases are settled without the need for a trial, but we are prepared to go to court if a settlement cannot be reached. The Durham County Courthouse is located at 510 S Dillard St, Durham, NC.
Board-Certified Specialists
Riddle & Brantley attorneys have been representing injury victims in North Carolina including Durham since 1985. Durham is one of the fastest growing cities in North Carolina and a popular place to live. A downtown construction boom and increasing traffic on I-85, I-40 and highways 501 and 147 mean auto and construction accidents are increasingly common.
Our firm has Board-Certified Specialists on staff to assist with workers' compensation and Social Security disability claims and appeals. Attorneys Chris Brantley and Adam Smith are Board-Certified Specialists in Workers' Compensation and attorney Scott Scurfield, who leads our disability team, is a Board-Certified Specialist in Social Security Disability.
Workers' Compensation Information
Workers' compensation hearings are often necessary to get benefits for an injured worker. Workers' comp claims are handled by the North Carolina Industrial Commission. That agency resolves disputes related to an injury on the job, an illness acquired through work (occupational disease), or deaths at work.
Deputy Commissioner Hearings are held in various locations in eastern North Carolina, including Greenville, Williamston, Elizabeth City, Tarboro, Wilson, Benson, New Bern, Fayetteville, Burgaw, and Bolivia. The North Carolina Industrial Commission holds Full Commission Hearings in Raleigh at its offices at 430 N. Salisbury Street, Raleigh, NC 27603.
Social Security Disability Information
If you are seeking benefits through Social Security Disability, our legal team is ready to get to work for you. We can assist with the initial application or help you file an appeal if your SSD application for benefits has been denied. The Social Security Administration Office in Durham is located at 3511 Shannon Road, Suite 200, Durham, NC 27707.
Do you need a Durham personal injury lawyer?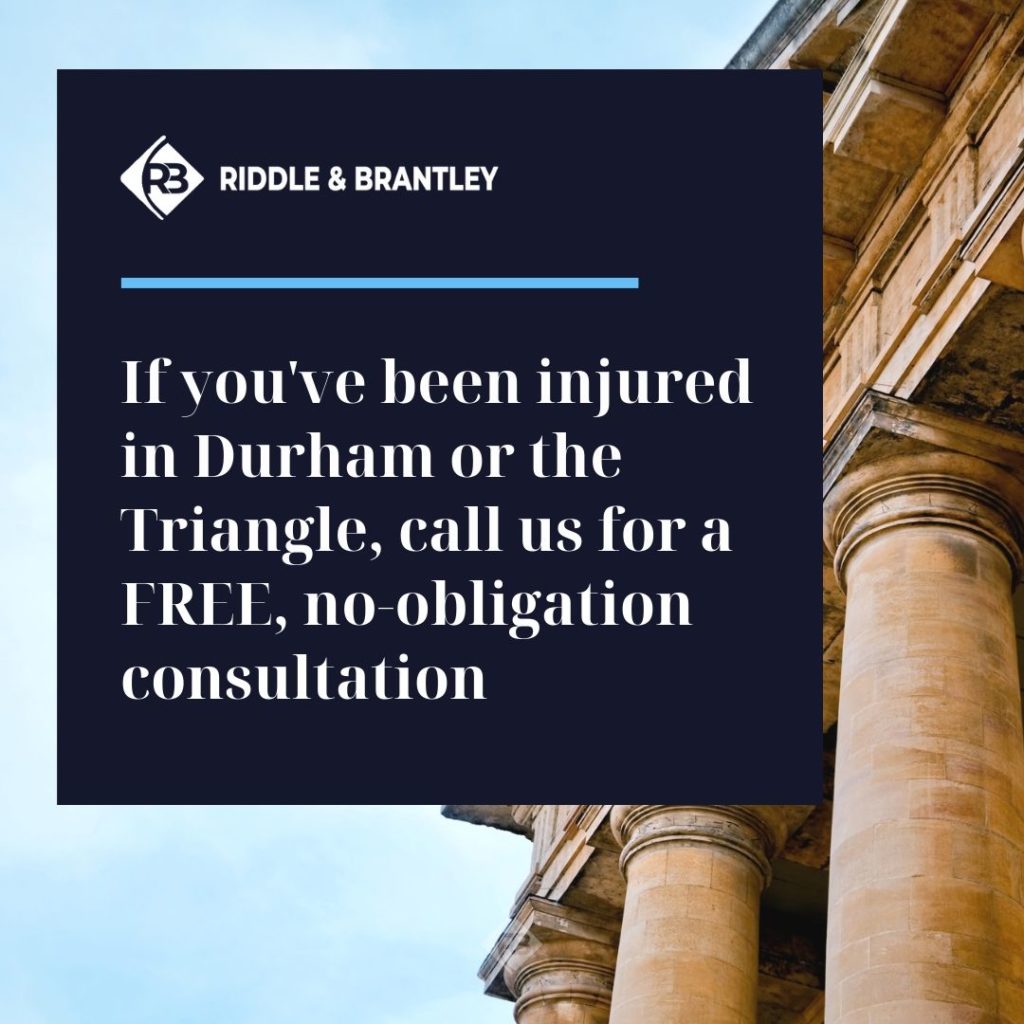 Riddle & Brantley attorneys have served Durham and North Carolina accident victims for decades, and our managing partner, Gene Riddle has practiced personal injury law since 1985. Our 12 attorneys have more than 225 years of collective legal experience.
Fighting for justice for North Carolinians is all we do.
If you've been injured due to the negligence of another person or company, call our firm for a free legal consultation. We'll review your case and determine whether or not there is cause for a personal injury claim or lawsuit. There is no obligation, and there are never any attorney fees unless we win your case and recover financial compensation for you.
Contact Us Today
The Durham personal injury lawyers at Riddle & Brantley stand ready to protect your rights. We genuinely care about each person we represent and are committed to providing the highest level of client services to you. Call us today at 1-800-525-7111 so we can talk to you about your case. We are here to help you seek justice. Call now.
Free consultations are available in our Durham office by appointment only. However, we can come directly to you if it's more convenient, and as always, consultations are available by phone, email, text, or video conference. There is no in-person meeting required to get started on your case.
Justice Counts.