Wilmington Personal Injury Attorneys
Lawyers You Can Trust
Have you been injured in an accident? Was another person (or company) at fault? You may be entitled to compensation in an injury claim or lawsuit, and an experienced personal injury lawyer at Riddle & Brantley may be able to help. Call (910) 889-4064 for a free, no-obligation consultation. The consultation is free and you won't pay any attorney fees unless we win your case and you receive compensation.
Riddle & Brantley Wilmington Office Information
2316 S 17th St, Suite 140
Wilmington, NC 28401
Phone: (910) 889-4064
In-person consultations by appointment only.
Hours of Operation*
Monday – 7:00 AM – 11:00 PM
Tuesday – 7:00 AM – 11:00 PM
Wednesday – 7:00 AM – 11:00 PM
Thursday – 7:00 AM – 11:00 PM
Friday – 7:00 AM – 11:00 PM
Saturday – 8:00 AM – 11:00 PM
Sunday – 8:00 AM – 11:00 PM
*NOTE: Our intake staff is available to answer phone calls and emails during these times, but please note that in-person meetings are only available at our Wilmington office by appointment.
Our injury attorneys handle all types of cases (see list below) and we are ready to assist however we can. In more than 35 years serving Wilmington, NC and eastern North Carolina, we've recovered more than $600 million in total compensation for our valued clients (see disclaimer below). Our attorneys bring more than 220+ years of combined legal experience to our clients' cases and we've helped thousands of injury victims get the justice they deserve.
"Riddle & Brantley found me all the available money from the insurance companies."
-R. Colley, Riddle & Brantley client
Meet Gene Riddle – Helping the Injured for 35+ Years
Injury Lawyers Ready to Fight for You
Wilmington is the eighth-most populous city in North Carolina with over 120,000 residents. The city is bordered by some very busy highways such as I-140, I-40, and US highways 74, 17, 117 and 421, which contribute to auto accidents in the area. The highways in this area are especially busy and dangerous from Memorial Day through Labor Day when thousands visit Wrightsville Beach, Carolina Beach and Kure Beach. 16 people were killed in fatal motor vehicle accidents in one recent year, according to NCDOT crash data.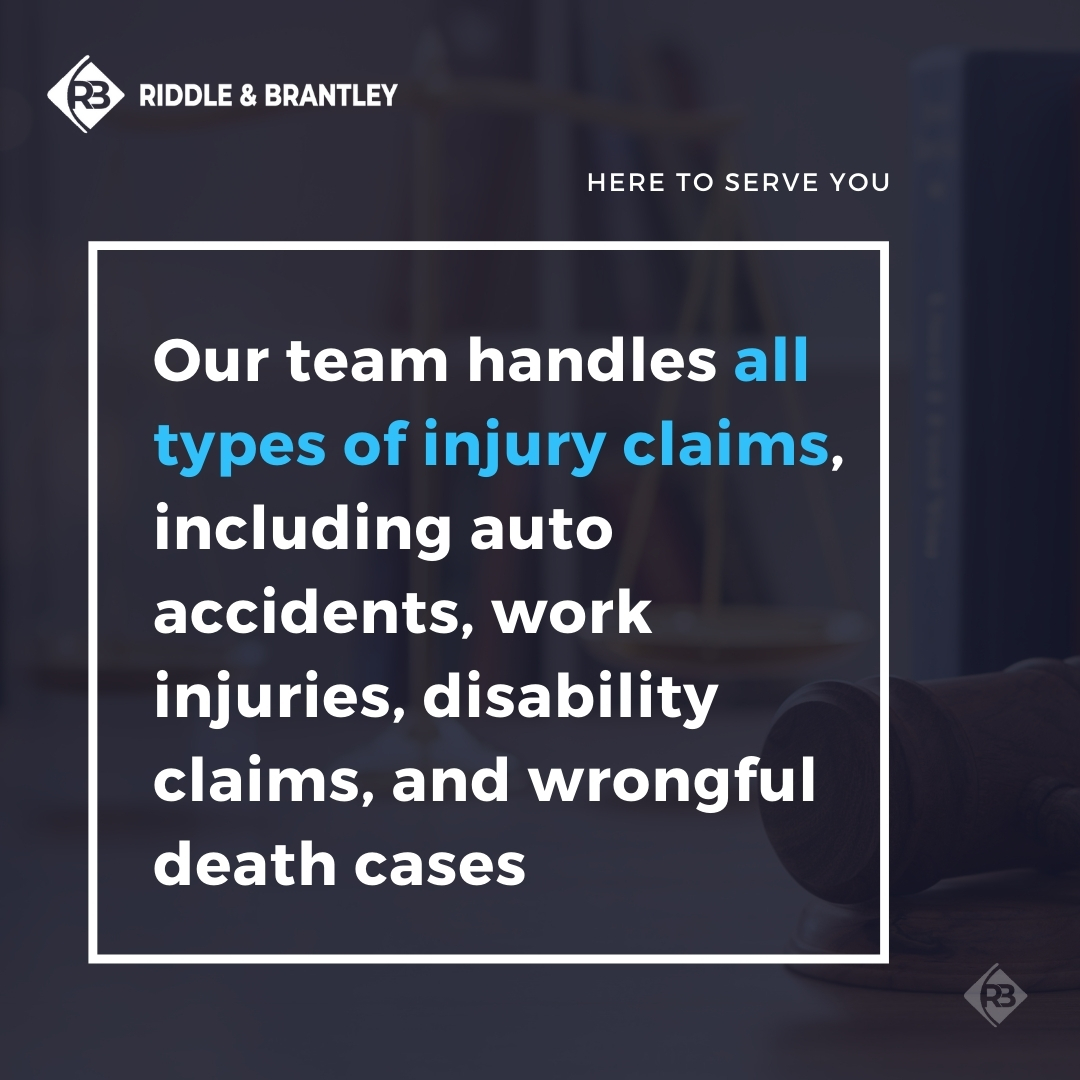 Since 1985, Riddle & Brantley have been serving victims of negligence throughout North Carolina. We know the applicable state and federal laws and will work endlessly and tirelessly to get you the compensation you need and deserve. When you've been injured in an accident due to someone else's negligence, justice counts. If another person or company is responsible for your injury, you may be entitled to compensation, and a lawyer at Riddle & Brantley would love to review your case in a free consultation.
Types of Injury Claims Our Attorneys Handle
Hit and run accidents
Texting and driving accidents
Slip and fall accidents
Dangerous drug injuries
Defective medical device injuries
Dog bites and animal attacks
Sexual assault
Workplace accidents (workers' compensation claims)
Bicycle accidents
Nursing home neglect and abuse
With more than 220+ years of combined legal experience, our attorneys believe Justice Counts for ALL North Carolinians and we are ready to help however we can.
"Do I Have a Case for Compensation?"
If you've suffered an injury due to another's negligence, you may have a personal injury claim, and may be entitled to compensation. These claims require the injured party (or their attorney) to prove four important facts:
Duty — The defendant had a "duty of care" to try to prevent causing injury to the plaintiff
Breach — The defendant "breached" or violated that duty, resulting in injury to the plaintiff
Causation — It was the defendant's negligence (either action or inaction) that resulted in the plaintiff's injury
Damages — The plaintiff was harmed by the defendant's negligence
Contributory Negligence
Personal injury claims in North Carolina face an even higher legal hurdle, however. In order to recover compensation in an injury claim, you must also prove that you did not contribute in any way to the accident. This is called the rule of "contributory negligence." In other words, if a defendant can prove that you (the victim) were even 1% responsible for the accident and resulting injury, you cannot recover compensation in a claim or lawsuit. North Carolina is one of only a handful of states with this law.
Fortunately, an attorney at Riddle & Brantley can help overcome the contributory negligence defense, which is often used by insurance companies and defense counsel to deny liability and avoid paying claims. At Riddle & Brantley, we've successfully defeated countless contributory negligence defenses and are experienced in proving fault. We even have a team of retired law enforcement officers on staff to lead accident investigations, and we will often bring in outside experts to help prove liability.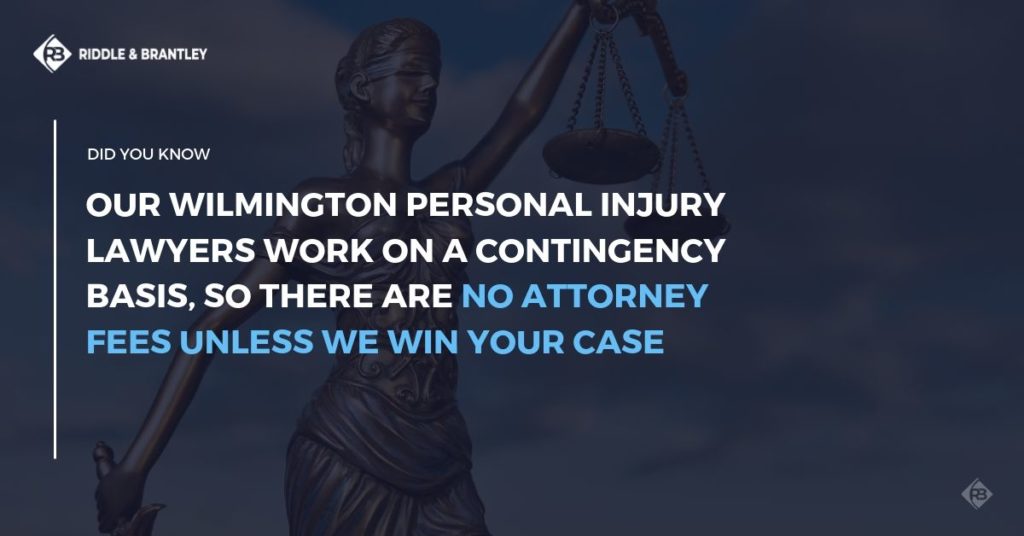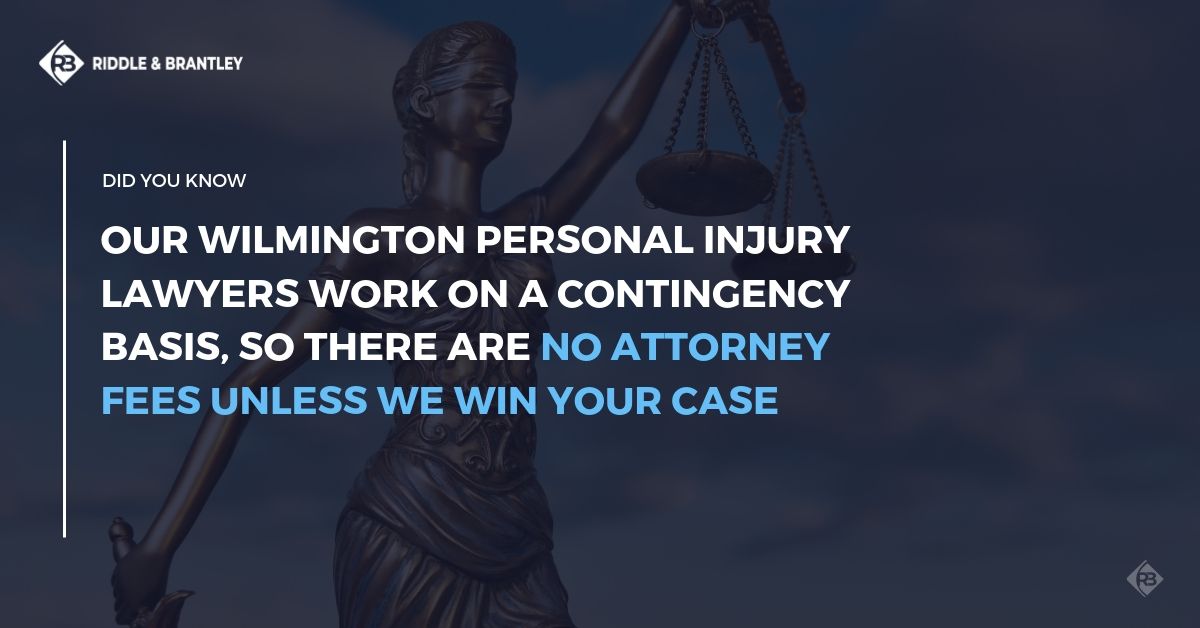 What to Do After an Accident
The first thing to do is call 911 and seek immediate medical attention. Not only is treating your injuries important in order to ensure your health, safety, and well-being, but your medical records will be crucial in documenting injuries suffered in the accident and calculating damages. Keep in mind that some injuries may not be immediately apparent in the minutes, hours, and even days after the accident, and it's important to get diagnostic testing if you think you may have suffered a "delayed onset" injury.
After seeking treatment if necessary (follow the recommendations of medical first responders), follow these instructions in order to protect your legal rights and begin building a potential personal injury claim:
Take photos — take photographs of the entire accident site, paying special attention to the damage and any potential evidence such as debris, skid marks, or road markings. Also, be sure to get photos of your injuries and those of anyone else involved.
Talk with the police — answer the officer's questions honestly and accurately, keeping in mind that anything you say can and will be used against you. After the accident, be sure to obtain a copy of the police report, which is often important in supporting your case. A lawyer at Riddle & Brantley can obtain the accident report or incident report for you in most situations.
Get contact information from those involved — collect names, email addresses, and phone numbers of anyone involved in the accident, including the other driver if you're involved in an auto accident. Be sure to identify and collect contact information from potential witnesses, as well. When talking with the potentially at-fault party, do NOT apologize or admit fault — the facts and circumstances may not be clear in the immediate aftermath of the accident and it's important you talk with a lawyer first.
Do NOT give a recorded statement to the insurance company — We do NOT recommend that you give a recorded statement to the insurance company without first talking with an experienced attorney. In the aftermath of an accident, insurance companies have one priority: paying as little in compensation as possible. Before you provide any statement, consult with your attorney. What you say can and will be used against you.
Complete the necessary paperwork — Some injury claims, especially those involving injuries occurring at work, require you to submit a formal report. In order to file a workers' compensation claim, for instance, you must complete Form 18 and your employer must complete Form 19, submitting both to the NC Industrial Commission (NCIC). If you are worried that your employer may not submit these, you can submit Form 18 directly to the NCIC. In slip fall cases, such as in restaurants or grocery stores, you should request an incident report if possible before you leave, provided you are able to do so.
Contact a lawyer — you're not required to get an attorney following your injury, but if you're considering filing a claim or lawsuit, a lawyer can help manage the entire process, saving you time and stress. Most injury lawyers (including those at Riddle & Brantley) work on a contingency basis, which means there is never any upfront cost, and you won't pay any attorney fees unless you recover financial compensation. Call (910) 889-4064 today for a free consultation.
Results for Our Valued Clients
Since 1985, Riddle & Brantley's lawyers have secured hundreds of millions of dollars in compensation for injured North Carolinians (see disclaimer below). We have the experience to hold at-fault parties and insurance companies accountable, with recent wins including:
$9,450,000 | Truck Accident & Wrongful Death — We represented surviving family members in a heartbreaking case in which a family of four was killed in a terrible tractor-trailer wreck. We investigated the accident, interviewing witnesses, collecting evidence, and even subpoenaing traffic data from Google Maps. We ultimately determined multiple parties were liable in the accident and filed two lawsuits, securing $9.45 million in total compensation in separate settlements.
$2,750,000 | Auto Accident & Workers' Compensation — Our lawyers filed separate injury and workers' comp claims after our client, a construction worker, was hit by a truck in a construction zone, suffering serious injuries including the loss of his right leg below the knee. Although the workers' comp carrier did not contest liability, liability was denied by the truck insurance company so we filed suit, securing $2.75 million in separate settlements with both the truck insurer and the workers' comp carriers.
$880,000 | Personal Injury — We fought for justice for a plaintiff who suffered a spinal cord injury after he was shot by the defendant when a firearm was accidentally discharged. The claim was initially denied so our attorneys filed a lawsuit, ultimately securing $880,000 when the case settled prior to trial.
$1,250,000 | Truck Accident — Our client suffered serious injuries in a three-car collision involving a truck. She spent 10 days in the hospital and three weeks in a rehabilitation facility. Attorneys Gene Riddle and Adam Smith obtained settlements with three insurance companies totaling $1.25 million, including a Medicare Set Aside fund in order to protect our client's future benefits.
$2,750,000 | Car Accident — Attorney Donald Dunn won a $2.75 million award in arbitration on behalf of a client who was injured in a major auto accident. The arbitration award was immediately followed by a separate $1 million declaratory judgment against the insurance company.
Legal Information
Injury cases are filed and tried at the District Court or Superior Court of North Carolina's court system. Many cases are settled without the need for a trial, but we are prepared to go to court if a settlement cannot be reached. The New Hanover County Courthouse (pictured below) is located at 316 Princess St, Wilmington, NC.
Workers' Compensation Information
Our lawyers can also assist with work injury claims. Riddle & Brantley's work injury team is led by two Board-Certified Specialists in Workers' Compensation, attorneys Chris Brantley and Adam Smith. These attorneys have been recognized for their experience and expertise in handling work injury claims.
Workers' compensation hearings are often necessary to get benefits for an injured worker. Workers' comp claims are handled by the North Carolina Industrial Commission. That agency resolves disputes related to an injury on the job, an illness acquired through work (occupational disease), or deaths at work.
Deputy Commissioner Hearings are held in various locations in eastern North Carolina, including Greenville, Williamston, Elizabeth City, Tarboro, Wilson, Benson, New Bern, Fayetteville, Burgaw, and Bolivia. The North Carolina Industrial Commission holds Full Commission Hearings in Raleigh at its offices at 430 N. Salisbury Street, Raleigh, NC 27603.
Social Security Disability Information
If you are seeking benefits through Social Security Disability, our lawyers can assist with those claims, as well. We can help you file an appeal if your SSD application for benefits has been denied. The Social Security Administration Office is located at 1528 S 16th St, Wilmington, NC 28401.
Call Our Offices Today
The team at Riddle & Brantley stands ready to protect your rights. We genuinely care about each person we represent and are committed to providing the highest level of client service. Call us today at (910) 889-4064 so we can talk with you about your case. We would love to help however they can.
In-person consultations are available in our office by appointment only; however, free consultations are always available from anywhere by phone, email, text or video conference. There is no in-person meeting required to get started on your case. Call (910) 889-4064 today for a FREE, no-obligation consultation. You can also complete the convenient form below if you prefer.
Don't wait — the longer you wait to contact a lawyer at Riddle & Brantley, the harder it may be to win your case and recover the compensation you need and deserve.
"I would not have won my case without the help from my team at Riddle & Brantley."
–John S., Riddle & Brantley client
---
*** Disclaimer: The results mentioned are intended to illustrate the type of cases handled by the firm. These results do not guarantee a similar outcome, and they should not be construed to constitute a promise or guarantee of a particular result in any particular case. Every case is different, and the outcome of any case depends upon a variety of factors unique to that case.
*** Disclaimer: An attorney must meet certain requirements to join these organizations or receive these awards. For more information on Membership Criteria for Million Dollar Advocates Forum, Multi-Million Dollar Advocates Forum, Super Lawyers, The National Trial Lawyers Top 100, The National Trial Lawyers Top 40 Under 40, The National Association of Distinguished Counsel, AV Preeminent by Martindale-Hubbell, the Litigator Award, and other memberships, awards, and accolades, please visit our Membership Criteria page. These awards and memberships should not be construed as a promise or guarantee of a similar result. Each case is different and must be evaluated separately.