Kinston Personal Injury Lawyers
Experienced and Trusted Personal Injury Lawyers
Have you been injured due to someone else's negligence? An attorney at Riddle & Brantley may be able to help you get justice and recover compensation. You don't have to go through this alone. A personal injury claim can be complicated, stressful, and time-consuming, and we would love to help however we can. Call (252) 397-8624 today and let's review your claim for free. There is no obligation, and there are no upfront costs or attorney fees unless we win your case and you receive compensation.
Our Office
807 North Queen Street
Kinston, NC 28501
By Appointment Only
Phone: (252) 397-8624
Hours of Operation*
Monday – 7:00 AM – 11:00 PM
Tuesday – 7:00 AM – 11:00 PM
Wednesday – 7:00 AM – 11:00 PM
Thursday – 7:00 AM – 11:00 PM
Friday – 7:00 AM – 11:00 PM
Saturday – 8:00 AM – 11:00 PM
Sunday – 8:00 AM – 11:00 PM
*NOTE: Our intake staff is available to answer phone calls and emails during these times, but please note that in-person meetings are only available at our Kinston office by appointment.
"Every time I've needed them, they were there for me."
–Tyronnie T., Riddle & Brantley client
We're proud of both our client service and our results. We invite you to review our client testimonials as well as our record of settlements and verdicts, including many accident cases. Since 2000 alone, the lawyers at Riddle & Brantley have recovered more than $600 million in total compensation (see disclaimer below).
Injury Lawyers Fighting for You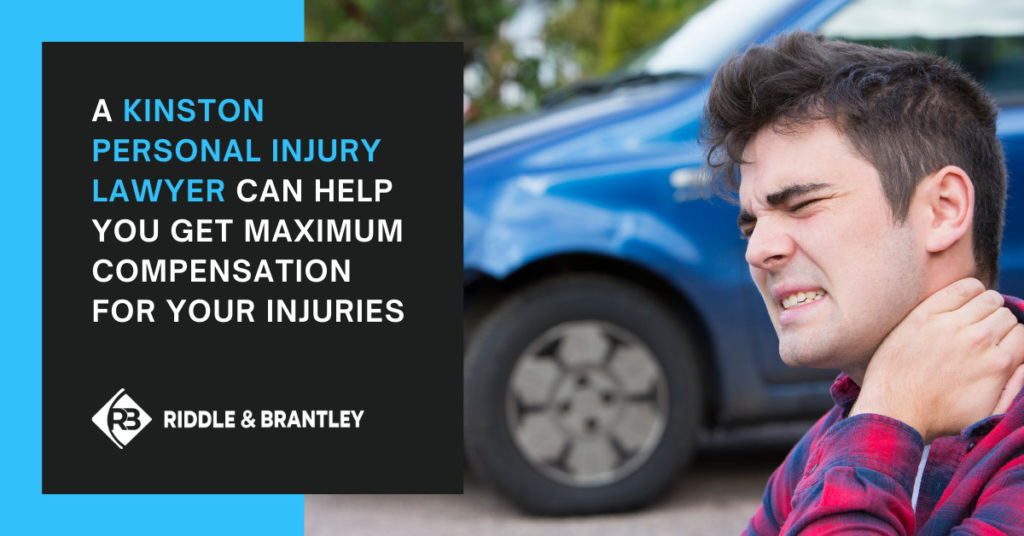 The attorneys at Riddle & Brantley have over 220+ years of combined legal experience fighting for justice for victims of accidents that were not their fault. We have been able to recover millions of dollars for our clients so that they have the means to fully move on from the incidents, including compensation for medical bills, lost wages, and even pain and emotional suffering.
The attorneys at our Kinston office handle a wide range of personal injury lawsuits and claims (see list below) and have the resources needed to take cases to trial if necessary to ensure our clients receive the compensation they truly deserve. If you or a loved one have sustained an injury due to the negligence of another, contact our lawyers at (252) 397-8624 for a free case evaluation. Our legal team even responds to calls and emails after hours and on weekends, and we're ready to serve you.
"What is the Statute of Limitations for Injury Claims?"
In order to pursue compensation in an accident injury case, you must file your claim or lawsuit within the North Carolina Statute of Limitations. If you miss this important deadline, you may be unable to recover compensation for your injuries. There are some exceptions, but in most cases, your personal injury claim or lawsuit must be filed:
Within 3 years of the date of injury in an injury claim
Within 2 years of the date of death in a wrongful death claim
"Do I Have a Personal Injury Case?"
When our firm takes your case, not only are we showing that you have been injured but our attorneys must also establish, through credible and relevant evidence, that the other party is responsible or legally liable for your injuries. As a result, we put a lot of work into investigating the circumstances of your injury.
Most personal injury cases are filed under the theory of negligence, meaning that there was a failure to exercise reasonable care to protect another from harm. In order to recover proper compensation, your attorney must provide a clear picture of failure on someone else's part to act reasonably when it comes to being careful and cautious.
For example, did a tire manufacturer act with the amount of care needed when producing a tire for an automobile? If they were negligent in any phase of the product's development, and the driver of a car suffered an injury after a blowout, an attorney could help prove that the driver was owed damages for their losses in a product liability suit. If someone crossing the street is hit by a vehicle and injured, your attorney would work to prove that the driver of the vehicle was negligent while driving.
Contributory Negligence in North Carolina
North Carolina is a difficult state for pursuing personal injury claims. That's because state law operates under the doctrine of "contributory negligence," which means that a defendant must be 100% responsible for an accident in order for the plaintiff to recover compensation. In other words, if you are found to be even 1% responsible for the accident that caused your injury, you can be barred from recovery. Fortunately, the attorneys at Riddle & Brantley have experience overcoming the contributory negligence defense, which is often used by insurance companies and at-fault parties to deny liability and avoid paying claims. If the other party is claiming that you contributed to your accident and you are therefore not entitled to compensation, call our attorneys at (252) 397-8624 and let's review your injury case.
Injury Cases We Handle
The lawyers at Riddle & Brantley handle all types of accident claims and lawsuits. Every case is different, and we have an entire team of attorneys, investigators, case managers, and paralegals all dedicated to helping our clients build the strongest possible claims. In more than 35 years serving clients in Kinston and across North Carolina, we've handled cases involving:
Tractor-trailer accidents
Pedestrian accidents
Scooter accidents
Uber and Lyft accidents
Slip and fall accidents
Sexual assault
Defective medical device claims
Mesothelioma and asbestos exposure claims
Our Results
In nearly four decades serving the people of North Carolina, our lawyers have recovered many five, six, and even seven-figure settlements and judgments on behalf of our deserving clients (see disclaimer below). We invite you to review our record of results for our clients, including:
$9,450,000 | Truck Accident — A family of four was tragically killed in a terrible tractor-trailer accident on a busy NC highway. Riddle & Brantley attorneys investigated the case and proved liability, even subpoenaing traffic data from Google Maps and bringing in an accident reconstructionist. We file multiple lawsuits and ultimately secured $9.45 million in total compensation in separate settlements prior to trial.
$3,650,000 | Car Accident — Our client suffered catastrophic injuries in a rear-end accident and ultimately passed away as a result several months later. We filed multiple lawsuits against the other driver and a construction company and ultimately secured $3.65 million in compensation for surviving family members prior to trial.
$2,475,000 | Workplace Accident — Our client was a welder who suffered a debilitating brain injury after falling from a platform while on the job. We filed a workers' compensation claim on his behalf and secured a $2.475 million settlement with the insurance carrier. Attorneys Gene Riddle and Chris Brantley also helped set up a guardianship and two trusts to ensure long-term care for our valued client.
$1,900,000 | Pedestrian Accident — Attorneys Gene Riddle and the late Gene Jenkins fought for justice for a woman who was hit by a cement truck while crossing a parking lot on foot. She suffered extensive injuries. We brought in an accident reconstructionist to investigate the circumstances and prove liability, after which we filed a lawsuit that settled out of court for $1.9 million in total compensation for our client.
$1,000,000 | Dog Bite — After an elderly woman was attacked by three dogs in her yard, our attorneys fought for justice. Although the defendant was found to have no assets, we were nonetheless pleased to help our deserving client get justice, securing a $1 million judgment in Wayne County Superior Court.
Our Involvement with the Kinston Community
Many of our attorneys and staff have close personal ties to the Kinston area, and we're proud to serve clients there and across North Carolina. Riddle & Brantley also loves to support local organizations and causes however we can.
Military families: Eastern North Carolina is home to several military bases and we play a part in helping military families located in the area. We have served as a sponsor of the Wounded Warrior Project near Fort Bragg.
Pro bono work: We have participated in the Call4All Program of the North Carolina Bar Association, which allows private attorneys to provide pro bono services to low income persons in North Carolina. Advice is offeredin several areas of law, including private landlord/tenant, public and subsidized housing, Medicaid, disability and non-disability issues in Social Security matters, consumer collections, employee rights, custody, guardianship, and simple estates.
Business groups: We have an A+ rating as a member of the Eastern North Carolina Better Business Bureau, and we have been an accredited business since 2002. Our association with the Better Business Bureau shows our commitment to making sure every client is satisfied with the services we provide.
Legal Information
Personal injury claims are filed and then litigated in District Court or Superior Court of North Carolina's court system, and the court of jurisdiction will be determined by the type of case, the value of the claim and other factors. The courthouse for Lenoir County is located at 130 S Queen St., Kinston, NC 28501.
Workers' Compensation Claims
In addition to handling personal injury claims, our attorneys also routinely represent clients in workers' comp claims. Our team is led by two Board-Certified Specialists in Workers' Compensation, attorneys Chris Brantley and Adam Smith. Injured workers are due benefits through workers' compensation for job-related injuries, illnesses, conditions, or loss of life. These cases often involve a Deputy Commissioner Hearing, which will take place in various locations around the state, based upon where you worked. The hearing may take place in Raleigh, Greenville, Williamston, Elizabeth City, Tarboro, Wilson, Benson, New Bern, Fayetteville, Burgaw, Bolivia, or elsewhere. The North Carolina Industrial Commission holds hearings in Raleigh at its offices at 430 N. Salisbury Street, Raleigh, NC 27603.
Social Security Disability Appeals
The lawyers at Riddle & Brantley can also handle your appeal for Social Security disability. If you or a loved one is struggling to receive Social Security Disability benefits, our attorneys can help you exercise your rights and explore your legal options. The local Social Security Office is at the following address: 2559 North Queen Street, Kinston, NC 28501
200+ Years of Experience Fighting for Injury Victims
Our accident injury attorneys have over 220+ years of shared experience and we have successfully represented thousands of injured parties, recovering hundreds of millions of dollars in total compensation for our deserving victims (see disclaimer below). Talk to us today by calling (252) 397-8624. Let us help you with your legal situation however we can from our offices in Kinston.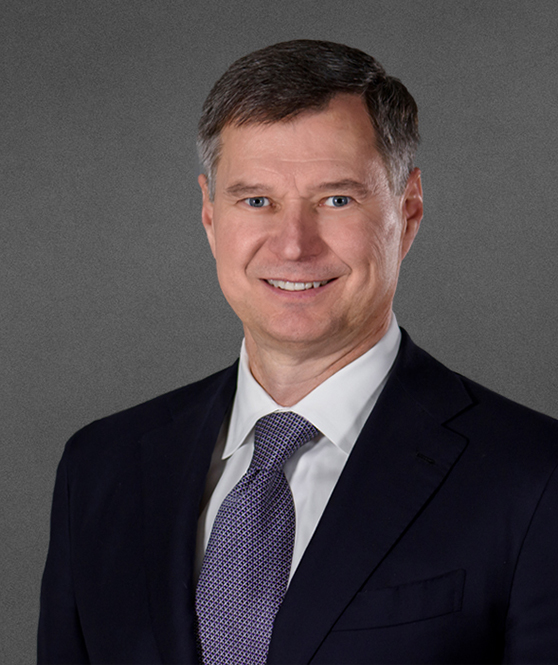 Gene A. Riddle, founder of Riddle & Brantley, is known as an aggressive advocate for clients in cases involving auto accidents, personal injury, workers' compensation, or wrongful death. His track record of successful results for clients previously earned the prestigious Litigator Award. Mr. Riddle also earned membership into the Million Dollar Advocates Forum®, and the Multi-Million Dollar Advocates Forum®. These groups are open to personal injury lawyers who have achieved multiple settlements and verdicts valued at $1 million or more. He also has the highest possible rating from Martindale-Hubbell, AV Preeminent (see disclaimer below).
Attorney Molly M. Schertzinger is a valued member of the legal team serving at our Kinston office and focuses on auto accidents and premises liability matters, including dog bites and slip and fall accidents. Born in Kinston, North Carolina, Molly was raised on her parents' horse farm. She developed a love for animals as well as a desire to help people while growing up. After she graduated from North Lenoir High School, she went on to receive her Bachelor of the Arts from Queens University in Charlotte, North Carolina. Attorney Schertzinger was awarded the Super Lawyers "Rising Star" designation in 2022 (see disclaimer below).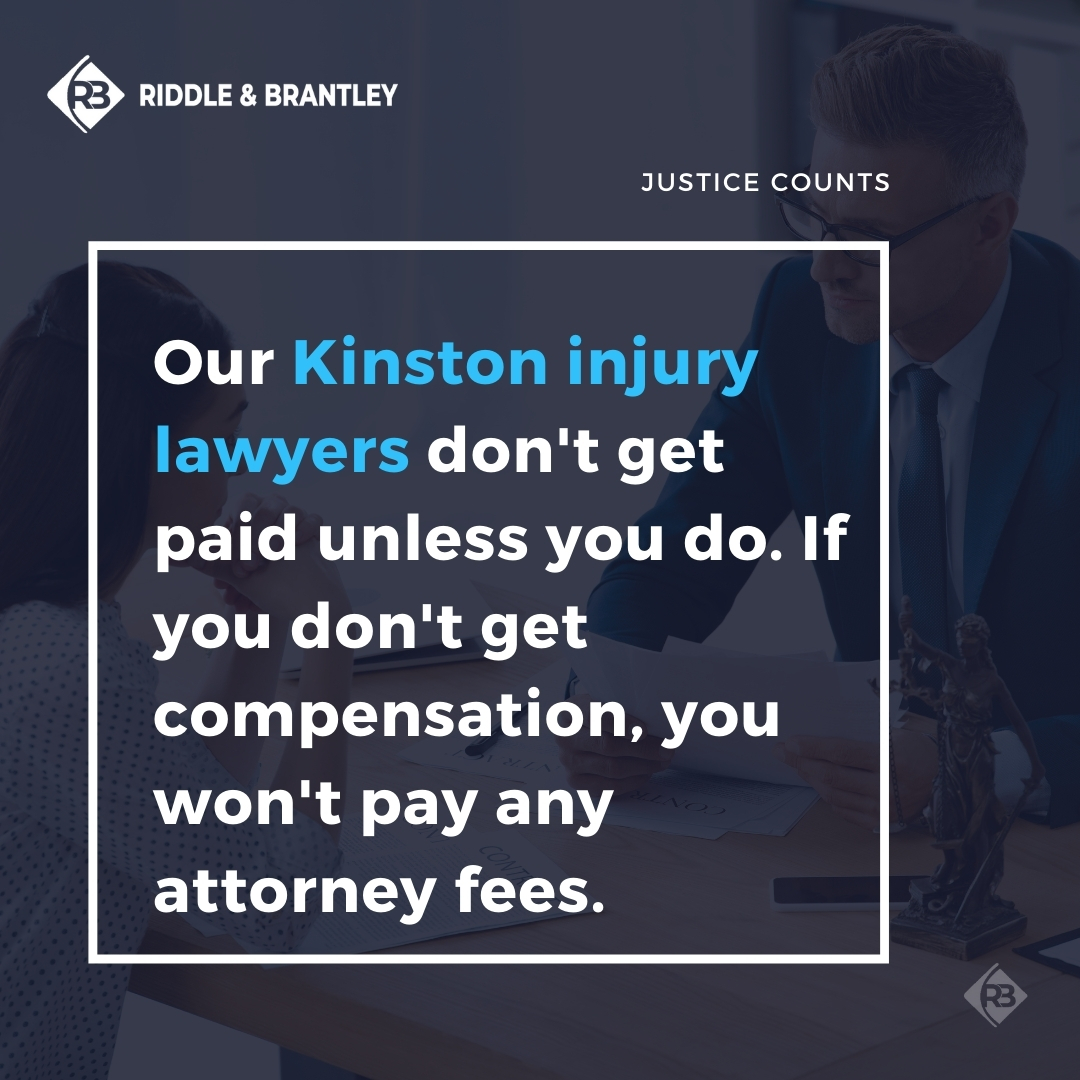 Speak with an Attorney for Free
When you're injured due to the negligence of another, an injury lawyer at Riddle & Brantley may be able to help. You don't have to do this alone. We are available to provide a free, no-obligation consultation where we'll advise you on your legal options for seeking compensation for your injuries. Free consultations are available by calling (252) 397-8624 and can be arranged by phone, email, text and even video conference. There is no in-person meeting required, but we can also come directly to you if it's more convenient. Please note that in-person meetings are available by appointment only in our Kinston office.
There are no upfront costs and no attorney fees unless we win your case and you receive compensation. Please call (252) 397-8624 or complete the fast and easy form below and let's talk.
Justice Counts for those injured due to others' negligence and we are ready to help however we can.
---
*** Disclaimer: The results mentioned are intended to illustrate the type of cases handled by the firm. These results do not guarantee a similar outcome, and they should not be construed to constitute a promise or guarantee of a particular result in any particular case. Every case is different, and the outcome of any case depends upon a variety of factors unique to that case.
*** Disclaimer: An attorney must meet certain requirements to join these organizations or receive these awards. For more information on Membership Criteria for Million Dollar Advocates Forum, Multi-Million Dollar Advocates Forum, Super Lawyers, The National Trial Lawyers Top 100, The National Trial Lawyers Top 40 Under 40, The National Association of Distinguished Counsel, AV Preeminent by Martindale-Hubbell, the Litigator Award, and other memberships, awards, and accolades, please visit our Membership Criteria page. These awards and memberships should not be construed as a promise or guarantee of a similar result. Each case is different and must be evaluated separately.