Greensboro Personal Injury Lawyer
Experienced and Trusted Greensboro Personal Injury Lawyers
RIDDLE & BRANTLEY
717 Green Valley Road, Suite 200
Greensboro, NC 27408
Phone: (800)525-7111
By Appointment Only.
HOURS OF OPERATION
Monday – 7:00 AM – 11:00 PM
Tuesday – 7:00 AM – 11:00 PM
Wednesday – 7:00 AM – 11:00 PM
Thursday – 7:00 AM – 11:00 PM
Friday – 7:00 AM – 11:00 PM
Saturday – 8:00 AM – 11:00 PM
Sunday – 8:00 AM – 11:00 PM
Guilford County Courthouse
201 South Eugene St
Greensboro, NC 27401
Map & Directions
A commitment to personal injury victims in Greensboro and all of North Carolina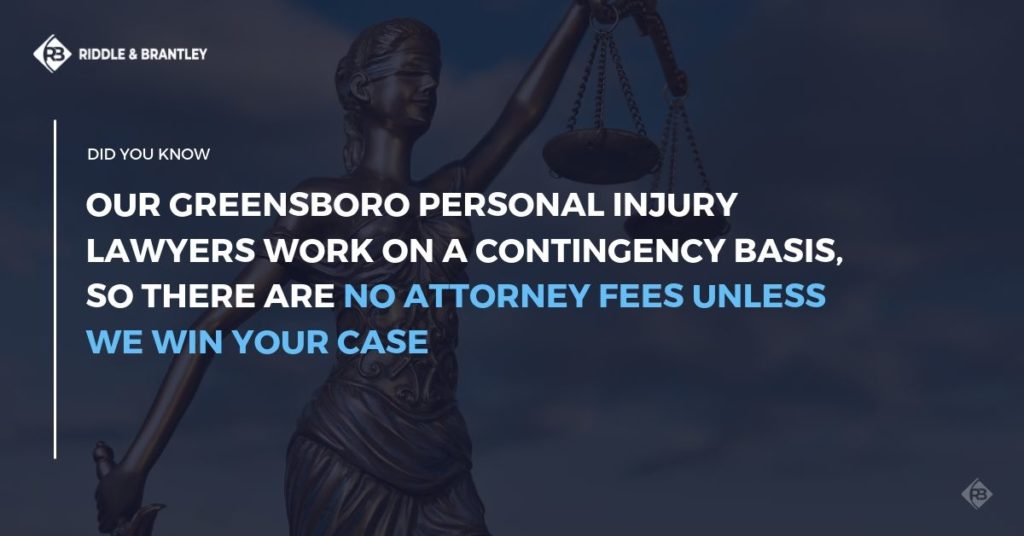 Greensboro is the third largest city in North Carolina and the metro area is home to about 736,000 residents. It is home to the University of North Carolina at Greensboro, the Greensboro Science Center and the PGA Wyndham Championship.  I-40, I-85 and I-73 produce daily traffic backups and accidents.  Riddle & Brantley has served the area since 1996. Our founding partner, Gene Riddle, has been practicing personal injury law since 1985, and our attorneys together bring more than 225 years of legal experience.
If you've suffered an injury due to the negligence of someone else, retaining a Greensboro personal injury lawyer can put you on the path to physical, emotional, and financial recovery. North Carolina law firm Riddle & Brantley offers much more than just legal services. Our Greensboro personal injury attorneys go above and beyond for our clients and their families, from providing hospital recommendations to dealing with expensive medical bills. Contact us today for your free consultation. There is no obligation, and you don't pay any attorney fees unless we win your case.
Many of our attorneys and staff have close personal ties to Greensboro. Attorney Gene Riddle attended law school at Wake Forest University in nearby Winston-Salem and graduated in 1985.
How Our Greensboro Personal Injury Attorneys Can Help
Our Greensboro personal injury lawyers have more than 225 years of combined experience representing personal injury victims in North Carolina. We've recovered millions of dollars in settlements and verdict awards for our clients (see disclaimer below). Our lawyers, case managers, paralegals, and investigators genuinely care about the Greensboro-area families we help and can guide them through the legal process from beginning to end. Everyone deserves justice, and we're committed to getting the compensation our clients deserve.
What you can expect from our Greensboro personal injury lawyers:
Free Consultation: No obligation or cost to you. No win, no fee!
Bilingual staff: Te podemos ayudar con abogados que hablen español.
Collectively, our attorneys have more than 225 years of combined experience.
Millions of dollars won for our clients (see disclaimer below)
Variety of practice areas and locations: no matter where you are in North Carolina, we have the tools to help and several locations you can visit. We'll even come directly to you if it's more convenient, and no in-person visit is required.
What to do if you've been injured
If you've been injured and believe another person or company's negligence is responsible, there are a few important steps to take in order to protect your legal rights.
***IMPORTANT: Before completing any of the steps below, be sure to call 911 and seek medical attention for any injuries. Not only is this best for your health and well-being, but a doctor's report and medical records will be critical to your personal injury claim.
Exchange contact information — if you've been injured in an accident, exchange contact information with all other parties involved, including any witnesses.
Talk with the police and get a police report — in most cases, such as with car, truck or motorcycle accidents, a police report is critical to filing a successful personal injury claim or lawsuit.
Do NOT give a statement to an insurance company — insurance companies are interested in paying as little compensation as possible. You should only talk with an insurance company after consulting with a personal injury lawyer.
If injured at work, complete the necessary forms — to file a worker's compensation claim, you must fill out Form 18. Your employer should complete Form 19 and submit to the North Carolina Industrial Commission (NCIC). If you are concerned your employer will not submit these forms, you may submit Form 18 directly to the NCIC.
Contact a personal injury attorney — a personal injury lawyer can help determine whether or not you have a legal case and advise you on how to navigate the entire process.
How Much is My Case Worth?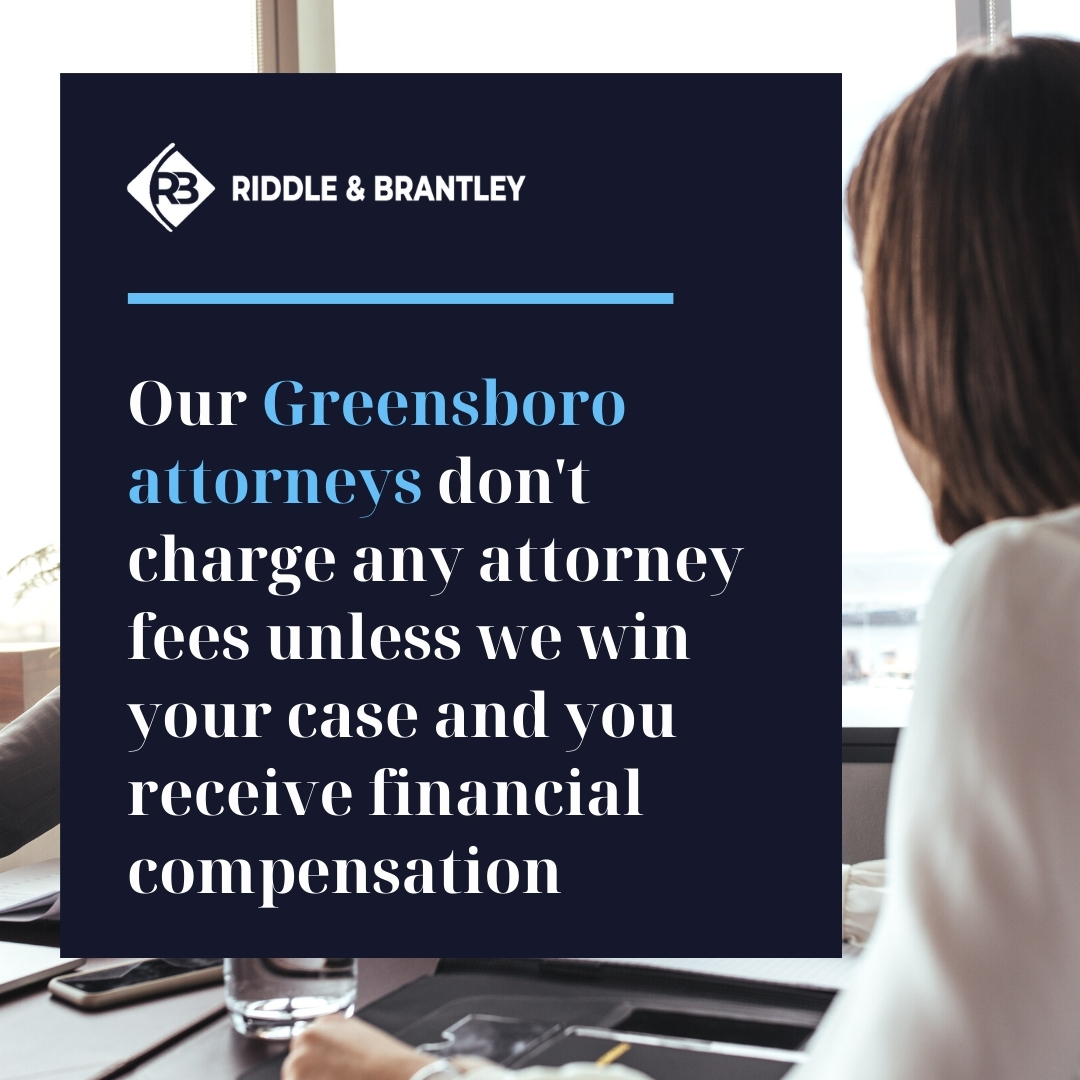 The objective of a personal injury case is to obtain monetary damages through a judgment or settlement. In personal injury law, "damages" is the amount of money that reasonably equates to your physical, mental, or monetary suffering. There are two types of damages that are common to personal injury cases and will help you calculate your case's worth:
What Are Compensatory Damages?
Compensatory damages are intended to replace the financial loss resulting from your injury. It's easy to calculate compensatory damages based on hospital bills, medical treatment, and missed work, but far more difficult to place a value on how your quality of life has changed, or the physical and mental suffering you've endured.
Common types of compensatory damages include:
Pain and Suffering — The physical pain and suffering that you've endured can be difficult to measure, but one of our experienced Greensboro attorneys will review your medical expenses to help determine a monetary value.
Emotional Distress — This is the mental anguish resulting from the injury. Symptoms of emotional distress are varied, and include fear, anxiety, sorrow, shock, confusion, and insomnia.
Income — A serious injury can prevent you from working, which results in loss of income. You may also be awarded damages due to a "loss of earning capacity" — your inability to earn future income because of the injury.
Medical Treatment — In most personal injury cases, you will receive monetary damages for medical treatment you receive in the past and future.
Property Damage — Many times personal property is damaged or destroyed in the accident. Our personal injury attorneys will help appraise items like vehicles, items within the vehicle, and clothing, to help you receive compensation.
Loss of Enjoyment — Serious accidents can change your life in an instant, and victims are often entitled to compensation for their diminished quality of life. This includes the inability to participate in previously enjoyed activities and experiences.
Loss of Consortium — In North Carolina, these damages refer to the effect an accident has had on your relationship with your husband or wife, such as a loss of companionship, or inability to engage in sexual intimacy. In some North Carolina jurisdictions, the injury's impact on a parent-child relationship may also be considered.
What Are Punitive Damages?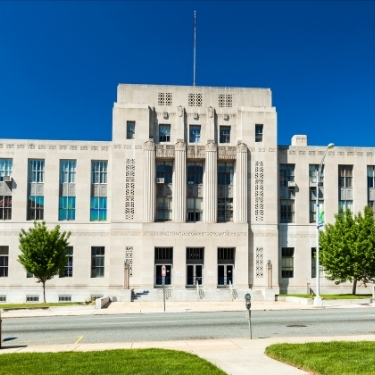 Punitive damages are similar to fines, and are intended to punish the defendant. If a defendant's actions are determined to have been malicious or excessively irresponsible, you may be awarded punitive damages. In North Carolina, including Greensboro, punitive damages are limited to three times the amount given for compensatory damages or $250,000, whichever is greater.
Our Greensboro personal injury lawyers can help determine your best available legal options for pursuing maximum compensation for your injury claim.
What is negligence in personal injury cases?
If a person acts in a careless manner that causes an injury to another person (even if unintentional), it is called negligence. This concept is the basis of most personal injury claims.
In order to demonstrate negligence in a personal injury case, four elements must be proved:
Duty of Care — The defendant had a legal responsibility to avoid acts or mitigate conditions that could result in injury.
Breach — The defendant did not take preventative measures to avoid injuring another person.
Cause — The defendant's failure to act resulted in the injury.
Harm — The injury resulted in financial loss for the plaintiff.
How is pain and suffering calculated in seeking damages?
Assigning a monetary value to pain and suffering can be difficult. It is typically done using one of two methods. In the first method, the amount of actual damages (such as loss of income and medical treatment costs) is multiplied by a number between 1 and 5, depending on the severity of the injury. In the second method, personal injury attorneys use a per diem approach, in which a monetary amount is assigned to every day since the accident until you have recovered.
Why Consider a Personal Injury Claim in North Carolina?
The civil justice system in Greensboro, North Carolina allows victims of negligence to seek damages from at-fault individual(s) or other entities. This means that if someone negligently, carelessly, or intentionally caused you or a loved one injury or death, you may be entitled to financial compensation. Our Greensboro personal injury lawyers can help at every step of the way.
Types of damages and expenses considered in personal injury cases:
Past and future medical bills
Lost wages and capacity to earn
Property damage repairs and/or replacement
Physical pain and emotional suffering
Permanent injuries and scarring
Funeral and burial expenses
If you've suffered physical, mental, or financial hardship as a result of an accident, contact a personal injury lawyer at Riddle & Brantley today. Our Greensboro personal injury lawyers are experienced at handling many types of cases and may determine that another person or company is responsible for paying your damages. Contact us for a free case review. There is no fee unless we win your case.
"Do You Have Experience With My Type of Accident?"
The passionate team of attorneys at Riddle & Brantley has extensive experience helping Greensboro clients, and we review every case at no cost or obligation. With a free case review, you'll learn more about your legal situation and discover whether you have a personal injury claim in Greensboro. Our Greensboro injury lawyers have represented thousands of clients involved in the following types of accidents:
Tractor-trailer accidents
Scooter accidents
Uber and Lyft accidents
Slip and fall accidents
Sexual assault
Product liability cases
Dangerous drug cases
Defective medical device claims
Mesothelioma and asbestos exposure claims
Nursing home neglect and abuse
Workplace accidents (workers' compensation)
Your Riddle & Brantley attorney and legal team will work tirelessly to get you the compensation you need and deserve. Compensation in a personal injury case can help pay for medical bills, lost wages, permanent injury, and other expenses.
We also represent clients in mass tort cases, including Roundup cancer lawsuits, 3M earplug lawsuits, and Johnson & Johnson talcum powder / baby powder lawsuits.
You Deserve Justice – Call Riddle & Brantley at No Cost to You
If you or a loved one has suffered a serious injury, you may be entitled to financial compensation. In the state of North Carolina, you have three years from the date of your accident to file a personal injury claim. Contact our personal injury attorneys at 1-800-525-7111 or request your free legal consultation in Greensboro, North Carolina.
Free consultations are available in our Greensboro office by appointment only, however, there is no in-person meeting required to get started on your case. For a FREE, no-obligation consultation by phone, email, text or video conference, call 1-800-525-7111 or visit us online today.
Case results
Auto Accident | $2.25 million — In 2016, attorney Gene Riddle directed a comprehensive investigation that found the driver of a speeding truck responsible for the wrongful death of the mother of two sons. Gene led negotiations through mediation, obtaining a settlement of $2.25 million for the deceased's family.
Workers Compensation | $829,000 — Attorney Christopher Brantley represented a utility worker who was injured by a falling tree while on the job. Facing significant, lifetime expenses for handicapped housing, transportation, medical care and more, the plaintiff was awarded compensation after extensive investigation, calculation, and negotiation.
Personal Injury | $790,000 — In 2015, attorney Gene Riddle filed suit against the operator of a truck lift, alleging that in pressing the wrong button, the operator's negligence resulted in the Plaintiff's injury sustained when thrown from the lift. The claim was settled through litigation prior to trial, resulting in a settlement of $790,000.
For more information on the judgments and settlements won for our clients by Riddle & Brantley attorneys, please visit our case results page.
Settlements and judgments won by our injury lawyers are just one measure of our success, however. See what Solomon D. has to say about his experience with Riddle & Brantley:
"It is our passion for justice that drives our pursuit to help our clients." – Gene Riddle
Are you looking for a Greensboro personal injury lawyer?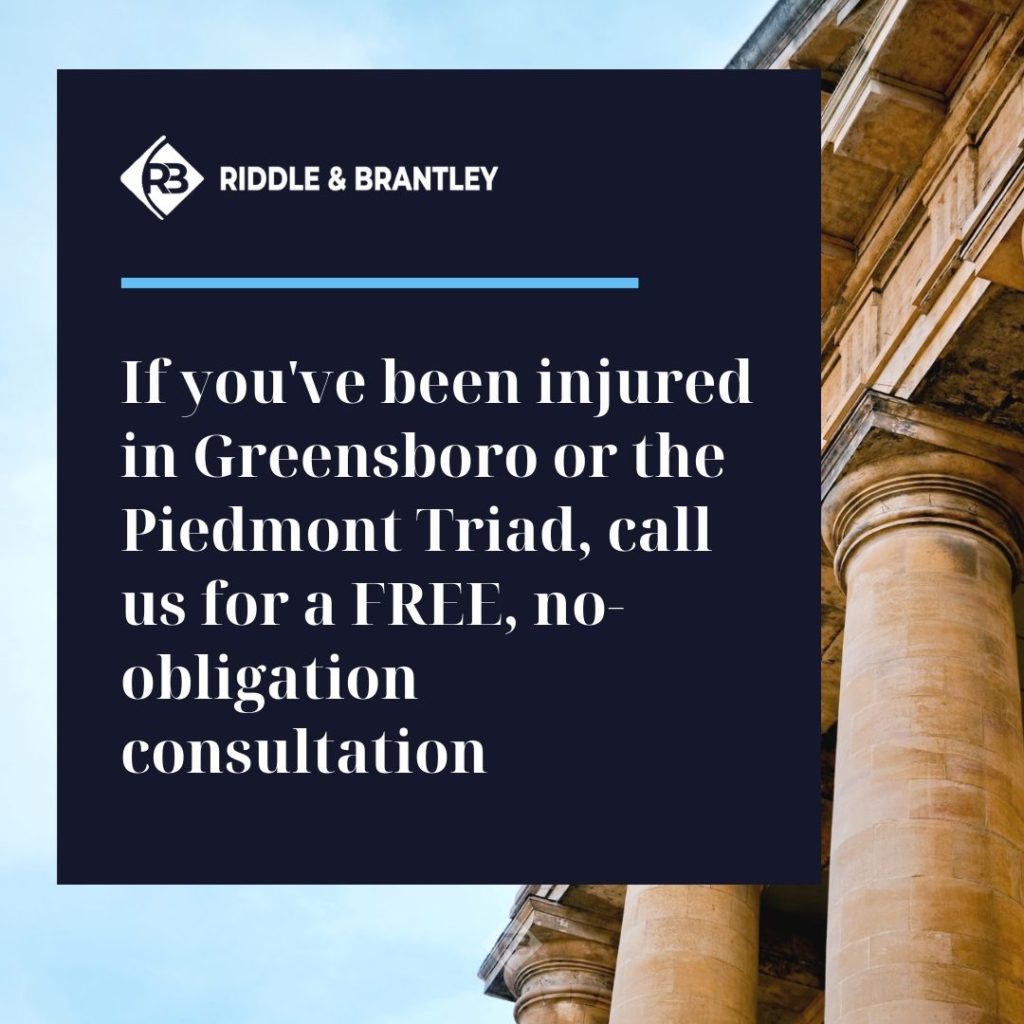 If you've been injured due to someone else's negligence, you deserve justice — and you may be entitled to compensation.
Our personal injury attorneys have experience representing clients in Greensboro and can help you file a claim or lawsuit. We can also help you find medical care, handle expenses, negotiate with the insurance company, and more. Your lawyer, case manager, and paralegals will be with you every step of the way.
We have several offices throughout North Carolina and can even come to you if it's more convenient.
For a FREE consultation, please call us at 1-800-525-7111 or complete the form below. There is no obligation, and there are never any attorney fees unless we win your case.
We've been serving Greensboro and all of North Carolina since 1996 and our personal injury lawyers are ready to fight for you.
Please contact us. We would love to help.