Wilmington Truck Accident Lawyer
Wilmington Truck Accident Lawyers Fighting for Justice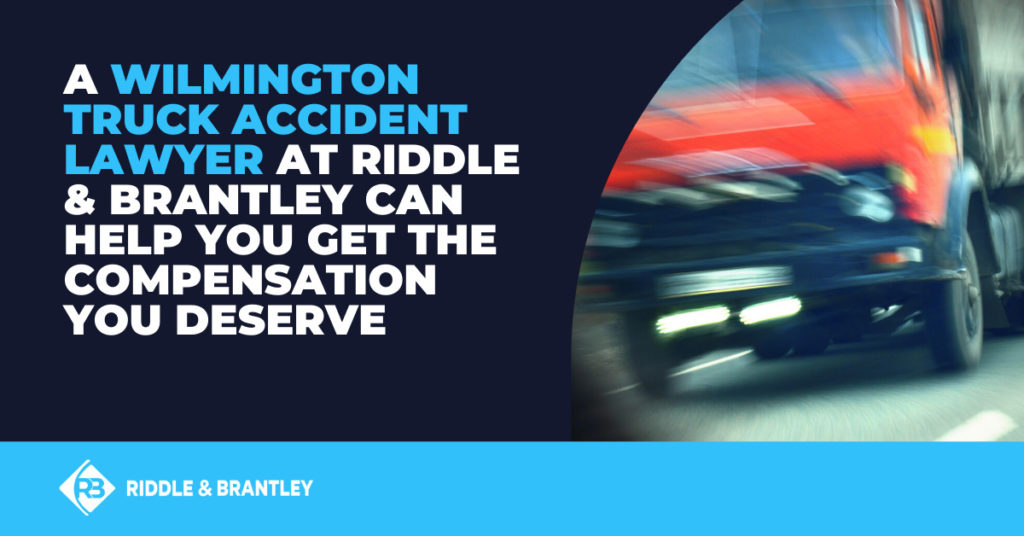 Do you need a Wilmington truck accident lawyer? At Riddle & Brantley, our experienced Wilmington truck and tractor-trailer accident attorneys may be able to help. Since 2000 alone, we've secured more than $600 million in total compensation for our valued clients, and we would love to help however we can.
If you've been injured in a truck or tractor-trailer accident due to negligent or wrongful conduct on the part of a driver or company, you may be entitled to financial compensation that could make all the difference in your quality of life.
If you live in Wilmington, NC, or the surrounding area and you are looking for a Wilmington, NC truck accident lawyer, Riddle & Brantley is ready to help. Our truck accident lawyers have over 35 years of experience and we are here for you. Justice counts for you and your loved ones.
"Riddle & Brantley found me all the available money from the insurance companies."
–David H., Riddle & Brantley client
For help with your injury claim or lawsuit, consider a Wilmington injury lawyer with Riddle & Brantley. Our truck accident attorneys have experience representing injured clients across North Carolina, including many in Wilmington and eastern North Carolina. Simply call (910) 889-4064 or fill out the short form below. The consultation is free, and we don't get paid unless we recover compensation for you.
We will listen to you, review the details of your case, and advise you on your legal options. Our attorneys have helped thousands of injured clients since 1985 and we understand how difficult this can be for you and your loved ones.
You may require extensive medical treatment and ongoing care that could add up to thousands or even millions of dollars. A truck accident can happen in just seconds, but the consequences can last a lifetime.
Consult with Wilmington truck accident attorney at Riddle & Brantley and let's see what we can do to help you get the compensation you need and deserve.
Common Causes of Truck Accidents in Wilmington
There is a good reason why you need specialized training and a commercial driver's license to operate a tractor-trailer truck. These heavy (and top-heavy) vehicles can inflict extensive damage in traffic accidents. A driver losing control of a "big rig" can lead to catastrophic injuries. Many causes and contributing risk factors can lead to a CDL driver losing control of a truck.
At Riddle & Brantley, our experienced truck accident attorneys litigate cases involving the following types of truck crashes in Wilmington.
Driving While Impaired by Substances
It's common knowledge that illegal, recreational substances impair a person's attention, judgment, perception, and reaction time — among other issues. The same is true of alcohol.
When a truck driver takes a recreational substance before — or while — operating a heavy truck, it can prove disastrous. Commercial driving is a safety-sensitive profession, which means drivers are required to pass routine and random drug and alcohol testing. Unfortunately, truck drivers continue to abuse substances despite testing regulations. In 2022 alone, nearly 70,000 CDL drivers failed a drug test.
Moreover, up to 90% of truck drivers who pass urine or saliva tests fail the much more rigorous hair test. It isn't only illicit or restricted substances that can impair a commercial driver. Some over-the-counter (OTC) and prescription medications can have similar effects, and truck drivers are responsible for identifying potential risks and taking steps to mitigate them.
Driving While Fatigued
Another common cause of truck accidents in Wilmington, NC, is driving while fatigued. Our truck accident lawyers often look for evidence that the driver may have fallen asleep at the wheel, experienced "microsleep" (sleep that lasts a few seconds), or otherwise been so tired that they could not drive safely.
Truck drivers must comply with regulations limiting how much time they can drive without getting rest. Unfortunately, truck drivers are also paid by the mile, incentivizing them to keep going as long as possible. In 2020, the Federal Motor Carrier Safety Administration (FMCSA) found that of all large truck crashes involving driver error, fatigue, substance abuse, or illness was the second-most common cause.
Operating a Big Rig Recklessly
When conducting its survey for tractor-trailer crashes that occurred in 2020, FMCSA discovered that the most common cause of truck accidents involving driver error was speeding. Reckless driving isn't safe for any vehicle, but for a big rig, it's particularly dangerous.
Tractor-trailers are exceptionally heavy, requiring much more distance to slow down or stop than a lighter passenger car. The faster the truck travels, the longer it will take to slow down, which means the chances of avoiding a crash are slimmer.
Being Distracted While Behind the Wheel
Truck driving can be a tedious, monotonous way to earn a living. Truckers are stuck behind the wheel in the same position for long hours. A bored truck driver may pick up their smartphone to look for a podcast or text a friend. Adjusting the radio or climate controls, checking the navigation system, or simply daydreaming are other common causes of distracted driving. When traveling at highway speed — or even on the roads in a town — it only takes a second of inattention to cause a disastrous truck accident.
At Riddle & Brantley, our seasoned truck accident attorneys will leave no stone unturned when evaluating the evidence of your crash. We'll identify the cause(s), allowing us to identify the correct defendant(s).
Common Injuries in Truck Accidents
Our truck and tractor-trailer accident lawyers have experience handling cases involving all kinds of injuries, including:
Cuts and scrapes
Fractures
Head injuries
Traumatic brain injuries (TBI)
Spinal cord injuries
Neck injuries
Back injuries
Shoulder injuries
Loss of limbs
Organ damage and internal bleeding
Burns
Memory loss
Emotional injury including PTSD
And more…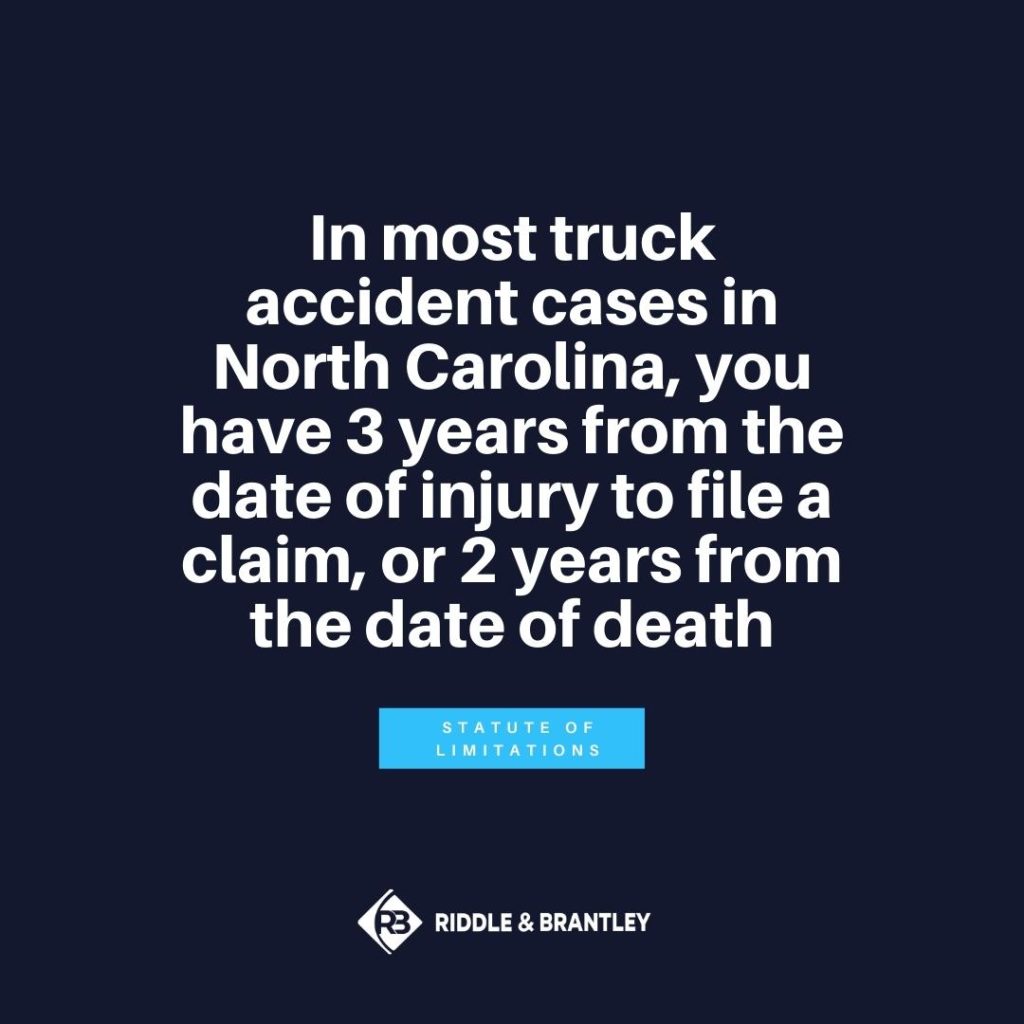 If you've suffered one of these or another injury in a Wilmington truck accident and another person's negligence is responsible, you deserve justice. For a FREE consultation with a Wilmington truck accident attorney serving clients throughout North Carolina, please call (910) 889-4064.
You can also complete the short form below if you prefer.
The consultation is free, there is no obligation, and you won't pay a dime in attorney fees unless we win your case and you receive financial compensation.
Our truck accident lawyers are familiar with the Wilmington area and are ready to help at a moment's notice. Free, in-person consultations are available at our convenient Wilmington location by appointment only, or we can consult with you from anywhere by phone, email, text, or video conference. We can even come directly to you if you prefer.
"What Can a Truck Accident Lawyer Do for Me?"
Truck accidents can result in significant damage and devastating injuries. These cases can be very complex, and an experienced truck accident attorney can help pursue your claim or lawsuit from start to finish.
If you've been injured in a truck accident in Wilmington or elsewhere in eastern North Carolina, a truck accident lawyer from Riddle & Brantley can help with all aspects of your case.
Including:
Organizing a comprehensive accident investigation
Preserving evidence
Finding and interviewing potential witnesses
Hiring expert witnesses including accident reconstructionists
Connecting you with appropriate medical care
Consulting with trucking industry and safety experts
Obtaining the official police report
Preparing you for statements to insurance companies
Filing your injury claim
Filing a lawsuit
Negotiating with the insurance company
Negotiating with defense counsel
Litigation
Preparing legal briefs and court documents
Conducting depositions
Mediation
Arbitration
Trial
Our Results for Truck Accident Injury Victims
Every truck accident case is different and there are no guaranteed outcomes. However, we are proud of the millions of dollars in settlements and judgments Riddle & Brantley attorneys have won for our deserving clients (see disclaimer below).
$9,450,000 — Riddle & Brantley's truck accident attorneys handled a heartbreaking case where a family of four died in a terrible tractor-trailer crash. We investigated the case and determined the truck driver and a pavement marking company were liable, and filed multiple lawsuits, eventually settling both claims prior to trial for $9,450,000 in total compensation for surviving loved ones.
$2,750,000 — Riddle & Brantley attorneys Gene Riddle and Adams Smith filed separate personal injury and workers' comp claims when our client, a construction worker, was hit in a work zone by a heavy truck and suffered devastating injuries. He ultimately lost his right leg below the knee as a result of the truck accident. We settled the claim with the workers' comp carrier and filed a lawsuit against the truck insurance company when it denied liability. Prior to trial, we secured another settlement, for total compensation of $2.75 million for our valued client.
$2,250,000 — In a truly heartbreaking case, attorney Gene Riddle represented surviving family members of a young woman he knew personally, after she was killed in a head-on collision when a truck crossed the center line. Nothing can ever make up for the loss of a loved one, but we were pleased to help the family get justice and recover $2.25 million in total compensation.
"What Happens If I'm Injured in a Truck Accident While on the Job?"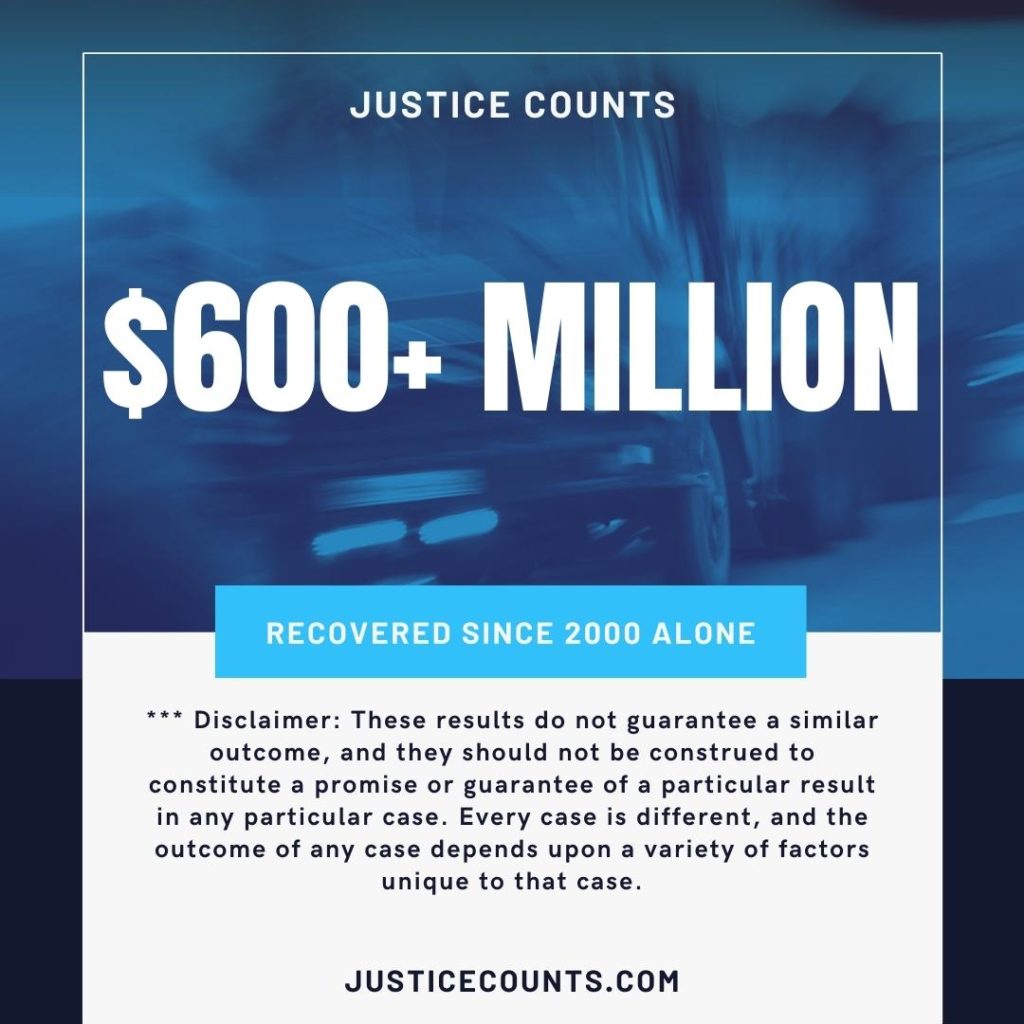 If you are injured in a truck accident while on the job, you may have several options. The first is to file a workers' compensation claim. In North Carolina, workers' compensation benefits are usually available to those who work for a company with three or more full-time employees.
After a truck accident, workers' compensation can help pay expensive medical bills, make up for lost wages, and help you regain your quality of life. An experienced Wilmington workers' comp attorney can assist with your claim.
In addition to filing a workers' comp claim, you can file a claim or lawsuit against the truck or tractor-trailer's insurance company after the accident. An experienced Wilmington truck accident lawyer can assist with this type of claim.
At Riddle & Brantley, our Wilmington truck accident injury lawyers often partner with our workers' comp attorneys to handle these complicated cases.
We have the experience and know-how necessary to hold negligent drivers, truck companies, and truck insurance carriers accountable.
Talk with a Truck Accident Lawyer in Wilmington, NC for Free
If you've been injured in a truck accident in the Wilmington area and believe someone else is responsible, you may be entitled to compensation. A Wilmington truck accident lawyer at Riddle & Brantley may be able to help.
A truck accident lawyer in Wilmington at Riddle & Brantley can help fight for justice.
Since 1985, our truck accident attorneys have been representing victims of truck and tractor-trailer accidents throughout the state. We would love to help if we can. For a FREE consultation, please call (910) 889-4064 or complete the short form below.
There is no obligation, and if you decide to hire us to represent you, you won't pay any attorney fees unless we win your case.
"They made a hard time in my life easier to endure."
­-Melissa C., Riddle & Brantley client
Truck accidents can be devastating.
You don't have to go through this alone.
Our experienced injury attorneys can manage all aspects of your claim or lawsuit so that you can focus on what's most important — recovering from your injuries and reclaiming your quality of life.
Justice Counts.
---
*** Disclaimer: The results mentioned are intended to illustrate the type of cases handled by the firm. These results do not guarantee a similar outcome, and they should not be construed to constitute a promise or guarantee of a particular result in any particular case. Every case is different, and the outcome of any case depends upon a variety of factors unique to that case.