Drunk Driving Accident Attorneys in North Carolina
Driving while under the influence of alcohol is prohibited in North Carolina. Have you been injured by a drunk driver? Our drunk driving accident lawyers can help you seek maximum compensation for your injuries. We know how to hold drunk drivers and their insurance companies accountable, and we would love to help you if we can.
Drunk Driving Accident Lawyer
There is no obligation and we don't get paid unless you do. If we don't recover compensation for you in your drunk driving injury case, you won't pay any attorney fees.
Our firm has handled thousands of motor vehicle accident cases in NC and recovered millions of dollars in compensation for injured victims (see disclaimer below). We believe Justice Counts and are ready to help you however we can.
Drunk Driving in North Carolina
Drunk driving is a serious and deadly problem in NC.
According to a report from the North Carolina Department of Transportation, in North Carolina in 2019 there were:
11,492 motor vehicle crashes involving alcohol
348 fatal drunk driving accidents
7,665 drunk driving accidents resulted in injury
In 2019, drunk driving was involved in 23.7% of all fatal auto accidents and 6.1% of all auto accidents resulting in injury in NC.
Sometimes, drunk driving is involved in serious truck accidents, which can be especially dangerous due to the size and weight of these vehicles. In other cases, teen drunk driving may be involved. Drunk driving accidents are often hit and run accidents, as well, in which the drunk driver attempts to flee the scene.
Compensation for Victims of Drunk Driving Accidents
Driving under the influence of alcohol and/or drugs is illegal in all 50 states, meaning that a drunk driver may face criminal charges when he or she causes a car accident. However, a conviction in a criminal case will not compensate the victim for medical bills and other expenses.
Instead, you must file an insurance claim and/or personal injury lawsuit to recover these costs. You may also be able to hold other parties responsible for your injuries and damages, as well. These parties may include the establishment that sold the alcohol or the "social host" who provided it. Check out our article on suing a bar or host that served alcohol to a drunk driver, or see below for more information.
Contributory Negligence in North Carolina
North Carolina's car accident laws are very restrictive, in large part due to the doctrine of contributory negligence. This means that even in drunk driving accidents where proving driver negligence seems straightforward, you may still be unable to recover compensation if the court or jury decides that you contributed to the crash in any way.
However, in many cases we have handled against drunk drivers, we've been able to stop the defendant's allegation of contributory negligence in its tracks.
The law allows us to allege that driving drunk amounts to "gross negligence" and under NC law, contributory negligence cannot be used as a defense when the defendant was grossly negligent.
The complexity of these laws means that you should contact an experienced drunk driving accident lawyer if you were hurt by a drunk driver. The car accident lawyers at Riddle & Brantley have extensive experience with these types of cases.
We offer free consultations by phone, email, text and video conference, and can even come to you directly if it's more convenient for you. However, no in-person meeting is required to get started with your drunk driving accident case.
We will review your case and advise you on the best available legal options for pursuing justice and compensation. If you decide to hire our firm to handle your reckless driving injury case, we will fight tirelessly on your behalf.
Liability in Drunk Driving Accident Cases
Almost all drunk driving accidents are a direct result of the driver negligence. Therefore, the driver and the driver's insurance company are typically accountable for the damages that result from the car accident.
However, the drunk driver may not have insurance, or the limits of his or her policy might not cover the full extent of your damages. If so, you may be able to file a personal injury lawsuit against the driver, though this is only a viable option if the driver has sufficient assets to pay you in the event of a successful verdict.
Liability Among Other Parties
You may also be able to file a personal injury claim against additional parties. These include:
The Bar, Restaurant, or Establishment that Served the Alcohol
North Carolina "dram shop" laws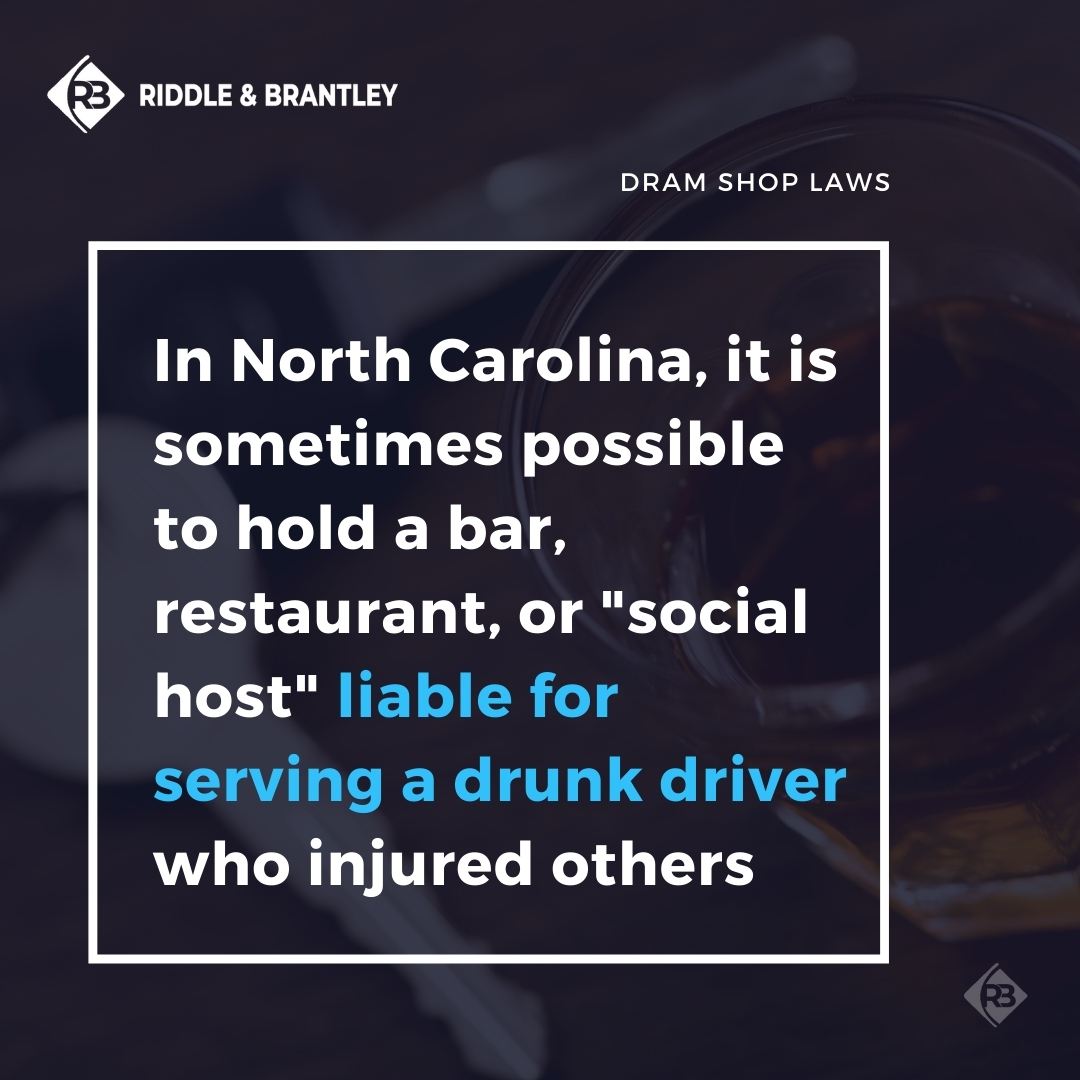 allow you to hold alcohol vendors accountable for accidents their drunk patrons later cause. However, certain restrictions apply. First, you can file this kind of claim if the drunk driver was a minor (under 21). You can also file a dram shop claim if the vendor sold alcohol to an already intoxicated patron, also known as "over-serving." If the drunk driver who caused your car crash injuries was over-served, you may be able to file a negligence per se case against the vendor.
A negligence per se claim actually changes the standard of care. In a regular injury claim, negligence is generally established by asking whether a reasonable person would have acted differently than the defendant in the situation. However, this can be vague, and reasonable people could disagree. A negligence per se claim basically states a defendant was negligent if all the following conditions are true:
A duty exists due to a statute or ordinance, such as North Carolina's law that prohibits alcohol vendors from selling to intoxicated people
The statute or ordinance was enacted to protect a class of persons which includes the plaintiff.
A breach of the statutory duty occurred
The injury sustained was suffered by an interest which the statute protected
The injury was of the nature contemplated in the statute
Violation of the statute directly caused the injury
A "Social Host"
In NC, if the drunk driver became intoxicated at a social gathering or party, you may be able to collect compensation from the host.
Unlike dram shop cases, you may hold a host accountable for accidents caused by drunk drivers of any age. In these cases, however, you and your drunk driving accident lawyer must prove three things:
The host served or provided the alcohol, meaning that if the drunk driver brought his or her own drinks to the party, the social host may not be liable
The host knew that the guest was intoxicated
The host knew that the guest would be driving
What Damages Can I Recover in a Drunk Driving Accident Claim?
After a car accident caused by a drunk driver, you can seek compensation for your injuries and other expenses through an insurance claim and/or personal injury lawsuit.

The possible damages for which you may recover compensation include:
Economic damages — verifiable, material expenses that you incurred as a result of the car accident, such as:

Medical bills — this can include the cost of treatment for your injuries as well as ongoing therapies and medical care.
Car repairs — as well as the cost of other property damage
Lost wages — if your injuries keep you from returning to work for a period of time, or possibly permanently, you can recover the value of your lost wages
Funeral expenses — if you are filing a wrongful death claim for the loss of a loved one in a drunk driving accident, you can recover the cost of funeral and burial expenses

Noneconomic damages — this kind of compensation is for non-material injury or hardship, such as:

Pain and suffering — you may be able to collect compensation for your physical and emotional discomfort
Loss of companionship — you may collect these damages in a personal injury lawsuit (loss of consortium) or wrongful death lawsuit (loss of the loved one to the family)
Disability or disfigurement — this type of compensation accounts for ongoing discomfort or pain of a debilitating injury or extensive scarring

Punitive damages — this is additional compensation that may be awarded in a civil lawsuit to punish the drunk driver, and may be sought separately from any criminal proceedings against the negligent driver
Hurt by a Drunk Driver?
Drunk driving accidents often result in serious injury or death. If you've been injured, a drunk driving accident lawyer at Riddle & Brantley can help you get the justice and compensation you deserve.
Drunk Driver Lawsuit Attorneys Ready to Help
Our team of personal injury lawyers has more than 220+ years of combined legal experience. In the last 20 years alone, we've recovered more than $600 million in total compensation on behalf of injured clients (see disclaimer below), and we would love to help you however we can.
The consultation is free and you won't pay a dime in attorney fees unless we win your case and you receive compensation for your injuries and other damages.
"They made a hard time in my life easier to endure."
–Melissa C., Riddle & Brantley client
Investigation Capabilities
Drunk drivers' defense counsel and insurance companies will often fight hard to avoid paying significant damages in drunk driving cases. At Riddle & Brantley, we have retired law enforcement officers on staff who can lead a comprehensive investigation into your claim and help prove liability and strengthen your case.
We can investigate the circumstances surrounding the accident and build a case against the negligent driver, and, potentially, the bar, restaurant, establishment, or social host that served him or her alcohol.
At Riddle & Brantley, we also monitor the prosecution of drunk driving charges against the drunk driver and many times appear with our seriously injured clients in court at the criminal proceedings. We want to make sure that the drunk driver is punished to the full extent of the law. Additionally, a conviction or guilty plea in a criminal case may help us prove liability in the claim for injuries and damages as the plea/conviction is admissible in the civil case.
Don't wait — the longer you wait to call our attorneys, the harder it may be to win your case and recover the compensation you need and deserve.
Let an experienced drunk driving accident lawyer review your case and advise you on your best legal options.
"They turned a heartbreaking situation completely around."
–Tonya Taylor, Riddle & Brantley client
Award-Winning Drunk Driving Lawsuit Lawyers
Our injury lawyers have handled thousands of injury cases since 1985, and we're proud of the results we've won for our clients, and the way they describe their experience working with our team. We're also proud of the awards and memberships our attorneys have earned (see disclaimer below), including:
Multi-Million Dollar Advocates Forum
Million Dollar Advocates Forum
The National Trial Lawyers Top 100
The National Association of Distinguished Counsel
Super Lawyers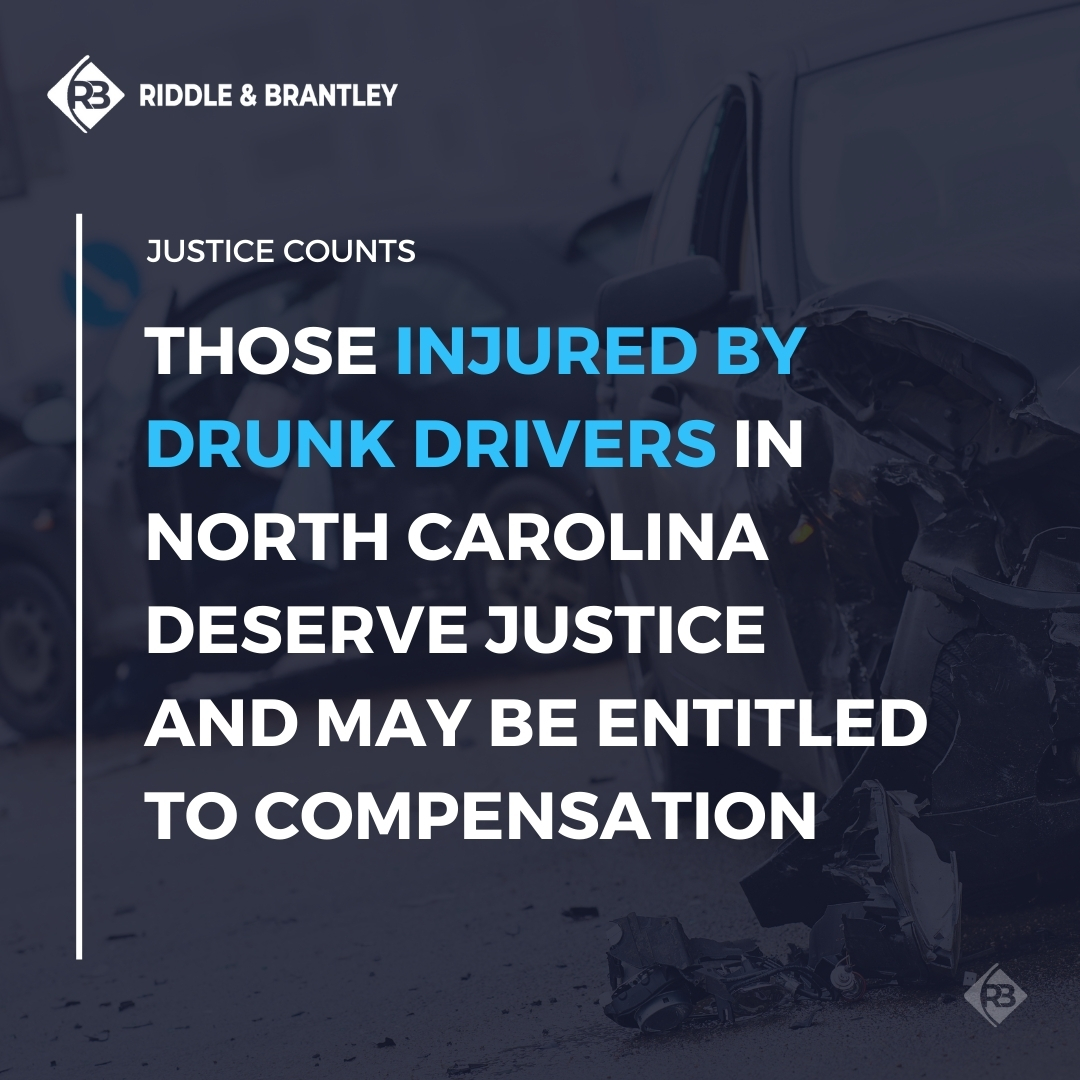 Several of our attorneys have also earned the AV Preeminent rating from Martindale-Hubbell, representing that organization's highest rating for attorneys. In 2014, attorney Gene Riddle was recognized with the Litigator Award (see disclaimer below).
Free consultations are available by phone, email, text, and video conference, and we can handle cases across the entire state of NC. No in-person visit is required to get started on your case, but we can come directly to you if you prefer.
Justice Counts and we would love to help you and your loved ones however we can. You deserve justice and may be entitled to significant financial compensation from a drunk driver and/or his or her insurance company.
---
*** Disclaimer: The results mentioned are intended to illustrate the type of cases handled by the firm. These results do not guarantee a similar outcome, and they should not be construed to constitute a promise or guarantee of a particular result in any particular case. Every case is different, and the outcome of any case depends upon a variety of factors unique to that case.
*** Disclaimer: An attorney must meet certain requirements to join these organizations or receive these awards. For more information on Membership Criteria for Million Dollar Advocates Forum, Multi-Million Dollar Advocates Forum, Super Lawyers, The National Trial Lawyers Top 100, The National Association of Distinguished Counsel, AV Preeminent by Martindale-Hubbell, the Litigator Award, and other memberships, awards, and accolades, please visit our Membership Criteria page. These awards and memberships should not be construed as a promise or guarantee of a similar result. Each case is different and must be evaluated separately.