Texting While Driving Accident Attorneys
Texting While Driving: A Nationwide Problem
According to the NHTSA, from 2012 to 2018, 23,000 people died in accidents involving distracted driving. Additional studies suggest that drivers who use cell phones are more than 5 times more likely to be involved in an accident as opposed to other drivers.
Because texting while driving has become such a major issue, 48 states now  ban texting and driving for all motorists. The reality, however, is that many drivers still use their cell phones for texting and other forms of social media. Cell phone use is just one of the many ways drivers can become distracted while on the road, and distracted driving accidents are 100% preventable.
Experienced Texting and Driving Lawyer
Have you been injured in an accident due to a distracted driver who was texting while driving? If so, you may be able to receive compensation for your injuries and other damages.
There are no upfront costs and you won't pay any attorney fees unless we win your case and you receive compensation.
Let's review your texting while driving accident claim. An experienced car accident lawyer at Riddle & Brantley can help you fight for justice.

Dangers of Texting and Driving
One of the reasons texting while driving is extremely dangerous is because it diverts the driver's cognitive, manual and visual awareness away from the road. Texting not only takes your mental focus away from driving; it also requires you to take your hands off the wheel and your eyes off the road.
When texting, drivers are not likely to notice upcoming obstacles and may not be able to react in time to brake to prevent a crash. Additionally, texting behind the wheel often results in drivers drifting into other lanes of the road.
NHTSA reports that it takes approximately 5 seconds for a driver to send or read a text. While those 5 seconds may not seem like a lot of time, if a driver travels 55 mph, he can travel the length of a football field within 5 seconds.
A lot can happen in those 5 seconds. For instance, another vehicle could merge into your lane, or a pedestrian could step out into a crosswalk. With so many variables on the road, it is extremely important for drivers to remain focused and alert while driving.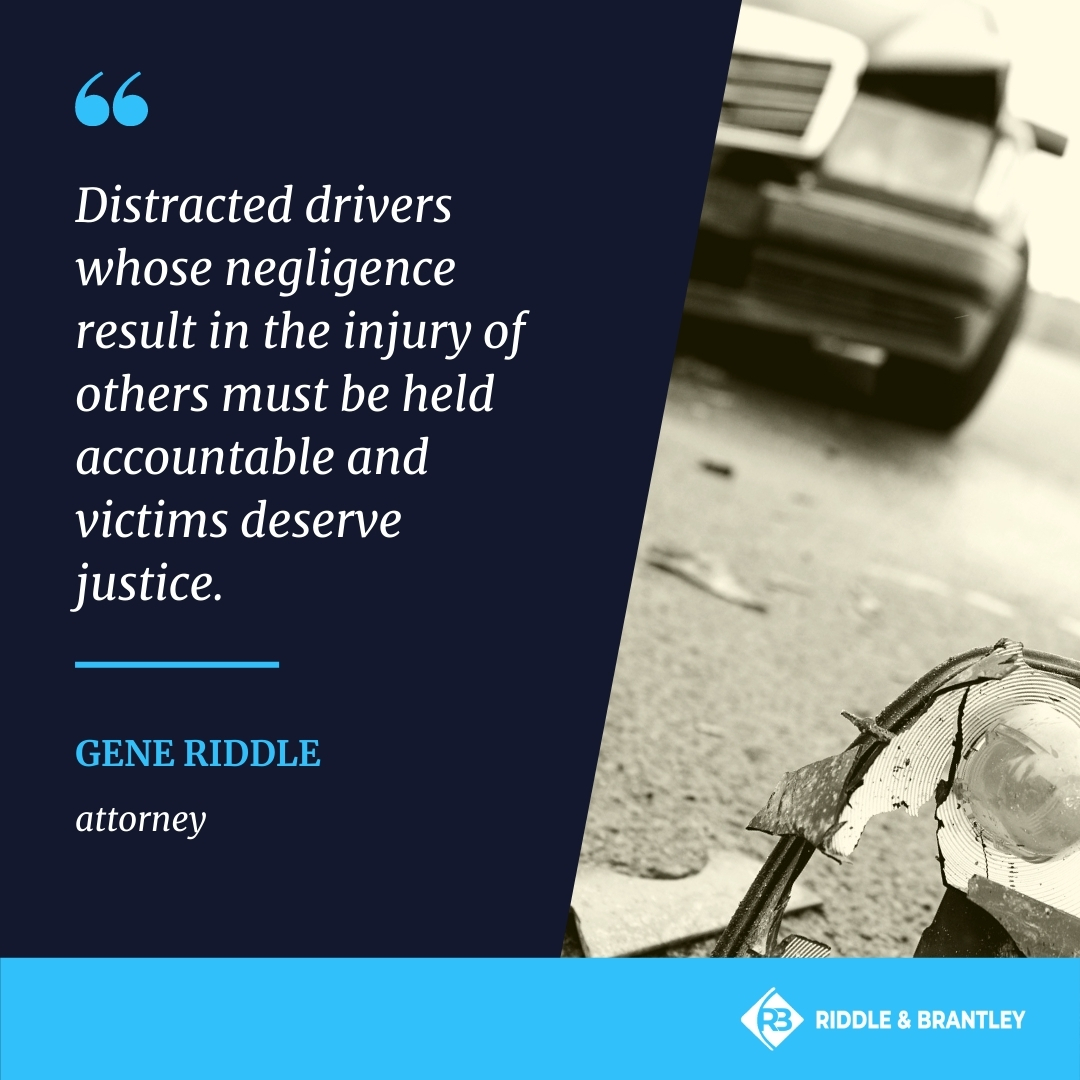 The consultation is free and we don't get paid unless you do. If we don't recover compensation for your texting and driving accident injuries, you won't pay a dime in attorney fees. It's that simple.
Contact us for a free consultation with an experienced personal injury lawyer.
What Kind of Texting and Driving Accidents Are Possible?
When a negligent driver is distracted by a cell phone, almost any type of accident is possible. Here are some of the most common types of accidents involving texting and driving:
Rear End Collisions — When a driver takes his eyes off the road to text, he or she may not notice a slow or stopped car ahead, causing a rear end accident.
Sideswipes — Texting can cause a driver to drift to the left or right, potentially sideswiping another vehicle.
Head-On Collisions — If a texting driver travels across lanes into oncoming traffic, they may cause a catastrophic head-on collision.
Rollover Accidents — Slower reaction times caused by texting and driving can result in a driver striking an object or swerving to avoid an obstacle. Depending on the circumstances, these reactions may cause rollover accidents.
T-Bone Accident — In the event a texting driver fails to see an upcoming stop sign or light, he or she may travel through it and T-bone another vehicle. These are also known as side-impact collisions.
There are various other factors in texting accidents, which can contribute to the severity of injuries and other damages. Speed is a big factor in how serious injuries from texting and driving accidents can be. The type of vehicle being driven can also influence how severe accident and potential injuries are.
North Carolina Texting and Driving Laws
In North Carolina, drivers are prohibited from texting and driving. This law is found in North Carolina General Statute section 20-137.4A. In accordance with this law, law enforcement officers can pull a driver over if he or she is texting. In addition to prohibiting texting, the law also prohibits reading messages on a cell phone.
Under North Carolina's texting while driving law, it is not necessary for the driver to commit any additional offense, such as speeding. This means that if a law enforcement officer sees a driver texting while operating a vehicle, he or she can pull the driver over for that reason alone. If a driver is caught texting or reading a text while behind the wheel, he or she may face a fine of $100 and court fees of up to $130.
Hands-Free Devices
In North Carolina, drivers are allowed to use hands-free devices while operating a vehicle. In the past few years, vehicles have been equipped with the ability to use Bluetooth connections not only to make and receive phone calls but also to read and reply to text messages with hands-free voice activated technology. Drivers can also use their cell phones, but only while stopped or parked. We strongly recommend that you not text at all while behind the wheel, even if your vehicle is equipped with hands-free technology. Your attention should never be diverted even if you are stopped at a stop light.
Drivers Under 18
For drivers under the age of 18, North Carolina bans any and all cell phone use while driving. This includes both handheld and hands-free devices. The only exception is if they are speaking with emergency response operators, law enforcement, or a parent or guardian.
Experienced Texting and Driving Attorneys
Texting while driving accidents are avoidable and negligent parties must be held accountable for their actions.
If you are seeking damages for a texting and driving accident, then our car accident attorneys are ready to help. We can guide you through filing your liability claim, and in the event your claim does not settle, we can prepare your case for litigation.
We are proud to serve victims throughout the entire state of North Carolina from our convenient office locations. We can even come to you directly if it's more convenient, and free consultations are always available by phone, email, text, and video conference.
"They turned a heartbreaking situation completely around."
–Tonya T., Riddle & Brantley client
There are no upfront costs and you won't pay any attorney fees unless we win your case and you receive compensation.
In the most heartbreaking situations, our wrongful death lawyers are ready to help surviving family members fight for justice for their lost loved ones.
Justice Counts.