North Carolina Reckless Driving Attorneys
Accidents Caused By Reckless Driving
North Carolina law defines reckless driving as "displaying a wanton disregard for safety while operating a motor vehicle." When someone is charged with reckless driving, an officer has judged that they drove their vehicle in a manner that exhibited a complete lack of regard for the safety of others or any appreciation of the consequences of their actions.
Reckless driving encompasses a broad range of activities and driver behaviors, both intentional and unintentional. However, many psychologists argue that reckless drivers typically have risk-taking personalities, which leads them to operate their cars in such a careless manner. As a result, drivers who engage in reckless driving tend to do it habitually and may cause almost any type of accident.
We will review your case and advise you on your legal options. If you decide to hire us, there are no attorney fees unless we recover compensation for you.
Punishment for Reckless Driving in North Carolina
Reckless driving is considered a major moving traffic violation. It is punishable by fine, temporary loss of driving privileges, and other penalties. In North Carolina, reckless driving is classified as a Class 2 misdemeanor punishable by up to 60 days in jail and fines of up to $1,000.
Therefore, if someone is convicted of reckless driving, it will show up on their criminal record. However, while a reckless driver may face criminal charges, this does not make their car accident victim whole again. Instead, victims of reckless driving accidents may collect compensation through an insurance claim or personal injury lawsuit.
Reckless Driving Lawyer
Were you or a loved one injured in reckless driving accident? A criminal case may remove the reckless driver from the streets, but only a civil case can compensate you for the injuries you've already suffered.
Riddle & Brantley's reckless driving accident attorneys believe that Justice Counts for victims of reckless driving. Our attorneys are here to offer you legal guidance and assist you in obtaining the compensation you deserve for your injuries and damages.
We work on a contingency fee basis, which means we do not charge attorney fees unless we are successful in recovering compensation for you.
Contact us today and one of our experienced North Carolina car accident lawyers handling reckless driving cases review your claim.
Causes of Reckless Driving Accidents
Recklessness is a broad category that may include any number of actions.  Reckless driving may be intentional, like aggressive tailgating motivated by road rage, or unintentional, like unsafe swerving caused by distracted driving.
Any driver negligence that poses a significant danger to other people may count as reckless driving, including:
Driver distraction – Distracted drivers may unintentionally engage in reckless behavior. Data from the North Carolina Department of Transportation (NCDOT) show that distracted driving — such as texting while driving — may be involved in as many as 19% of auto accidents in our state.
Operating while under the influence — Operating a vehicle while under the influence of alcohol (DWI) or drugs (DUI) recklessly endangers other drivers and passengers. Reckless driving while under the influence is sometimes called "wet reckless driving."
Road rage — Road rage is a major cause of accidents every year. This behavior includes any number of aggressive driving behaviors targeted toward another driver, pedestrian, or cyclist out of frustration. For example, drivers with road rage may cut off another vehicle, tailgate or follow the target vehicle in an attempt to intimidate them. They may also "brake check" cars behind them to try to cause an accident. At its worst, road rage incidents resulting in death can even lead to murder charges.
Unsafe lane changes — This reckless driving behavior often includes passing vehicles outside of normal traffic lanes or weaving in and out of traffic. It's like that you've seen this familiar scenario — an impatient highway driver weaving in and out of traffic without signaling at a high rate of speed, desperately trying to pass slower vehicles. While the reckless driver may know exactly what gaps in traffic they plan to zip in and out of, these maneuvers can be startling to everyone else on the road, especially if they don't use their turn signal. Often, these maneuvers will take other drivers by surprise and may lead to catastrophic accidents.
Tailgating or following too closely — Tailgating is a hallmark behavior of reckless driving, and it won't get a driver to his or her destination any faster. Tailgating makes it more difficult for a driver to control his vehicle should he need to suddenly stop and reduces a driver's reaction time to employ defensive driving techniques.
Failing to obey traffic signals — Reckless driving includes disregarding traffic signals, such as stop signs, yield signs, and traffic lights. The Insurance Information Institute estimates that nearly 4 percent of fatal accidents every year are caused by drivers recklessly ignoring traffic signals.
Speeding — Excessive speed contributes to approximately one-third of all motor vehicle fatalities in the United States every year. According to North Carolina law, speeding is "reckless" when a driver travels more than 15 mph over a speed limit of less than 55, or 10 mph over a speed limit equal to or above 55.
Driving at a speed unsafe for road conditions — Speeding is dangerous no matter the time of day or weather, but driving too fast for road conditions can be especially risky and endanger the lives of everyone involved. Even if a driver is going the speed limit, he could still be driving recklessly by exceeding a safe speed for road conditions, such as in heavy rain, snow, ice, or on a dark, unlit roadway.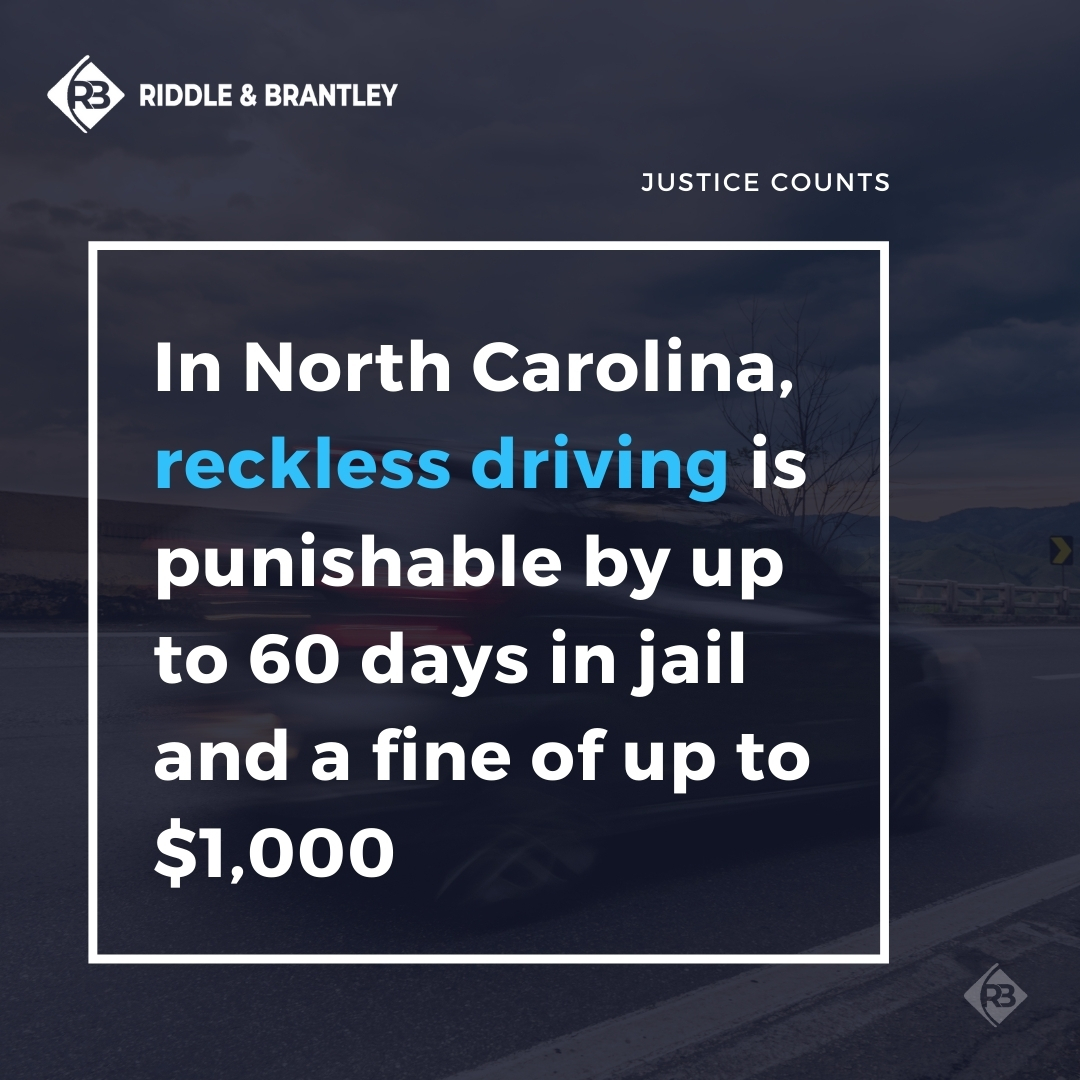 As noted above, not every act of reckless driving is intentional, and it is important to note that the reason for negligent and reckless behavior can differ between drivers and circumstances. However, when a driver engages in reckless driving by intentional acts, the driver may be subject to a claim for punitive damages by the victims.
Punitive damages are available as a remedy to punish the negligent driver monetarily for his or her reckless conduct. This is especially applicable in most cases where the driver was driving while impaired by alcohol or drugs.
Consequences of Reckless Driving
Reckless driving can lead to devastating consequences. Given that many reckless driving accidents are caused by speeding, impaired driving, or a combination of the two, these accidents often lead to serious or even life-changing injuries.
All too often, reckless driving can even take a life, resulting in a wrongful death claim.
Common injuries caused by reckless driving accidents include:
Soft tissue injuries, including bruising, tears, severe sprains, and chronic myofascial pain
Brain trauma, such as concussions, swelling, and life altering traumatic brain injuries (TBIs)
Spinal cord injuries, which can range from bulging, compressed, or slipped discs requiring surgery, to full or partial paralysis
Orthopedic injuries, such as painful joint dislocations or broken bones that may require surgery
Disfigurement and permanent scarring in the case of catastrophic collisions involving fire, broken glass, and fragmented metal
Amputations or crush injuries for those victims who collide with stationary objects at high speeds or find themselves trapped in a crumpled vehicle
Victims of reckless driving deserve justice for their injuries and compensation for their damages. Victims with serious injuries are often left with costly medical bills, lost wages and/or diminished earning capacity, as well as emotional trauma like PTSD.
If you've been a victim of reckless driving, we want to help you begin the process of rebuilding your life after a devastating accident caused by a reckless driver by fighting for the compensation you need and deserve.
In cases in which injuries result in life-altering disability, our Social Security disability lawyers can help with these claims and appeals, as well. In the most heartbreaking situations, we also have wrongful death attorneys ready to help surviving family members fight for justice for lost loved ones.
How to Prevent a Reckless Driving Accident
Though you cannot prevent other drivers' recklessness, there are specific tactics you can use to minimize the likelihood of sustaining injuries in an accident with a reckless driver.
If you notice another car swerving, tailgating or displaying other behaviors that appear reckless, follow these tips:
Avoid the driver as much as possible
Try not to be directly in front or behind the vehicle
Do not engage in rage by shouting, swearing or making gestures
Avoid returning eye contact with the aggressive driver
Do not flash your lights at the driver
Never verbally assault another driver
Make sure you and your passengers are wearing seat belts
IMPORTANT: If an aggressive driver confronts or follows you, lock your doors, dial 911, and drive to the nearest police station. If possible, call police and report the license plate, vehicle description, location and other details.
Practicing these tips if you run into a person driving recklessly can help keep you and those in your vehicle safe. However, even your best and most conscientious driving may not be enough to prevent you from becoming the victim of a reckless driver.
If you've been injured in an accident with a reckless driver, a North Carolina car accident attorney can help you seek the compensation you need and deserve. While a reckless driving charge against the other driver is not always enough to prove liability, it will serve as strong evidence in your favor nonetheless.
Hurt by a Reckless Driver? Our North Carolina Attorneys Can Help
At Riddle & Brantley, our personal injury lawyers know how devastating any car accident and any injury can be, especially when reckless driving is to blame.
If you've been injured in a car accident in North Carolina due to reckless driving, then you deserve justice for the guilty party's negligent actions. Our experienced attorneys have worked on thousands of cases involving reckless driving and recovered millions of dollars in compensation (see disclaimer below) for innocent victims.
We're proud to serve clients across the state from our convenient office locations, and we're always willing to come to you if it's more convenient. We can even consult with you by phone, email, text or video conference — right from the comfort of your own home or anywhere else.
There are no upfront costs and we don't get paid unless you do — if we don't recover compensation in your injury case, you won't pay any attorney fees.
Justice Counts.
---
*** Disclaimer: The results mentioned are intended to illustrate the type of cases handled by the firm. These results do not guarantee a similar outcome, and they should not be construed to constitute a promise or guarantee of a particular result in any particular case. Every case is different, and the outcome of any case depends upon a variety of factors unique to that case.