Car Accidents Involving Minor Children in North Carolina
Has your child been injured in a car accident? He or she deserves justice and an experienced advocate to fight for them in negotiations with the insurance company, or in court if necessary. A North Carolina child car accident lawyer at Riddle & Brantley can help.
The consultation is always free and we don't get paid unless we recover compensation on behalf of you and your injured child.
Child Car Accidents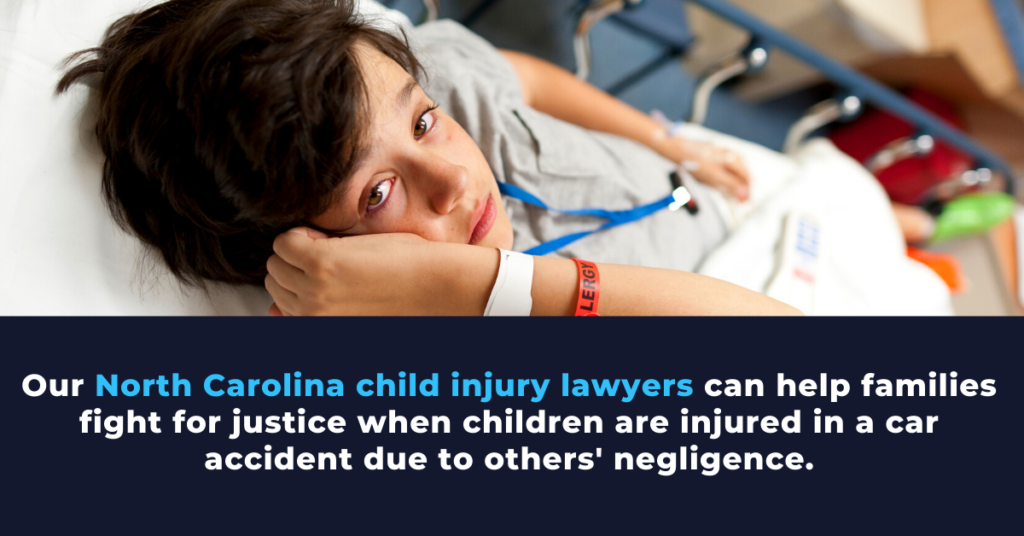 All children have the right to a safe, healthy, and happy upbringing.  As a parent you want to protect your child at all costs. If you get an unexpected phone call telling you your child has been injured in a car accident, you will rush to his or her side all the while wondering how you can fix the situation and take the pain away. Once the crisis is over, there will be plenty of time to find out what happened to your child and who is to blame for his or her injury in a car accident.
How does the law protect children who are hurt? Who is liable if a minor causes injury to someone else?
Who is Liable in a Car Accident Injuring a Child?
Adults have a responsibility to act with a reasonable standard of care when it comes to children. Adults who fail to take safety precautions or harm children intentionally are liable for any injuries they cause — including in car and other motor vehicle accidents.
Liable parties in car accidents injuring a child may include:
The driver of the other vehicle
The driver of the vehicle the child is a passenger in
A pedestrian determined at fault in an accident
Pavement marking companies
School bus drivers and school districts
Public transportation drivers
"What If My Child is Hurt in an Auto Accident?"
It is devastating to think your child could be hurt in an auto accident due to someone else's negligence. If you are a parent, a serious injury to your child is a nightmare. What should you do if your child is in a car accident, and it is someone else's fault?  You will want to make sure you and your child have the proper resources you need to help your child recover and get back on track and go on with enjoying the bright future that is ahead of them.
Let Riddle & Brantley help you and your child while you are living with the aftermath of an auto accident due to someone else's negligence.
We aggressively pursue compensation with compassion, legal skill, and commitment to your child's well-being.
There are never any upfront costs, and we don't get paid unless we recover compensation for you.
"What Should I Do If My Child is Injured in a Car Accident?"
The aftermath of an accident can be confusing and stressful.
If you or your child is in an auto accident here are a few things you should do:
Always stop — never drive away from an accident scene (even if it is a minor one)
Seek medical attention — if someone is injured, call for medical help immediately and seek treatment
Report the accident — call the police, even if there are no injuries
Protect yourself and the accident scene — use your flashers, flares, or a flashlight if available
Make an accurate record — tell the investigating officers exactly what happened, to the best of your ability, and do not guess or speculate. If you are asked if you or your child is injured, tell the authorities you are not sure. Many times, injuries show up days later. Also, make sure any statements told by others are accurate.
Document the evidence — take pictures if you have a phone or camera and you are able. You should photograph any injuries you or your child have as well as any damage to your car, skid marks, debris, road signage and pavement markings, etc.
Get contact information — exchange all information with others involved, including the other driver and potential witnesses. Usually, the police will do this. However, if the authorities do not show up be sure to get names, addresses, phone numbers and insurance information. If you talk with the other driver, do not apologize or admit fault, even if you think you may have contributed to the accident.
Call the insurance company — report the accident to your insurance company as soon as possible.
Keep a file on the accident — this should hold all of the important papers and information pertaining to you or your child and the auto accident.
Protect the rights of you and/or your child — consult an experienced North Carolina child car accident attorney as soon as possible. Your attorney can protect your rights and make sure evidence is not destroyed. Many times, insurance companies want a statement right after an accident. Be sure to consult an attorney before speaking with an insurance company representative.
Can a Minor File a Lawsuit in North Carolina for Car Accident Injuries?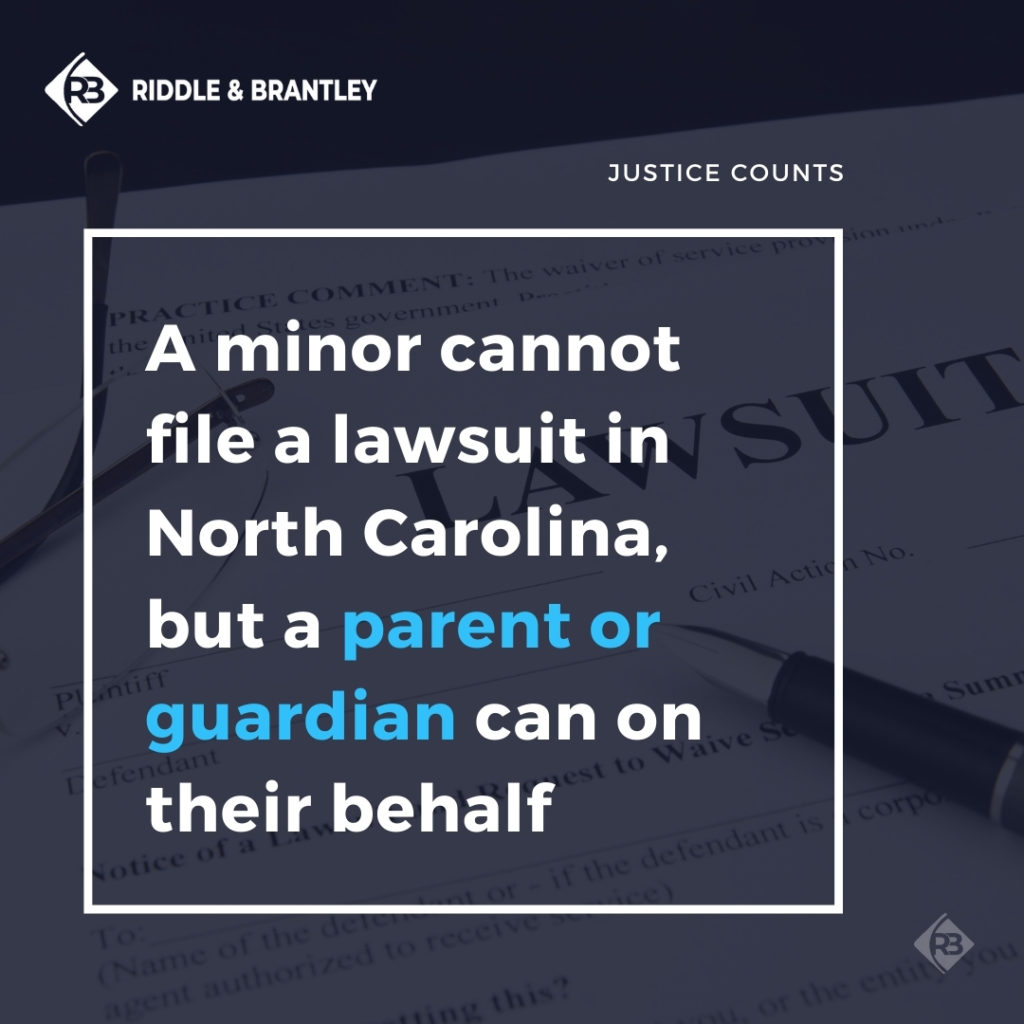 Accidents happen all the time.  However, certain injuries to children may result in a personal injury claim when someone else's negligence plays a role in the accident. The law recognizes that injured children under 18 cannot file a lawsuit. A child is unable to negotiate settlement of a personal injury claim. This is up to the parent or guardian to do (or they can hire a lawyer). However, a judge will also evaluate the child's actions and consider whether the child acted age appropriately or if an inappropriate degree of negligence on the minor's part contributed to his or her injury.
Determining Liability for Kids Injured in Car Accidents
Determining liability for a child's injury is complicated. A qualified child injury lawyer can help. At Riddle & Brantley our experienced child car accident lawyers have the skill and knowledge to investigate, question, interview and build a strong case for compensation. We even have retired law enforcement officers on staff to help investigate the accident and prove fault.
Our lawyers have more than 220+ years of combined experience helping injured children and their families.
Car Accident Settlements for a Child
Any child injured by the negligence of an adult is entitled to the same types of compensation as adults. These damages include:
Payment of medical bills – present and future
Pain and suffering compensation
Payment for loss of future wages because of disability
Compensation for mental trauma
Accidents Caused by Children
The legal liability for accidents caused by children is based on the same principle of care or carelessness as accidents caused by adults.  However, the same standard of care expected by adults does not pertain to minors.
Young children do not understand risks the way most adults do. The law applies different standards to different age groups when deciding if a minor is responsible for someone else's injury.  Usually, children 7 and under are not held responsible for injuries they cause someone else.  They simply are not old enough to understand that they have acted in a careless manner. However, depending on the circumstances the child's parent or guardian could be liable.
Children who are old enough to know right from wrong can be held liable for negligent conduct if they behaved in a less mature way than other children their age. If an older child intentionally injures someone else, for example throws something at a car and causes an accident, the child who commits the intentional act as well as the parents could be held liable.
Call an Attorney Right Away
If your child has been involved in a North Carolina car accident and injured because of the negligence of someone else or if your child has injured, talk with an experienced North Carolina car accident lawyer or wrongful death attorney today.
"They turned a heartbreaking situation completely around."
–Tonya T., Riddle & Brantley client
Given what is at stake, you may need a child injury lawyer in your corner. Our attorneys will be glad to talk with you and answer any questions you may have. We will let you know if we think you have a case and what your legal options are.
We are here to help. Justice Counts for children, too.
---
*** Disclaimer: The results mentioned are intended to illustrate the type of cases handled by the firm. These results do not guarantee a similar outcome, and they should not be construed to constitute a promise or guarantee of a particular result in any particular case. Every case is different, and the outcome of any case depends upon a variety of factors unique to that case.