Stay Safe: Motorcycle Safety Awareness Month
May is Motorcycle Safety Awareness Month and at Riddle & Brantley, our North Carolina motorcycle accident lawyers are committed to ensuring the safety of motorcyclists and all drivers and passengers on North Carolina's roads.
Motorcycle Accidents in North Carolina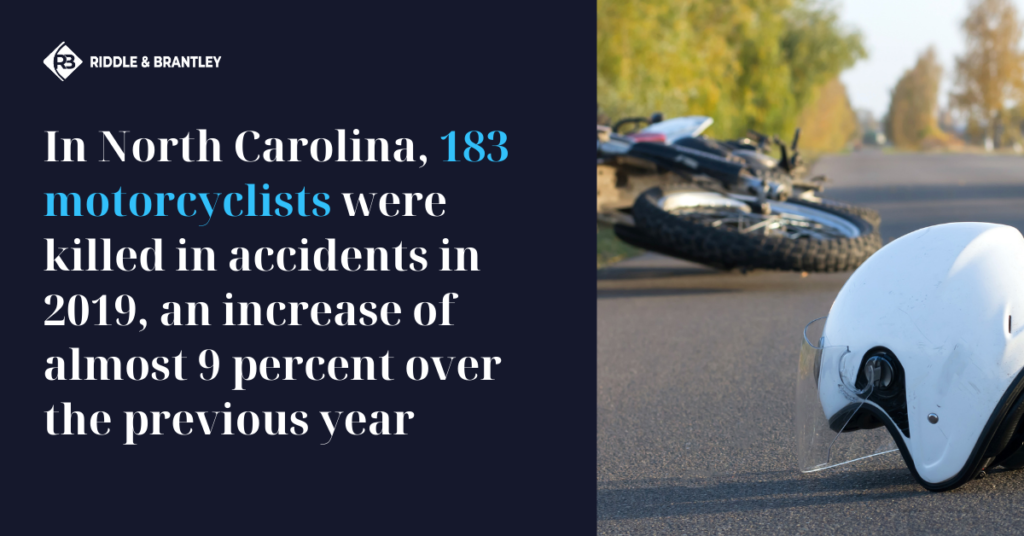 According to the North Carolina Department of Transportation (NCDOT), in 2019, 2,847 motorcyclists were injured in North Carolina, and 183 of these riders were killed — representing an 8.9 percent increase from the previous year.
Distracted driving was involved in many of these accidents. Motorcycles come in all sizes, and they can be difficult for other drivers to detect. In order to protect everyone's safety, it is important that motorcycle riders and other motor vehicle drivers share the road responsibly.
How to Share the Road with Motorcycles
Drivers sometimes don't see motorcyclists until it's too late. In order to share the road with motorcyclists, drivers of cars, trucks, and other motor vehicles should make sure to:
Check blind spots regularly
Be cautious when passing
Take into account that motorcyclists have reduced visibility in bad weather, and may stop on the side of the road or below overpasses
Keep in mind that riding at night can be especially dangerous for motorcyclists, and visibility may be especially reduced
Stay within your lane except when passing
Always use your turn signals when turning or changing lanes
Be aware that intersections are especially dangerous for motorcyclists and stay alert
Tips for Motorcyclists
Motorcyclists also have a duty to share the roads with other drivers and ride responsibly. Follow these tips in order to improve motorcycle visibility and stay safe:
Wear bright clothing — yellow, orange, or fluorescent colors can draw attention, and reflective tape and materials can also help improve your visibility to other drivers
Choose a brightly colored motorcycle — a bright-colored motorcycle can help you stand out to other drivers
Use reflective tape — reflective tape can help other drivers see motorcyclists, especially at night, and can be added to clothing as well as parts of the motorcycle itself
Stay out of blind spots — never ride your motorcycle in another vehicle's blind spot, use extreme caution when passing, and never assume that a driver will check his or her blind spots before changing lanes
Use LED or xenon lights — changing out the lights on your motorcycle can dramatically improve your visibility
Injured in a Motorcycle Accident?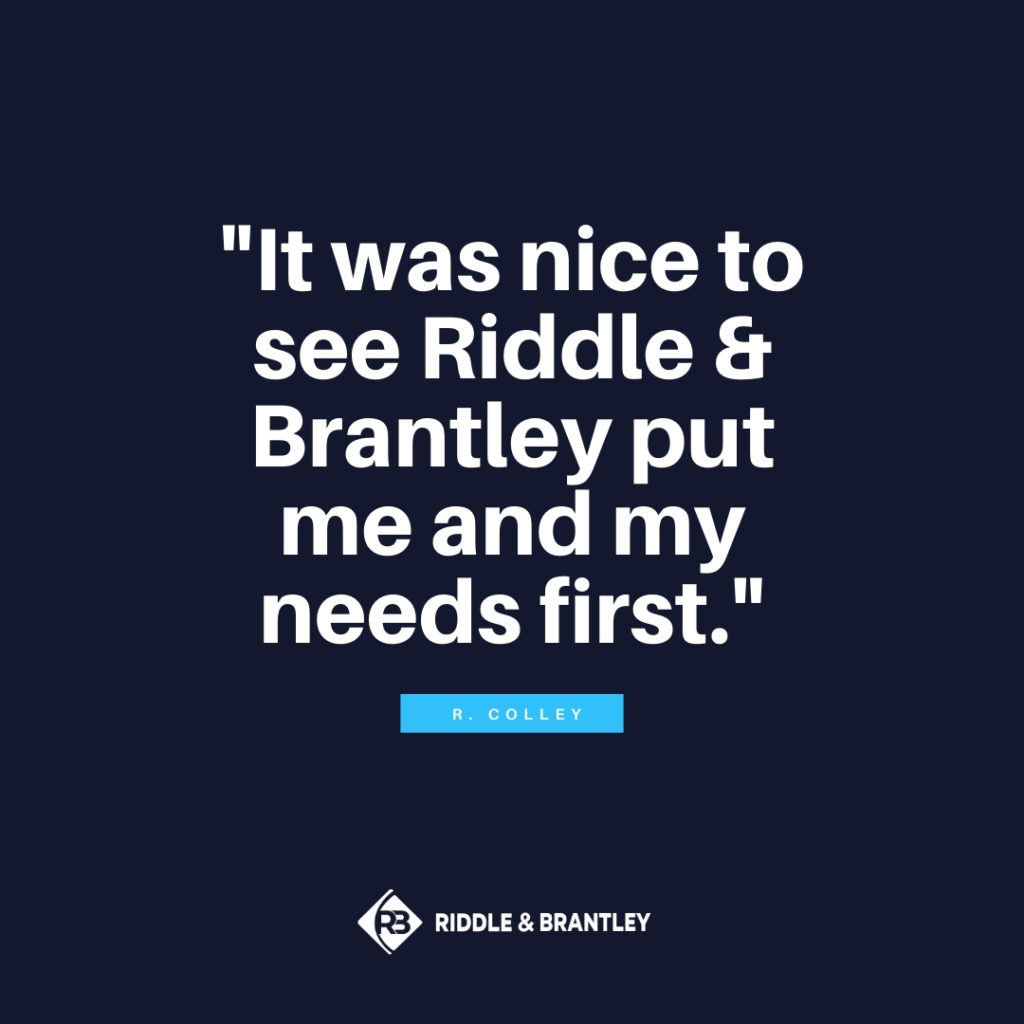 If you've been injured in a motorcycle accident, seek medical attention immediately. Not only will this protect your health and safety, but medical records will play an important role in any potential injury claim.
Next, be sure to consult with an experienced North Carolina motorcycle accident lawyer. At Riddle & Brantley, our personal injury lawyers can help gather the evidence necessary to prove fault in your motorcycle accident case, and help you seek the compensation you deserve.
There are no guarantees in any injury case, but retaining a lawyer in a motorcycle accident case can make a big difference in getting you fair compensation.
"I never felt like just another client, but like family."
–D. Montague, Riddle & Brantley client
For a FREE consultation and case review, please call 1-800-525-7111. One of our experienced North Carolina motorcycle accident lawyers will review your case and advise you on your best available legal options. If you decide to hire us, there are no upfront costs and you won't pay any attorney fees unless we win your case and you receive compensation.
Since 2000 alone, we've recovered over $600 million for our deserving clients (see disclaimer below), and we'd love to help you get the justice and compensation you deserve. Please call 1-800-525-7111 and let's review your claim.
Justice Counts.
---
*** Disclaimer: The results mentioned are intended to illustrate the type of cases handled by the firm. These results do not guarantee a similar outcome, and they should not be construed to constitute a promise or guarantee of a particular result in any particular case. Every case is different, and the outcome of any case depends upon a variety of factors unique to that case.